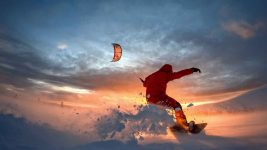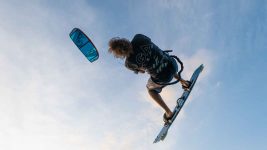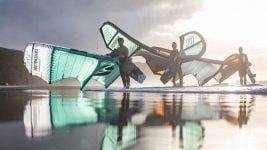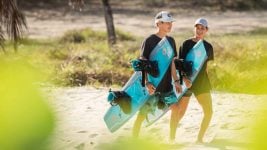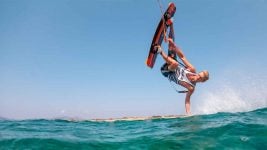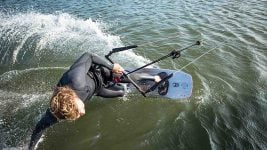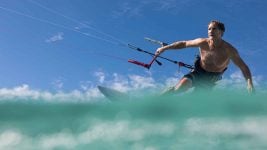 Kiteboarding 2021 Retail Buyer's Guide
A year of restrictions has left kiteboarders hungry for ocean time and all-conditions, all-styles riding. Foils and considerably lighter kites and boards have made it happen. Retailers' main concern will be to keep their shelves stocked. By Rocio Enriquez.
2020 and 2021 will be remembered as the years of the Pandemic. Kiteboarders will also remember them as the years of the foil. Shortly after the first riders were spotted hovering over the sea, the acceptance has been complete. Experienced kiters welcome the increased number of days in the water that foil provides. Being able to practice in less windy conditions also makes the sport more accessible, attracting big numbers of newcomers. "There's a hype in new people entering the sport, schools are fully booked", says Philipp Becker of Duotone. The industry has been paying proper attention and reacting at speed. The offer in foil kit has been instant, flying off the shelves and restocked with implemented innovations in barely two seasons. Alex Fox of Slingshot shares: "We have grown our product development team and our kite design team by almost 30%". Everything points to a sustained rising interest in foil. We can surely expect some interesting launches by Summer. 
A side effect of the pandemic was forcing people to make the most of their local spots. This meant being able to kite in any wind conditions. It also meant adapting to different disciplines to make the most of the conditions served on the day. The natural response to this was to make gear that is lighter and can perform in light wind conditions. It also put the focus on versatility. "The 'desert island' kite will be the big winner", foresees Joe Taylor of North. Having an all-round quiver that performs in any conditions and all disciplines will prove useful when travel bans are lifted too. It will allow riders to travel to many different spots with just one piece of kit. 
Most brands report their biggest growth in foiling and multi-purpose gear, followed by Big Air. The new lighter materials and innovative designs are enabling higher jumps. This attracts a lot of talent who constantly pushes the limits. The surf category also remains quite well looked after. The pleasure of riding waves remains one few kite boarders will pass on.
Kites
A light kite is the key to all-condition and foil riding, but this must be achieved without compromising strength. There is a global quest for lighter yet more rigid and stronger materials. "The whole industry including us is trying to make Aluula materials work", says Philipp Becker, Duotone. Any innovation in this area is well-received by customers. "The supplier who finds the best balance will be rich", says Christophe Hesina of Fly Surfer. Naish's main focus is to reduce the overall weight of the kites yet keeping them strong in the key areas. Duotone's SLS construction (Strong Light Superior) featuring the new Penta TX material made it to their best sellers immediately. Eleveight adjusted the overall weight across their entire range. The new XT Light material made the inflatable structures 15% lighter. Fly Surfer introduced the TX Light fabric, with an extra ripstop thread that provides more tearing strength. Slingshot's RPX kite has a very strong and thin bridle line. It is 25% thinner yet extremely static, resulting in a faster kite with less drag. North's Orbit and Carve kites have replaced the Dacron in the canopy for a new heavy-duty, lighter reinforcement material. The result is a lighter and more responsive kite.
Versatility is rewarded. Not only in wind conditions, but also in riding disciplines and abilities. Kites that will allow you to foil, jump or ride waves, and that will enable you to progress your riding, are flying off the shelves. Lighter, stiffer materials are paired with designs that are as technical as easy to use. One strut kites are popular and new strut-less designs start making an appearance. Nobile is having a great response to the One kite launched last Summer, a one strut design excellent for light wind and foiling. Cabrinha added the Contra 1S to their Contra range of three strut kites. Smaller sizes of the range were re-designed to one strut to fit foil riding. Gaastra added smaller sizes to their popular One kite, to provide a super light kite for foil. Slingshot launched the UFO, a bold strut-less design and one of their most polarising innovations. "Larger brands were weary to release a strut-less model. We took the risk and were rewarded", says Alex Fox. 
Innovation does not stop at materials and number of struts, though. In a time when kiteboarders are used to constant technological advancements pushing the sport, design is constantly re-thought. New shapes and new production processes are tested and applied. Duotone has created DLab, a program in which designers can try in any direction unrestricted by costs. Cabrinha has re-shaped its Moto kite with a new profile and reduced coning, making it fly faster. They have also implemented other changes throughout the range. Adjustments to the closing seams avoid material build up and improve precision of assembly. Bladder repositioning avoids its herniation in pointy geometries. OQC laser measurement checks symmetry before packing. Gaastra's IQ kite has wider tips, a newly balanced leading-edge diameter and less profile on the tip section. These improve turning speed, drift ability and provide a more direct steering. Their AR kite has a higher aspect ratio and adjusted profile alignment. The Pure kite has a progressive arc design with a stiffer feeling that provides a homogeneous power distribution across the entire depower range. North has given their Orbit and Carve kites new bridles. They provide a very direct feel in both bar pressure and steering. The more intuitive feedback from the bar in both directions helps you always know where your kite is. Also, the new bridle lines are preloaded and measured before cutting to improve accuracy and consistency. This not only enables more responsive turns, but it also reduces shrinkage and improves longevity.
Boards
Crossover boards that allow you to try different disciplines are a customer's favourite, especially if the options include foil. This segment is getting a lot of attention from designers. The possibility of progressing your riding skills without having to change the board is a bonus. If it is lighter and durable too, then you've struck gold. This seems to be the trinity that all makers pursue.  
Gaastra has experienced their best sales with the Watts board. This is an all-rounder twin tip that works equally well for advanced riders and less experienced ones. For Lieuwe Boards it was the Shotgun, their "jack of all trades" board. Nobile's Split Board range keeps growing and its NHP Split Foil has been very well-received.  "Our NHP Split Foil is a split twin tip that is foil convertible. It covers all conditions and fits in your check-in luggage", says Jan Korycki. North's Atmos Hybrid has topped their sales since launch. This all-rounder works particularly well for big air and freeride and is used by beginners and pros. Its evolution, the Astra twin tip, offers a more responsive flex for smaller build riders. 
There is lots of tweaking and refining going on in constructions. The race for providing the lightest and best performing board is on, and everybody is running. Twin Tips get special attention. "We dialled the constructions and materials of our twin tips to make them durable and light", says Scott Trudon of Naish. Cabrinha has incorporated a lighter carbon cloth to its twin tips that is doubled to match the previous weight. This reduces the risk of bubbles in the laminate and increases performance. The X:Caliber offered in wood and carbon has new aggressive tip channels that meet demands of big air and freestyle. It provides a more aggressive take off, whether from flat water or from a wave. Eleveight has designed a new grab handle system that allows the rider to change the rocker and flex on the fly with just one little turn. Goodboards has launched the PRO version of their best-selling Amnesia board. All PRO versions come now with a Boomtag's NFC chip incorporated in the handle area, which allows you to get your board back if you lose it. Nobile is using high quality poplar wood for their cores. The newly released Game Changer for freestyle and wake style features large rocker deep channels and small fins. North gave their boards new tip shapes for increased durability and new composite fins. The flex bindings were also reworked with a softer and thinner strap that allows your foot to shuffle back more easily into a locked-in position. Slingshot has had great success with their Formula V1, the lightest twin tip they ever made. Their IT board combines two different strength carbon fibres, providing more stiffness and an explosive pop, while keeping it light. Duotone's SLS series is offering quite versatile, light and durable boards, both in twin tips and surf shapes. 
Surfboards get their share of love from product developers too. Cabrinha has added two more constructions to their existing bamboo one. The PRO construction makes lighter and more responsive surfboards. The lightweight EPS core is reinforced with a high-density, honeycomb sandwich layer. Strategic UD carbon strips add reinforcement and provide more control flex. This is a strapless use only board, so do not expect to find any foot strap plugs in it. The Autopilot construction features a light EPS core, reinforced with fibreglass and carbon innegra. Strategic carbon stringers are added for reinforcement. Also strapless dedicated is F-One's Magnet Carbon launched last Spring. Its unique, slim tech construction is light but also very resistant to harsh landings. F-One also offers three different constructions, to suit all rider's budgets and needs. Slingshot's choice for strapless is the SciFy XR. This is an all-round short surfboard that has quickly become a team and customer's favourite, thanks to the lightweight construction and premium performance. Duotone announces surprises in their surfboard offering, with the range currently being tweaked to offer a DLab limited edition.
Sustainability
Strict quality standards and mostly Asia-based manufacturing challenge sustainability in kiteboarding. Still, brands strive to make improvements wherever possible. "It's the small details in production, design and distribution that hopefully add up to some bigger impact", says Konstantin Weier. Most efforts are seen in packaging, product durability, board wood cores, manufacturing processes and transport. 
Cabrinha is using FlexiHex® packaging for their boards. This packaging can be reused by the customer when travelling, so it helps reduce waste. Duotone is using recycled carton packaging where possible, and if something needs plastic, it's the recycled kind. North ships all boards without plastic packaging and is using recycled PET 300D in their kite bags. Slingshot's surf, foil and wake surf boards are free from plastic packaging too. Naish and Eleveight are also reducing their packaging.
Making durable products is probably one of the most sustainable practices. It avoids waste and over production. Lieuwe's practice of not making changes to boards that work well falls into this philosophy. Keeping the same boards for a longer period increases the resale and the stock value. Eleveight works with leading raw material suppliers to secure the highest quality. For F-One, durability of the products is the priority, keeping away from planned obsolescence. Fly Surfer pays good attention to the supply chain, to make sure their products are built to last. 
Wood is one of the few materials used in kiteboarding production that offers reliable, environmentally friendly options. Duotone, Nobile and Slingshot use sustainable woods on their boards. Nobile's wood is FCS certified. They keep their eyes peeled for the most eco-friendly woods, as well as least harming glues and hardeners. Slingshot sources their wood from the Forest Stewardship Council. These are responsibly managed forests that provide environmental, social and economic benefits. 
Eco alternatives to materials are continuously tested for quality standards. Reducing waste is also a focus. Fly Surfer uses an on-demand system that avoids over production. Gaastra uses as much of the raw material as possible. Production is moved to Europe whenever possible, to shorten transportation. Factories are using more green energy.
Retailer Support
It is a complicated time for retailers. Support is more important than ever. Yet, the pandemic restrictions have not allowed key forms of support to happen. It's the case of beach demo days or dealers' meetings. Some brands, such as F-One, have offered virtual versions. Most brands have had to rely on good education through digital channels. But the most important one has been customised support for each retailer. "An individual solution is often the most effective way", says Oliver Spang of Cabrinha. Stock has presented some challenges, so retailers have appreciated practices that made this easier. Duotone makes sure to always have the right products on stock. Gaastra sends automatic updates of stock levels, directly linked to their warehouse system and online shop. Keeping part of the line unchanged gives retailers more time to sell the product at full price. 
With lots of innovations served by the day, and lots of people craving for the freedom of the open ocean, the kiteboarding industry seems like a good one to be in.