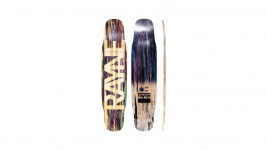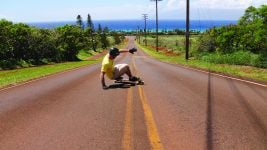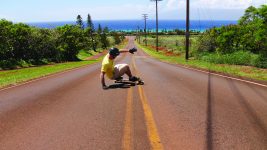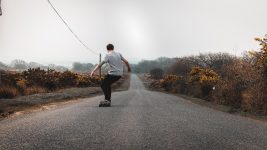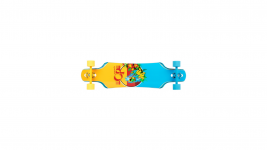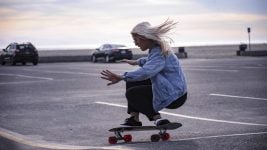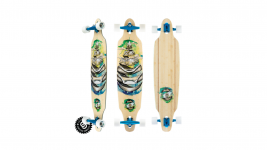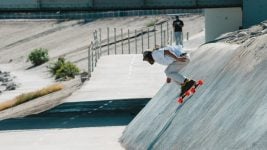 Surfing on concrete, flying down hills, and carving on banks and ditches: Longboards are built for action. Next season, brands are supplying riders with quality boards that perform and look gorgeous. 2019 Longboards Retail Buyer's Guide by SOURCE Skateboard Editor Dirk Vogel.
Only one year ago, the European longboard business was in a tough spot. But as we head into 2019, speaking to core companies in the segment reveals: "We're seeing a turnaround in the EU longboard market that has now hopefully bottomed out and started ticking its way back up. Requests for classic longboards are starting to pour back in, as well as a little bit of interest-piquing in the progressive sector," said Dave Gitlin, Senior Skateboards Designer at Globe.
At Loaded Boards, Sue Denim shares the optimism: "The European longboard market has been growing over the past few years, particularly in Eastern Europe. We're stoked to see dancing continue to gain in participation throughout Europe."
Speaking of participation, international sales rep David Price at Landyachtz said: The core scene is small but always there. Big name downhill events like Kozakov and KNK still sell-out and attract hundreds of riders. Dancing events like So You Can Longboard Dance in the Netherlands attract over 500 attendees. The casual scene has shrunk from three to four years ago but people are always out there discovering the fun four wheels can provide."
MARKET TRENDS & PRICE POINTS
One segment has been growing in the pursuit of longboard fun: women! "We have definitely seen a surge in female riders over the years. Our longboards are perfect for beginners to advanced females who want more surf-inspired skateboarding and like to carve in the streets. As social media grows and females can see their community of riders grow, participants have multiplied. We only expect an upward trend in this area," said Desiree Moore at Dusters California/Dwindle.
Speaking on the issue, Mike Jucker, Co-Founder and Brand Manager at Jucker Hawaii says the trend is already strong in the United States: "Here in the US I definitely see an influx of female riders, particularly since surfing has attracted so many female riders in the past years. Girls are so often underrated but I think this is slowly changing now."
As for price points, last season's hot price window still holds at €149 for completes. "People want affordable, fun boards which still perform in our opinion. All fresh graphics seem to do well, too, so trying to not let ranges get stagnant but building momentum within a range is always a fine balance," said Andy King, Mindless Brand Ambassador. With that said, consumers are getting more for their money than ever. Upscale materials and hardware tech (see Trends) previously reserved for €300 retail price and above now find their way into completes priced at €219. But those are completes. A hand-picked set-up from premium brands such as Loaded Boards can cost over €450 with custom components that create a notably different riding experience.
For the kinds of rides consumers are looking for, here are the 5 Longboard Trends Retailers need to Watch in 2019:
1. SEASON TREND: CONCRETE CRUISING
Last season's surf-skate trend has evolved into an all-out assault on banks, ditches and bowls. Let's call it concrete cruising, which brands support with rugged, fast, and street-friendly set-ups. At Sector 9, Andreas 'Maui' Maurmeir notes "more demand on bigger street decks for larger parks or pump tracks. Traditionally with the shapes like the Cloud 9 or the Budro Pro we have been a specialist in this segment and people are stoked on surfing the Park on those babes." Season standouts for 2019 include: Ray Collins Unagi and Session Bat Ray (Sector 9), Icarus (Loaded Boards), On-Shore Series with Revenge Trucks (Globe), Core Dancer (Mindless), and Makaha and Hoku Series (Jucker Hawaii).
In shapes, the "stubbier" board trend continues. "Core downhill and freeride boards are getting smaller and more compact. We had many requests to make mini versions of our popular downhill and freeride boards," said Shane Maloney at Madrid Skateboards. Customers are looking for wide-bellied cruisers such as the Pau Hana Cruiser surf style Mini Cruiser from Jucker, Landyachtz Dinghi, OB Five Magma and Pastel Plasma, and Globe Blazer. Next season's wider decks offer more standing room for your feet, while models like the Sector 9 Unagi and Globe Surf Craft signal a quiet comeback of the swallowtail.
2. MATERIALS: BRING ON THE TECH
Last season's exotic woods, bamboo, coconut, aluminium and fibreglass are great storytelling material, but in 2019, consumers want notable performance benefits. And they're getting them from core brands. According to Alvar Gutiérrez at Long Islands Longboards, "the fibre-flex composition for the boards brings the perfect balance between flex and durability." At Madrid, the "formica and maple lamination produces boards that are tough and rigid enough for the highest levels of racing, without breaking the bank."
For 2019, Landyachtz is doubling down on Hollowtech for a lighter, more robust ride. Globe flexed its manufacturing skills on the Insider model, "featuring a nice walnut veneer spliced with slick-bottom plastic on the bottom and a copper strip up the top. Combining the three very different materials took a great deal of effort." Sue Denim at Loaded Boards points out "the urethane tails, UHMW rails, and basalt construction of the Tarab model. The five-piece biscuit construction of the Icarus was also a noteworthy development in our manufacturing capabilities for complex curvatures in vertically laminated bamboo."
3. SPECIAL GRAPHICS AND ARTIST COLLABS
After several seasons dominated by an understated, natural wood aesthetic, full-blown graphics are back with a vengeance, both on the top and bottom of the deck. Dusters California not only has the manufacturing backbone but also the artist connections – with great results. "Our customers are not only drawn to the designs, colours and shapes, but shops can also appreciate how they look on the wall. Although engineered to be technical and functionally superior, our boards can be purchased as wall art due to our special artist collaboration and detailed craftsmanship," said Desiree at Dusters California, who go into next season with art including COPE2, Kentaro Yoshida, and rock legends KISS, adding: "Special finishes include: laser etch, glow in the dark graphics, elaborate top graphic grip, raised ink, V-ply wood finish, graphic wrapped trucks, and foil wrapped boards."
Sector 9 just dropped the gorgeous Ray Collins Wave graphic on the swallow-tailed Unagi board to expand on artist collaborations like the @Kookslams Series or the Bob Marley line. Arbor is teaming up with Portland-based artist Aaron Draplin for equally iconic and timeless designs executed in bold lines and primary colours. Dave at Globe is stoked on "the Mod Series, inspired by the use of mixed materials in mid-20th century modern design. There's a couple of featured artist series, from UK and Japan studios." Shane at Madrid is continuing the successful licensing deals with movies and TV shows such as Stranger Things in 2019.
4. WHEELS: SPEED & SLIDE
Several brands are heading into 2019 with reengineered urethane recipes built for two things: speed and slideability. Orangatang Wheels introduces the latest performance core wheel poured in the high-speed Happy Thane Formula. "The 85mm Orangatang Caguama is already a big hit with commuters, carvers, and electric skateboard riders thanks to its smooth-rolling diametre and gently rounded edges." With speed as a major focus, borrowing tech from the racing segment is a logical step. Catering to the concrete cruising trend, Landyachtz took their "high-end downhill urethane and put it into a 63mm package, creating a super grippy, fast wheel for your double kick urban set-up."
For riders looking to get their slide on, Sector 9 presents the 63mm Omega Wheels from the Shred Thane Series that "isn't just some re-hyped urethane poured into a different shape – it's a completely new formula designed with sliding for days in mind." Smaller wheels are also a focus at Long Island Longboards, who work in partnership with Cinetic wheels to bring to the street wheels like the Hydra, a 56mm wheel with an 84a durometre. Mike Jucker sells tons of cruiser skate wheels and skatepark wheels at his shop, while Shane at Madrid lists his 2019 faves as Venom Wheels, Cadillac Wheels, and Blood Orange Wheels.
5. TRUCKS: ANY WAY YOU ROLL
Wheels are not the only segment rife with innovation. Trucks are getting more diversified to accommodate for all different types of riding. Landyachtz just dropped a new truck for the burgeoning cruising movement: "Our popular Kodiak forged downhill/freeride trucks got a new, narrower cousin as we introduced 160mm Kodiaks this year." Andy at Mindless said: "Our Talisman V2 trucks are still a firm favourite with many stores, they are affordable and perform perfectly for carving and cruising whilst looking great!"
Over at Sector 9, the partnership with Gullwing holds strong: "We have excellent feedback on the Gullwing Sidewinder Trucks that permit a faster, fun carve thanks to its double Kingpin." Sector 9's Verde Mini Fractal board is a glorious stubby carving board that lets riders choose between a bottom mount or drop-through set-up. Meanwhile, Carver and Paris trucks have become go-to staples in many shops, and Shane at Madrid urges retailers to stock up on Caliber Trucks and Rogue Slalom Trucks. Alvar Gutiérrez at Long Islands Longboards announced development of a new surf-skate truck, "all kinds of riders are in love with it."
Looking into the future of the segment, Sue at Loaded Boards said: "Two styles of riding that we've seen really take off as of late are dancing and electric skateboards. Longboards have always been a great means of personal transportation, and it's very exciting to see the electric aspect amplify their potential."