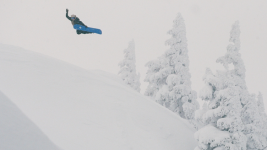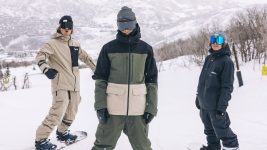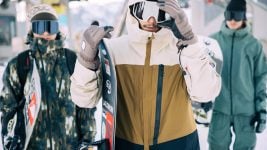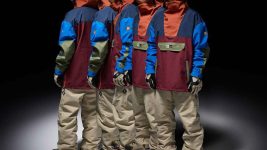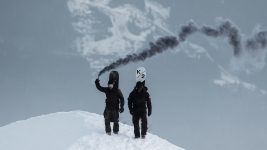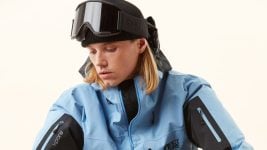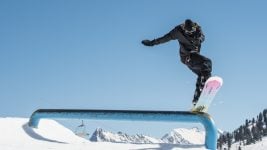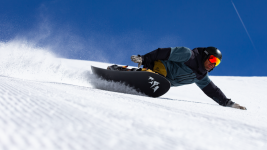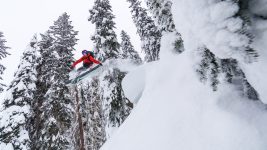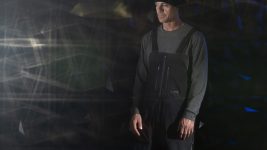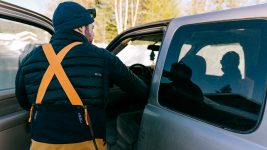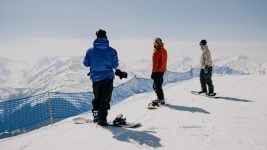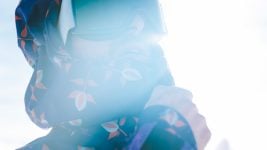 Men's Outerwear 2023/24 Retail Buyer's Guide
From the 90s straight back to the future: Men's Outerwear takes us on a wild ride full of colourful memories and post-modern high-tech innovations. Anna Langer sums up the trends for FW 23/24.
Like all boardsports, snowboarding is a culture as wide and versatile as its participants, which brands reflect in their themes for their latest outerwear offerings. "We embrace boardsports culture, the culture of trend-setting, artistic innovation, and individual expression. We embrace this culture as a unifier of people from different backgrounds and places," says Irena Umek, Marketing Manager at FW Apparel. Oxbow "dedicate their range fully to the riders, developed in collaboration with our ambassadors. They are our inspiration," explains Product Manager Aurelien Silvestre. ThruDark's Samuari inspired Ronin theme aims to serve as an example of dedication to a unifying ethos above all else, following the mantra of "Endeavour Through Adversity". Oakley celebrates "community, empowerment and belonging" in their THE GREAT DISCOVERY brand story. ​"We will embrace individuality and transform humankind through sport." They also take inspiration from their heritage with organic, rounder shaped products.
Quiksilver also dig into their 90s archives for their Miles Fallon and Austen Sweetin High Altitude pieces: "this collection pays tribute to this era with comfy oversized silhouettes, bold colour blocking, curvy pipingsand surf inspired details." By applying their unique 'surf the mountain' approach they are "not only talking about performance but about having fun, sharing with friends, connecting and respecting nature. In fact, we are infusing our Made Better initiative across the whole range, from basics to high-end technical products, without forgetting our unique style that brought us to the mountains over 35 years ago." says Mathieu Clément, EMEA Snow Product Manager. OOSC also feature retro neon and colour block/contrast styles inspired by the early days of snowboarding and snurfing.
ThirtyTwo mention the "return of colour in skateboarding" as the biggest trend for the winter apparel. "Graphics and colour schemes have gotten a lot louder lately and we always merge our snow and skate roots." DC's collection plays into a similar lane, taking inspiration from the street while consistently testing and improving weather technologies, while Volcom are enthusiastic about their 100% raw and street inspired collection, Dustbox. Hurley also sport an urban, workwear US theme/trend but mainly focus on developing their own style and personality for consumers that want to wear their product also out of the liquid water. To combine differing trends in snowboarding and the general public, Horsefeathers features colourful models and all-overs, as well as more earth-tone-oriented models and new cuts.
Besides roots and heritage themes, High Tech innovations for backcountry touring and freeriding are the most important topics in the FW 23/24 lines. L1 focus on the most technical portion of their line, the Theorem collection: "This season we wanted to revamp the whole thing, almost every style got redesigned with the utmost intention." says Creative Director Jon Kooley. For Jones the main aim for 23/24 was building products that work well in a system for light and fast touring missions, while also working on their insulation offering to fit well within those systems. To reach more backcountry riders, Oakley increased their offering in shell products: "We have a deeper focus on products for touring/splitboarding and we have a greater depth in the layering program that includes new pieces to be used in different weather conditions." Tapping the knowledge of the likes of Travis Rice and Sammy Carlson, Quiksilver continue to build their Highline Pro and Highline collections, with high-end technologies such as Gore-Tex Pro or Primaloft Active Evolve insulation. Catering for a very special need of highest functionality in the worst of conditions, the new Norrona Trollveggen Rescue Collection is based on the feedback of the Norwegian Alpine Rescue Team and multiple other rescue groups with the aim of giving these groups what they need to keep their focus. We absolutely salute that.
On the other end of that spectrum, Brethren find their mission in showcasing that the majority of snowsportsparticipants don't actually need gear that gets them on top of Alaskan peaks, offering affordable products that speak to the needs of the everyday joe, without being or looking cheap.
And last but not least, many brands mention their continuing efforts to create more sustainable gear as major themes for FW23/24, which we will look at in more depth in the section on technological innovations & materials.
FITS & SILHOUETTES
Aligning with the 90s heritage vibes, pants are still big, getting bigger. "We see on the market that wider styles are now established back as a standard, on vintage trend and more traditional designs. Our freeride silhouettes had been slightly adjusted to bring more comfort and style, and the High Altitude is clearly taking the Wide direction with our new regular fit." says Mathieu from Quiksilver. 686 also continue to expand on their wide fits. "We are heavily inspired by the way our team and our fans have gravitated to the oversized fit in our Dojo pant over the past two seasons" so they're adding a GORE-TEX version of this model for the backcountry, a lightweight 2.5L wide leg pant called "The Ghost Pant" for resort and spring riding as well as a new Gigi Rüf signature bib style that is designed to travel from the backcountry to the streets with a shorter upper that is inspired by fishing waders. L1 highlight their new Rankin franchise, which took direct feedback from their team for some of the baggiest fits in the line. DC, too, rock baggy fits in pants as well as jackets, and ThirtyTwo see baggier styles and bibs as key players, but also notice them slowing.
If that's all a bit "too cool for school for your" we're happy to announce that there are also great offerings in regular fits available from many brands. FW Apparel have streamlined their regular cut to emphasize freedom of movement, DC highlight the regular fit Servo jacket and Code pant from DC and also Norrona'sTamok collection sports a more regular and less of a technical fit giving more room in the shoulders and the hips. Horsefeathers introduce some new jacket fits with the shorter, street-looking regular-fit Blake, a basic yet fully equipped men's anorak as well as a rideable coach jacket.
We've already mentioned the extended focus on layering offerings. Orage introduce a new MTN-X Grade Light Bib, featuring lightweight and breathable Prime Alpha fabric. "These new bibs are virtually weightless and extremely stretchy, making for a versatile and comfortable product for aerobic activities. Jones mention their Cloudripper is a sub 300 grams, stretch, 100% recycled 2.5L, packable shell that boasts a Pertex Shield 20k/20k membrane. Shralpinist Stretch 3L Bibs, designed for dynamic movement: "100% recycled three-layer 30K waterproof / 30K breathable four-way stretch fabric that's soft to-the-touch and offers supreme protection to keep you warm, dry and moving at maximum efficiency through any terrain."
Horsefeathers continue their Nelson and Medler bib pants and the new Mathieu Crépel signature series jacket and bib from Oxbow cater to his approach of snowboarding: splitboarding one day, freestyle in the park the next.
Additional highlights in fits & silhouettes that deserve a mention are Volcom's new Jamie Lynn one piece, ThirtyTwo's Springbreak Bib with drop butt panel and ThruDark's Katana reinforced bib pants with magnetic FidLock system for easy fastening shoulder buckles, next to Hurley's GOLDMINE 2.0 improved version that is lighter and more comfortable.
COLOURS
From our questionnaires, two main colour themes crystallize: earthy tones or brighter, heritage inspired shades.
"The new colour stories are inspired by the palettes found in nature, sometimes with an aurora borealis theme, or the change of season from autumn to winter, or the cutting of trees and the colours obtained in the drying process, and then in our comfortable interiors decorated in wood," says Marion Bertrand, Product Manager at Picture Organic Clothing. Blue Mirage, Tile Blue, Spruce Yellow, and Iguana are the most important new earth tones in the Horsefeathers line. Obsidian Black and Olive Green are the main shades in ThruDark's collection, who target a stealthy look: "True to its Special Forces background, ThruDark prefers its colourways to fly under the radar – ensuring that the only thing to talk about is our products' function and your performance." Norrona also highlight a "really dark green colour called rosin which is darker than the previous olive night. It is more saturated and we're paring it with a cumin colour." More variations of green can be found in 686's line: "Dusty Sage is a very key colour that comes in Gigi's signature ATV kit. It's a light colour and we love the way it has a subtle pop against the snow and pairs with our darker Cypress Green" next to dark denim by Forest Bailey. L1 mix earth tone neutrals with softer pastel brights, OOSC also mix earthy and pastel shades.
Having a colour palette that is inspired by nature also has a practical advantage, besides being in trend and in demand by customers: "We like to evolve our colours rather than go for a complete change season after season. The reason why we do this is because we want our consumers to look and feel good, and still be able to mix and match outfits even if they purchase our products over several years." says Frederic Dorais, Creative Director from Orage. Quiksilver add that "with the experience of the difficult years we faced, we tried to avoid having too many different colour stories," making things easier for everyone from brand to retailer to customer.
That said, you can't dig into the roots of snowboarding without unearthing some really bright colours. Walking the line between both of these trends, Oakley use contrasts between earthy colours and bold, Oakley Heritage shades: "We're keeping some of our CORE colourways in the line like Blackout, New Dark Brush, some of our HERITAGE colourways like Ultra Purple and we are bringing softer shades with Hummus, Carafe, Sage Green and Burnt Orange." ThirtyTwo's Apparel Merchandise Director Susanne Dachgruberhighlights "Zeb Powell's Carolina blue is definitely a standout as well as Chris Grenier's splinter camo, but one of our favourites is the nod to retro ski patrol colours with the Springbreak Bib and Parka." Graphics and colours straight from the archives can also be found in Oxbow's collection, next to inspiration from Mathieu Crépel's project to come back to Groenland 25 years after his first trip there when he was a kid: "The colours and shades are inspired but the colourful houses there, that contrast with the white landscapes." Quiksilvermix of a vibrant Green Olive, some pop of Regal Orchid and more forward Nimbus Cloud silhouettes with a nice Brittany Blue and some pop of Grenadine in their High Altitude range. Jones added "a timeless Sunrise Gold" to their line up and OOSC feature a "neon after party range with bright and contrasting colours in a textured print/design. Introducing brighter, eye-catching colours inspired by iconic neon parties," explains Co-Founder Aaron McLaughlin.
There is also a distinct trend to a genderless approach, which will be outlined in more detail in the Women's Outerwear article on page XXX. Norrona for example purposefully introduce a vivid royal blue (between indigo and violet) for Men in their Lyngen collection that can perceived as feminine.
FW Apparel have already used gender neutral colour stories in previous years, refreshing them with Green Tea & Emerald Green to Trash Pink, Wisteria, Sulfur and On Fire for FW 23/24. And 686 offer an interesting new perspective as well: "We are really backing White in key silhouettes. We recognize it gets dirty over time, but that is also what makes it special – these marks become part of your history and fingerprints on your apparel."
PRINTS
"Prints are very different than before, more organic inspired. We have developed a new pattern this season inspired by a traditional Norwegian artwork but translated in an Oakley design language with some topographical elements and lunar phases," says Laurent Vogt, Global AFA Category Manager Snow. They also collaborate with their athletes to incorporate their personal needs and wants like prints and colours as well as materials and fabrics for on and off the mountain, like Stale Sandbech's collection that is inspired by an all-over cloud camo-look mixing hummus and carafe (brown) colourways. Nature-inspiration seems to not only be trending in colours, but also prints: Oxbows graphics are a mix between snow tracks and waves foams, from that country where mountains meet the ocean; Picture Organic Clothing introduce a print entitled Mood which represents a landscape in mountain, Quiksilver work with Nimbus cloud silhouettes and Horsefeathers feature a Storm all–over. Jones have recoloured a great all over mountain print by RP Roberts.
Quiksilver have a Tie Dye Black that will be endorsed by Sammy Carlson: "Kind of an off-print combined with Pale Khaki details which create a super nice silhouette." Hurley feature a Cherokee Camo print, while FW Apparel highlight their Root Overshirt, "a heavyweight fleece with the look, feel and warmth of brushed wool, minus the weight." L1 mention that they stepped away from their historic approach to prints to bring a more sophisticated geometric print this season and Orage agree that they're moving away from "Loud prints and fast fashion. We believe that the best way to minimize our impact is to create high-quality products that are durable and versatile."
SUSTAINABILITY & MATERIALS
The road to a more sustainable snowboard industry is still long, but well-trodden by now and much more than a trend. Quiksilver's Mathieu Clément sums it up perfectly: "As everyone in this industry, we know that we are not perfect, we learn from past experiences to do things better. Sustainability used to be a trend, a topic on which brands talk about as a marketing story, on which we need to bring novelties every year. We all know now that we need to be consistent and focused if we want to have a true impact. Before going somewhere, we need to understand correctly where we are standing. For that we put in place calculation tool to correctly measure the amount of recycled content in our products (in weight). To be able to pilot during the development process, be more transparent with our consumers and, set targets for the future." For that they are looking deep into their supply chain, to understand how they could contribute other than just being a 'sustainability consumer': "by connecting supply chain partners, we launched pilots of production waste collection and hope to be able to scale projects soon."
Along similar lines, Picture continue with 'The Circular', their new sustainability technology, launched in SS23. For FW23, all Picture's technical pieces will be part of The Circular_ program, made from fabrics using existing waste within our own industry (textile). "Nothing is lost, nothing is created, everything is transformed." Oxbow also name the delivery of the most eco-friendly products possible as their main target: "To do so, we do not only use recycled plastic bottles. We do produce in Portugal, the recycled yarn is from Italy (Newlife certified), the fabric is made and dyed in France, the Sympatex membrane is made in Europe, Primaloft padding recycled and made in Europe too." Horsefeathers also work with Primaloft Bio, "the first-ever 100% recycled, biodegradable fibre, and our Ultratech Recycled material which is crucial when delivering high-performance, rugged, long-lasting products," says Tomas Koudela, Head of Marketing.
OOSC use 100% recycled durable nylon sourced from sea waste predominantly fishing nets, topped with a ZERO carbon durable water repellent, ThirtyTwo use 100% recycled 2 and 3 layer fused fabrics, and L1 introduce a new lighter recycled poly 3L 4-way stretch fabric called NOVA-X in all of  the 3L styles for Theorem while Jones feature a unique combination of stretch, breathable, synthetic insulation, in a puffy, packable silhouette that is 100% recycled in their Dark Start Recycled Hoodie. And while FW Apparel believe "quality is sustainability. By focusing on durable materials which are fit for purpose we make products that last and keep out of landfills," they're also stoked to have more and more products using almost only recycled materials, from the main fabrics, insulation, linings, and zippers.
Oakley have a new recycled lightweight zippered hoody and continue their commitment to develop more sustainably sourced and recycled materials as well as increasing the percentage of sustainable materials, especially in the Team Collection where all 20K Shell pieces are produced with Bio Earth materials: "Bio-Earth collection is modified by organic compounds to enhance the biodegradation of our products in a biologically active landfill and is tested no harmful substances being released to the environment." Norronahighlight their new performance shell laminate that is introduced in three of their new tamok products: an ePE– based PFC-free technology. "As a heavily involved partner with Gore, we have been a part of testing more sustainable materials and are one of the first to implement this newest technology."
Another area of innovation is insulation. Orage expand their Gilltek line with two new products. "Inspired by fish gills, Gilltek is a proprietary technology that features a completely unique and ultra-breathable insulation system. We employ special construction baffles designed to remove excess heat during high-intensity activity and provide warmth when at rest," explains Alex d'Anjou, Marketing Specialist. DC vouch for primaloft insulation in their jackets, Thinsulate insulation for pants and the DC profill insulation in their fleece while Oxbow rely on Sympatex and Primaloft. ThruDark adopt an innovative Japanese fabric eVentDV Alpine membrane, reinforced with a hard-wearing ceramic coating and a 3-layer laminate that's 20m water column tested and 20,000 g/m2 making it both highly waterproof and highly breathable.
True to their brand ethos, Brethren follow a different approach: "We will always be about the camaraderie in boardsports. We strive to be inclusive, accessible and honest, bringing goods to the market that every consumer can take value from. Whether that's the most robust riding hoodie available, or pants and jackets that are stripped back to the necessities, we look to give you want you need for a great day on the hill. No more, and no less than that."