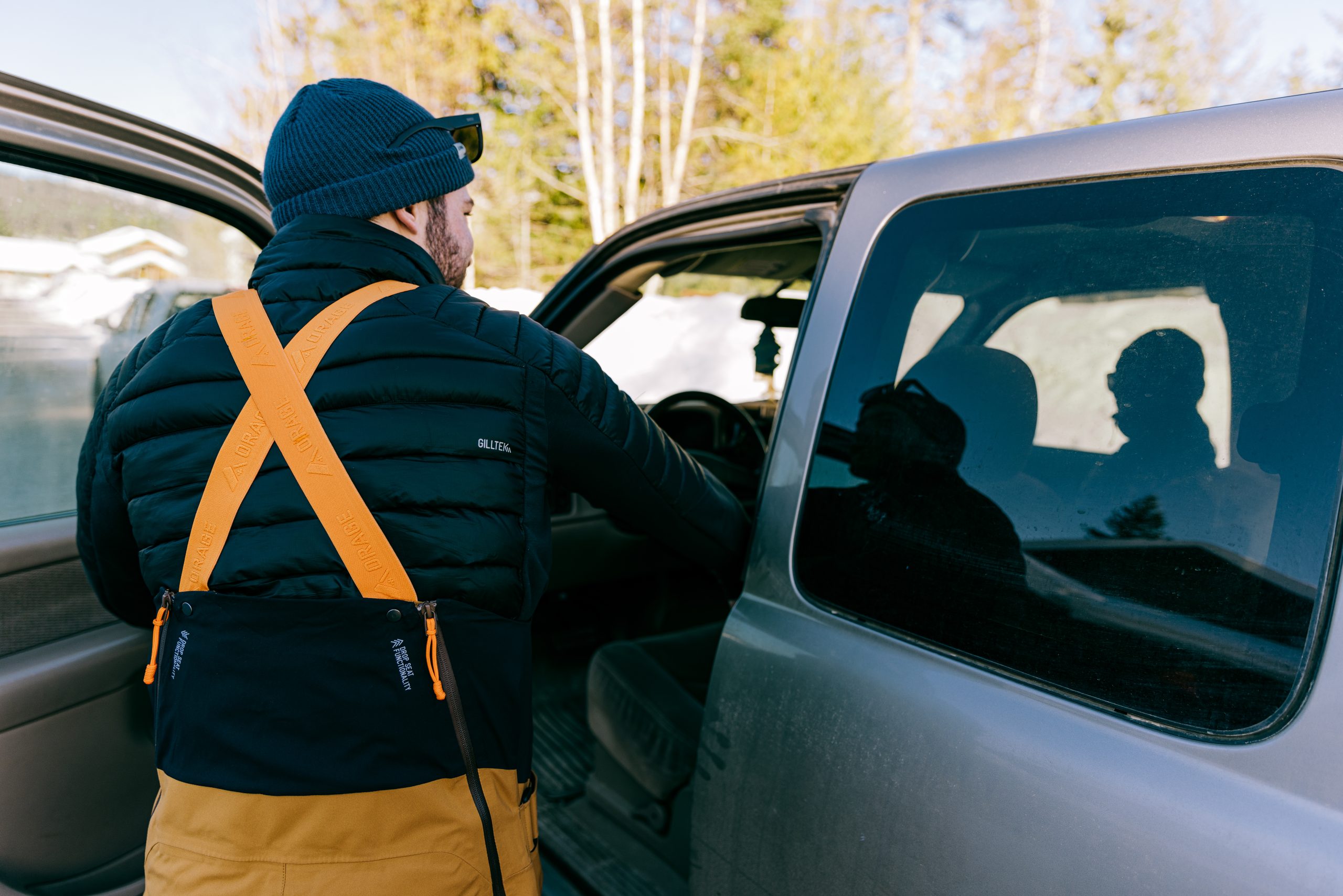 ORAGE Mens Outerwear 2023/24 Preview
Retail Buyers Guide: Men's Outerwear 2023/24 Retail Buyer's Guide
Brand: Orage
Interviewee: Alex d'Anjou, Marketing Specialist and Frederic Dorais, Creative Director
What is the overall theme behind your 2023/24 outerwear range? From which big trends do you take your inspiration?
Born and bred in Canada, Orage's design vision is inspired by our culture, our roots, the pure aesthetic of open spaces, wildlife and the beautiful mountains of our country. We create technical and functional products that meet the needs of riders in Canadian weather from the West Coast to the Rockies to the Laurentians and beyond. Cold is in our DNA, so we think of our products as a second skin whether it's wet, dry, frigid or snowy. Orage products have a contemporary yet timeless appeal with excellence in fabrication and a love of details. The design direction is characterized by simplicity, durability and functionality.
What new fits / silhouettes are coming out in 2023/24? What pant and jacket styles are most important in your range?
In 2023-24, we're expanding our MTN-X collection with new jackets and bibs. We're introducing hybrid construction 3L jackets (men's Highland Jacket) with strategically placed Prime Alpha light fabric at the back, chest and under arms for enhanced breathability and comfort. Dermizax is used on shoulder and hips for greater durability. We're also introducing our new MTN-X Grade Light Bib, featuring lightweight and breathable Prime Alpha fabric. These new bibs are virtually weightless and extremely stretchy, making for a versatile and comfortable product for aerobic activities.
What new colours / prints are you introducing?
The Orage colour palette is inspired by nature and the world around us. We like to evolve our colours rather than go for a complete change season after season. The reason why we do this is because we want our consumers to look and feel good, and still be able to mix and match outfits even if they purchase our products over several years. This creates a longer-lasting family of products with less impact, and that's better for everyone. The Barley is our edgiest of the collection, adding a bright and novel style. We also introduced the Clay colour. You see it a lot in the auto industry, especially in the types of trucks our consumers are driving.
Any *NEW* technical stories with regards to fabrics and materials?
We're expanding our innovative Gilltek line with two new products. Inspired by fish gills, Gilltek is a proprietary technology that features a completely unique and ultra-breathable insulation system. We employ special construction baffles designed to remove excess heat during high-intensity activity and provide warmth when at rest. We're also offering a new stashable hooded insulator. To keep weight down, we used Primaloft Gold Eco insulation — which has the highest warmth-to-weight ratio in synthetics insulation — for maximum packability and warmth. We're also launching a unisex vest featuring Primaloft Gold insulation with a Gilltek panel at the back. It's a perfect insulator on the mountain but will also be a key lifestyle piece.
Any trends that your brand is moving away from?
Loud prints and fast fashion. We believe that the best way to minimize our impact is to create high-quality products that are durable and versatile. We're also moving towards unisex and gender-less styles that bring more neutrality to our program. Although fit and colour might be a bit different, all of our new designs are the same for both men and women. In the future we want to offer even more colourways that resonate with all people equally regardless of gender.  
What are your top marketing stories for 2023/24? This will help us to put some focus in the right place.
Our marketing campaign is called: Born Cold. Being from Canada, the brand is born in the cold with ice, snow and wind frozen into our DNA. We know the cold in its many forms, from dry bluebird freeze to bone-chilling damp conditions. Born Cold expresses this intrinsic way of life through the innovative products we craft that protect, comfort and provide freedom to explore in the cold. 
Outerwear Best Sellers/Hero products
MTN-X Gibson Bib: The Gibson Bib is one of the toughest, most rugged backcountry bibs ever built for skiers. The Dermizax® 3-ply shell fabric and articulated fit results in a backcountry-focused bib that will stand up to the deepest powder while keeping you bone dry. Plus, it has all the key features a skier needs: upper body stretch fabric, 2-way zipper vents, beacon pocket and boot connector. For serious skiers, the Gibson bib is a no-brainer.
MTN-X Highland Jacket: The Highland's is a hybrid 3-ply jacket designed with 2 fabrics; the Dermizax and the Prime Alpha. With strategically placed Prime Alpha light fabric at the back, chest and under arms for enhanced breathability and comfort. Dermizax is used on shoulder and hips for greater durability. It's an excellent all rounder for any aerobic activity, you'll find it super breathable and waterproof.
Morrison Gilltek™ Jacket: Utilizing Gilltek™ technology, this puffy jacket combines warmth with breathability in a lightweight package. When you're still, the "Gills" lay flat and provide a comfortable insulating layer, yet, when you're moving, the heat can dissipate through the mesh to prevent overheating while you're beating the mountain.