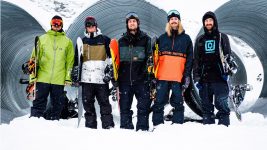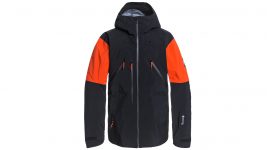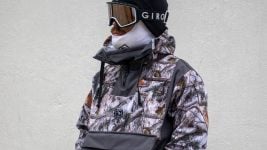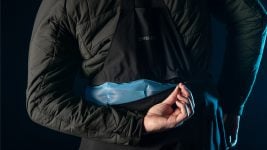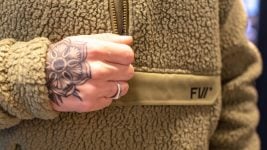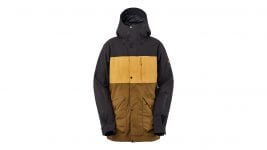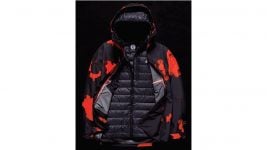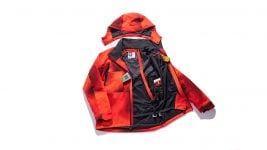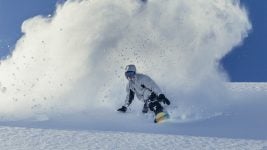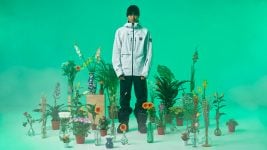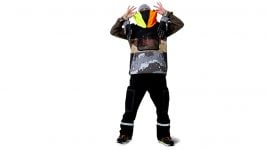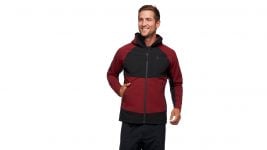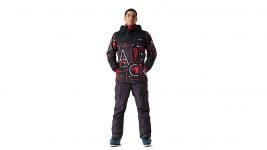 As we enter the 2020s snowboarders no longer have to pick between functional or stylish outerwear. Modern technologies allow supreme styling to go hand-in-hand with high-end fabrics – many of which are becoming more and more environmentally sustainable. Anna Langer reports on the trends for Men's FW20/21 Outerwear.
"Sustainability is a major focus" for Quiksilver who use sustainable components in 95% of their range, aiming to reach 100% in coming years. O'Neill utilizes recycled materials in all components, from the zipper right down to the trims in their Blue line and Protest fuse evolving trends with a focus on sustainability: "Functional fabrics are represented in colours and prints that reflect looks you see on the street, while we concentrate on doing this in the most earth-friendly way possible." Burton also focus on sustainability and Picture Organic Clothing continue their quest to "Wipe Out Fossil Fuels" by mixing recycled and bio-sourced materials. "Downsizing is our way of denouncing the fact that today, polluting elements are taking precedence over man and how we are now able to fight against this in order to reduce the pace," explains CEO Julien Durant.
Horsefeathers' Tomas Koudela, Head of Sales and Marketing states that "the big 'corporate social responsibility' or 'sustainability' theme of today, we always considered as the basis of our attitude. Long before this topic became popular, we were interested in our influence on the environment, on the people we work with and where and how our products were made." Yet it's vital to make the right steps at the right time. "New scientific discoveries come at a fast pace, but not all are proven to perform as expected in time. That is why we strive to do our best in choosing tested solutions that come from renowned manufacturers." FW's Anna Smoothy, Global Marketing Manager agrees that "quality is sustainability", implementing less impactful fabrics where they have proven to be both functional and durable, striving to make long lasting products.
Since snowboarding is a sport that's intricately connected with its participants, functionality and rider-driven or approved designs have always played a major role for all involved brands. Thirtytwo celebrate "25 years of rider driven snowboarding" with signature series outerwear including Nicolas Müller, Scott Stevens, Chris Grenier, JP Walker and Cory Smith's The Spring Break collection, "a full head to toe collection that simply offers everything. Style, function and tech." Volcom's 20th anniversary sees their innovative proprietary technologies paired with great partnerships and Team Rider signature collections.
Black Diamond's collection is "inspired by the needs of hard-charging mountain athletes that look to us for comfort, safety, durability, and protection from the elements." Bonfire share a "strong focus towards purposeful design", working with Great Northern Powder Guides while Brethren follow their own mantra "If we wouldn't wear it, we won't sell it", resulting in technical, but relaxed gear. Horsefeathers work closely with their team riders and the office crew to achieve the highest performance across diverse conditions and riding styles. For Dainese "safety and ergonomic shapes" are key, which they cater for by integrating safety in their garments. Ride Snowboards have improved the fit in all three lines from 20K/10K, 15K/10K and 10K/5K to "offer the best selection you need to be best prepared for on hill or the streets."
Continuing on from previous seasons, the FW20/21 collections still offer a strong heritage vibe with lots of style references to the 90s. Columbia have "reached deep into our own archives and heritage to capitalize on a trend to bring an urban aesthetic with archive styling. Something fresh that will capture the tastes of generation Y and Z while renewing an offer that stays true to our core consumers from the 2000s". With their new capsule collection inspired by mid-90s trends, a perfect blend of modern streetwear and brand heritage, Quiksilver aim to "reach a younger, edgier consumer that is really aware of urban trends and wants to embrace a more vintage and unique look." L1 expand their focus on aesthetic and functionality found in workwear and military styles to incorporate more of a 90s influence "in a brand relevant way". O'Neill use their "strong and unique heritage to create a modern, high-quality snow collection that blends the latest fashion trends with the newest technical innovations" and Templeton "celebrate the 90s with colours that Grandpa rocked on the mountain combined with hints to ski patrol uniforms. But also HipHop artists designer brands from that time play a role," says Brand Owner Marinus Schuster.
For their second outerwear collection to date, Endeavor focus on "timeless items that are not necessarily trend based so that they can be worn for multiple seasons without going out of style". Holden deliver "contemporary performance outerwear with cold weather versatility" inspired by a combination of unique garment proportions, urban streetwear and modern performance materials, states Scott Zergebel, Design Director / Co Founder. 686 reinvigorate best selling styles to support current retail while pushing the edge of features and technologies on select new SKUs.
KEY PRODUCTS & LOOKS – JACKETS
In line with the 90s vibe, anoraks play a big role in FW20/21, such as the DC ASAP Anorak SE, the Horsefeathers atrip anorak in a "new looser and shorter 'back in the days' fit" or the Columbia Park Run Shell Anorak that has been super successful also outside classic wintersports.
Dakine combine a longer fit with a late 90s design influence in their Legion Jacket and a longer fit with classic outdoor design and modern updates in the Vapor. DC blend on-snow function with features and street styling in their Operative Jacket and the Servo, which features a vintage military design. Sweet Protection updated their Crusader Down Jacket with a longer fit for added weather protection, Horsefeathers offer regular long cuts and Black Diamond offer various new styles including parkas.
For a bit of something else on the shelf, Brethren highlight their Coach Jackets, "that have been super popular last year with the Audi Nines guys getting their own as well as PLSR mag," Templeton refer to classic leather jackets with their HeavyMetal Jacket and Dainese offer a removable and adjustable back protector in their HP DIAMOND S+ jacket.
KEY PRODUCTS & LOOKS – PANTS
The 90s are also strong on the lower half of the body, with "tracksuit steeze, straight 00s, taped side seams, matching pants and jackets, just like when we were teenagers" from Brethren, the Ventura Pant (and jacket) by L1, or the "upgraded tracksuit inspired fully packed snowboard pants" from Horsefeathers. Bonfire and Sessions are also "moving away from the slimmer fit silhouettes in favour of a looser look and feel throughout the line" that has been a team favourite, says Shasta Metcalfe, Outerwear Developer.
Holden work with oversized proportions and boxy fits but also continue to offer their popular performance fit while Columbia reworked the fit on their pants "to make them slightly less baggy and more wearable at the bar after the lifts close." Horsefeathers also offer slim fit pants and Black Diamond's fit varies from on-body to looser styles.
Bib pants on the other hand are becoming increasingly important throughout collections and brands. Highlights include Session's Bleach Bib in a new 4-way stretch textured fabric, Quiksilver's Highline Pro Touring Bib with a new vest construction made with stretch mesh for ultimate mobility, FW's MANIFEST 3L Tour Bib Pant with Cordura side panels, Bonfire's Master Bib with full 2-way zip and outseam ventilation, L1's Theorem Heron Bib "in a smart and sleek silhouette" and 686's new GLCR Hydrastash Quantum bib and Hydrastash vest, "both with Hydrastash now in the low back area and even closer to the body than the previous jackets. The vest is unique as it also snaps into any pant to create a bib feel as well," states Brent Sandor, VP of Marketing.
FABRICS
Supporting the eco-theme, a lot of the fabric innovations for FW20/21 aim to reduce the environmental impact of our beloved sport. Horsefeathers introduce Primaloft Bio, "the first-ever 100% recycled, biodegradable synthetic fibre, as well as the 2nd generation of Ultratech Recycled with 25K waterproofness and 20K breathability." They also upgrade the insulation on their high end models to Clo Vivo Eco, which is made up of 93% recycled fibres that are extruded from recycled plastic bottles. 686 updated all of the insulation in the GLCR range to more sustainable, eco-friendly recycled materials: Clo and Primaloft with a minimum of 70% PCR recycled fibers made from plastic waterbottles.
Picture Organic Clothing work with bio-sourced sugar cane fabric and the brand new Xpore membrane that is 100% PFC Free and completely recyclable, allowing them to reach consumers on a very high-end target and on jackets equivalent to Gore-Tex Pro Shell. Black Diamond is also continuously broadening the selection of PFC-free DWR solutions: "A major initiative is the use of GTT Empel Breathable Water Protection, a DWR which uses no water in its production and won't wash off," explains Christian Lehmann, Head of Marketing Europe. Protest use recycled fabrics, like nylon, polyester and TPU as well as wadding made from bamboo as insulation and a biodegradable PFC-free finish for their PVRE Green series and O'Neill work with a 100% recyclable and climate neutral membrane fabric made with Bionic yarn and trims made from ocean and marine waste, as well as Gore-Tex Infinium for men and women made from recycled PES fabrics. Templeton contribute to an environmentally friendlier product by implementing Sympatex, which is 100% recycled and recyclable, next to 100% Hemp Canvas items, that are water resistant, highly breathable, antibacterial and very tear-proof.
In order to be functional, outdoor gear obviously has to keep the wearer warm and toasty, which Columbia ensure with their new Omni-Heat 3D lining and Omni-Heat Black Dot, "which is the industry's first external thermal shield. Specially designed black dots trap warmth and capture solar heat. It thus enhances thermal efficiency and reduces heat loss." O'Neill strategically place their Firewall Magma lining at the back of your jacket, keeping you 25% warmer than a normal.
Yet comfort has to come without limiting mobility, which is why Bonfire mention Zone Mapped Technology as their biggest story for the upcoming season. "We mixed shell fabrics, and lining materials to create products that offer strength and added mobility through the shoulders and upper arms, combined with our lightweight 2 Layer Vertex fabric to keep the rider comfortable while saving bulk and weight." Dakine use a "3D panelling style construction in the body to help create a fit that mirrors the body's natural three-dimensional shape. With the addition of a lightweight Gore face fabric and the fluid-like flexibility of the C-Knit backing, it moves with the body, not restricting it. Of all my designs, this is the piece I'm most proud of," says Peter Line, Dakine Outerwear Designer.
Of course stretch fabrics are quite helpful with this as well. Volcom offer 3-in-1 Jackets with 3-Way Stretch, Bonfire introduce 30k stretch Cordura, L1 offer a new a 20k/20k 4-way stretch 3-layer Cordura fabric in the high-end Theorem line and Sessions add technical performance with a 4-way Pinnical Stretch performance fabric and a 4-way light stretch Textured fabric. Holden continue to partner with Polartec in a variety of ways utilizing their Power Stretch Pro, Alpha Direct insulation and synthetic shearling materials.
A not entirely new but increasingly important fabric story is softshell. Brethren's entire line is made from this soft and comfy material, as the brand "noticed an over-technicality of products, there's loads of 30k gear hitting the market. I find it amazing that retailers are willing to sell gear that you could climb Everest in to customers that go on holiday for a week a year. We strive to keep snowboarding affordable, it's an elite sport already and there is no need to make it more expensive." Sessions highlight their melange Athletic Grey 10k & 3k softshell and Ride Snowboards have a wide offer of fully ridable softshell jackets.
COLOURS
Colour palettes won't hold any major surprises next season, ranging from earthy and muted at Holden, Protest, Sweet Protection, Templeton, Picture Organic Clothing, Bonfire and FW to an "overall softer tone" at L1, including Lime and Lavender. Other new combinations include Picture Organic Clothing's mix of Purple with Saffron, Protest pair it with Deep Orange and Navy Blue, as well as Dusty Pink alongside Olive Green and Grey, or FW'S shades of Alpine Lake, Pale Leaf, Light Stone and Pastel Canyon.
Horsefeathers keep the bright colours in the line and "combine fluorescent neon with colours you normally wouldn't expect to go together." Other brights include "High Risk Red, Dark Sapphire, and Acid Lime" from Dainese, "Cypress; Azurite, Port and Crimson" from Black Diamond and a "killer throwback yellow that is being well received by our team. Also featuring a bold blue and a fun orange this season which will add pop" at Sessions. Protest also continue their successful blue group, with Blues, White and Dark Navy combined with Red.
686 are moving away from replacing too many colours and silhouettes year after year in order to be more consistent for their retail partners. They've kept the best selling colours and added a few new colors inspired by their athletes, like Gigi Rüf's pro model jacket in Clay.
PRINTS & PATTERNS
When it comes to prints, Bonfire state that they're moving away from this trend a bit, as they see a greater response to colour blocked products.  "All in all, the blocked items bring more of a high technical feel to the line than prints" and also fit the retro 90s theme. Dainese use colour blocking to make their jackets match with several colours of pants, adding that "this type of design satisfies a broad range of consumers, in particular a young target," as Nicola Bragagnolo, Product Manager Multisports says. Black Diamond also bring colour blocking back in certain styles, adding variety and new combinations, while Protest "use colour blocking as an intense method of creating contrast on the slopes." Picture Organic Clothing on the other hand have "completely moved away from fluorescents and mixes such as colour blocks with major sharp contrasts."
Camouflage continues to be a proven classic print and can be found at Bonfire, in a "natural woodland style" at Brethren, as an oversized large-scale pattern at Holden, Tiger Camo that pairs perfectly to the more de-saturated palette at L1, combined with Browns at Protest, Standard Camo at Sessions, and a very special Japanese inspired Koi Camo at Templeton.
Other print highlights include Session's bold and eye-catching Splatter Print, Volcom's Magma Smoke Print, a Lava Print by Bonfire and Tie-Dyed Nylon at Holden, who also show new distressed oil washed Italian materials to add texture. Horsefeathers introduce four new prints, amongst them Birch and Azteca, while Columbia jumble up the brand name in their new all over Typo print.
A special mention goes to Sessions for their collab with Led Zeppelin, whose music has consistently been a driving force in skateboarding and snowboarding. "As a skater of the late 1970s and 1980s era, it was common to hear Led Zeppelin blasting out of a boombox when carving an empty backyard pool. Jimmy Page's guitar riffs and John Bonham's drumming would always push me to challenge the boundaries," says Sessions Founder Joel Gomez.
BASE LAYERS
The layers segment has been growing for some seasons and is not scaling down. Picture Organic Clothing have expanded to a wide selection and a more hybrid range with mixes of Power Stretch on areas that need to breathe, and Primaloft on areas that need to be isolated. DC agree that this category is "growing rapidly" and expand the offer in their mid-layer program. Adrian Rief, Marketing at super.natural add that their "products' timeless design makes them suitable for every age group, any occasion and all types of people."
Burton expand their seasonality with Multipath, "a year-round, active versatile collection to keep us on the mountains to experience the unbound freedom of snowboarding as well as other outdoor pursuits." Black Diamond also state that their "new fleece collection is built to be versatile and address the needs of the consumer both on-mountain and off."
When it comes to layer material, Polartech is a sought after supplier as well as stand-alone producer, who have noticed and are serving the consumers search for environmental credentials. "In 2018 Polartec developed and launched Power Air. It sheds at least five times fewer microfibres than other high-performance fleece fabrics through a revolutionary knitting process which encapsulates the microfibres in small pockets. Lightweight Power Air takes this one step further as it not only reduces microfibre shedding but is also completely recyclable and is made from 73% recycled plastic waste."
Due to its moisture wicking and odour repelling qualities, Merino wool is also a popular fabric for layering, like in FW's Raw Collection. Super.natural combine it with synthetic fibres, creating a tightly-knit connection between the materials for an "extremely soft surface that doesn't scratch and offers incredible natural comfort."
Holden use a WHOLEGARMENT knitting process for their base layers, where each garment is knit to completion in a machine, without cutting or sewing. Dainese use Dryarn, "a mix of Polypropylene and Polyamide fibre which makes it one of the best in the market for baselayers in contact with the skin."