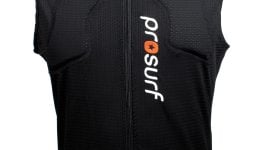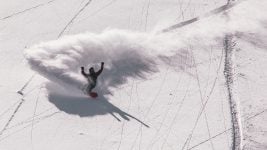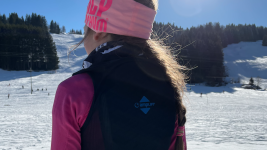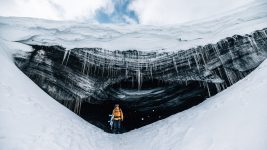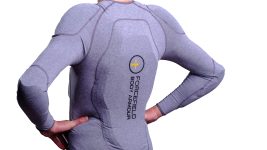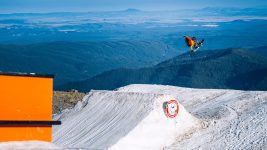 Snow Protection 2023/24 Retail Buyer's Guide
Protection wear is no longer deemed just for beginners, with many pros and regular shredders opting to protect their limbs and bones from any unevntualitites the day may throw at the. Delivering second skin like pieces can drive sales. By Rocio Enriquez.
Protective gear is widely accepted in snowsports. Resort closures had an unintended positive impact on this category. Snow addicts who couldn't see a season go by without sliding down a few hills moved to the backcountry. They needed protection to enjoy their new off-piste adventures. Once resorts re-opened, the pandemic wave of enthusiasm for the outdoors brought new adepts to the mountains. This created great demand for protection, especially for the younger riders. Protection is not the only quality consumers look for. Freedom of movement and comfort are key in a product that you are meant to wear all the time you are riding. Users want light, thin, flexible, and breathable pieces that feel like a second skin. Consideration for the environment can seal the deal when purchasing your snow protection gear.
New for 23/24
Wearable comfort is the main focus. Pieces become thinner, more flexible, and very breathable. Amplifi redesigns their MKX top from Exoskeleton to base-layer, with the promise of unrestricted movement. The Hex Flex construction makes it very light, protective and breathable. Their Reactor Waistcoat Pro has a super light, vented Exoflex back protector and super light SAS-TEC shoulder protection for bombproof comfort. The 4-way stretch panels secure a perfect fit. Triple Eight pushes their Bumsaver and Undercover Snow Wrist Guards and Knee Pads. The padded Bumsaver shorts protect your rear, hips and thighs discreetly under your clothes. They feature a lightweight, breathableand form-fitting mesh fabric for an extra comfortable fit. The Undercover snow knee pads and wrist guards deliver top-notch protection in a design slim enough to fit under first layers and gloves. Evoclaunches their brand-new protection wear, featuring LiteShield technology. They use high performance textiles found in base layers and sportswear. They are smooth to the touch, highly breathable, moisture wicking, quick-drying, elastic and odour neutralising. The design is fine-tuned for comfort and freedom of movement. The LiteShield Flex is a specially balanced blend of thermoplastic elastomers (TPE) with a sophisticated geometry. It provides ergo-dynamic flexibility and up to 95% impact protection at a wide temperature range. It also reduces weight and optimises ventilation. Forcefield has halved the thickness of their new armour, while still hitting the higher CE Level 2 benchmark. Their GTech jacket comes fitted with a FreeFit CE Level 2 on the back. The user can then choose an isolator CE1 or CE2 for the limb armour. This provides more flexibility in terms of armour characteristics, temperature, and usage. Xion launches their new Air Series. "It combines superior high-performance protection with maximum breathability", says Michael Link. Prosurf adds one more seamless back protector and one pair of shorts to their D3O range. Re-Zro's biodegradable material offers incredible flexibility even in minus temperatures, while keeping the performance requirements needed for the CE standard.
Sustainability.
Most brands choose sustainable materials. Re-Zro enters the market with the first biodegradable and 100% recyclable impact protection material. Thanks to their technology, when a Re-Zro part hits the landfill, microbes colonise and consume the plastic. "Through third party testing, we know our parts will biodegrade fully in three to five years", says Marcus Hoenig. Other brands use proven recycled or natural materials. Forcefield's GTech jacket is made with a wicking, breathable fabric made of recycled ocean plastics. Amplifi uses Miharo, a natural fibre from a fast-growing, renewable source. It has become a leader amongst climate control and odour management fabrics. Evoc uses the innovative S.Cafe® for odour-neutralising. "We designed the protection wear with a cradle-to cradle approach in mind and made it as recyclable as possible", says Alexandra Hlawitschka. The user can easily separate the hip belt and the protector from the vest. The hip belt has got elastane, which cannot be recycled. The protector, made from TPE, and the vest, made from PET, can be separately recycled. Forcefield uses recycled materials in their packaging and hangers.
Production processes are as sustainable as possible too. Amplifi applies a zero-waste policy when injecting their MKX parts. Every offcut is carefully collected and upcycled into brand-new products. Re-Zro also regrinds the offcuts to reuse them in new products. Their production does not produce harmful gases or toxic waste. Evoc observes that treatments, finishes and production methods are as sustainable as materials. Xion sources all the fabrics in Europe, where their production is. That way they secure the highest ecological production standards, fair working conditions and good quality standards.
Retailer Support.
Brands have POS displays and extensive visual assets to support retailers in-store and online. Xionalso offers training to educate staff about the product. Raw materials and shipping costs have increased. This will impact the final price to the consumer, but brands have worked to minimise it. They have also optimised their production efficiency to make sure deliveries are timely for next season.