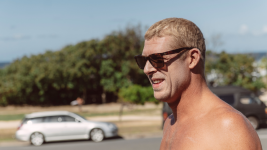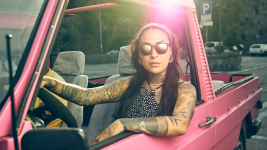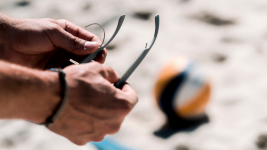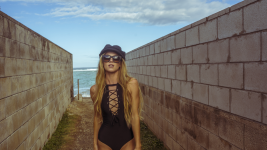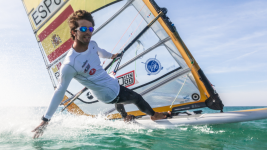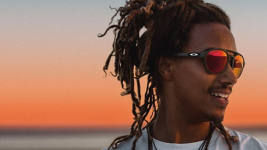 What are the key frame designs and style trends for 2019 boardsports sunglasses? Find all the essentials in our Retail Buyers Guide by SOURCE Skateboard Editor Dirk Vogel.
Sunglasses are more than stylish accessories nowadays, but part of one of the world's hottest growth markets: The global eyewear market is currently worth around $109 billion and projected to reach $167 billion by 2023 (Business Wire). Major growth drivers include increasing exposure to electronic gadgets, as well as consumer demand to stand out by wearing premium, fashionable products. "Sunwear touches everyone. Everyone wears sunglasses and everyone's sunglasses are an extension of who they are," said Shay Williams, Product Development Specialist at Dragon Alliance, pointing out this season's Designed For All Collection.
The design of boardsports sunglasses tends to march to its own drummer with a main focus on offering reliable UV-protection and crystal-clear vision in a rugged package. But larger fashion trends can no longer be ignored. "The main trend is a need to diversify traditional boardsport frame shapes with more contemporary fashion designs," said Tom Lazarus, Operations Manager at Dirty Dog, a brand specialized in fashion-forward frames at price points between £39.99-£59.99. Josh Hartley, Global Design Director at VonZipper encourages retailers: "Take a little risk, purchase products that are a little more fashion forward and offer your consumers some more diversity. Roll the dice on a little smaller more fashion-forward frame or that angular wire frame."
With that said, this season's boardsports sunnies represent the best of both worlds: Rugged performance and on-trend styles, offered at surprisingly reasonable price points. CHPO sunglasses retail from €29-35, while Sinner, Melon, and Carve sell polarized lenses and fashionable designs under €59.90. At VonZipper, the main price window is $80 to $120 for non-polarized models and $120 to $150 for polarized. Meanwhile, premium eyewear still comes at a price: Brands including Oakley, Dragon and Electric are rolling out the latest frame materials and high-end lenses at price points above the €200 benchmark.
THE 3 MAJOR SUNGLASSES TRENDS TO WATCH IN 2019 COLLECTIONS
1. Ready for action. Consumers demand action sports eyewear that enhances their experience and are ready to buy specific models and lens set-ups for different activities. "We definitely see a trend towards sports performance styles," said Philippe Lalemant, Marketing Director at Electric Eyewear. At Oakley, EMEA Business Manager Carles Malagarriga sees a trend towards, "specific frames and lenses for different activities," including the Split Shot model specifically designed for use in and around the water, equipped with Prizm Deep Water lenses. The season's action-ready frames incorporate rugged materials, for instance Oakley's Unobtanium, Red Bull SPECT's Ultra Flex and 100% memory from Dirty Dog.
2. Futuristic tech. As part of the 1990s retro fashion trend, high-tech frame designs – think wrap-arounds, masks and thin wire frames – are worn unironically. Oakley's techy shield frames lead the way, joined by futuristic designs and the season's hottest phenomenon: "Acetate and wire combos are trending," said Lucy Martino, Head of Product at OTIS. Red Bull SPECT Eyewear takes it to the next level by using wire inserts for added performance in the Dual Temple System: "A hidden second temple can be pushed out when needed, hides fully behind the ear and thus provides best hold during sporty activities," said Marius Cadalbert, Head of Brand at Red Bull SPECT. 
3. Reflective mirror lenses. Bringing the season's tech and performance aesthetic full circle, lenses feature mirror coatings in classic silver and a broad variety of shades. "Coloured mirror lenses are the trend. Especially pink lenses," said Boukje Bontenbal, Product Manager at Sinner. Look out for flashy gold mirrored lenses from Red Bull SPECT while Dirty Dog will be, "introducing different shades of Blues and Greens to suit the customer's tastes."
2019 FRAME STYLES
Frame styles are a mixed bag this season, says Josh Hartley at VonZipper: "We all know the 90s are back and the 2000s are already here as well… Small frames, pop colours, monochromatic frames and lenses, wrap around, wire frames, and cat eyes are still trending." Last season's trend for John Lennon-style, classic frames continues in frames by Zeal, Bolle, CHPO (Liam model), Dirty Dog (Pandaface) Dragon (Hype Profile), D'Blanc, Electric (Knoxville), Horsefeathers, Melon (Layback 2.0), Oakley, OTIS (A Day Late), Sinner (Dagmar), VonZipper (Morse), Smith, Quiksilver, Roxy and ZEAL (Boone). But a new range of micro trends is joining the party. "Round frames are still hot, but we will also see a lot of straight frame shapes this season and a lot of sunglasses with a double nose bridge," said Boukje at Sinner. In women's collections, classic Cat Eye frames are reimagined by OTIS (Lyla), CHPO (Bodhi) and ZEAL (Crowley).
The other major 2019 trending style, as mentioned above, revolves around shields. Red Bull SPECT is, "launching a shield frame line especially designed for the need of bikers, runners and cyclers." Melon has the Halfway, "a semi wrap-around model which does not look too extreme, but works great," said Neil Slinger at Melon Optics. Moving things forward, Oakley is introducing the Ahyris collection, "a sun and optical lifestyle collection that features a unified design aesthetic that is symbolic of and takes cues from the eye. The name 'Ahy-Ris' finds its source in the collection's inspiration, the iris of the eye, the window to the soul."
In terms of frame colours, crystal-clear acetate frames are all the rage – especially in bolder frames such as cat eyes. Phil at Electric points out, "matte black, tortoise and bi-coloured frames," while Neil at Melon sees a trend towards metal and gold frames. Flexing its design muscle, Oakley introduces the Oakley CHRYSTL, where "the lens becomes the frame" by using, "a single design element to connect the frame and temples together, topped off with a rollbar that adds both style and function." Also look out for, "a lot of glossy, tinted, slightly transparent frames and tortoise frames," said Helena Scholl, Marketing Manager Europe at Carve.
LENS TECHNOLOGIES
Customers demand full UV protection and polarization, now found in the mid-price segment and most entry-level collections. Maintaining a high standard, Neil at Melon Optics said that all lenses,"
are Japanese polarised UV400 lenses as standard. We also incorporate our own Amplify Lens technology on the coloured chrome lenses which adds a richer depth of colour and improved contrast." Dirty Dog relies on Photo+ lenses to offer photo-chromic properties, while OTIS introduces Light Improvement Technology (LIT) lenses with hydrophobic qualities. At Oakley, Carles Malagarriga names the sports-specific Prizm lens as the season's focal technology: "With an even larger lens assortment, two sport specific and four new lifestyle lenses, we are confident that Prizm is what sets Oakley apart from our competitors."
When it comes to lens technologies, not all collections are created equal, said Shay Williams at Dragon Alliance: "Our polarized film is sandwiched in so it doesn't flake off like some lower-end brands, and it's not heavy and expensive like a lot of glass brands." Josh at VonZipper is pushing, "The Wildlife Lens Technology, a polarized lens that blocks 99% of the damaging high energy visible light waves, aka Blue Light." Phil at Electric is stoked on, "a proprietary technology called OHM lenses. These lenses combine a category exclusive synthetic melanin injection with unique colour tints to maximise clarity and protection." Instead of developing their own lens tech, a large number of brands trust in German quality Carl Zeiss lenses – adding their own customization – including Spektrum.
LENS TINTS
Lens colours are a powerful medium that can single-handedly transform the overall look of an eyewear frame. The season's buzzing style, as mentioned above, revolves around mirrored lens coatings in a variety of tints from gold and silver all the way to electric blues. For a more subtle aesthetic – and a less 'techy' look – also watch out for rose and subtle blue tints from a variety of brands.
Let's not forget that lens tints also represent a performance attribute. At Zeal Optics, Director of Brand Activation & Digital Strategy Mike Lewis, says that, "the Ellume Polarized options are available in four colorways that have different functionalities." The Copper option "enhances contrast and depth perception by blocking harmful light rays that cause haze so you see greens, reds and blues more vividly." Oakley is combining tech and style by introducing four Prizm universal lens colours with Prizm Indigo, Prizm Rose Gold, Prizm Peach and Prizm Grey. Meanwhile, the team at CHPO said: "Leaving a colourful SS19 behind, we're heading for mostly black and darker lenses this season."
FRAME MATERIALS
The two major frame materials trends for 2019 are functionality and sustainability. In the functionality department, Red Bull SPECT incorporates TPE (Thermo Plastic Elastomers) for best flexibility, the Dragon H2O Floatable Collection offers frames that can swim, and Oakley holds together 24 frame elements in a single piece via Coldfuse technology. The most frequently used materials in boardsports collections are still Grillamide and acetate, including Electrics' premium acetate sourced from Italian experts Mazzuchelli. Wire elements are trending, while titanium is slowly finding its way into the segment.
On the sustainability front, boardsports brands are committed to reducing their environmental impact: OTIS implements bio-acetate that is 100% bio-degradable, Sinner launches the BPE-free Eco Friendly collection, CHPO uses 100% recycled plastic and Zeal Optics uses Z-Resin that is derived from the castor bean plants. Sustainability can also mean buying sunglasses – and other products such as clothing – less frequently. Eyewear brand Aphex was created in 2011 with the belief that, "re-usable materials or 'modulable' glasses are the new trend. If we can buy only the lens, frame or hedges when damaged, no need to buy new ones," said Aphex founder Maarten van der Laan.