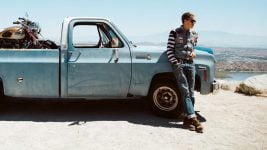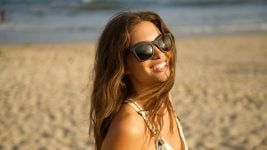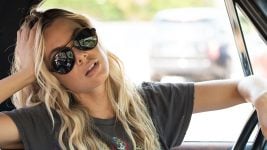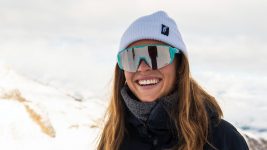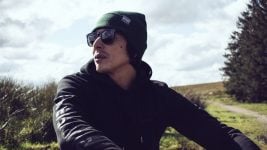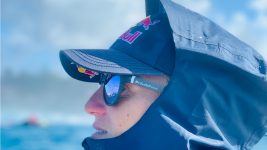 The pandemic has increased consumer appetite for outdoor activities and, consequently, the demand for high-quality sports sunglasses offering protection against ultraviolet radiation during outdoor adventures on the one hand and serving as fashionable accessories on the other. The Retail Buyer's Guide for SS21 by Natalia Maruniak.
Even the global Covid-19 pandemic could not stop the growth trend of the sunglasses market. Although the revenue forecast for 2020 has been revised downwards, according to a study ("Sunglasses Market – Growth, Trends and Forecasts 2020–2025"), the market is expected to grow by slightly more than four percent in the next three years. The pandemic has added to this trend, explains Britta Dornick, Business Brand Manager for the DACH region at Oakley: "We see an increased interest in outdoor sports since the lockdown. People were spending even more time outdoors and were willing to invest even stronger in their functional premium equipment."  JP Bonnemason, Global Eyewear Product Manager at Quiksilver, confirms that while fashion eyewear sales are declining, sales of technical products are increasing: "This year the consumers were more interested by added values and technicities such as polarized and photochromic lenses and floating frames." Although almost all brands interviewed suffered a loss of revenue at the beginning of the pandemic and during the lockdown, most of them subsequently recovered. "Upon reopening, retail has been quite strong over the last 4 months which has made up a good portion of the decline during the early months of the pandemic", says VonZipper CEO and Founder Greg Tomlinson.
Key Trends
"The key trend for spring/summer 2021 is that people are going to want to get outside and enjoy the post covid winter!" predicts Von Zipper's Greg Tomlinson. And preferably with a wide range of styles. The brand offers a collection with a "mix of classic Americana acetate frames, contemporary nylon silhouettes in accessible price points and sport performance frames with features built into the design." "Versatility" is an important keyword also for Electric's Eric Crane. A mix of trends continues to be the order of the day: "90's and 2000's fashion forward colour on the urban side and sleek sophisticated classic styles on the lifestyle side." According to Martin Jones, VMD UK Distribution Manager at Spy+, wraps are making a big comeback. This is also the case at Dirty Dog, where "'Heritage' frames are the most heavily requested", says Tom Lazarus, Sales Operations Manager. In addition to wraps, "Shield remains the key trend for next summer," assures Quiksilver's JP Bonnemason and points to the brand's new model, SLASH.
There is a clear shift in the boardsports industry away from fashion trends and in the direction of an increased focus on sports performance. "It seems sport/performance is here to stay a while. We are trying to focus on our sport aspects rather than too much into fashion trends – even though Action Sports has been massively affected by fashion in the last years, it also makes everything have such a short shelf life which again is a cause of such overstocks and clearance sales. About time we refocused on the core stuff again," urges Neil Slinger of Melon Optics. This goes hand in hand with the demand for durable, all-purpose sunglasses. With its Palisade model, Zeal Optics has this kind of quiver-killing style in its product range: a pair of semi-rimless sunglasses with a vintage look for every adventure – "whether you want to hit the mountains or see a show," says Mike Lewis, Director of Marketing at Zeal. It is also important for the brand to tell a story: "With people spending so much time at home and online, brand messaging has been nearly as important as the products you make. For every company."
Frame Shapes
Sunglasses are still considered "the ultimate fashion accessory," which drives brands to offer timeless classics as well as trendy frames and lens styles. "Sunglasses are used for protection but also as a final touch to your outfit, in this idea, people tend to choose a cleaner look, which combines with a wider range of looks," explains Maria Adam, Europe Brand Manager at Carve. In addition, she sees unisex models as very much in vogue.  But due to the pandemic, particularly oversized sunglasses are also in high demand at the moment: "Due to Covid-19, people are looking for a stylish protection also for their eyes. Sporty shapes (such as the Rocket model of the Fusion line with a base-8 shape and patented WING DTS technology) support that desire and also underline an athleisure lifestyle," says Michael Schulmeister of Red Bull SPECT Eyewear. For Melon Optics, the focus is also on a sporty look with rounded lenses, which, however, should "not look too 'performance'" (semi-wrap-around model Halfway).
Shield glasses will be an inevitable accessory in trend next summer, and Von Zipper offers a combination of semi-frameless and full-framed shields. Oakley (with its model Sutro) and Quiksilver also meet the demand for such models. At Quiksilver, in addition to shield and visor glasses, there are timeless, round shapes, wayfarer and aviator models with a focus on elegant details for a clean look, and wide, angular retro acetate frames. Roxy celebrates the "return of the cinematic squared and hexagonal styles and still thin retro cat eye shapes" and focuses on "timeless shapes like retro round with keyhole and butterfly styles," says JP Bonnemason. Liam Barrett of Dragon explains: "Round shapes continue to trend well in the lifestyle category. Full coverage wrapped frames with coverage around the eye are relied upon by the water enthusiast."
Colours
The development in terms of colours is described by Martin Jones of Spy+ as follows: "I think we will begin to see less colour frames going forward as customers are now looking for one piece for all engagements". For Carve, subtle tones such as transparent polycarbonate frames in grey, honey yellow, olive or brown are likewise amongst the key colours; matt replaces gloss for a more elegant street style. CHPO's SS21 collection is characterized by vintage vibes; we can expect green, brown, mustard yellow and leopard brown lenses with some splashes of light blue and the classic black.      Dragon chooses copper, green and blue for its glass shades, while Von Zipper opts for green and blue shades as well as various bronze and pink hues. Spektrum works "exclusively with colours that can last for many seasons and somehow relate back to the mountains or nature like Cobalt Blue, Moss Green and Rock Grey".
While Dirty Dog is all about the colour black, Zeal has created a colour palette of earth tones with poppy standouts like orange, green and blue. The lenses are available in matching dark grey and copper. Vertical goes on the safe side with its frame colours black, brown and blue; the lens shades purple and blue are particularly popular with its customers. Oakley uses retro colours inspired by the colour palettes from the brand's archives from the 80s and 90s: bold and strong colours with a heavy influence of silver and gold medals to mark the Summer Games. And the classic tortoiseshell (Dragon, Carve, Von Zipper, etc.) will also be again very popular next year. Dewerstone represents an exception with its wooden frames: the natural wood pattern makes each model unique and especially the zebrano wood of the Sumbawa model highlights the uniqueness of natural materials.
Materials
A large number of the brands, including Red Bull SPECT Eyewear, Spy+, Von Zipper, Vertical, Quiksilver, Roxy, Dirty Dog, Bliz and Melon Optics manufacture their sunglasses or part of their collection from Grilamid TR90. "Grilamid® is a lightweight frame material ideal for everyday wear due to its strength and flexibility," explains Martin Jones from Spy+, while Von Zipper's Greg Tomlinson cites the low price and comfortable feel as advantages of Grilamid. Quiksilver's Floatable collection uses TPX, which gives the frames the ability to float in the water. In addition, the brand's collection also includes acetate frames, as do Roxy, Electric and Von Zipper, where Mazzucchelli acetate provides "comfort, interesting color and rich hand".
Already before the outbreak of the pandemic, the trend towards products that protect both personal health and the environment had become evident. "The demand is for sunglasses that provide world class protection but from companies that take responsibility for their worldwide impact," says Rory Atton of dewerstone, calling for every single model of sunglasses to contribute to preserving the environment. The brand, whose entire collection carries the "Climate Neutral" certificate, works with wood (maple, zebrano and ebony) and bamboo frames and organic acetates.
Dragon has expanded its 'Upcycled Collection' and uses plant-based resin, recycled PET and TPX nylon for its floatable frames, while Spektrum also uses Swiss-made, bio-based Grilamid. Zeal is currently focusing on the launch of its new Sea Grass Collection – "heavy on fashion and light on footprints. They're made from agricultural grasses, such as hemp and straw, mixed with recycled plastic bottles… Combined with our plant based Ellume Polarized lenses, the two new styles it comes in (Aspen and Divide) are our most sustainable releases to date." Electric also uses eco-friendly materials in its injection and acetate models: "There are castor bean based and bio-acetate based options available readily in the market these days. We will continue to bring more and more products to market using these alternatives," explains Eric Crane, Founder of Electric.
Lens Technologies
An important trend that has been accelerated by the pandemic regards sunglasses with blue light filter technology. "The largest opportunity (in the wake of the pandemic) has been the need for Blue Light reduction glasses due to the increased screen time consumers are experiencing," notes Liam Barrett, Brand Manager at Dragon. Such demand is also being addressed by CHPO with the launch of a new product category – "specially crafted lenses that filter out the blue light coming from your phone and computer screen. The blue light from the screen can cause eyestrain, dry or irritated eyes and can mess with your sleep," explains Johanna Akerström, Marketing Coordinator. Electric also focuses on blue light filtering technology and the lenses (WildLife Lens Technology) "block 98% of all HEV blue light in addition to 100% UVA and UVB and are designed for long days in the sun, on the water, the glacier and other harshly lit environments."
Many brands, including Spektrum, Melon Optics and dewerstone, have teamed up with the renowned German brand ZEISS to create lenses that provide extreme "clarity and precision," says Rory Atton. Electric continues to use synthetic melanin-injected lenses as well as Barberini glass for the polarized models. The brand's latest innovation is a polarized, melanin-infused lens with melanin infusion that provides better vision in flat light conditions. Spy+ is now launching in Europe its patented 'Happy Lens', which preserves the natural, therapeutic effects of sunlight and is thus designed to improve one's mood and alertness: "Increased contrast and clarity highlight changes in terrain while enhanced colour rendering presents colours that are more pleasing to the human eye." And Bliz has developed unique lenses for SS21 with minimal visual distortion and an integrated anti-fog treatment. The result: Nano-Optics lenses.