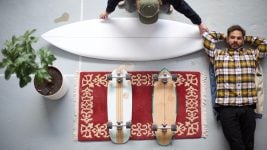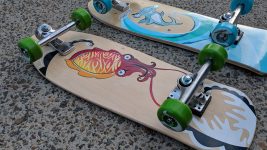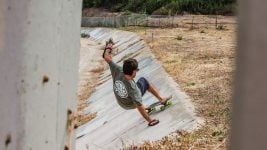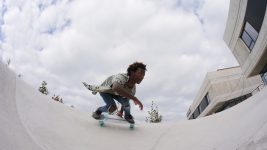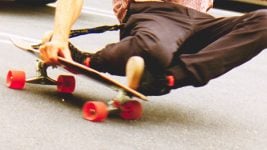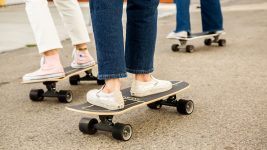 With deep hooks into both surf and skate culture, the Surf Skate phenomenon has been building buzz over the past few seasons. Time for a special report by SOURCE Skateboard Editor Dirk Vogel.
Surf's up! Everywhere around the world, riders are replicating the thrills of wave riding on concrete ground. Armed with extra wide skateboards on ultra-loose trucks, they're getting their kicks on back alleys, banked driveways and drainage ditches. It's all part of the Surf Skate phenomenon currently emerging as a new category in skate hardware. "Surf skates are the new big trend in the longboards market. From all our brands, YOW has been the one experiencing the biggest growth," said Xué Gil, Brand Manager at Spanish brand YOW (Your Own Wave).
"The accessibility and easy approach to Surf Skate, along with the exploding surf market, really gives everyone an opportunity to have fun and surf the streets, whether you are landlocked, the waves are flat, or you just want that surfy feeling under your feet," said brand founder Neil Carver at Carver Skateboards, whose biggest growth segment right now are female riders. Steve Douglas at Rolling Thunder Distribution (OP Skateboards) said: "From avid surfers to surfer wannabe's to older guys that just want to keep the momentum and balance going. It really reaches a broad demographic." At Flying Wheels, Benoit Brecq has seen the audience evolve: "At the beginning the market was for surfers looking to improve their surf tricks when the waves weren't good. Now more and more people are using Surf Skates because the surfing sensation is really close to real surfing in water."
WARNING: KNOW YOUR AUDIENCE!
The trend definitely provides shops with an opportunity to potentially sell to a new kind of customer. But as a word of warning, stores should really know their audience and prepare to dedicate significant floor space before doubling down on Surf Skate. Asked about the main audience, many brands see the category aimed at surfers first, skaters second. According to Dave Gitlin, Senior Skateboard Designer at Globe, Surf Skate attracts "mostly people that have surfed before up to novice and amateur surfers. People that are choosing these boards know the feeling of pumping to get down the line or taking hacks at lips and are looking for some interpretation of that when they're not in the water."
Other brands shun the skateboarding connection entirely, including SmoothStar: "Ninety-nine percent of our customers are surfers and don't really skate or have little experience in skating. SmoothStar is a 100 percent pure surf company, in fact we remove all relevance of 'skate' from our brand," said Rhett Hookham, International General Manager at SmoothStar, who hosts surf training events on surf simulators to teach proper technique. "Some customers want to just generate the speed and think that's surfing. In 2018, we called this the 'European Wiggle' and it has stuck. Wiggling is NOT surfing; it's just wiggling your feet back and forth without any movement from your upper body. Upper body movement controls what is under your feet with both Surf Skate and surfing."
MARKET: RISE OF A NEW CATEGORY
From a market perspective, brands are taking Surf Skate seriously and many have been doing so for years, way ahead of the trend. Original Surf Skate brand Jucker Hawaii, who already created a 360-degree single wheel rotational truck as early as 2010, even secured the name "Skatesurfer" in Germany. Carver has been selling surf-inspired skateboards since 1996 and founder Neil Carver points out: "While there may be a superficial similarity to cruisers or longboards, Surf Skate is distinct from other categories because of its true surf performance!" The Slide brand by Sancheski was started in 2010 but at the time, "retailers saw it as a strange product that they didn't quite understand. It was easier to introduce in places near the seaside with a strong surf culture," said Slide Product Developer Iciar Sánchez.
In light of the current trend, Dave at Globe sees Surf Skate as its own unique category: "It's added additional sales and attracted customers that are in it for a different reason than most cruiser and longboard customers." Andreas "Maui" Maurmeir, European Marketing Manager at Sector 9 said: "At the end of the day, we talk about sidewalk surfing. And since day one, sidewalk surfing is the very essence of what we do at Sector 9 Skateboards. We wouldn't segment the market on only the name Surf Skate." Instead, Maui advocates a quiver approach, with riders stocking a variety of boards for various riding styles: "The quiver is the key. It really is like in surfing. Different waves different boards, different streets different skates."
COMPLETES: SURF-READY BOARDS
Speaking of boards, ready-to-ride complete skateboards are the Surf Skate category's lifeblood. And what specifically makes a skateboard a 'surf skate'? First of all, responsive and carve-friendly trucks that offer a tight turning radius and the ability to 'pump' for speed (see Trucks). Second, riders want wide-bellied decks offering plenty of space to plant their feet. Steve Douglas at OP Skateboards sums it up: "Wider short boards, 30-inch by 9-inch with different type tails, from squash to swallow tails. The constructions are basic wood plies but there is certainly room to evolve into more flexible constructions, with bamboo, fibreglass, and so on." The team at Miller Division emphasized, "a wider tail bump for increased back foot leverage in bowls and ramps", while Carver incorporates a Hyperspoon concave mould and Globe implements Fiber-Carve in decks for added rebound.
For instant entry into the category, customers can choose from a variety of Surf Skate completes from brands like Carver (Triton, Channel Islands, Lost), Globe (Costa, Onshore Series), Ocean Pacific (Sunset, Dawn), Sector 9 (Crescent, Flux, Nectar), Flying Wheels (Belza, Ventura, La Jolla), Jucker Hawaii (Mini Pono, Pau Hana cruiser), Slide (Grom, Fish Tuna, Amuitz), Miller Division (Pablo Solar, Kirra, Mundaka), Mindless (Surf Skate completes), Slide (Gussie 31, Fish 32, Diamond), Smoothstar (Mini Grom, Flying Fish, Filipe Toledo) and YOW (Pipe, Teahupoo, Aritz Aranburu). Starting at around €150 and with a pricing sweet spot at €230 for premium quality, these beauties deliver 'surfy' board shapes, nimble trucks and soft wheels straight off the shelf. For kids, Carver offers the Triton series while Mike at Jucker Hawaii recommends 'rip sticks' for kids who are too small to put proper weight on the 'surf trucks'.
TRUCKS: THAT SURFY FEELING
On the subject of trucks, the biggest innovative push in the segment comes from surf-style trucks implementing springs or extra bushings. These trucks are usually mounted in the front: "The tail truck is standard, working as a pivot, which allows the nose truck to shift left and right as the rider moves their weight between rails, allowing more dramatic transitions from one side to the other, delivering that smooth surf 'feel'", said Steve Douglas at OP Skateboards. Globe has developed Revenge Alpha II trucks, featured as standard in its Onshore Series: "Their patented design produces a super-tight turning radius and super-quick rebound giving you a fluid 'down the line' pump and on-dime hacks. And they've got that locking mechanism that eliminates wheel bite." Miller Division's latest XRKP II truck boasts 12 percent more turn angle than its predecessor and eight-hole baseplates.
Flying Wheels offers the single-pivot Capitol truck and close-angle geometry STR truck for Surf Skate. Spanish brand YOW has based an entire line around surf-style front trucks and brand manager Xué Gil explained: "Our trucks feature a torsion spring system, which gives skaters a very fluid ride." Carver's C5, CX, and C7 truck sets and kits allow any skateboard, and especially those retro re-issues, to be converted to a Surf Skate. Sector 9's sister brand Gullwing features the Sidewinder Trucks with their patented Double Kingpin System and soft Marshmellow Bushings equally from Gullwing. Maui says: "The biggest difference with the Sidewinder Trucks is that you have to install the same truck twice and not just one special design up front."
WHEELS & ACCESSORIES: UPGRADE TO SURF SKATE
In terms of wheels, Surf Skate is a matter of personal preference. Highlights include Globe 78a Conical Cruiser and 78a Roundabout wheels, Sector 9 69 mm Top Shelf and 58mm Nineballs, Flying Wheels 78A Climax and 83A Bumper and Carver Roundhouse 81A Ecothane wheels. Andy King at Mindless recommends: "Our new Mindless Viper Wheels are pure all-rounders. Ideal from downhill runs to hitting your local ledge. Centre set core makes coning a thing of a past."
The best news for beginners is that the Surf Skate experience can be added to existing boards via custom upgrade kits. Your Own Wave's system, which can be "installed in any kind of board, using any kind of trucks. Making your existing set-up a Surf Skate." Slide has perfected its third-generation front and rear trucks and Mindless sells the Surf Skate truck set, "with risers and bolts that make it possible to turn any deck from 8.5 to 9.5 inches into a Surf Skate." With that said, let's wait and see how many customers will hop onto the Surf Skate wave.
HIGHLIGHTS
1 trend in longboards
Mostly surf audience
Focus on complete boards
Wide, stubby decks
Specialized 'surf trucks'
Soft wheels
'Surf Skate' upgrade kits