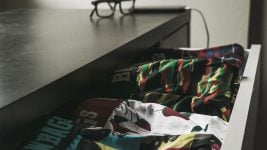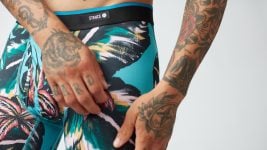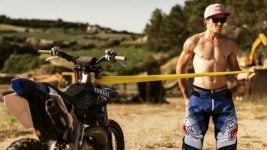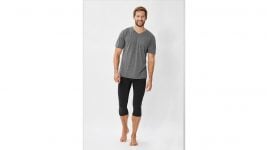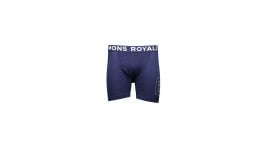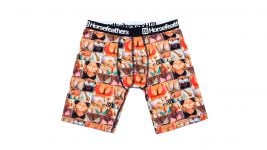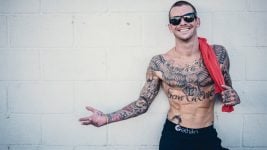 Boardsports-specific underwear becomes a retail fixture in 2019 with premium materials, stylish graphics, and rider-approved innovations. By Boardsport SOURCE Skateboarding Editor Dirk Vogel.
The underwear segment has gained solid traction in retail over the past 12 months and a dozen brands with genuine boardsports roots are pushing the market forward with style, innovation and the kind of functionality our athletes require.
"Underwear that solves a problem that male athletes have been dealing with for years is of the utmost importance," said Nora Shaughnessy, Director of Product at BN3TH (formerly MyPakage Apparel), one of several brands offering specifically tailored performance underwear. "Premium fit and quality continue to drive the purpose for existence in the market. Design and athlete collaboration definitely make the underwear specific to the boardsports context," said Nathan Hill at Stance Europe.
MARKET & PRICING
Formerly marketed around graphics and flair – similar to boardsports sunglasses ten years ago – underwear has matured. "We are embracing technology and recognizing that men are willing to pay a premium price for quality product," said Darren Wilcox, Brand Manager UK at SAXX, who help retailers with unique torso mannequins explaining their form-fitting BallPark Pouch.
Prices in the premium segment can go up to €35.00 per pair for breathable tech and upscale fabrics from brands including Moskova, Mons Royale, SAXX, Ethika, Pally 'Hi, SuperNatural and Stance. Much of the action is focused between €19.95 and €24.95, as confirmed by the likes of Stance and True Boxers. Hamburg-based Lousy Livin' Underwear remain focused on democratic price points, with graphic boxers for €14.99 and chequered and plain styles at €12.99. UK-brand Bawbags segments into Cotton Originals (£12.50), technical Cool De Sacs (£15.00) and the premium VIB range (£20.00).
CUTS & CONSTRUCTIONS
Now, briefs with visible branding on the waistband are the hot construction in 2019, striking the perfect blend between close fit, anatomical support and range of motion. This season's boxer briefs run longer on the inseam, a noticeable trend across brands. "Our new VIB premium range is cut with a slightly longer leg, and a more generous 'baw pouch' for extra comfort," said Robbie Kerr-Dineen, designer at UK-based Bawbags.
Inseam lengths have increased up to 6.5 inches in many collections, mostly for functional reasons. "The longer length holds the underwear in place and prevents it from riding up," said Oriol Latorre, International Market Director at Ethika. Moskova even goes up to nine inches. "Our best-selling boxer briefs have been re-worked with a longer leg, and are slim-fitting for smooth layering," said Juan Gonzalez-Vega, CEO and Co-Founder, Moskova Underwear.
Boxer shorts also step up their game in 2019. This includes the one-piece construction at True Boxers, which "guarantees that everything stays in place," said Marcus Stadler at True Boxers. A handful of brands offer leggings, especially for snow athletes, and Supernatural is getting a great response with ¾ length. Retailers, also look for matching undershirts, socks, and lounge pants from several brands for a full package.
MATERIALS
Merino wool, with its natural antibacterial and moisture-wicking properties, still reigns supreme in the premium segment. "Merino has always been the choice from both a sustainable and technical garment perspective," said Hamish Acland, Founder and Director of Mons Royale, who source according to the ZQ Merino standard. Stance divides the line into Poly Blend, Combed Cotton and premium Butter Blend, "a milk based fabric that is nourishes the skin, is odour resistant & luxuriously soft."
As a major surprise for 2019, cotton is making a comeback in new-and-improved technical blends. Lousy Livin have switched to a carbonized fabric finish across the line and Horsefeathers includes viscose modal blended with elastane. BN3TH relies on, "antimicrobial performance modal [and] wicking and antimicrobial polyester, and a premium brushed performance polyester." SAXX developed a new cotton collection called Undercover with a super soft cotton-modal blend, while brands across the board combine cotton with stretchable fabrics.
STYLE & INNOVATION
"Consumers are starting to look at underwear as a fashion and function category, where in the past it was just about function," said Oriol at Ethika. Loud graphics are big on the agenda, including standouts such as: neon and stripes at Mons Royale, classic outdoors camo at SAXX, florals and tie-dye at Stance, photorealistic cosmos prints at BN3TH, checkers and funny graphics (including the "Boobs" model) at Horsefeathers, pop art tomato soup graphics at Bawbags, street artist collabs at Lousy Livin, tropical greens and proprietary silicon waistband logos at Moskova, as well as floral patterns at True Boxers.
Fashionable black is also trending next season – especially in premium collections like the new Moskova M2 line, which also adds compression-like fits and perforated ventilation panels. Speaking of tech, brands are also pushing flatlock stitching and ultra-stretch waistbands, while SAXX caters to water sports with the Kinetic line. Stance incorporates a core flex waistband and a Feather-seam panel construction that eliminates stitch irritation across the line, plus Wholester support pouches in select models. On that note, the biggest tech talking point remains with sewn-in, protective pouch compartments that support the "package" on those ballsy landings. True to this season's motto: Man's best friend is in good hands – with boardsports underwear.