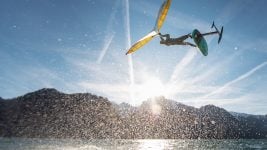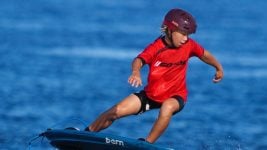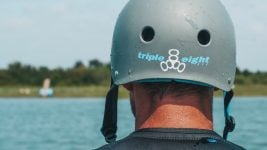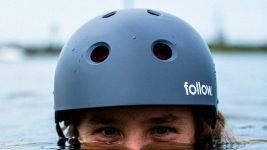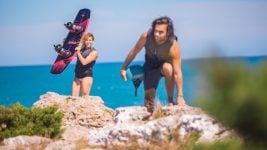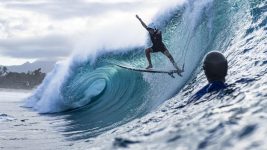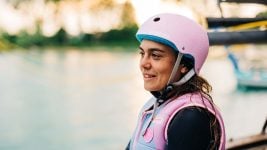 Water Helmets 2023 Retail Buyer's Guide
The explosion of foil has boosted the sales of water helmets. The challenge is to secure stock levels that meet the demand. By Rocio Enriquez.
Dedicated water helmet brands enjoy the increased sales. Multi sports brands turn their focus to water sports. Attention to head injuries has increased significantly. "As people take bigger risks, they care about protecting their head", says Ben Kamlet from Bern. Top wakeboarders and wing and kite foilers wear it. The current Big Air Kiteboarding champion won his title wearing one. That image takes the helmet cause further than any paid advertising. Improved looks and fit help, as does the rise in water sports rentals. There is nothing like wearing a rental helmet to persuade one about the benefits of owning one. Most brands expect their biggest growth in wing and kite foiling.
Shapes and Constructions
Classic skate cuts and brimmed styles remain the most popular. In the first lot we find Bern's Macon 2.0 H2O, Liquid Force's Flash and Hero, Triple Eight's Sweatsaver Halo and Sandbox's Legend. Pro-Tec had their skateboard helmets CE EN1385 certified. "The Classic Skate, the Bucky and the Full Cut Skate are where we'll see more business from", says R.P. Bess. As for brimmed styles, there is Triple Eight's Gotham, Liquid Force's Nico Pro, Bern's Hendrix H2O and the Classic by Sandbox. Gath tweaks their full cut design to suit different water sports. The Neo features a neoprene headband on an open shell, enabling peripheral vision. The SFC is a lightweight surf cap. The Gedi is a traditional, multi-impact protection style. Ion's SS23 line up is completely new. The Slash helmet, with a 360º adjustment system, is ideal for freestyle, wake park or foil riding. The high-end style Mission is ideal for foil racing. "It has been developed towards the needs of the America's Cup sailing teams", reveals Julian Lange. TSG bets it all to their new All Terrain helmet. It comes as a set of shellplus two pairs of ear pads, one for water sports and one for winter sports. The top venting can be closed, and it is certified for water sports, bike and ski.
Materials
The materials used for the shell, foam and lining determine a helmet's level of protection and comfort. ABS shells are popular. We find them in Bern, Liquid Force, Triple Eight and Sandbox. Ion uses ABS in their Slash helmet. For their high-end Mission they prefer an in-mould polycarbonate shell. Gath and Jobe opt for a high-quality plastic shell. Regarding impact foam, we find combinations with EPP, EPS, EVA and others. Bern uses a soft and comfortable EPP foam fused to a closed-cell EVA. Triple Eight and Sandbox choose lightweight and quick-dry EVA foam.
Ion features multi-impact EPP lining in their Slash model, and EPS padding in their Mission one. Liquid Force combines a closed-cell impact foam with an open-cell comfort one. Jobe uses a double density foam liner. As for linings, Liquid Force uses French terry liners. Bern opts for a neoprene fabric. Triple Eight has revamped their line to include their Sweatsaver wicking material.
Looks and accessories.
Next Summer's palette features neutral mattes sprinkled with glossy brights. There are collaborations. Follow's pro model with Pedro Caldas features a thumbprint graphic. The Alex Aulbach one carries the Tobacco graphic. Liquid Force works with wakeboarder Claudia Paganini. Her helmet sports a matte finish, two-colour spray fade, half blue and half bubblegum pink. Their collaboration with Nico von Lerchenfeld and pop artist Nane remains. Pro-Tec's third collaboration with Wesley Mark Jacobsen features his own artwork on a translucent white plastic style. Ana Nikstad also signs her own artwork for Sandbox. Ear pads are common. Ion's Mission helmet comes with removable ones. TSG adds them to their skateboard helmets to make them water sports friendly. Gath offers them along with visors and Go Pro mountings. Follow replaces them for a wetsuit beanie. The Mix'n'Matchphilosophy is popular.  "Every 2023 product you buy can match our helmets", says William Doornekamp from Jobe. Liquid Force's helmets match their vests. Ion's helmets match their wetsuits and harnesses.
Retailer Support.
Bern, Triple Eight and Jobe invest on retailer education. The Jobe Academy is an online training tool for retailers' staff. Digital assets are key. Follow makes them available for retailers before the product hits the stores. Ion's campaign includes digital advertising, team rider activation and media reviews. Liquid Force shoots every athlete in their helmets. There is in-store POS too. Bern offers displays and branded merchandising. Ion offers specific helmet hooks that work on any slat wall. Sandbox manufactures free-standing display racks. Gath prioritises dealers' business over their D2C sales to secure the stock they need. Every brand feels the impact of material scarcity and costs increase, but they make efforts to soften the blow. Jobe has made their range trans seasonal, enabling larger stocks. Overall, brands look at their production processes to secure reasonable lead times and stock levels.