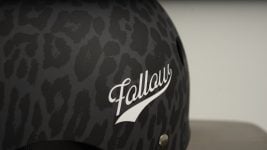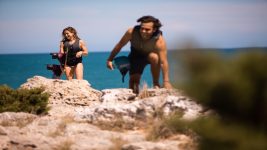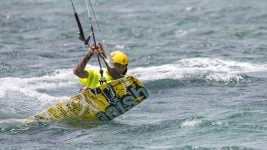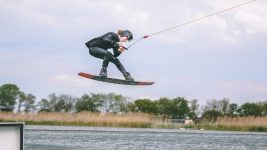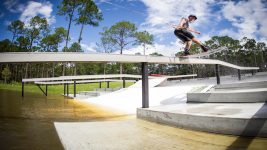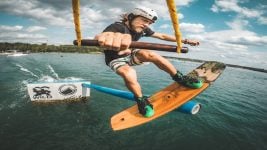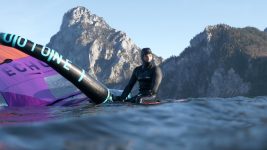 Water Helmets S/S 22 Retail Buyer's Guide
Water sports popularity keeps growing steadily and water helmets are riding this popularity wave. Newcomers or pros, it's rare to see a bare head in the water. By Rocio Enriquez.
New cable parks open every day, enlarging the wakeboarding market. The surge in interest for surf, kiteboarding and wing foiling keeps schools busy with newcomers. Foil set-ups have drawn larger numbers of fans to the sea. In this environment, one product category is reaping the benefits: The Water Helmet. Cable parks make it compulsory, so wakeboarders are completely accustomed to it. Surf and kite schools make sure their pupils wear one when they go out. Foilers of all disciplines are aware of the possible head injuries, so are happy to use it too. Pros in every sport are seen advocating for its use on their social channels. The added protection allows for higher speed and wilder tricks with confidence. Onlookers are persuaded to get a helmet to give these tricks a go themselves. 
Some popular skate helmet brands have had them EN1385 certified for use in the water. "Our best-selling style worn by our pros for years is now certified for water use", says R.P. Bess, Global Brand Director of Pro-Tec. Wakeboarding helmet brands like Jobe Sports and Follow offer an entry level design and a pro one. Jobe also offers two styles dedicated to rentals, a softshell and a hard-shell version. Simba originally designed its helmet to meet surfers needs, but found that the lightweight, low-profile design performed equally well for all water sports. 
The key for water helmets is to offer reliable impact protection with the lightest and most comfortable fit. For impact protection, most brands rely on ABS shells. There's more technical diversity to be found in linings and padding systems. Follow's helmets feature their own new TrueFit liner. It eliminates movement of internal fabric, ensuring that neither fit nor safety are compromised. The soft EVA padding absorbs any impact pressure and spreads it over a larger area, softening the shock. Pro-Tec offers dual density EVA foam in its Ace and Full Cut water models. Triple Eight has revamped the liner to include their Sweatsaver wicking material. "Just because you're in the water, it does not mean that sweat is not an issue", says Marketing Coordinator Noah Todaro. Simba has updated their Sentinel 1 helmet with a HaloFit pad system. The stronger 3M adhesive backing makes the pads more durable. Bern's Macon H2O features a soft EPP foam fused to closed cell EVA, faced with neoprene fabric. Ion's Hardcap model is made with non-water absorbing EVA cushioning. It adds two sets of comfort PE lining to assure the perfect fit. EVA is also the liner of choice for Sandbox. Jobe Sports combines memory foam with a softer outer shell to deliver optimal fit and weight. 
Water helmets sport a predominantly skate design, with a rising trend of full-cut styles hitting beaches and lakes. The timeless skate shape remains a favourite. Sandbox and Triple Eight add a brimmed style to spice things up. Pro-Tec's colour palette goes from bright reds and blues for visibility in the water, to muted matte greys and olives. Bern is also going for matte versions of black, sand, mint, red and blue. Ion's colour offering matches their wetsuits and harnesses. Jobe creates unique looks with their Mix'n'Match philosophy. Their colour range includes darker colours as well as teal and lime accents. There are several print collaborations to be found too. Ion features a guest artist for their capsule collection. Pro-Tec's Wesley Mark Jacobsen pro model features the rider's personal art. Other pro models are Sandbox's Anna Nikstad signature piece and Simba's collaboration with Koa Smith. Nobody wants water flushing into their ear canal. Protective waterproof ear pads are offered as accessories by Bern, Sandbox, TSG and Ion. TSG has designed them to be easily fixed to their hard-shell skate helmet, turning it into a wakeboarding one. Ion adds a school version of the ear pads that can hold a walkie-talkie. Simba announces plans to offer a 2mm neoprene hood customised to fit their Sentinel 1 design. 
The current demand for water helmets will bring customers to the stores. Brands' efforts in social media, through their own channels and through their ambassadors' ones, maintain brand awareness. Retailers' main concern should be to offer the right helmet for each type of user. Knowing about the product and its specs allows them to guide the customer in their purchase. Education is key. Jobe Sports set up the Jobe Academy to support dealers through online training. "We introduced it pre-Covid, but it has been a real added value for a lot of dealers when Covid came in", explains brand manager William Doornekamp. Helping consumers make an informed decision will secure a happy purchase and satisfactory use of the helmet. This, in turn, will promote customer's loyalty to the brand and to the store.