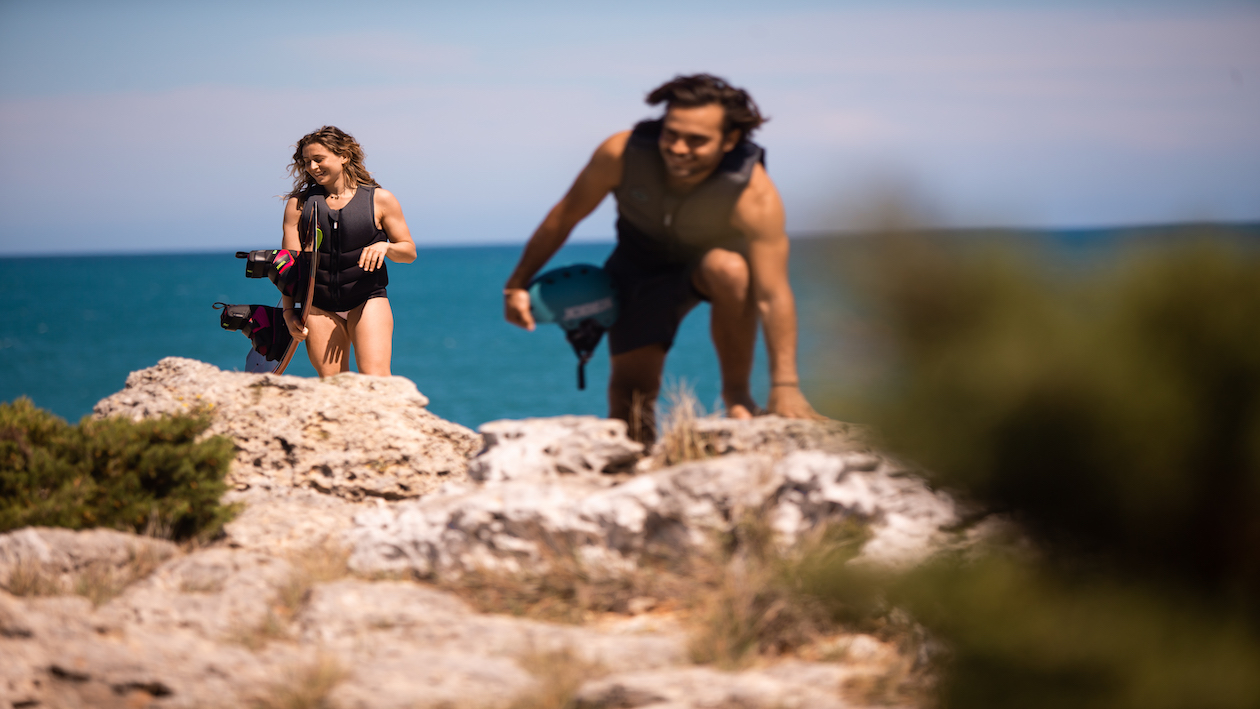 Jobe S/S 22 Water helmets
Retail Buyers Guide: Water Helmets S/S 22 Retail Buyer's Guide
Brand: Jobe
Interviewee: William Doornekamp, Brand Manager
What are the main trends in the helmet market for water board sports in SS22?
Fit and weight remain key: Fit will always be important because it's key to the user experience. Weight is also crucial, as we see no one likes to be a bobblehead on the water.
A little fashion which we've seen blown over from the States is the full-cut helmets. These helmets offer a full hardshell and it's something which we're seeing more and more amongst core parkrats.
What is the general consumer's attitude towards wearing water helmets? Has this changed in recent years?
Not much has changed here as well, in the wake sports there has been more acceptance from day 1 towards wearing a helmet. Where snowsports have had more trouble with the adoption of helmets, watersports has had no issue at all. I think the mandatory helmet for riding obstacles removed this point pretty easily in the market.
What were your biggest sellers in SS21?
Our biggest sellers are the Base Helmet for B2C and our Rental Helmet for B2B. Both helmets offer a nice and comfortable fit and our rental helmet has a signature orange color which pops on the water and matches with our other rental gear.
How are you segmenting your SS22 collection and what are the price points?At the bottom is our Victor helmet which is a simple helmet for a cheap price. Moving on to our Base helmet in multiple colors, which is our high-end and comfy helmet.
For rental we have our softshell helmets first, although lots of rental locations use these, the aquaparks is where this is the most popular. Followed by our Rental hardshell helmet, which pops on the water due to a bright orange color.
Where do you expect the biggest growth in helmets for SS22?
We expect a big growth in our rental range, seeing the ever growing market caused by COVID. Our new rental range looks great and we get a lot of positive feedback from our customers, giving us reason to expect more for the coming years.
What shapes / construction designs are you offering in your SS22 collection?These are the same as last year, our memory foam combined with a softer outer shell makes for a perfect fit and a lightweight helmet.
What colours / prints are you offering in your SS22 collection? Any standout collaborations?
As always, we focus on our Mix 'n Match philosophy and creating a uniform and sleek look. So you'll see darker colors and teal and lime accents throughout the range.
Are you offering any accessories to your helmets?
No, we don't offer any accessories on these.
Are your helmets targeted to specific customers / rider types?
As we cater to the needs of ALL watersporters, we target these to all kinds of watersports users. From wakesurfers fearing to take a point to the head, wakeboarders who want to protect their dome and for the rental locations who want to make sure their customer is safe.
How are you supporting retailers to sell your water helmets? (POS material or any other kind of support).
We do this through multiple ways: First is our in-store promo plan, in which we offer specially branded Jobe POS material to our dealers. The other one is the Jobe Academy in which we support our dealers with online training. We've introduced this pre-COVID but it has been a real added value for a lot of dealers when COVID came in.
Please talk us through your 2-3 keys models for FW21/22.
Base Helmet
First is the Base helmet, a comfy high-end helmet which uses a double memory foam. This makes for a snug fit and offers the comfort which the consumer requires. You won't even notice you have it on!
Rental helmet
Our hardshell helmet is a must have for every watersports rental location. This helmet has the same fit as our Base helmet and has a harder shell then usual, perfect to keep your customer safe and sound.
Softshell helmet
A little surprise in here, our softshell helmet. Because where there's a Cablepark, there's an aquapark nearby! Our softshell helmets have been really popular amongst Cablepark owners to use for the aquaparks. A commercial must-have!