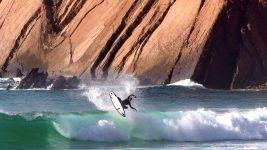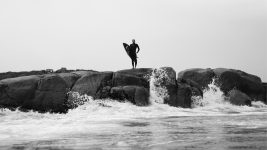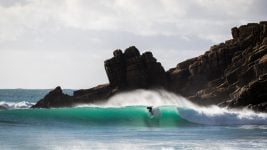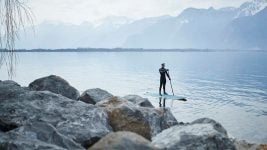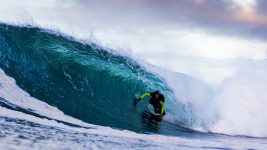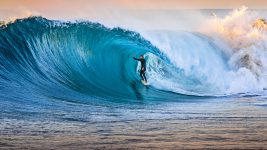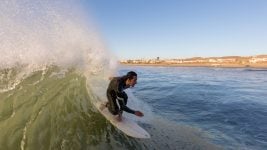 Wetsuits FW21 Retail Buyer's Guide
Covid is blowing both hot and cold air onto the boardsports market: with snowboarding going through one of the worst seasons in history here in Europe, cold water surfing is hot as hell. This means that brands should be pretty confident when it comes to winter 2021/22…or just about. Wetsuits Buyer's Guide FW21 by a hooded David Bianic.
Even though COVID remains very much at the forefront of our minds at the start of 2021, you mustn't forget about another phenomenon that is sure to outlast it: global warming. With hotter and hotter summers and less and less cold winters, such temperature changes may start to have an impact on the winter surf wetsuits market. "The water was particularly warm this autumn and people kept their 3/2s on a lot longer than in previous seasons," reports Benoît Brecq, Global Brand & Marketing Manager for MDNS (Hoff) but the water chilled considerably this winter and people kitted themselves out with 4/3s and 5/4/3s later than usual". This change was confirmed by Marion Jouanine, Product Manager at Hurley EMEA, whose deliveries were pushed back a month, which meant they were "delivering new seasons products to customers on the exact moments they need them". Lance Varon, Design Director at Xcel Wetsuits also confirms that they closely study seasonal weather data which varies greatly from one part of the world to another: "We utilise the farmer's almanac and NOAA (National Oceanic and Atmospheric Administration) to see what is happening around the globe such as water temp and ocean currents which affect such changes in temps. As much as we have seen mild seasons in some parts of the world, others have seen colder than normal."
Even though it is possible to surf for longer into the winter in a 3/2mm, this is not to the detriment of thicker models, quite the opposite. The technical advances made to neoprene has encouraged surfers to wear really thick models that are now as flexible and comfortable than 4/3s of times gone by, as confirmed by Tom Copsey at O'Neill Wetsuits: "We have seen a good increase in our warmest and our hooded wetsuits. However, the popularity of the 4/3 is on the rise when we look at the whole year." The figures speak volumes and Brand Manager at Vissla Europe, Adrien Waller, reveals that they are selling as many 5mms as 3mms. And this phenomenon now also includes the ladies' section, a market that Jobe Sports are prevalent on with their "ultrafeminine" 5/3 Aspen, as are Roxy whose focus for 2021 was the perfect fit, "for optimum comfort and flattering silhouette". No chance of looking like a deep-sea diver… Another sign of winter surfing's excellent form is the presence of accessories like the EverRobe poncho from GUL, which is among their top 3 best sellers: made from GCX2 water and windproof fabric and lined with an ultrawarm Sherprotech liner (Sherpa style fleece) and waterproof stitching. Before and after-session gear represents a really juicy market but that's another story altogether.
COUNTING ON ORDERS
After the nice surprise of an outstanding 2020 for the surf equipment market, brands have had to make choices in terms of producing their ranges for winter 2021/22. What level of growth should we expect one year later? And how can we guarantee sufficient supply from factories that are behind due to COVID? "It is a double effect with the surfing boom combined with the hiatus caused by COVID as the factories now try to catch up," relates JL, Technical Manager at C-Skins Wetsuits. The English brand assure that they can count on a solid supply chain as well as good sales forecasts but concede that "production space is key". Tom at O'Neill is even talking about waiting times twice as long as normal for 2021's manufacturing and isn't expecting it to return to normal before the end of 2022!
Pedro Towers at Onda also mentions a development in the market's segmentation with the arrival of a large number of new participants looking for good deals and low prices, so much so that "the challenge for brands (and their FW21 productions) is to understand what habits these newcomers will follow". At Patagonia, Surf Category Manager Gabe Davies is nonetheless urging caution amongst the optimists: "we never want to overproduce stock, wetsuits don't age well like fine wine."
David Mariot from ION reminds us on another note that travel has been significantly restricted and so "many needed thicker wetsuits than on their usual vacation to warmer destinations", and the brand has tweaked its production accordingly. These increased orders pressurise manufacturers and "the first in, first served" basis becomes tougher than ever on this one", assures Sébastien Boulard, Product and Marketing Manager at Pride. This situation is confirmed by Yann Dalibot, CEO of Soöruz whose entire production for SS21 is already "reserved before the arrival of the containers", which goes to show to just how "preorders have become so important", he adds. Another, and most simple solution consists of simply rerunning the same products from one year to the next and this is the case at Jobe Sports: "Our 2021 Fall/Winter range consists of continuing products which we also sold in 2020, so no innovations this year", reveals B2B marketer William Doornekamp. "Our dealer network is happy with them so why change a winning team, right?"
POLARISATION OF THE RANGES
Because of the sheer uncertainty in manufacturing times, the trend for simplifying ranges has grown: instead of multiplying collections, the brands are for the most part going for a maximum of three ranges or less. As well as providing better technical understandability for consumers, the reduced number of different style is undoubtedly a safety net on a manufacturing level. This process is already paying off as Benoît Brecq from MDNS confirms: "We really tried to simplify our ranges by reducing them and by getting rid of the middle of the range which only suits a small number of people. Nowadays customers who start off with an entry-level wetsuit quickly move onto a high-end model without going through the intermediate version." Similarly, ION Products used to offer different fits, (two for men and up to three for women) whereas today the ranges have merged under a single label, Seek for men and Amaze for women. Even a brand like O'Neill that has several "sub-ranges" agree that the concept of simplification is a good thing: "This not only assists with marketing the technologies and educating the stores but, most importantly, helps the end consumer make the correct purchasing decision", assures Tom Copsey. For his part, Jack Knowles, commercial director at GUL Watersports highlights a pretty progressive cycle in which "the use of premium materials in higher proportions on lower-end models…which of course creates a demand for new innovations on the higher end."
SUMMER TRENDS 2021/22: FLEX VS DURABILITY
For a long time, winter surfing has generated two types of buying behaviours when it comes to wetsuits. For the first bunch of surfers, the key criterion was warmth while others allowed some warmth to be sacrificed, putting comfort and movement, i.e. flex, over calorific effect. But generally speaking the more a wetsuit flexes, the worse it ages. So how are the brands striking the delicate balance between flex and durability? "It is tempting to follow the trend to provide a suit that is so flexible that it makes the product irresistible in the fitting room… but we know these suits are often too easily damaged and sometimes even before they hit the water." That's why at Picture, one of the technologies on offer only comes with a one-year guarantee because "the stretchier it is, the weaker it is", with the brand preferring to push their Equation and Dome ranges whose stretch/durability ratios are more balanced. But materials aren't everything, design also comes into play with the accent being placed on fit in recent years and more precisely body mapping: "We do not use the elasticity of the neoprene to fit the body, the flex is only used when you're moving", explains Julien Salles, Brand Manager for Manera. Equally, the external liner of a wetsuit plays a big role in a product's durability because it protects the neoprene foam, which is "the fastest material to degrade", reminds Pedro from Onda who are favouring recycled and upcycled materials for this external layer. A lot of them are still made of polyester but brands such as O'Neill are going for nylon, using recycled versions for their premium models as well as promising that this will soon be extended throughout the rest of the range. We should also mention the external Nova Skin liner featured on the Blue Print range from O'Neill, "which has the ability to be glued and blind stitched due to its strong Graphene microfiber backing". Dakine are also showcasing an original new production method that employs reinforced elastane meaning that "Our Hex and FLX lining have superior resistance to abrasion and fatigue in all of our tests," asserts Designer Phil Bridges.
On the inside, liners are also employing graphene, like at ION whose Select models dispose of Graphene Plush technology whose heat gain is estimated to be 20%. As for Hurley, they are putting a new infrared liner on their Advantage Max models, while the Advantage Plus uses a hollow fibre that traps in the heat. At Xcel, the Celliant Black infrared technology will be enhanced for autumn 2021 on their Drylock range, now being combined with a new Ultra Stretch IR liner, while the outside surface will see the addition of a new Channel Flex 2.0 layer. For all brands, the objective is to reduce the thickness and the weight of these internal liners while improving water drainage, just like at Alder: "We have a unique lining called "Fireline" inside many styles and "FDL" (fast dry lining) is used inside higher end styles", cites John Westlake, Production Director.
ECO VS ECO
As a consumer, it's not always easy to find your way through the different brands' approaches: so-called Limestone neoprene, made from the rock, is often hailed as an ecological solution but it's also frequently called out for greenwashing. At Manera, Julien Salles opts for transparency, affirming that: "We would never say that Limestone is sustainable, and I don't think this is the greenest option, yet that's the one we chose to use today". It's a similar story at Pride who have chosen Yulex, assuring that the environmental impact of Limestone is just as bad as traditional wetsuits made from petrochemicals, "except for 1 point", concedes Sébastien Boulard, "chemical waste is easier to treat than the good old petrol wetsuit". Julien Durant, CEO of Picture Organic Clothing reminds us of a residual economic reality, saying that Yulex costs three times as much as a traditional neoprene. As Phil Bridges from Dakine sums up, "a perfect eco suit makes no difference if no one buys it".
Furthermore, you have to distinguish between limestone extracted from mining and that coming from oyster shells, "used as the source of Calcium Carbonate", explains the technical team at C-Skins who don't hesitate to question the 'super clean' label given to Yulex neoprene from rubber sap: "there is cost to the planet getting Yulex to the factories as Yulex is not even produced on the same continent." The pioneer of oyster-based neoprene was Soöruz with their Oysterprene, mixing recycled calcites from shells and recycled tyres. The French brand were then followed by Alder, Vissla and O'Neill who opted for oyster calcite as a (partial) substitute for Limestone: "the new I-Foam is now combined with Limestone, Eco Carbon Black, Recycled rubber and now with recycled oyster Shell Calcium Carbonate", explains Adrien from Vissla on their FW21 High Seas model that brings all their innovations together, including the Fever Fiber Thermal liner.
Soöruz have recently gone even further with the Biöprene featuring on their Green Line range, a foam "using waste products from sugar cane, rubber, oyster powder and inedible seeds…" explains CEO Yann Dalibot. Rather than focussing on sourcing and production alone, he also brings up the issue of wide-scale wetsuit recycling with the shredder "constantly in operation" with the aim of recycling 20,000 wetsuits in 2021. So before throwing out your wetsuit, try and have it repaired, a service offered at Patagonia with their Ironclad total guarantee and the Worn Wear repair programme. Be Kind, rewind!