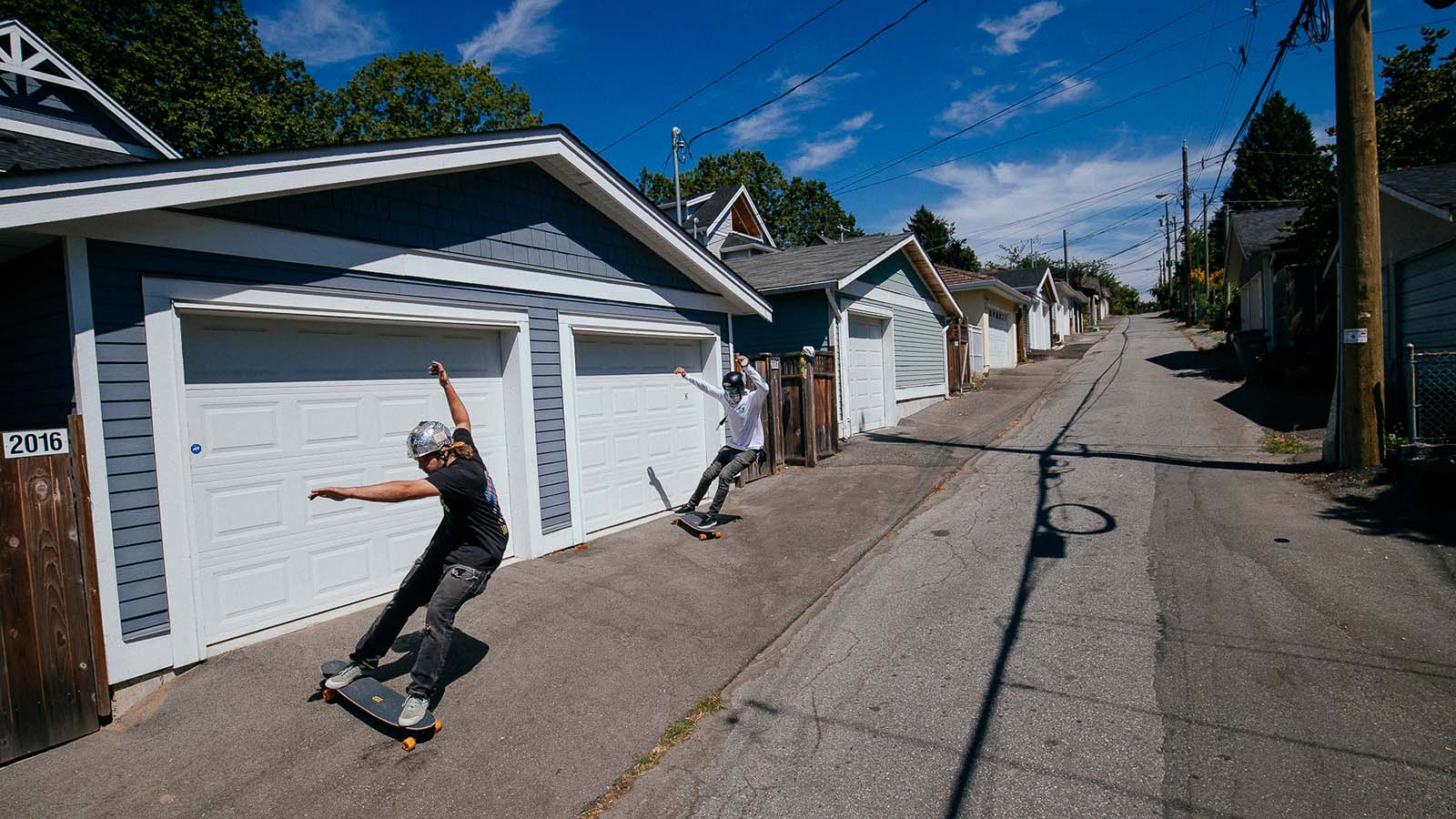 Landyachtz 2022 Longboard Preview
Retail Buyers Guide: Longboards 2022 Retail Buyer's Guide
Brand: Landyachtz
Interviewee: David Price, International Sales Manager
Is Covid still affecting your sales/supply chains?
Yes, in terms of the supply chain side of things, but still not as bad as 2020. Supply appears to be catching up with demand and lead times with our manufacturing partners is getting shorter again. We did have some product stuck in limbo for a over a month back in May when the Yantian Port in China closed because of a Covid outbreak, that was hard was nothing we could really do about it. Sales wise, 2021 will be a very strong year for us. I am seeing demand decreasing in certain markets as countries open back up while staying strong in others. Last year demand was universally up, now it's a bit more spotty.
How have you adapted your marketing during the pandemic?
In the past we encouraged social riding and events, during the pandemic we have shifted to focus more on individual and small group skating. We know skateboarding can be a great way to get out and enjoy the outdoors in a safe way.  We shifted our marketing during the pandemic to focus more on the mental (and physical) health benefits of skateboarding. It's a great way to get out of your house, get some fresh air and forget about the stresses of pandemic life! It's also something that you can enjoy on your own or in a small group of people. Skateboarding is so accessible and the mental health benefits are huge…all you need is a board and some pavement. We really want to share the message that skating is a great way to step out, explore your neighborhood and unplug from reality for a brief moment.
How is the European Longboard market faring in comparison to the US?
Both markets were very strong in 2020 and continued to be so in Q1 of 2021. Getting products to market in Europe continues to be a struggle and the 2-300% increase in shipping costs has made things very difficult. We have been forced to raise prices because of this. I think many other brands are in a very similar position, regardless of industry.
How do you think skates inclusion in the Olympics for the first time, will impact on Longboarding?
Hard to say right now. It was rad watching the park contest live, and while I can see governments putting more money into skatepark development and instructors for children, its hard to see what will happen with longboards. In a more general sense, more people watching skateboarding in the Olympics will generate more people buying skateboards, regardless of style.
Is the current surfskate boom also inspiring people to take up longboarding?
I think so. Surf Skating is getting people into skating that might not normally have gotten into it. Once they get comfortable on a surf skate, they will probably want to try out other styles of skateboarding.
What are your collection themes for 2022 and what stories are you most proud of?
2022 was an especially challenging year for us to put together a Spring line. We had substantially less time to create new graphics due to super long lead times. Our art dept worked some long hours and we still pulled together a diverse, fun range of graphics that appeal to a wide range of people.
What shapes and board sizes are currently trending?
Our Dinghy range expands with more variety of shapes. Short for easy transportation and wide for maximum control has been a fun recipe for us recently. We've also been experimenting more with different shapes in our ATV line.
Are production materials staying the same, or are you venturing down a more sustainable path?
Mostly the same, we have been experimenting with some higher end constructions at our factory here in BC.
What are the Longboard must-haves for retailers to get in the coming year?
Drop Cat 38" Journey, Dinghy Fat Coffin Card, Tona Danza Logo and the Groveler Surf Skate. But you'll have to wait until March 1st 2022 to see!
Best Sellers
The Big Dipper
The Big Dipper is like a magic carpet with wheels. Coming in at 42.2" long and boasting a healthy amount of flex, this is a longboard in the classic sense of the word. Because of its length, the Big Dipper is very forgiving to ride, whether you are a beginner learning to skate or someone trying to push the limits of what a flexy longboard can do. This beast is the perfect choice for anyone looking for a smooth & stable ride with lots of flow and surf style.
Drop Cat 38 Journey
With a board as wild as this, we thought it deserved a wild graphic as well. We don't know where Alejandro Sordi came up with the idea to include a keyboard in this graphic, but it's not the only keyboard in our lineup so we're clearly big fans! The graphic isn't the only trick this board has up its sleeve though, it also has an extremely unique shape, tons of rocker and a super low drop-through design for the ultimate longboard experience. The Drop Cat 38 is perfect for taller riders or people looking for a more stable ride. Take a journey on the Drop Cat 38.
Ripper Logo
We decided that the Ripper needed a little more Landyachtz love, so we stacked up some letters and ended up with the Ripper Logo graphic. Who knows where else we might use this graphic, but we know it looks sweet on the Ripper and the colorway is a straight up vibe that we hope everyone enjoys! The Ripper is a great board for getting around town, throwing down some sweet manuals, busting some slides or just cruising the neighborhood with some friends.