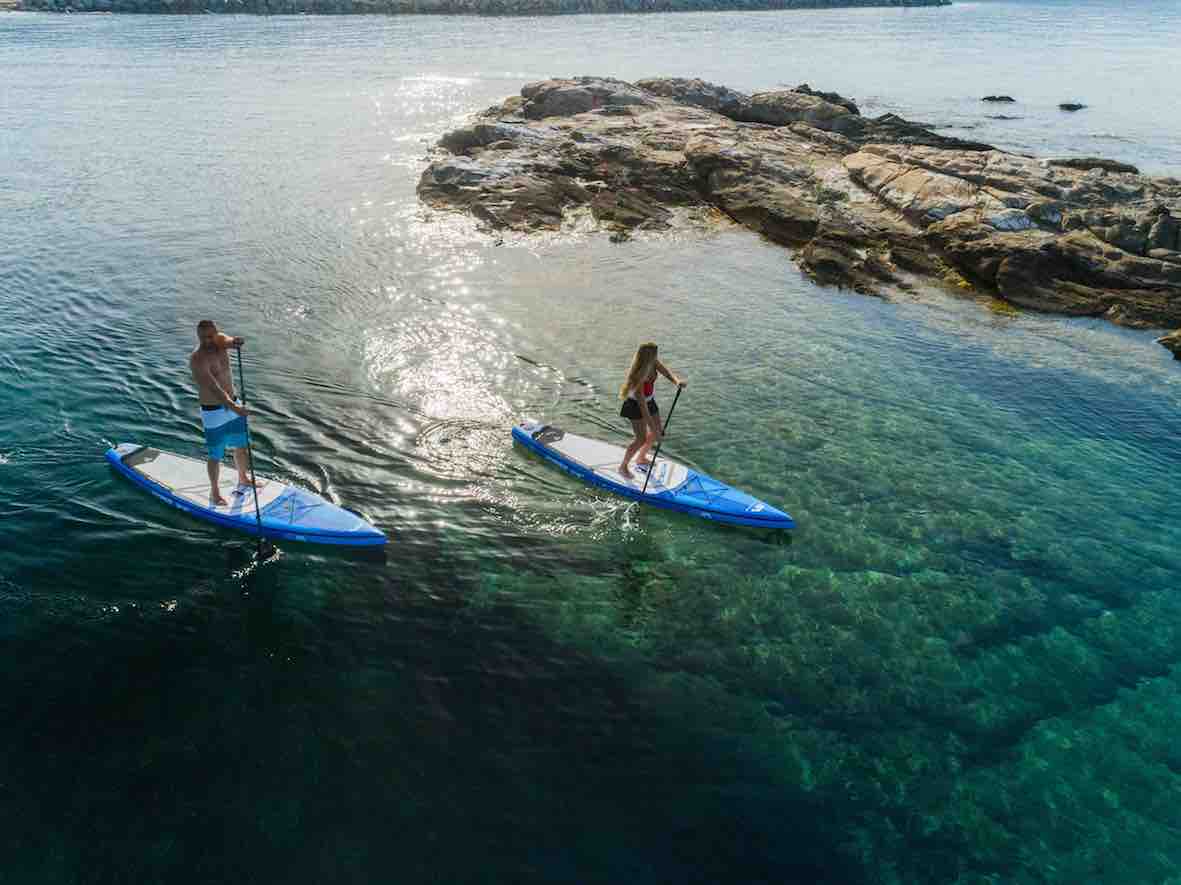 Aqua Marina 2019 SUP Preview
Retail Buyers Guide: SUP 2019
Brand: Aqua Marina
Interviewee: Tony Lu, Marketing Director
MARKET FIGURES
Based on your revenues and general impression, is the SUP market still gaining momentum or running at a healthy moderate growth?
Obviously, the SUP market is still growing but people are more and more rational and critical. Especially when so many new SUP brands are jumping into this market before they have a mature supply chain and R&D team. Both end consumers and distributors are more likely to choose the brands who have their own factory and the stable quality control system.
SELL-THROUGH
Do the first-timers turn into regular paddle boarders and thus renew their gear line-up?
Yes, that's how it is. You will find so much difference when you are really paddling a board on the water instead of watching other people from the shore. It's so fascinating when you are able to explore the nature and even the city from a different angle. Then you get addicted to it! Upgrading the gear makes riders more confident to challenge the various water conditions and reach more beautiful places that they've never been to.
MARKETING
How did you build up your ranges for this second half on 2019? 
All Round:
The 2019 AM all-round line comes with a newly designed board shape and amazing graphics, available in sizes from 9'9'' to 12'0''. These nicely shaped new boards are perfect for flat water and small waves with outstanding stiffness and durability.
Touring:
Making new discoveries and experiencing adventures have never been more exciting than with our inflatable touring boards! Easy to paddle, fast and comfortable, HYPER is the perfect cruiser with the double chamber technology and optimized thickness giving additional protection against any unpredictable damage and making the board stiffer. HYPER is in 11'6" and 12'6".
RACE:
Developed with professional SUP riders, the new RACE is the ultimate inflatable racing SUP board that excels in a wide variety of conditions. Available in 12'6" and 14'0", with our high-tech Double Layer technology, the new RACE is getting very similar to a composite board. It is ideal for advanced to Pro level athletes by providing just enough stability with the perfectly balanced board shape, while keeping riders aggressive at buoy turns so they won't miss any opportunity to surpass the opponents.
WINDSUP:
Our WindSUP collection is designed to be as practical as possible for all levels of users. Stable and forgiving board shape builds user's confidence on the water, whilst the all-in-one backpack ensures a quick and easy setup. The 'clip and go' system makes it so convenient to switch from SUP to Windsurf and enjoy what the wind and water offer you.
INFLATABLE TRENDS
Is there room for more than a leisure/casual approach in the iSUP category?
ISUP can be very hardcore thanks to the development of the reinforced DWF (double wall fabric) materials. Nowadays we already have some models that can be inflated up to 20psi, it provides extreme rigidity that makes the ISUP very close to a hard board. These high pressure ISUPs are ideal for advanced to PRO level riders to conquer the most challenging water while providing so much more portability.
INNOVATION
Can you please tell us what are the main innovations among your range?
Aqua Marina is dedicated to inflatable SUP boards and kayaks. In 2019, we have re-designed the all-round line with optimized outlines and beautiful graphics. The new double-chamber technology are used on our new touring boards for extra safety and stiffness. Our brand new race board is one of the fastest ISUP boards in the market because of the extreme lightweight (the 14ft double-layer race board only weights 11kg) and rigidity.
PRICEPOINT & DISTRIBUTION
How do you position your offer between the pricey value-added boards and the entry-level price points?
The entry to middle level price is the range we concentrate on. As one of the most popular inflatable SUP and kayak brands in the world, we are proud to offer an affordable and high quality product line to allow everyone to easily access this water sport and share the happiness with their families and friends.