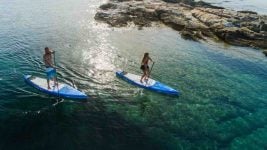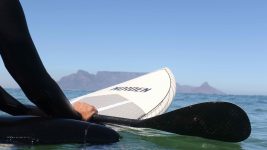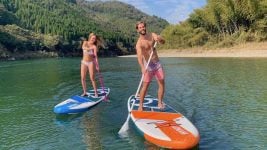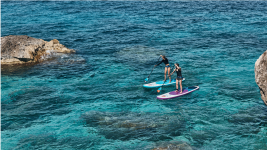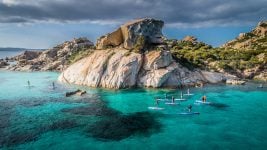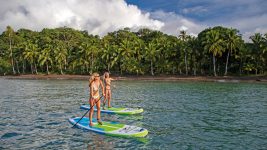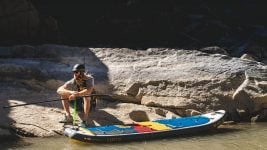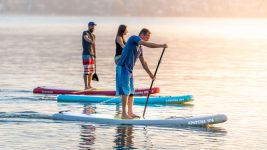 The success of SUPs was so resounding that it ended up passing specialist boardsports retailers by. In 2019, the core brands are continuing their efforts by offering expertise and added technical value that sets them apart from the "no-name" inflatables on offer. A game of survival. By David Bianic.
After about fifteen years of commercial existence, the SUP should be starting to take a new turn and entering into adulthood. The crazy growth in the last ten years has sometimes placed the product before the demand. To avoid a crash, the sector has to float back down towards becoming a sustainable market. An opinion shared by most of the brands we talked to: "2016/17 seems to be a peak year for board sales from the brands to retailers", reckons Anthony Scaturro, Global Brand Manager at SIC Maui while "2018 seemed to be a decent year for retailers who were largely working to sell down older inventory". For Phil Mandeau at Dyna-Trade, distributor for Focus, it's no longer about the growth seen in the first ten years, with the SUP having "reached a peak of new entries into the sport, and now the growth will be much slower." At Ari'i Nui they prefer to talk about the market's "maturity" since many people already own an SUP and that "the turnover is not as big as in the past", as stated by Benoît Brecq, Marketing Director. 
Of course, the facts are different according to whether you are talking about hard SUP or inflatable board brands, with this segment hugely boosting the market as shown by figures from Red Paddle Co.: "Many of our established stores reported upwards of 130% year-on-year growth", says George Shillito, Head of Customer Experience. Indiana are also celebrating a 50% increase in the number of pre orders between 2018 and 2019, made up of 90% inflatables while "The ratio of hardboards dropped down every year", says cofounder Maurus Strobel.
INFLATABLE TRENDS
As Benoît Brecq from Ari'i Nui reminds us, "the iSUP category is 90% focused on leisure and casual". That poses the question: is there a solid outlet for performance-based inflatables (that are more in step with the boardshop world)? For Anthony Scaturro from SIC, the answer is a clear yes, with boards aimed at "the accomplished paddler who does not have the space or means to transport a hardboard to the water". According to him, this avenue of development will be largely based on the creation of a competition category for inflatables, an argument also subscribed to by Axel Bischoff from Siren.
There are even certain uses where an iSUP is favourable over a hardboard, starting with travel. Phil Bridges from Tiki confirms the growing interest for paddling expeditions, citing the excellent results from their Explorer model, "which can be a tandem SUP or expedition SUP". The space saved and convenience of inflatables is impossible to beat in this sense, illustrated perfectly by the 9'6" Compact from Red Paddle Co, introduced last year. Still boasting the best of the MSL-PACT technology, the Compact only takes up half the space of a conventional iSUP once folded. The river is also the inflatable's domain, a credo held by Hala Gear: "Hala Gear incorporates the most leading technology into their inflatable SUPs, ranging from inflatable carbon to patented retractable fins to DoubleStack construction (two chambers providing different characteristics)," says Marketing Manager Victoria Ohegyi.
These multiple chambers represent a major innovation in the inflatable category after many years focussed on various dropstitch constructions. Initially developed as a safety feature (in case of puncture), this multi-chamber set up now provides further advantages. "We've a 14' Vortex Air and 12'6 Slipstream Air which utilise 4 chambers in a way which has permitted a narrow hull, added rigidity, adjustable hull shape and reduced weight in using true air chambers which have no dropstitch", explains Steve West from Mistral who is dreaming of hybrid boards that are half-rigid, half-inflatable. Also adepts of the double chamber on their touring boards, Aqua Marina are highlighting the "hardcore" character of the new generation of SUP, thanks mostly to reinforced DWF (Double Wall Fabric), which means "Nowadays we already have some models that can be inflated up to 20psi", assures Marketing Director Tony Lu, or "extreme rigidity that makes the iSUP very close to a hardboard". Naish are also getting in on this niche through a Stiffer is Better campaign that salutes their new iSUP range designed for pressures of 15-20 psi and whose rigidity is measurable by a standardised flex index (obtained by placing a 60kg weight on the board between two trestles separated by 2m75).
Other tricks allow also the shape of the iSUP to be tweaked, for example the two PVC rods placed on the hull of the inflatable RS Series at SIC Maui that "mimic the step channel offered in the RS composite board" to reduce the row effect and paddle in a straight line for longer. While on the subject we should mention the Airline range from Starboard replicated in 2019 that has a longitudinal aramid cable running through it to lock in the board's shape and to provide tension that's close to that of rigid race boards.
Innovation to inflatables has also reached accessories in the form of a telescopic paddle with integrated high-pressure pump, which brought Airboard the highest awards at PaddleExpo and the ISPO Awards 2019. Equally as astonishing is the Pecfin system from Riber, "penguin fins" that are fixed onto the board's rails allowing you "to navigate tight spaces by simply rocking from side to side"!
HARDBOARD TRENDS
The prosperity of the rigid SUP category is therefore largely dependant on its inflatable counterpart. Newcomers are turning towards iSUPs in a huge majority and, depending on the success of this first experience, will then opt for a composite model. Yes and…no. "The market is still growing a lot, it is very different than what we created at first", declares Sylvain Aurenche, Commercial Director at Lokahi and "now not only "action sports people" want to SUP but everyone who somehow has access to water own their equipment or rent. People also go paddle like they would go to the gym or for a power walk." The parent company of Lokahi, One Kin, are also the O'Neill iSUP manufacturer and indeed their models are aimed at a "casual" audience. Then again, they may move on from softcore to hardcore paddling: "A fun and innovative hardboard range is being prepared for next season", says Sylvain.
The rate of conversion to hardboards is still unverifiable: "A small percentage will move on with SUP (single figures is my guess), hop from an iSUP onto a hardboard and will form the core of the sport," reckons Andy Wirtz, boss of Norden, a 100% rigid surfing brand.
However, BIC Sport want to put beginners back onto hardboards to "maximise the user's experience on the water and maximise the value and long-term durability for both the user and the environment", argues Benoît Tréguilly, Head of Communication. BIC are especially leaning on their TOUGH-TEC and ACE-TEC ranges whose robustness doesn't mean added weight, "positioned just above entry-level prices between €600-700". Also behind the Oxbow SUP brand, BIC complete their range by offering more high-end models, "more aimed at the speciality retail client". This niche of "hardboards for all" is also echoed by NSP, a label that lords over international podiums in racing with these thunderballs, at the same time as enjoying lots of success from schools and SUP rentals.
"We also had a late-year release of our new Cruiser model built in a new HIT technology. This board is great for fleets at retail centres and schools as it's based off one of our most popular, stable shapes, the Cruise", says Caren Forbes, Head of Marketing. The HIT construction uses an EPS SecureCell foam that's layered with military fibreglass and bio-resin epoxy. This trend for ultra-robust, rigid construction at a low price is also confirmed by Boardworks with their best selling Bombshell range (hull and deck made of thermoformed skin pressed onto an EPS foam and reinforced PVC rails).
The innovations to the rigid board category are paradoxically characterised by a trend towards "decrease" in the sense that most specialised brands have reduced their ranges for more clarity and of course…cost saving. "We have probably the lowest number of SKUs of any of the major brands", admits Karin Gertenbach, Head of International Marketing for Fanatic. The brand have decreased the options in terms of different technologies and are offering new, advantageous tariffs like "for example with our Vector Net Allwave and Stubby boards, so a real benefit to customers and dealers alike". Karin adds that a natural progression of 'all round' participants would be to travel longer distances and to go for touring SUPs that are "better than the oversized surfboard for this type of paddling", adds Anthony from SIC Maui.
The range on offer for surfers is now much more simplified and we can see two main designs, "the long SUP like the new Jimmy Lewis destroyer PM and new BlurrV2 short SUP from Infinity", cites Leornardo Lazzeri, distributor of these two prestigious American brands through JLID Distribution.
FOILS
Next comes the case of foils, which, beyond the wow effect of the last three years, is struggling to take off (no pun intended) at a commercial level. At Norden, Andy Wirtz reckons that the market "is a bit overrated from the industry at least where we sell (Northern Europe)". Even a brand leader like Starboard admits that the market is "still small in Central Europe but we see a growing group of paddlers flying downwind or on small waves", notes Florian Brunner, CEO of Starboard Germany. A brand like Boardworks state that although the market is expanding, "the designs and tech are changing on a daily basis", representing a natural volatility for a young discipline but one that penalises everyone, from the rider to the brands and obviously the retailers in turn.
To make a range in this field as profitable as possible, the hydrofoil specialists at Slingshot are offering a modular system called Hover Glide that works on kitesurfs, wakeboards, surfboards and SUPs, to complement their high-end carbon foils and accessories (fins, mats). Indiana made a similar choice with their 7'8" Carbon Foil Hybrid board, a 3in1 model that can be used as an SUP surf, SUP foil and wind foil. Same idea, different interpretation with a new Airwave foil from NSP combining carbon and aluminium: "we designed the foil to be used by everyone and have included 3 varying degree tuning shims to provide beginners with the balance and stability they need while allowing advanced riders the ability to change out the shims to meet and challenge their skill level."
ORDER FORM
It's time to place your order if you haven't already done so. So what to remember from the 2019 SUP market? Once again, competing with the entry-level seems pointless for the specialist retailer who would prefer models with added value. For the inflatables, this means touring/race models while in composite boards, the ultra-specialised range of surf/race/touring boards can now be complemented by all-round models with "bulletproof" construction that will appeal to a leisure audience through their similar look to the top-of-the-range boards. As for foils, their commercialisation must be led by passion to ensure that services provided keep up with a discipline potentially carrying some risks.