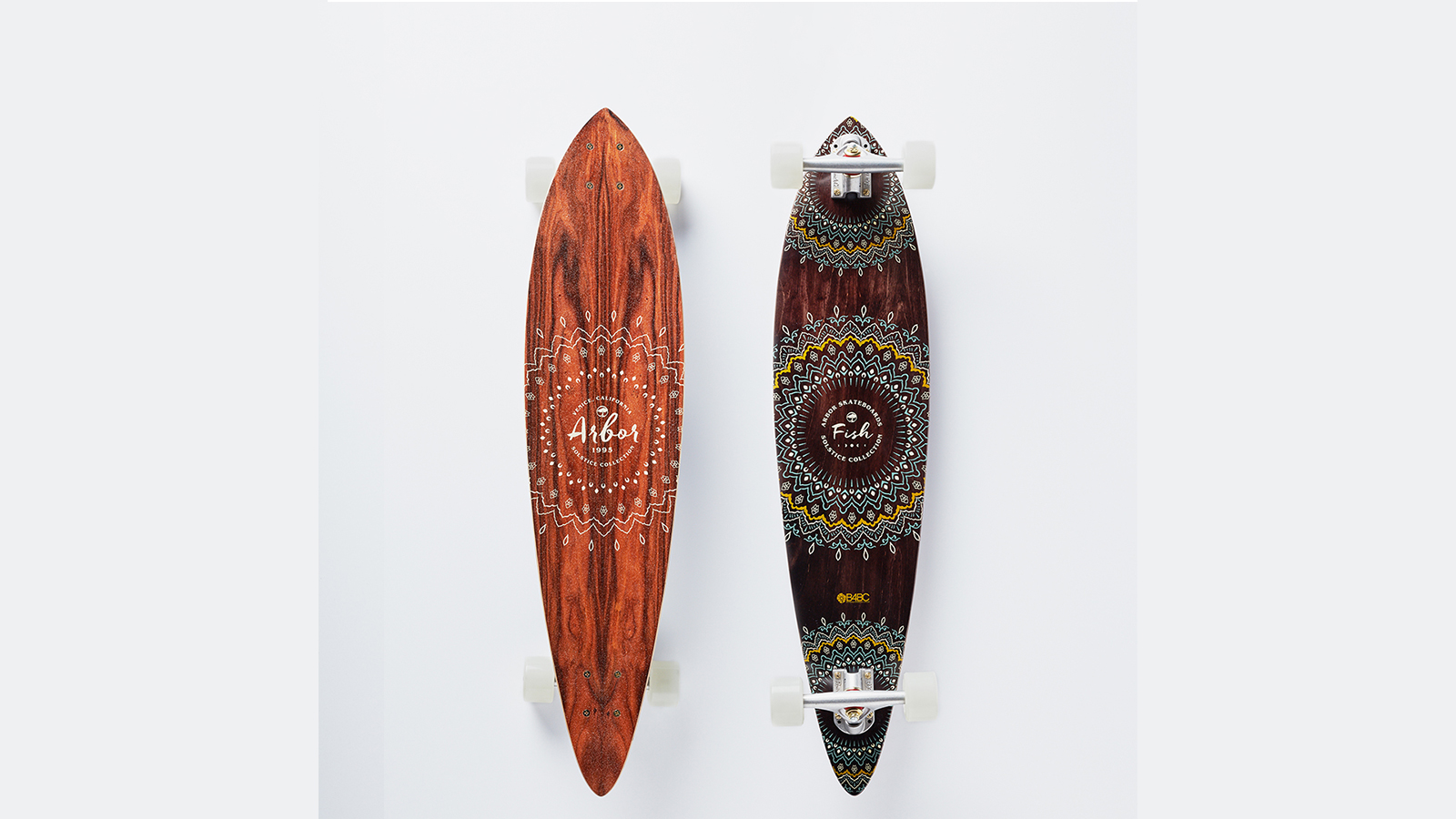 Arbor 2018 Longboard Preview
Retail Buyers Guide: Longboards 2018
Brand: Arbor Skateboards
Interviewee: Nate Shute – Marketing Manager
MARKET
What is the current mood on the market and among retailers in Europe?
We see the mood improving in Europe and sense that the market is starting to turn around. We're already seeing a solid sales increase for our European dealers for the Spring and Summer months. Through our new distribution partnership, Absolute Board Co, we've been able to reduce our retail pricing by 20-25%, while still offering the premium wood product Arbor is known for. The pricing adjustment has helped Arbor to be successful in an uncertain, yet improving market.
What are the current big trends with longboards that retailers need for SS 2019?
We see longboards continuing to get shorter. To address this need in the market, we've reduced the size of our Fish from 39 to 37 inches, and the Timeless, from 46 to 42 inches, we've also added a 37 inch Axis and Mission. While those trends are heading towards smaller boards, we still see demand in all sizes and styles and continue to develop the full spectrum of sizes.
What are your main price points for next season?
We've designed our line to provide a collection that fits into every rider's budget. We've segmented it into 5 levels,  built around some of our most successful shapes; from entry level, into good, better, best, and premium offerings. One of the best aspects of our pricing is the clarity. When a customer is comparing two boards, the reasoning behind the price difference should be obvious; the more expensive board is either constructed with more premium components or simply longer. A 29 inch Pilsner Artist with a grip tape top and Abec 5 bearings should always cost less than a 40 inch Axis Flagship with a Red Gum Wood top and Abec 7 bearings. We put a lot of effort into getting this right and we think this strategy will help the most important people in the skateboard industry, shop employees, sell boards more effectively and build on success.
MARKETING
What are your main stories in terms of styles and materials for SS 2019?
Our micro, mini, and mid-length cruiser offerings are continuing to expand to address demand. We're excited about hybrids, offering the functionality of a street shape, in addition to a longer wheelbase and standing platform for tricks at speed. Our drop-throughs continue to be strong because they offer the ease of pushing for longer commutes, by delivering less fatigue with a lower board height.
What are the trending shapes for SS 2019?
We are still seeing the sales of smaller yet functional cruisers on the rise, and we offer a broad range of boards in this stashable size range. Our Pocket Rocket has been going strong for 18 years, and we've bumped our Pilsner offering up to 5 different styles.
TECH / ECO
What are your main technical features for next season?
We continue to focus on our signature wood and bamboo topped product, which for us is the main driver of quality, styles and performance.
Which wheels, trucks and accessories do retailers need to keep on their radar next season?
Our Easyrider Series Wheels are available in a wide range of colours, allowing the customer to pick and choose in order to build the complete of their dreams or upgrade their current ride. Look out for the new Highlands 75mm Wheel, designed for higher speeds and performance, while also maintaining momentum for long pushes. The new Axel Serrat Pro Model 58mm Wheel is meant for hybrid skating, allowing you the versatility to take it to the hills and perform tricks at speed across all urban terrain.
And how about materials and sustainable resources?
Arbor was founded in 1995 specifically to use sustainably sourced materials to build responsible skateboards of the highest quality. Today, all of our wood materials are still sustainably sourced, we use environmentally friendly urethane materials wherever possible and even rely on recycled glass re-grit.
Because of our reliance on wood materials, our giveback efforts are tied back to the preservation and protection of forests. Since day one at Arbor, we've been committed to the environment. One of our main initiatives has been replanting koa trees endemic to Hawaii, through our Returning Roots giveback program. The Arbor Collective has been committed to the protection of forests since day one. Our focus is the restoration of Hawaii's native Koa highlands. The Hawaiians invented surfing as early as 800 years ago, on boards made from Koa wood. Through this important program, Arbor is giving back to the planet, and to the roots of the surf/skate/snowboard experience. Not Just Planting Trees, Rebuilding Forests.
BEST SELLERS
Please name and describe your 3 highlight pieces and items that retailers should definitely order.
Our women's specific Solstice Collection is now in collaboration with Boarding For Breast Cancer, with proceeds benefitting prevention and research for a cure. This season, we've added our Whiskey 8.25 street shape, adorned with a premium palisander wood top and recycled glass re-grit.
The Foundation Series with colour stories and shapes inspired by early surfboard designs is already very popular among customers looking for a cleaner product.
We're adding a Shuriken Shannon Pro Model to our Whiskey Project Series, dropping this summer with artwork created by his good friend, tattoo artist Connor Getzlaff.