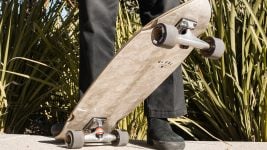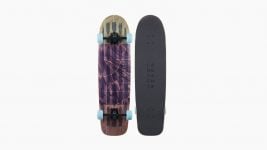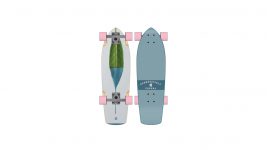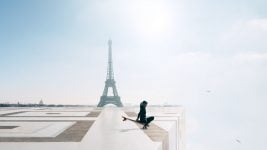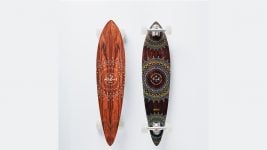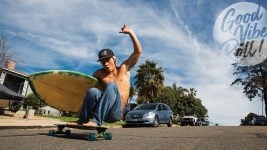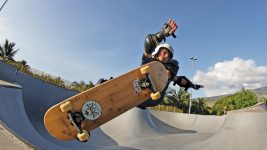 Are the good times long gone in the longboards business? Not according to our 2019 Longboards Retail Buyer's Guide by SOURCE Skateboard Editor Dirk Vogel.
Turn your pages to 2015 and the longboard business was in a gold rush. The former niche category had grown well beyond 100 brands. Specialized stores were selling longboards by the boatload. Outside brands were seeking desperately to join the ride, including Audi with their prototype e-car featuring an electric longboard. And how about those foldable longboards with a hinge in the middle?
Today, the wave is officially over, the brand landscape has thinned, but there's still life in the category. "There is money to be made and longboards to be sold, but the sales don't come effortless like back in 2015," said Mike Jucker, Co-Founder and Brand Manager at Jucker Hawaii. Pablo Castro at Loaded Boards and Orangatang Wheels said: "Overall, we get the sense that longboarding is poised for a healthy recovery after the last couple of challenging years."
Those challenging years have left a clean slate. "We feel that the market has finally touched its natural size again. That makes it easier to plan and to be more connected with the real shops and skaters that wave our flag," said Andreas "Maui" Maurmeir, Retail and Marketing at Sector 9, who are celebrating 25 years(!) in the longboard business this year. Right now, more customers are looking for the effortless flow offered by longboards. "Cruising, freestyle and dancing are growing up. The carving and surfing feelings are trendy again," said Joan, Product Manager at Spanish brand Long Island Longboards.
MARKET & PRICE POINTS
For big picture perspective, a current market report by analysts at Technavio expects the global skateboarding equipment market – including boards, shoes, and protective gear – to continue to grown and exceed $5 billion by 2020. Skateboard hardware is the largest part of the market and headed for the most rapid growth, poised to exceed $2 billion by 2020.
The best indicator for market health lies in core retail, where assessments vary. As Adam Gay, Head of Sales at Lush Longboards said: "It seems only OG longboard shops run by core longboarders are keeping the faith. All the blow-ins have either blown out or are in the process of doing so." Shane Maloney, Brand Manager at Madrid Skateboards, sees the future in mixed models: "More retailers than ever understand it's important to cater to the entire skate market from short boards to longboards."
Speaking of retail, the hot price window remains unchanged at around €149 for completes, which will buy a mid-level carving board, passable drop-through model, or legitimate "surf skate" with specialized front truck. Price ceilings in the premium range are now slightly below €300, with high-end models like Sector 9's Lucky Shoots Sidewinder Carving Model retailing at €280. Some companies have restructured their backend to offer lower prices. "Through our new distribution partnership with Absolute Board Co we've been able to reduce our retail pricing by 20-25%, while still offering the premium wood product Arbor is known for," said Nate Shute, Marketing Manager at Arbor.
THE 3 HOTTEST 2019 LONGBOARD TRENDS
1. WOMEN'S LONGBOARDING
A new generation of female riders is exploring boardsports, and that includes skateboards both long and short. Companies such as Sector 9, Arbor, Globe, OB Five, Jucker Hawaii, Madrid, Flying Wheels, Goldcoast, and more are supporting this growth category with specific products. Sector 9 is expanding the pro model collection for World Surf League competitor Tia Blanco with gems like the Lotus model. Arbor, who released the first women's-specific boards line, the Solstice Collection, now collaborate with Boarding For Breast Cancer.
2. BUILT-TO-ORDER CUSTOMIZATION
Completes still represent the lion's share of the market, but customers have been trained by the internet to customize every single purchase from pizzas to sneakers to sports cars. Retailers who can provide personalized set-ups are at a clear advantage here: After all, the same deck can be built-to-order into different configurations by switching truck and wheel styles, from carving to speed all the way to freestyle with "real" street trucks (see accessories). Companies including Loaded Boards also let customers configure usage-specific set-ups on their web stores.
3. BOARDS FOR THE AGES
At the height of the longboard hype, customers were all about building quivers of set-ups for every use. Nowadays, customers would rather buy one special board – even at premium price points – and enjoy it for a long time. It's also more sustainable, says Maui at Sector 9: "We rather like to produce long-lasting quality, so people do not need to change boards like panties. A Sector 9 is green because you keep it a lifetime and use it hopefully as stoked as we do." Key advice: Retailers need to let customers try boards and feel the difference between a €120 and a €300 to €500 ride from a quality-oriented brand. "Our focus has always been on creating innovative product that provides high performance and fills a void in what is currently offered. Creativity and innovation have always been stronger drivers for us than attempting to reduce costs strictly for the sake of increasing sales," said Pablo at Loaded Boards.
SS19 LONGBOARD SHAPES
Summing up the situation in shapes, Shane at Madrid said: "Drop-thrus still hold a solid percent of the market. Overall, with the exception of the Dance segment, boards are getting a bit smaller." This trend towards shorter boards is confirmed across brands. Nate at Arbor said: "We've reduced the size of our Fish from 39 to 37 inches, and the Timeless, from 46 to 42 inches, we've also added a 37 inch Axis and Mission." Nate Coan Co-Founder, GoldCoast Skateboards said: "Drop Thrus continue to take market share from Pintails in our world, Shorter Pintails and Cruisers under 30inches are trending well." Bucking the trend is dancing, where boards are trending above 44 inches in length.
Carving boards continue to gain shelf space, while Sector 9 is reissuing some greatest hits for the 25th anniversary, including "the Cosmic Rider, the Cloud 9, the Bert and the Sandblaster." Brands also report that "crazy shapes" – think ridges, bubble butt tails and angled edges – are building momentum. "Our surprise hit of Spring '18 was the Wrecktangle, an almost completely rectangular, fully rockered board. The new shapes for our Dinghy line are growing in popularity," said Dave Price, International Sales at Landyachtz.
Landyachtz also recently introduced a killer multi-purpose, hybrid-style board with the Sidewalker model, featuring Hollow Tech construction. These kinds of trick-ready hybrids will continue to sell in 2019, next to the other big trend: Stubby cruisers. Santa Cruz Skateboards draw on their heritage with, "Cruzers based on 1980s boards with soft Slimeballs wheels as well as rails to fit in with the time period," said Andrew Cannon at Santa Cruz. Jucker Hawaii just dropped the PauHanaCruiser and Flying Wheels has the Belza model in their "Surfing Series, with Carving Trucks system, the perfect carving board, compact and stylish," said Benoit Brecq, Marketing Manager at Flying Wheels.
MATERIALS & CONSTRUCTIONS
The status quo in materials now revolves around maple, birch, bamboo, and fiberglass for the ultimate in strength and light weight. Loaded Boards are, "transitioning to a new material layup on the standard Tesseract that uses basalt, a textile made from volcanic rock. It's strong, light, and provides the perfect balance of pop and flex." Landyachtz is expanding its Hollow Tech platform production in Canada, while Madrid's downhill team has been enjoying a new "Formica/Maple combo lamination, designed to maximize torsional strength and decrease road vibrations at high-speed."
Globe struck gold with their Pearl Slick boards. "It's not just a look, it's a slick! In addition to the eye-catching appeal of these pearl based boards, they slide like ice on the stickiest of surfaces. Additionally, we've used pearlescent inlays and edge details like you might see on guitars and guitar picks across a series of high-end cruisers," said Dave Gitlin, Senior Skateboard Designer at Globe, adding: "We've got a new load of coconut construction boards coming out. They've really been the gateway to our eco-explorations."
Speaking of "eco", sustainability is a major story in longboards next season. The Arbor Collective has been replanting Koa trees endemic to Hawaii, through the Returning Roots giveback program. Landyachtz produces the Revival Series from reclaimed wood and is now in its third year of the "one-board, one tree" program with three non-profits around the world. Loaded is "expanding the use of bio-based epoxies" in manufacturing, and Joan at Long Island in Spain said: "Most of the processes we do in the factory are sustainable, by the way we recycle all the wastes."
HARDWARE & ACCESSORIES
Keeping in mind the trend towards customized set-ups, accessories are increasingly specific to riding styles. Arbor offers the "Easyrider Series Wheels in a wide range of colours, allowing the customer to pick and choose in order to build the complete of their dreams, or upgrade their current ride." In terms of upgrades, watch out for Sector 9's Omega Slide Wheels in two different durometers, Goldcoast's Shred Boots and Cherry Bombs and Madrid's Venom Mach 1 Magnum race wheels. Orangatang Wheels are increasingly catering to long-distance skaters, while Flying Wheels pushes "quality SHR urethane with different shapes for different uses."
When it comes to trucks, brands like Carver, Paris, Atlas, Gullwing, and Bear have become category staples over the years. Jucker is jumping into the fray with the new Precision 1 truck, while Madrid's Rogue Cast Trucks are positioned for high performance at affordable prices. Benoit at Flying Wheels points out the expanded use of surf trucks in their selection, including the "Best Place" board line. HLC Distribution in Spain also increased their "surfy" YOW (Your Own Wave) Long Island Boards range. Allowing for further customization, most trucks these days come with six-hole baseplates to let riders choose their wheelbase. Plus, hardcore riders have been slapping on wide versions of regular street trucks, so for retailers looking to serve the longboard segment in 2019, it's all about being ready for everything.
HIGHLIGHTS
Made-to-order set-ups
Movement in women's segment
Shorter longboards
Crazier shapes
Premium boards above €400
Sustainable, lightweight materials
Adjustable wheelbases
"Real" street trucks