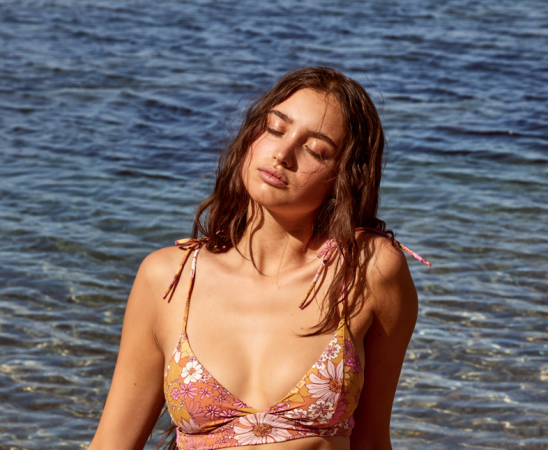 Barts SS24 Women's Swimwear Preview
Retail Buyers Guide: Women's Swimwear SS24 Retail Buyer's Guide
Brand: Barts
Interviewee: NA
What are the current industry trends in women's swimwear?
The trends for the season S24 in womens swimwear are:
Shimmer and lurex fabrics.
The triangle shape.
Shorty style briefs.
Frills.
Sideseam details in briefs and one pieces.
Cut outs.
Strap details.
What style/shape of swimwear is most popular in your range?
Although we offer a lot of variety, we see some of our styles are more popular than others. In our range these are the shaping one piece, triangle tops and the halter tops.
What were your best sellers in the 2023 collection and why?
Our best sellers were the styles with our special prints like the Ash and Varuna, probably because they are really specific designs were you can see the signature of BARTS coming through really well. Also, our new halter model is doing really well and our shaping one piece styles remain some of the best sellers.
Which styles do you expect to grow the most in 2024?
We still believe in our best seller styles (shaping one piece and halter styles) but we also made quite some effort to introduce new styles for bigger breasts of which we think we can easily sell. Beside that we also developed a new halter shaping one piece, which has a younger vibe to it. With our wide range of styles and fittings we can appeal to a big target group, which is also the strength of BARTS.
What have been the major inspirations behind the designs in the 2024 range?
A major inspiration for this collection is island life, on islands in the Pacific Ocean. This is the main theme of this collection. You'll find prints inspired by seaweed, tropical flora and seashells. Colours are sunkissed with a touch of shimmer. This new Barts summer range enhances a surfer girl spirit and bohemian femininity with cool, relaxed ease.
What colour palettes and prints will we find in your 2024 range? Any crossovers from other brand product categories?
Some of the major colours in the 2024 collection are sage, morganite, terra and navy for feminine styles. Ocean Blue, white, gold en candy pink for the surfer girls. Barts's collections are always coordinated in colour and styles.
What silhouettes are you featuring in your 2024 collection? Any construction techniques you'd like to highlight?
Silhouettes are feminine but comfortable. We like to offer a shape for every woman that makes her feel comfortable and beautiful. Whether you need minimum or maximum support or coverage, there is a style/shape for everyone.
What materials are you using in your 2024 collection?
Most of our swimwear items are made of polyamide and elastane. Our beachwear is made of cotton.
What efforts are you making towards sustainability?
At BARTS we are continuously working towards a more sustainable future. This means that, for every collection, we are looking for innovative, commercially viable and sustainable substitutions for the materials that we we use in our products. For the S24 collection, we use recycled fabrics for the swim collection. Also, all packaging, hangtags etc. are made from eco friendly materials.
What are your marketing stories for your 2024 collection?
The overall theme of the collection is 'Island life'. This is divided into six different subthemes that represent island life in a specific way. These themes are Sand Castles, Barefoot Glamour, Sunset Route, Whale Tail, Stay Golden and The Future Looks Bright. These themes give us natural prints but also warm colours that remind us of the sunset. These styles combined with different fits, creates products that are suited for every woman and for all body types. A mission that we are proud of.
How will you support retailers to sell this category?
We still offer them a lot of content in the form of campaign images and videos, text and social media input. Besides that we also make sure that our customers select the right styles for their shops, and this is something we do together with our agents in all countries.
How is your situation regarding stock and deliveries?
At BARTS we believe it is important to have extra stock. This way we can help our retailers as soon as they are running low on certain sizes, or if they wish to re-order a whole range. Ultimately this means less risk for the retailer. Our deliveries are good, on time and ,because of our inhouse warehouse, we can deliver re-orders quickly to each customer.
Best Sellers
Lasa Shaping One Piece
The Lasa Shaping One Piece is one of our most popular shapes. The design is inspired by island flora which results in this unique BARTS design. The material is sturdy, durable and complements the body of its wearer.
Lunan Triangle
The Lunan Triangle is a colourful top in a Triangle shape. Part of a set with a similar bottom or easy to combine with a solid color bottom in black or navy. This top also features natural, round shapes in its design that give the Lunan Triangle a calm but hip appearance.
Kelli Bikini Briefs
The Kelli Bikini Briefs is one of our more neutral designs. Available in several solid colours. The ties on the sides of this bikini bottom give it some extra flair. Matches well with our Kelli Wire or Kelli Cross Halter Full.