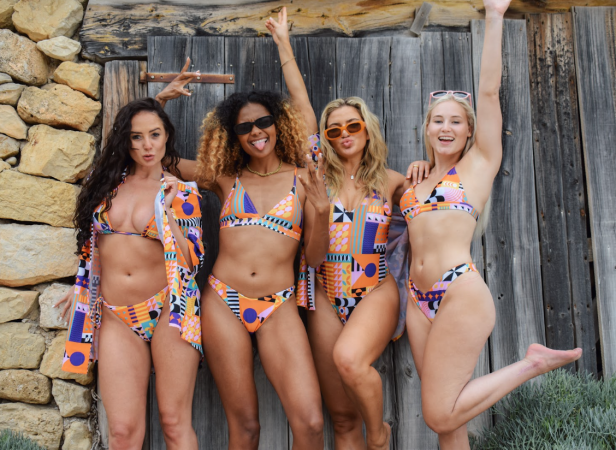 OOSC SS24 Women's Swimwear Preview
Retail Buyers Guide: Women's Swimwear SS24 Retail Buyer's Guide
Brand: Oosc
Interviewee: Daniel Bentham, Marketing Manager & Lucy Aitken, Product Designer.
What are the current industry trends in women's swimwear?
Sustainability is at the forefront of the swimwear industry as brands all strive to be as eco conscious to play their role in helping the planet. Recycled fabrics are in. In terms of the style and cut, the skimpier the better. The cheekier, more revealing cuts are becoming more and more popular, which is what has proved to be popular in our range. The retro high cut leg is also making a key appearance, along with bright retro prints, which you'll see reflected in our new swim range for the summer.
What style/shape of swimwear is most popular in your range?
The classic shapes in our range have been most popular, the triangle bikini top and tie up bottoms are always a staple summer wardrobe piece. Our Boost Em Up top has also proved to be popular with a little more support and lift.
What were your best sellers in the 2023 collection and why?
Our best sellers have been our pink lightening bolt print swimwear, in particular the v cut bottoms, one piece swimsuit, Boost Em Up Top and tie up bottoms. Our other colour ways have also been popular including the orange honeycomb hexagonal print and khaki cheetah print.
Which styles do you expect to grow the most in 2024?
The v cut bottoms I think are going to grow in popularity as the upcoming trends are for cheekier more revealing cuts. I also feel our one piece swimsuits are going to grow in popularity as we have improved the cut and fit to create the most flattering shape.
What have been the major inspirations behind the designs in the 2024 range?
Retro 80s designs have been a source of inspiration for this range. Both the bright colours, bold patterns, and high leg, daring cuts will be featured.
What colour palettes and prints will we find in your 2024 range? Any crossovers from other brand product categories?
OOSC is a bright, colourful and retro inspired brand, so we are focusing on staying true to our reputation and bringing the colour that we bring to the mountains to the beach too. We have some crazy, vibrant patterns, some neons and some monochrome – something to suit every skin tone and body type.
What silhouettes are you featuring in your 2024 collection? Any construction techniques you'd like to highlight?
Along with the classic tie side bottoms, triangle top and more, we are featuring our onepiece swimsuit with a plunging v cut neckline, open back and high cut leg which elongates the legs, creating a flattering look for any body type. The bikini bottoms in our range are seamless for a more comfortable feel and a sleeker look, and our bikini tops and swimsuits all have removable padding to give the option to feel the most confident, comfortable and sexy.
What materials are you using in your 2024 collection?
The materials used for our 2024 swimwear collection are 95% recycled polyester and 5% spandex.
What efforts are you making towards sustainability?
Sustainability is core to everything that we do as a business from manufacturing partners & material selection through to global shipping and packaging. We have built our business around being sustainable and feel that all brands need to ensure they are doing their bit to try and minimize the effect of textile production and be as eco-friendly as possible. We are proud that our manufacturing partners are all Blue Sign accredited and alongside them we actively seek to reduce the footprint created by the textile industry. We work to deliver a product with the lowest possible environmental burden, resource-improving production as well as augmented safety for workers and consumers. All of our material is recycled; the majority is recycled plastic bottles but we also have a new range which is 100% recycled nylon made from fishing nets and other sea waste. We try ship all goods via sea and if we have to ship smaller urgent shipments via air we carbon offset the flights. Our packaging is all recyclable or compostable We use technology to map out our material so that we minimize waste and don't over produce in order to cut down on energy usage. Our 3PL partners are also a key part in our mission and have their warehouse set up with an energy efficient floor design as well as using renewable energy supplemented by their own solar panels. We have an incentive for customers to return old or damaged products and we repurpose or recycle them which is a key step in trying to become as circular as possible. We want to be carbon Neutral in the short term and longer term we are looking at options to try and make our business carbon negative which wont be easy but worth the challenge to preserve our planet.
What are your marketing stories for your 2024 collection?
Our new swimwear range showcases the OOSC DNA through bright colours and designs on trending pieces. We aim to stand out throughout the summer season and our powerful patterns do just that. Our swimwear is ideal for individual style but can be paired up for matching couples as our desisgns have been implemented onto his and her pieces. We have gone above and beyond with our for the upcoming season as you can pair certain styles with matching shirts for a co-ordinated look. We are also the official swimwear brand for the EU boutique festival KALA whish takes place in the beautiful setting in Dhërmi, a stunning location on the Albanian Riviera. Through this sponsorship we aim to bring to light our products, but also our sustainable mission as we host beach clean-ups with waste collected being recycled.