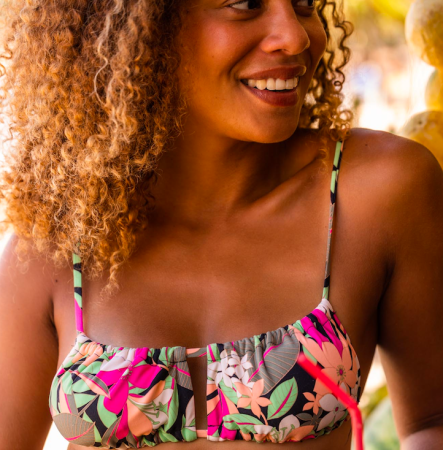 Roxy SS24 Women's Swimwear Preview
Retail Buyers Guide: Women's Swimwear SS24 Retail Buyer's Guide
Brand: ROXY
Interviewee: Nelly Pargade, Product Manager
What are the current industry trends in women's swimwear?
Since Covid, people are traveling again and the need to explore new places with a new swimwear is pretty on trend. Summer 23 has been strong but with the inflation, we are waiting to see if that trend is still going strong in summer 24.
What style/shape of swimwear is most popular in your range?
As a surf brand I would said the Athletic triangle. It has a feminine shape with a sporty look and added value details strappy back.
What were your best sellers in the 2023 collection and why?
Best sellers are with our Roxy print DNA. We do see more trendy piece like texture fabric picking up but Roxy DNA is a must have.
Which styles do you expect to grow the most in 2024?
We have very exiting fabric in summer 24 such a Jacquard fabric style with multico pattern or couple lurex fabric that is getting strong in EMEA. I woud say the texture fabric style will grow more than previous season.
What have been the major inspirations behind the designs in the 2024 range?
Surf & Samba, influenced by the brezialian culture.
What colour palettes and prints will we find in your 2024 range?
Any crossovers from other brand product categories? In summer 24, we are introducing some earthy tone shape as a transition between winter and summer, more sexy and globally cool shape. As we are moving to summer, you will find vivid and fun colors with Green and pink that are really vibrant for a cool summer vibe.
What silhouettes are you featuring in your 2024 collection? Any construction techniques you'd like to highlight?
I would say the Elongated triangle style shape for Top or One piece. Those shape are super feminine and compliment the curve for everybody.
What materials are you using in your 2024 collection?
We are eco conscious and all our range is made with recycle components.
What efforts are you making towards sustainability?
We are using old fish net or even plastic bottle to create our swim and wetsuit range.
What are your marketing stories for your 2024 collection?
We have 2 very strong stories. The 1st one is Westward sol and is inspired with beautiful earthy tone and the 2nd one is Surf & Samba wich is inspired by brezil.
How will you support retailers to sell this category?
With segmentation and offering the right product to the right costumers.
How is your situation regarding stock and deliveries?
… Je ne sais pas quoi répondre ☹
Best Sellers
Beautiful marguerite print with an Elongated triangle shape, with sliders for front adjustability, adjustable straps in the back, with tie closure. Ultra femine shape that goes to everybody
New fashion shape, adjustable in the front with sliders, adjustable straps in the back, with our Roxy DNA print, we are bringing a good support with a very flattering front and back.
New Halter one piece, closure with spaghetti bow behind the neck, jacquard fabric with a beautiful multi-co pattern , sexy lower back