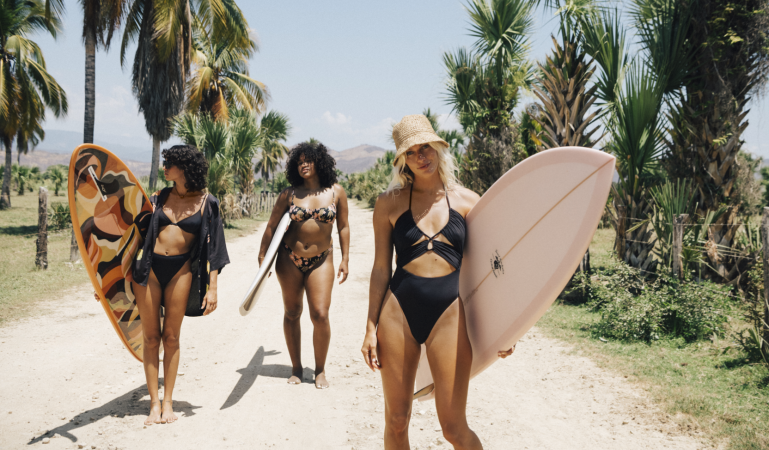 Billabong SS24 Women's Swimwear Preview
Retail Buyers Guide: Women's Swimwear SS24 Retail Buyer's Guide
Brand: Billabong
Interviewee: N/A
What are the current industry trends in women's swimwear?
It's a fun time in swimwear with a lot of different trends mixed in, it really is what suits you best as well as trend. We are seeing lots of high leg and hiked up pants but also seeing the emergence of a new or even retro low waist look also. The simple 'string' bikini with a tie top and tied side pant are continuing to be strong and then there is a lot of fun to be had with tops and one pieces that can be worn a few different ways, so it really is a fun time in swimwear.
What style/shape of swimwear is most popular in your range?
We offer such a diverse range of swim wear and sell to all sizes and body types so its hard to narrow down but I would say it's the styles that look great but still offer a lot of support like underwire on top while in a pant it seems to be a high leg with a real nineties feel. All the shapes work, it mainly depends on the country, in the countries of northern Europe it will be more basic with Tropic/Low rider for the bottom, and for the countries of southern Europe, it will be more the tanga/Hike. For the tops it's very varied, it will be more on the print or the color, but the triangle always remains the big winner. It is also very important to have more fashionable shapes such as Retro or High Retro, which are more difficult to sell but which are very important for our fashion image, in order to remain a leader.
What were the best sellers of you 2023 collection and why?
We had a lot of love for our florals! Underwire was also very popular and some fun pop colours!! Le Sol Searcher remains the Best-seller, due to the fact that we have a large selection of mix and match products. For the main collection, the textures, the floral prints are always best sellers and that's really what sets us apart from the competition.
Which styles do you expect to grow the most in 2024?
We feel that skimp cuts like our Maya pant will be strong and we will see the tie side pants and tied tops continuing and the emergence of some new halter looks as well.
What have been the major inspirations behind the designs in the 2024 range?
The ocean is the heart of our brand and will forever be where we take inspiration from. The major inspirations behind the 2024 range would be 1960's Hawaiian prints and classic tropicals. Statement feminie florals and ditsys always feel like home. Warm hues from the sun were a huge part of the palette along with classic neutrals to mix and match with fun pop colors like tart lime and coral craze.
What colour palettes and prints will we find in your 2024 range? Any crossovers from other brand product categories?
In our 2024 range you will find a mix of hero Tropical prints, fun geos and textured stripes. Along with beautiful feminine florals ,ditsys, textured plaids and our staple reversible hippie prints. We have a lot of fun solids this season from our bright coral craze and palm green in eco tanlines. To our neturals in our eco peach golden brown, and black pebble. We Also have some fun in our summer high texture with a bright tart lime, flamingo and classic salt crystal to be worn all year long. We always love to link our print and palette across our collections and swim, we also have our Surf Capsule wetsuit range that ties in perfectly and then obviously the aligning categories that would form part of your beach lifestyle like hats, overswim and so on. All in all there is a lot of crossover to bring it all together so you can always ensure the customer has the perfect beach get up for the season.
What silhouettes are you featuring in your 2024 collection? Any construction techniques you'd like to highlight?
We are loving anything you can wear more ways than one like our multi tri. For 242 we have a new multi halter that we are really excited about. We also have so many supportive and stylish underwire bras from our classic best seller the Reese underwire to our bliss bralette and the Chole and Tyler with seam detailing. We are also seeing a huge trend in bandeaus with twist and knot front details. We are having a lot of fun with some fashion one pieces that can be worn as a bodysuit with hidden underwire for support.
What materials are you using in your 2024 collection?
We have a great mix of our favourite key textures in both prints and plains and our super soft peach fabrication again in a myriad of print, pattern and solid colours and all eco conscious of course!
What efforts are you making towards sustainability?
Our swimwear range, in fact anything that touches the water is eco concious, even our pant liners, this started for us in Spring 2021 so we want to maintain that standard and continue to design and develop new fabrications that not only look and feel amazing but doing a part in our futures.
What are your marketing stories for your 2024 collection?
We have 2 great collabs on swim for spring 24 which cant reveal just now but just for the teasing one is more top of the pyramid with an iconic brand where we will proposed some killer prints, powerful swim shapes with premieum details made for the modern confident women. And the other one will be more centered around the sustatinability story telling and obsession we have to protect our oceans.
How will you support retailers to sell this category?
We provide some swim training guide to our retailers and also have some key swim campaign with elevated imagery that we promote through trade marketing support but also through digital campaigns. We also have our Shapes campaign that is really showcasing body diversity and addressing to all the women with different bidy shapes with extended sizing and we continue to focus on influencer marketing seeding our swim to a wide array of beach lifestyle content creator but also working very closey with our great team of athletes who embodies our Bikini Kinda life campaign which is our main brands swim tagline.
Best Sellers
Tides Terry
This Tides Terry bikini is meant to pair with sunshine. With nothing but good times on rotation, this easy and feminine bikini will have you lifting hearts in a lighthearted reel of fun colors that keep things coastal and cool. The material is soft and lovely to wear. The shape of the Tides Terry Hike bottom highlights your figure, making it perfect for spending your best day at the beach.
Sungazers
Groovy liquid blooms, inspired by your favorite vintage towel, take a trip around the sun and are reinvented in modern ways. This cute Sungazers bikini print with frisky florals is made from recycled stretch material and features a colorful floral print with vintage flair, perfectly meeting throwback surf vibes in a mashup made for warm days. The ruched Bralette top is made of soft and stretchy recycled polyester, and the gathers give it a girly touch while the shape provides good coverage. The tie tanga has an adjustable cut with ties on the sides, allowing you to wear it in high or low waist mode.
Dream Chasers
Blooms go poetic and dance across this one-piece, made of soft, textured, and stretchy recycled polyester that will be your most loyal friend this summer. The innovative shape accentuates your figure with its front opening and laces that can be tied in different ways!