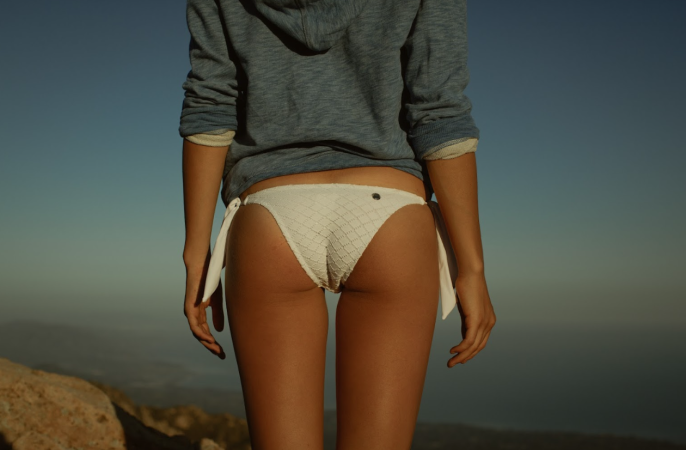 Lightning Bolt SS24 Women's Swimwear Preview
Retail Buyers Guide: Women's Swimwear SS24 Retail Buyer's Guide
Brand: Lightning Bolt
Interviewee: Sandra Goncalves, Business Director
What are the current industry trends in women's swimwear?
Overall, the trends in women's swimwear are constantly evolving and changing, but sustainable materials, high-waisted bikinis, one-piece swimsuits, bold prints and colors, and cutouts are all popular trends in 2024.
What style/shape of swimwear is most popular in your range?
Bright and bold colors are a popular trend in Lightning Bolt woman´swimwear. Colorblocks are popular choices.High-waisted bikinis offer more coverage and support for women who prefer a more modest look, also a fell-like look retro aesthetic. Bikini Halter Tops whose shape is comfortable, without seams and zippers on the back, in polyamide whose elasticity is felt through the body's movement, not coming off. Also cutouts offer a way to add visual interest and detail to a swimsuit, while still maintaining a flattering silhouette.
What were your best sellers in the 2023 collection and why?
High-waisted bikinis and cutouts have been popular for several years and continue to be in demand.
Which styles do you expect to grow the most in 2024?
Plain colors on tops and bottoms to mix and match and one-piece swimsuits that have recently returned.
What have been the major inspirations behind the designs in the 2024 range?
The inspirational beach woman persona of the 70s and the 80s brought to the contemporary days of Lightning Bolt.
What color palettes and prints will we find in your 2024 range? Any crossovers from other brand product categories?
Always faithful to the roots, Lightning Bolt crossed over not colors but emotional colors related to the brand's origins. Colors that come from Rainbows are very common in the skies of Hawaii and also incorporate our spirit and culture. Blue sky, blue ocean, and orange-red from the sun are some examples of colors chosen, and these colors In Hawaiian mythology represent a symbol of transformation and a path between Earth and Heaven. We took this inspiration to create our beach line and give all women joy and happy nostalgia with such memorable memory of our history. The idea is to get a light and fun style.
What silhouettes are you featuring in your 2024 collection? Any construction techniques you'd like to highlight?
The high cut-in waist, for the one-piece swimsuits, like in the '80s, despite that sexy silhouette, offers more coverage and support; many women find them more comfortable than bikinis.The high waist bikini bottom and the halter top are all pieces that give all woman style, comfort, and freedom to run, swim, walk, and play with their children in the sand or Ride a big wave.
What efforts are you making toward sustainability?
In recent years sustainable materials have been a growing trend towards sustainable and eco-friendly materials in swimwear. Lightning Bolt uses recycled fabrics, and its suppliers reduce waste in their production processes and have the policy to reuse. Lightning Bolt's founders, since the birth of the brand, in a modest and naïve way, were already pro-sustainability, with sentences that became famous and influenced through the years, " keep this land beautiful, the hang tag "peel off," "destroy the waves not the beaches," are examples and proof of the value of the effort that lightning bolt has in the sustainability evolution process.
What are your marketing stories for your 2024 collection?
"Experience the Elements": Lightning bolts are a natural phenomenon connected to the elements. Our swimwear is a way to connect with nature and experience the power of the elements. Empower yourself and wear the pieces as a confidence-boosting.
How will you support retailers to sell this category?
Marketing and Advertising campaigns investment to create brand awareness and generate interest in the products are always part of the collections. We also have Visual Merchandising, providing retailers with visual merchandising support, such as displays, signage, and product placement guidelines. This always helps to create an attractive and compelling in-store experience for customers, which can help show the products. Lightning Bolt is also a collaborative brand, and we collaborate with retailers to develop exclusive swimwear collections or to co-create marketing campaigns. This helps to strengthen the relationship between the brand and the retailer and creates strong ties and excitement around the products. These strategies help retailers to sell their swimwear category more effectively, ultimately benefiting both the brand and the retailer.
How is your situation regarding stock and deliveries?
The best situation regarding stock and deliveries can vary depending on the specific context, but generally, it involves having sufficient stock levels to meet customer demand without excess inventory or stockouts and having efficient and reliable delivery systems in place to ensure that products are delivered to customers in a timely and cost-effective manner. For deliveries, the best situation would involve having a reliable and efficient system to ensure that products are delivered on time while minimizing costs and maximizing customer satisfaction. This involves working with reliable shipping partners, optimizing delivery routes, using real-time tracking and delivery updates, and having effective processes in place for managing returns and customer inquiries. Overall, the best situation regarding stock and deliveries balances customer demand, inventory costs, and delivery efficiency to maximize profitability and customer satisfaction.