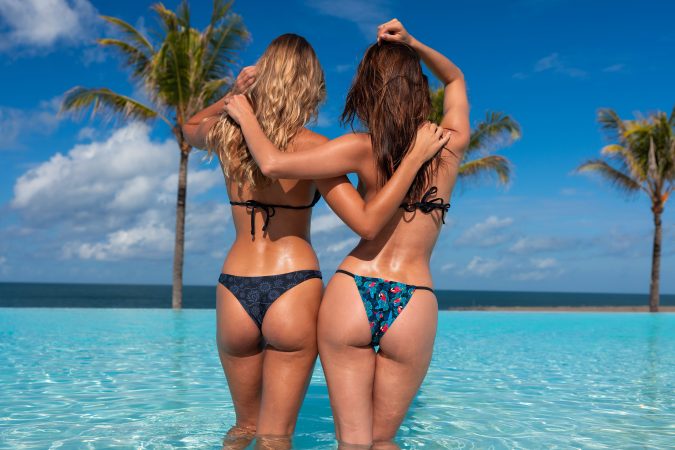 Slam 69 SS24 Women's Swimwear Preview
Retail Buyers Guide: Women's Swimwear SS24 Retail Buyer's Guide
Brand: Slam69
Interviewee: N/A
What are the current industry trends in women's swimwear?
Minimalist swimwear designs with clean lines and simple silhouettes have gained popularity. This trend includes bikini sets with classic triangle or bandeau tops and high-cut bottoms. The focus is on timeless designs that offer versatility and a modern aesthetic.
What style/shape of swimwear is most popular in your range?
Our triangle top has been popular in our bikini range over the years. The straps can often be tied around the neck or back, providing flexibility in how the top is worn. This adaptability makes the triangle bra appealing to many women who can adjust it to their preferred level of support and coverage.
What were your best sellers in the 2023 collection and why?
In terms of shape, besides our triangle top, that has been our best selling style season to season, our basic bikini bottoms (YBA) is also has a good sales performance. It typically feature a classic silhouette that provides moderate coverage. It have a medium rise and offers a timeless and universally flattering look. In terms of print and colors, our print Rex is the best selling print in Swimwear. The dynamic patterns of waves create a sense of depth and dimension, making the swimwear visually engaging. Blue colors, ranging from deep navy to vibrant turquoise, add to the allure and reinforce the aquatic theme, while fuchsia color sparks femininity.
Which styles do you expect to grow the most in 2024?
We just released reversible triangle bikini top with sphagetty strap (XLS) in SS23 and we are expecting this style to have significant growth in the next couple of season. It is designed to be worn on both sides, offering two different looks in one garment. One side of the top feature a solid color, while the other side showcases our striking print. This allows the wearer to switch between two distinct styles by simply reversing the top. The triangular shape and sphagetty strap minimal coverage allow for a more even tan, as they expose a larger area of the chest and shoulders compared to other bikini top styles. This tan-friendly aspect appeals to individuals who prioritize achieving an even and sun-kissed tan. Paired with this, we also re-launched our high-cut bikini bottoms (YCD), reminiscent of the 80s and 90s, have made a comeback in recent years. These bottoms sit high on the hips, elongating the legs and creating a flattering and retro-inspired look.
What have been the major inspirations behind the designs in the 2024 range?
Our designers find inspiration in the beauty and elements of nature. They draw from the colors, textures, patterns, and forms found in landscapes, flora, fauna, or natural phenomena.
What colour palettes and prints will we find in your 2024 range? Any crossovers from other brand product categories?
We will feature small-scale patterns or motifs that are barely noticeable from a distance but become more apparent upon closer look. These prints include delicate mandala, tone-on-tone tropical prints, and tonal patterns. They will provide a subtle and refined detail that adds interest without overpowering the overall look.
What silhouettes are you featuring in your 2024 collection? Any construction techniques you'd like to highlight?
We will keep merging minimalist silhouettes with striking prints to maintain a balance. The print should be the focal point, drawing attention without overpowering the overall design. We will consider the scale, color palette, and placement of the print to ensure it complements the minimalist silhouette and creates a cohesive and visually appealing aesthetic.
What materials are you using in your 2024 collection?
We use nylon as our shell fabric. It is known for its durability, stretchability, and resistance to water and chlorine.
What efforts are you making towards sustainability?
As our commitment to support sustainability, we work together with fabric supplier that certified with OEKO-TEX®, an independent certification system for textile products that focuses on ensuring their safety, sustainability, and environmental friendliness. It is a globally recognized standard used to assess and certify various stages of textile production, including raw materials, intermediate products, and finished products. The certification is voluntary and covers a wide range of textile products, including clothing, home textiles, accessories, and more.