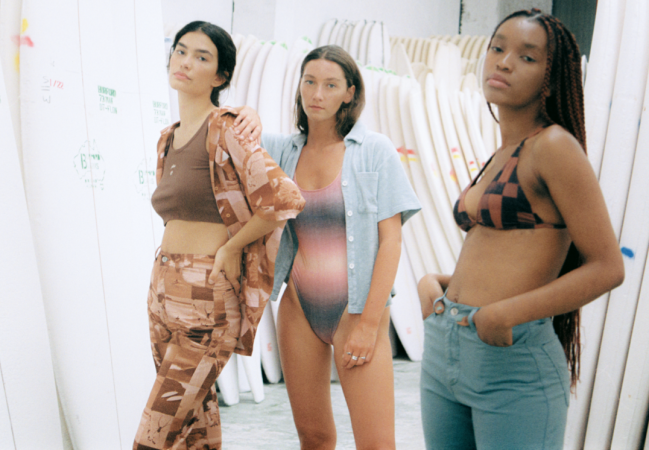 Pukas SS24 Women's Swimwear Preview
Retail Buyers Guide: Women's Swimwear SS24 Retail Buyer's Guide
Brand: Pukas
Interviewee: Marta Campama, Fashion Designer
What are the current industry trends in women's swimwear?
I have studied closely swimwear trends over the last year and now its clear that there are no specific trends currently. There is a fusion of many different styles so we have created a myriad of different designs for the SS24 range!
What style/shape of swimwear is most popular in your range?
At Pukas, the most popular shape is the tied knot T-Shirt, Thongs and the reversible and multiposition triangle bikini.
What were your best sellers in the 2023 collection and why?
The best sellers in 2023 are the aforementioned designs as well as our unique personalised prints designed by our in-house graphic designer, Marcos Azpiroz.
Which styles do you expect to grow the most in 2024?
We expect that the boardshorts for Men and the triangle bikini with lurex for Women will grow the most in 2024.
What have been the major inspirations behind the designs in the 2024 range?
For the 2024 range, our team has been heavily inspired by the reaserch and inspiration within our own small team, we have been working closely together now for around 6 years and have developed a great working relationship with similar taste and mindset.
What colour palettes and prints will we find in your 2024 range? Any crossovers from other brand product categories?
Our creative director, Marcos Azpiroz creates all the designs and colour palettes himself using hand drawn techniques as well as painting and digitalizing with computer programs. The Pukas collections are always very dynamic and change from year to year with some minor inspirations from other industry trends but they always stand alone. For SS24 range we have gone with a more neutral pallete with some sandy colours and others, including beige and softer tones with a touch more rustic rather than vibrant.
What silhouettes are you featuring in your 2024 collection? Any construction techniques you'd like to highlight?
We have a complete mix of trends for this collection. We try to accommodate for a wide range of body types, ages and styles.
What materials are you using in your 2024 collection?
For our SS24 collection we are utilising materials that we have had great results with which are mainly composed of a mixture of lycra and polyester. Along with lycra and polyester we are also using lurex in our 2024 collection. We use quality manufacturers we have been working with for a long time in Portugal and only source our raw materials from Europe. We also have our small self-contained factory called Txaller Txiki in the Basque Country near the surfboard manufacturing headquarters that assists in the development and production our our collections. It's the same building that was used to originally launch the brand.
What efforts are you making towards sustainability?
All our factorys that we use for development and production are certified sustainable companies that use the best environmentally friendly technologies and practices. We have also been using as much recyclable polyester as possible in our SS24 range, the same as last year, in an effort to reduce our environmental impact when producing clothing.
What are your marketing stories for your 2024 collection?
For our SS24 range we have invested extra resources into our photoshoot and look-book as well as improved studio shots for our look-book and online stores. Along with those traditional methods we have also focused more on social media and short video clips to enhance the communication of our collection to a wider audience.
How will you support retailers to sell this category?
Our support for retailers for our SS24 collection is a photographic look book, excellent communication to our sales team as well as a detailed information pack to assist our retailers in the communication and marketing of the products.
How is your situation regarding stock and deliveries?
We only make around 10% extra stock for our own brick and mortar PUKAS Surf Shops, all other sales are from pre-orders only. This way we minimize extra production and waste when producing our collections.