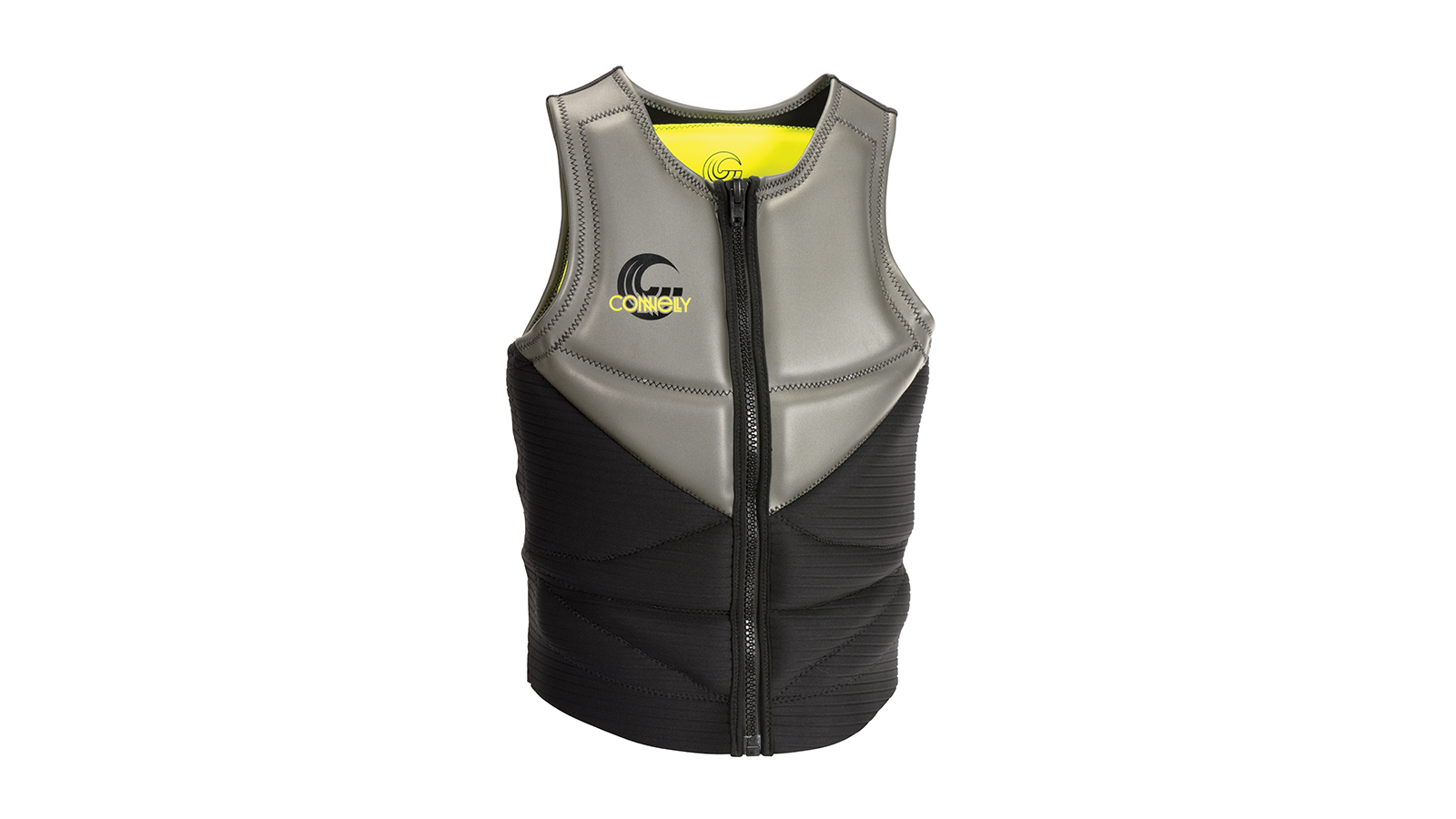 Connelly Skis Inc 2018 Wakeboard Impact Vest Preview
Retail Buyers Guide: Wakeboard Vests 2018
Brand: Connelly Skis, Inc.
Interviewee:  Collin Spradlin – Marketing Manager
MARKETS
Are your designing crash jackets for a wake market segment, eg boat/wake park/ surf/skate. Or is the same design being sold over the whole market? Which market is giving you the most growth. Which market is giving you the most direction in terms of the design and look of your crash jackets?
I hope you don't mind but for this, I'm going to refer to this style of the vest as a comp (competition) vest. We don't make any vests for the sole purpose of protecting people from impact or crashes. We have an exclusive design that uses 4-way stretch neoprene and extra stretch panels across the back of the vest. This offers insane mobility for wakeboarding, surfing, or skiing.
STYLE/LOOK
Over the last 2 to 3 years the market has seen crash jackets change in their appearance, in terms of an element of fashion entering the end look. What style is your brand aiming for, what is the process of determining what your crash jackets look like?
We've always focused on the function as opposed to fashion. Most kids are throwing tee shirts over their vests these days anyway, or a bib, because they're in a competition. Over the past number of years, we've moved away from the 'pullover' style to an easy-to-access front zip vest. They're easier to get into and don't get stretched out and baggy after a season of peeling them on and off. Fashion-wise we tend to stay dark with a hint of colour. Something that can go with any setup, but generally we tie it to a graphic in our wake or ski line.
FIT/FEEL/PROTECTION
What trends are you seeing in terms of fit, feel and protection in your crash jackets? What do you think your customers want and what has worked well for you in terms of fit, feel protection? For example, do end users want a thicker more protected crash jacket at a wake park (as they fall onto solid features at 20mph) or do people want as flexible as possible?
For our comp vests flexibility is the name of the game.
TECH/USP
What technology or materials are using in your crash jackets to give you a unique selling point?
Our X-Back design uses single-layer sections under the shoulder blade area in the back that are devoid of foam to really increase the mobility. You can add cuts and segments in the foam sections to compress more easily, but it is really hard to make it stretch, especially when there are 2 layers of neoprene.
TEAM RIDERS
How do your team riders influence your soft good offering? Do they have signature soft goods, do they help with design, do you suggest ideas to you, etc?
Yes, team riders are instrumental in helping the design process. They're the ones out using them at the highest levels. We'll brainstorm ideas with athletes and then make prototypes for them to test. Fit and design suggestions come out of having multiple people test the prototypes.
PRODUCTS
Tell us about your 2 key Crash Jackets
Our Team Neo Vest and Reverb Neo Vest both utilize our X-Back design for unmatched mobility, front zip for easy access, and glideskin top panels to wick away water and keep the vest super-light.