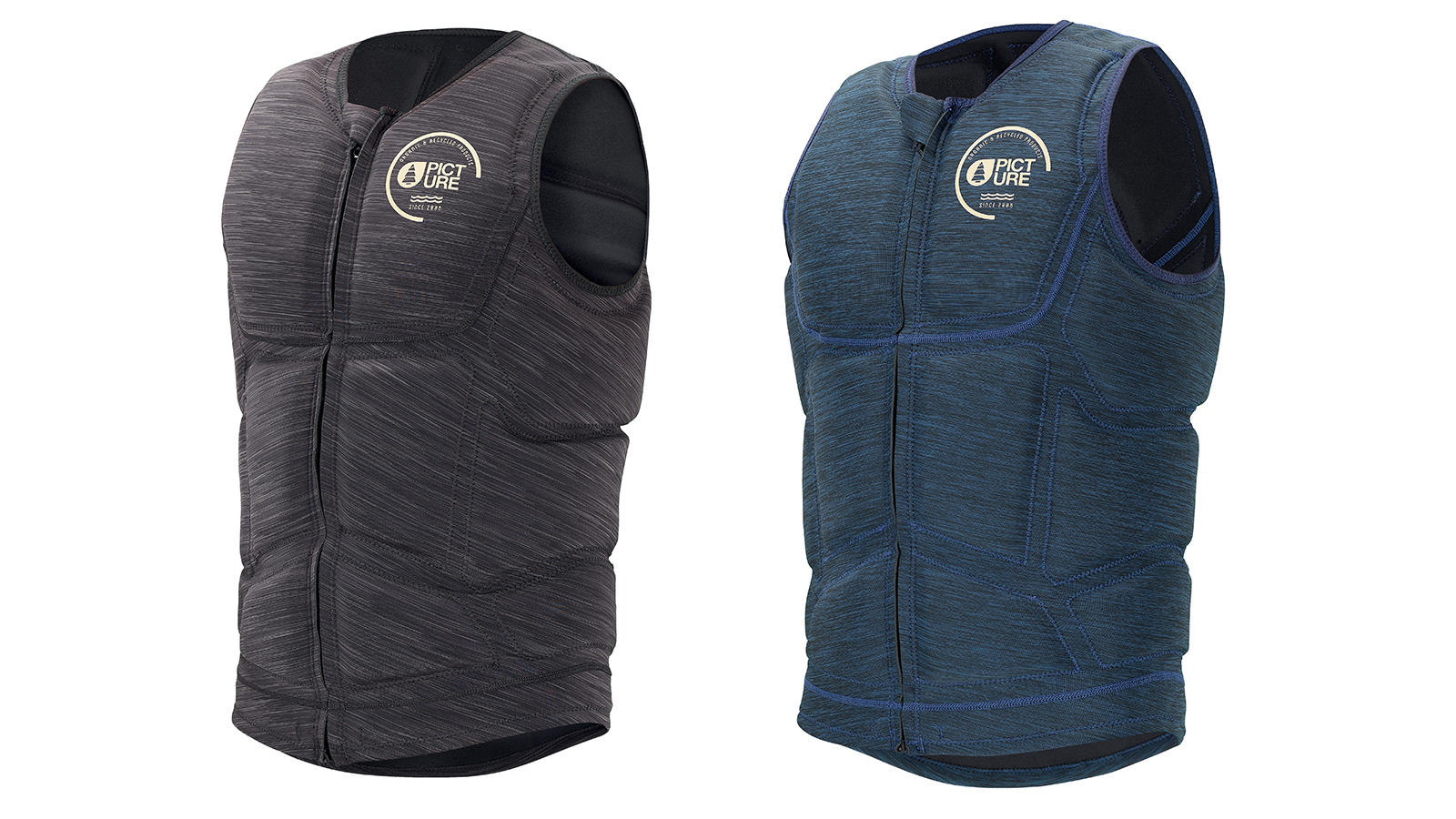 Picture Organic Clothing 2018 Wakeboard Impact Vest Preview
Retail Buyers Guide: Wakeboard Vests 2018
Brand: Picture Organic Clothing
Interviewee: Julien Durant – Co-founder
MARKETS
Are your designing crash jackets for a wake market segment, eg boat/wake park/surf/skate. Or is the same design being sold over the whole market? Which market is giving you the most growth. Which market is giving you the most direction in terms of the design and look of your crash jackets?
We chose to design only one wakeboard crash jacket for the market to concentrate on the eco-conception and protection.
STYLE/LOOK
Over the last 2 to 3 years the market has seen crash jackets change in their appearance, in terms of an element of fashion entering the end look. What style is your brand aiming for, what is the process of determining what your crash jackets look like?
We have one model for SS18, and the construction has led the design with only one foam panel, allowing for a 3D shape. Concerning prints, we used bi-melange colours which are very trendy this year. Finally, we add a zipper for an ergonomic construction.
FIT/FEEL/PROTECTION and TECH/USP
What technology or materials are using in your crash jackets to give you a unique selling point?
We designed an eco-friendly crash jacket partly composed of Limestone (zero oil) for the foam & recycled polyester for the inside and outside fabric. While we were thinking of the eco-conception, we designed it without compromise on technicity and without forgetting its first function: protection.
The Dony crash jacket was designed to support all dynamics of movement thanks to it's flexibility and to give you a maximum confidence while riding. Only one limestone was used for the foam panel which allowed for a 3D shape and a better protection because it covers full sides and torso.
TEAM RIDERS
How do your team riders influence your soft good offering? Do they have signature soft goods, do they help with design, do you suggest ideas to you, etc?
For the moment, we are learning from our team riders, what they need as regular riders. We are also trying to improve our crash jackets thanks to the feedback they send us at the end of each season.
PRODUCTS
Tell us about your 2 key Crash Jackets
We launched only one model this year: DONY
Sizes : S / M / L / XL / XXL
3 colours available : Blue / Black / Burgundy
Foam: Limestone 2mm
Composition : 50% PVC, 30% Limestone zero oil, 10% Recycled polyester, 6% Polyester, 4% Polyamide, 1% elastane
Features:
-Front zip
-Specific ribs impact protection thanks to a construction with only one foam panel
-Reinforced seams
-Boardshort connector
-CE Certification