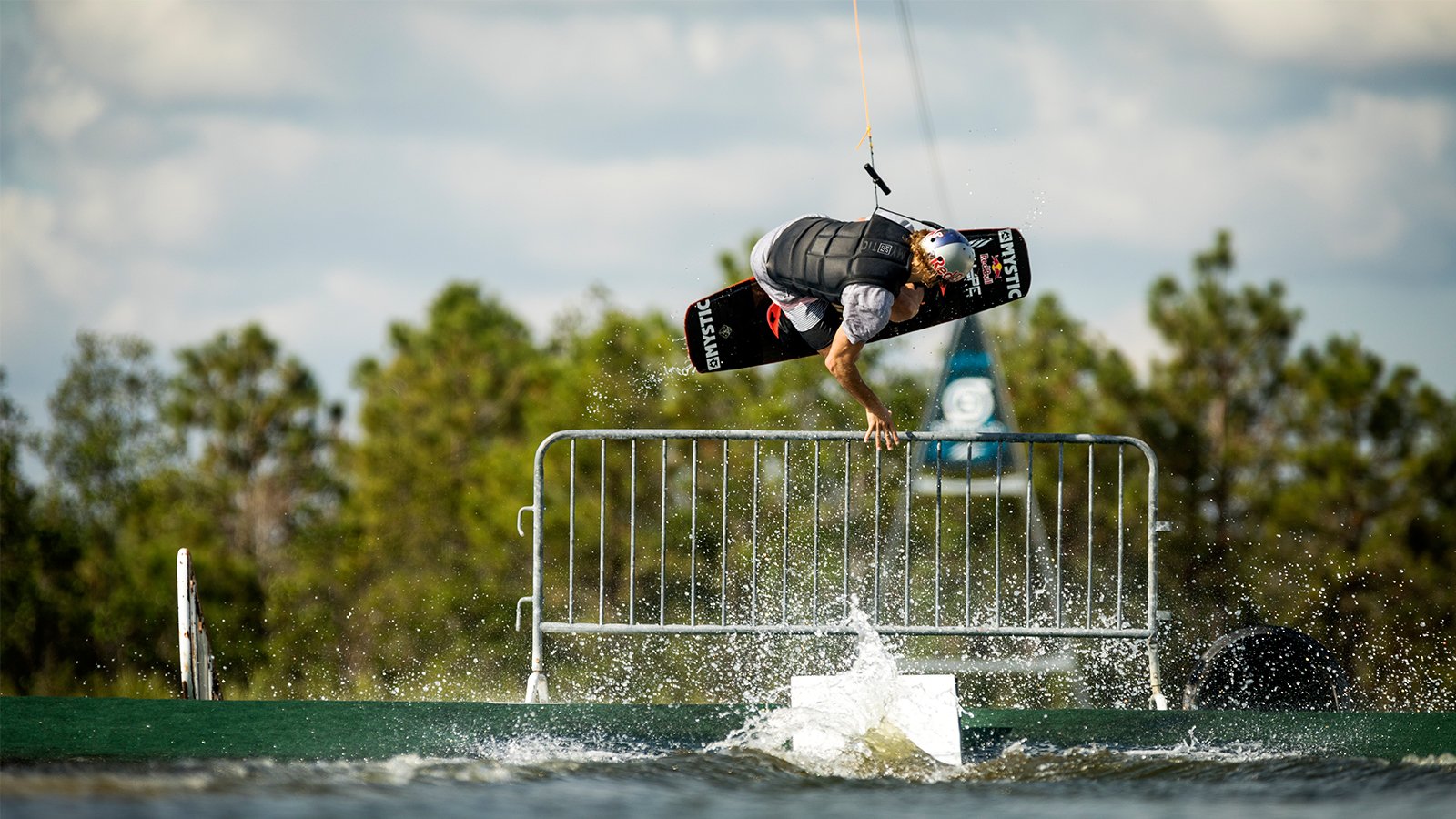 Mystic 2018 Wakeboard Impact Vest Preview
Retail Buyers Guide: Wakeboard Vests 2018
Brand: Mystic
Interviewee: Max Blom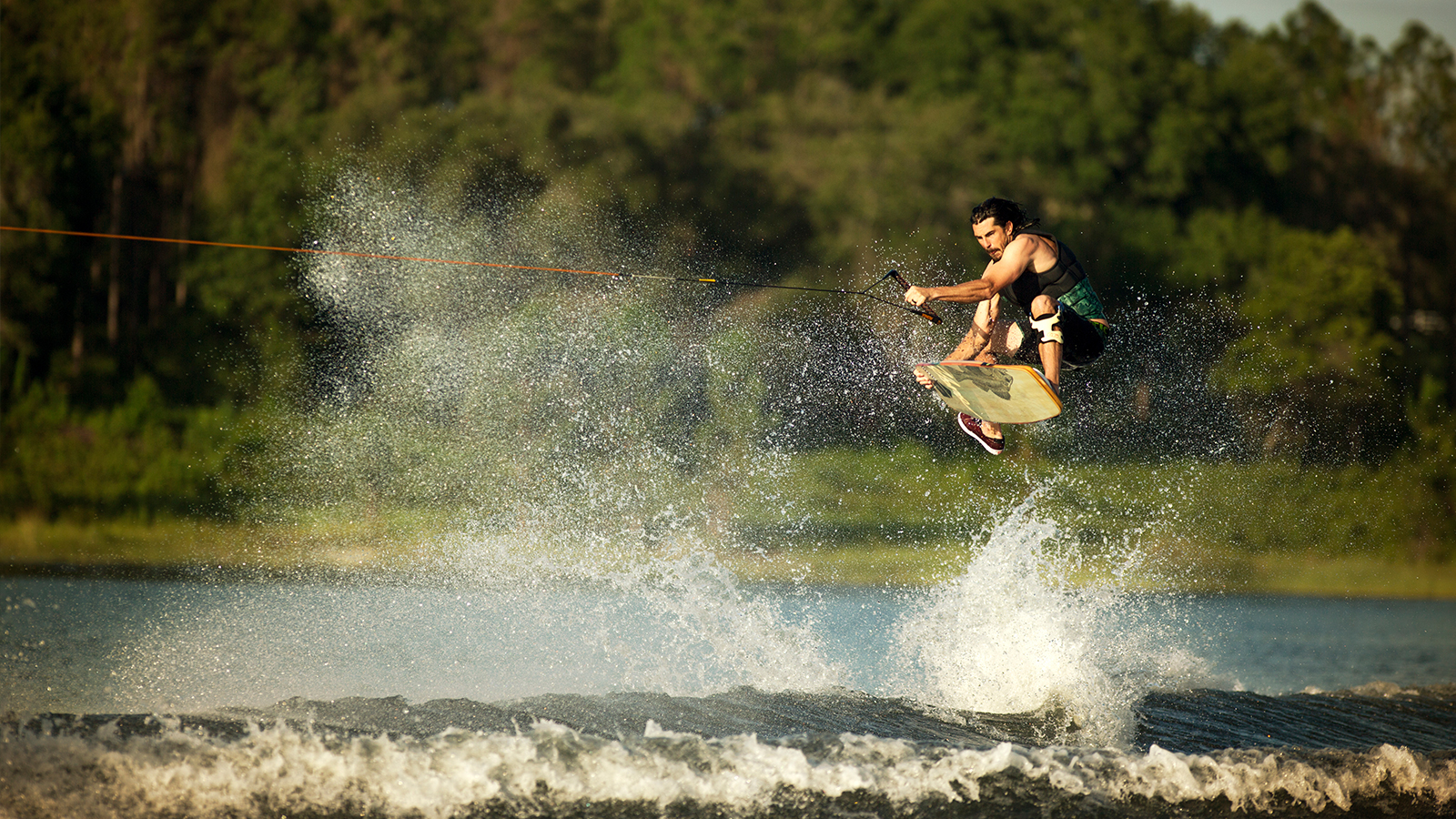 MARKETS
Are your designing crash jackets for a wake market segment, eg boat/wake park/ surf/skate. Or is the same design being sold over the whole market? Which market is giving you the most growth. Which market is giving you the most direction in terms of the design and look of your crash jackets?
Wake park is for sure a big part of our focus. Working with riders like Dom Hernler and the Peacock Bros we have to create a product that has them covered as they push the sport to its limits. Our 2018 top end range has NBR Foam, acting as battle armour in the key areas. We design our vests to offer the ultimate protection in the right areas and be ready for those big hits when that rail hit goes wrong.
Having said that, the full line can work for all watermen, whether wakesurf, wakeskate or riding the wake on your board the needs are the same. You want to feel comfortable, be protected and be able to move without limitations, all our vests do exactly that. And of course, we do it with that signature Mystic style, we are super stoked on how the graphics came out for 2018.
STYLE/LOOK
Over the last 2 to 3 years the market has seen crash jackets change in their appearance, in terms of an element of fashion entering the end look. What style is your brand aiming for, what is the process of determining what your crash jackets look like?
Style is, of course, important, it's what grabs the attention of the buyer online or in-store and we spend a lot of time researching trends to keep ourselves ahead of the competition. I think we have a pretty unique style with Mystic, we cut our own path and our customers seem to like where we go with it. Its pretty flattering to see some of the top riders in the sport on our booth at Surf Expo telling us the product looks sick even if they get a paycheck from another brand, gives us confidence we are on the right track.
I would say that style is a big part of what we do, but we are trying to make sure we have more to the vests than just a good look and image. The vests for 2018 look sick but also have a big safety element, adding protecting, trying to give the message that it's not uncool to be wearing a vest that will save your ass if you stack it big.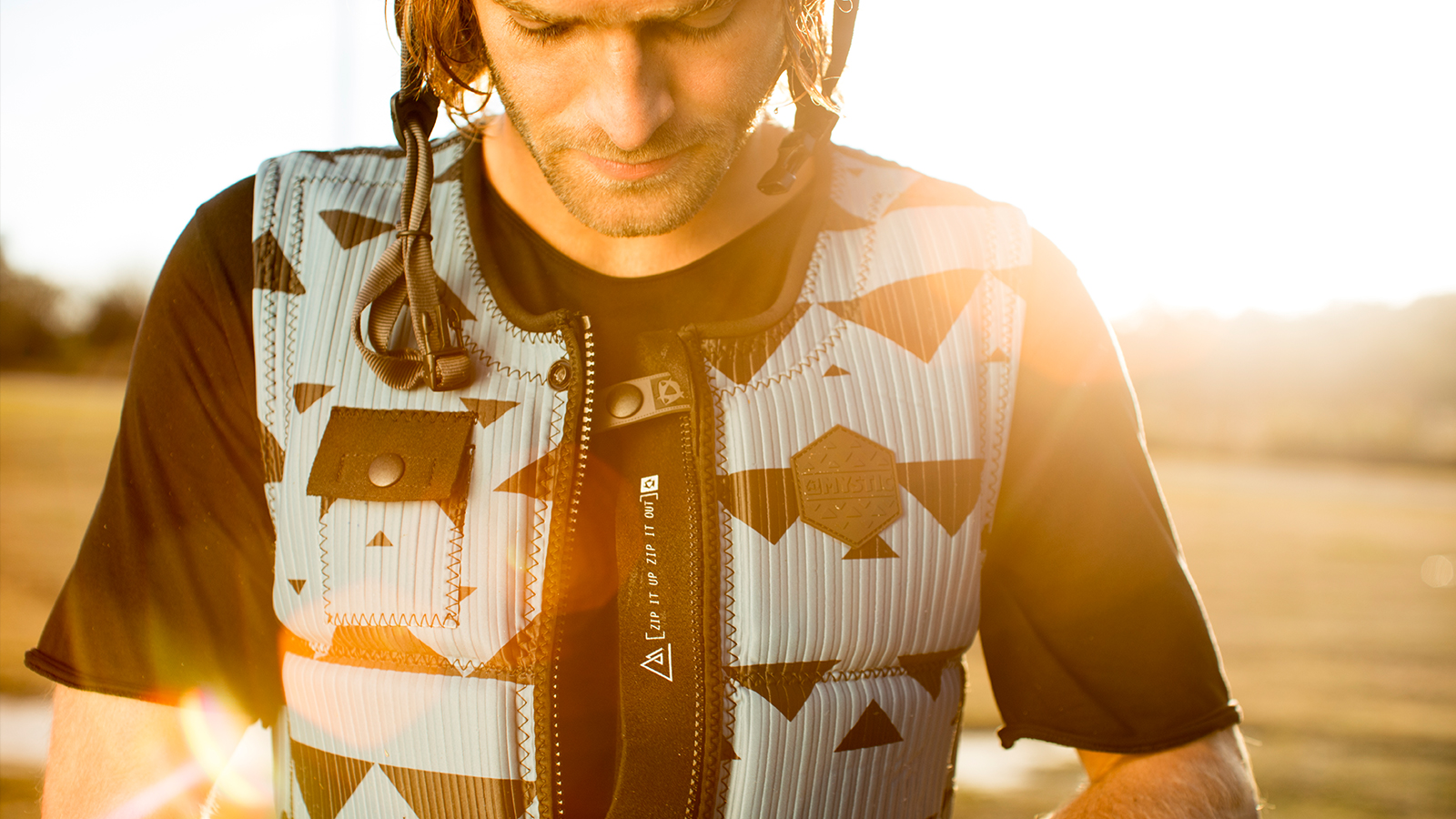 FIT/FEEL/PROTECTION
What trends are you seeing in terms of fit, feel and protection in your crash jackets? What do you think your customers want and what has worked well for you in terms of fit, feel protection. For example, do end users want a thicker more protected crash jacket at a wake park (as they fall onto solid features at 20mph) or do people want as flexible as possible?
We saw a big growth in our top end line last season, the feedback from the customers and shops was that it was because we offered some of the thickest impact vests but still offered maximum flex, this combination seems to be a real hit and we have done much more of this for 2018. Riders are hitting bigger obstacles and crashing harder, so we need to offer the protection they need without compromising fit and flex. It's a hard job but we source new materials, softer neoprenes and lighter foams and so far I think we achieve it.
TECH/USP
What technology or materials are using in your crash jackets to give you a unique selling point?
A big part of our top end line for 2018 is NBR Foam, this is a stiffer foam we place down the back panels that spread the load much more than regular foam on impact. So in the most vulnerable areas, you have the possible protection, without losing flex by having it all over the vest. On top of this we have our MFlex 2.0 neoprene, the best you can source wrapping around this foam, it gives us a super soft feel, so far the feedback from Surf Expo and dealers who already have stock is great, we are excited for a great 2018 season.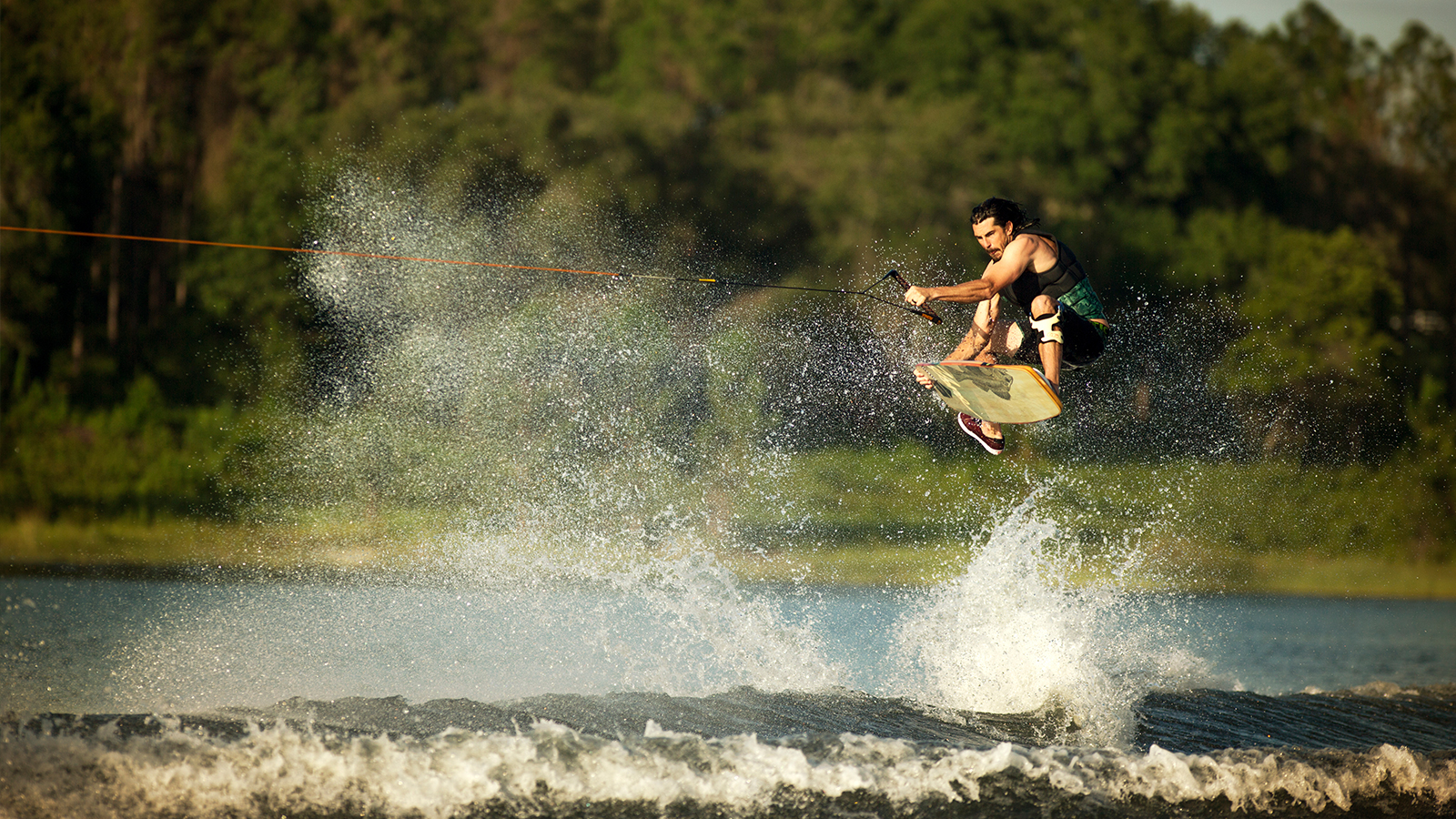 TEAM RIDERS
How do your team riders influence your soft good offering? Do they have signature soft goods, do they help with design, do you suggest ideas to you, etc?
Our entire brand story is about pushing limits, and it is our team riders that lead the charge in this. Dom Hernler is a massive part of what we are doing, we learnt so much from him on our winch trip in Austria in 2017 and spending days with him at Lake Ronix. This is where the need for NBR foam came from, seeing how hard the boys charge at crazy obstacles without any fear is impressive to watch and we knew we had to make a product to cover them when the mistakes happen. The riders make a big impact on our quality and durability too, we have the Peacock Bros on the team and the hours they do on the cable across the summer is insane, sample products can clock up 100s of hours really quickly so we can feed back to the factory what makes a strong vest and where we need to improve. So by the time, we hit the shelves we have 1000s of hours behind us on the products.
Right now we have signature vests for Nick Davies, the ND Collection, and of course Dom Hernler with his Magician vest.
PRODUCTS
Tell us about your 2 key Crash Jackets.
Stone Wake Vest – RRP £134.95
One of the top end vests for 2018 the Stone is one of the office favourites at Mystic, the graphical print gives a subtle rock look, and dark colours always look sick on the water. Tech-wise the Stone vest has our best neoprene MFlex 2.0 so it feels super nice and has massive flex, on the inside is our NBR Foam across the spine. For the best fit, we have cut the vests a little longer for 2018, nobody likes that bit of skin above the waist of your board shorts being on the show! Try the Stone vest at your local Mystic stockist, you will not look beyond it.
Magician Wake Vest – Dom Hernler Signature – RRP £104.95
Dom's 2nd vest with us and we always create something a little special for him. The Magician vest is a more traditional thickness, not as bulky as the top end vests as Dom likes a little less material but still offering great protection without Clash Foam. Two colours are available in the vest for 2018, we know riders hate to be matching with the other guys in the cable queue so this makes it a 50/50 split at least. The soft touch neoprene gives a great feel and for the money, you will not find a vest that compares, my money is on this one to be the best seller for 2018, 2 great colours and 1 great price.