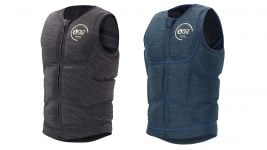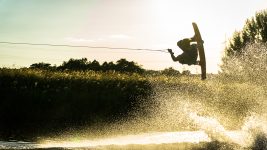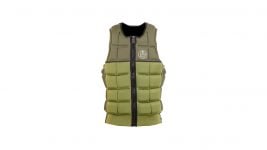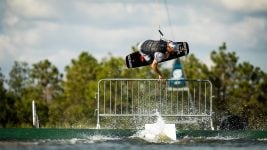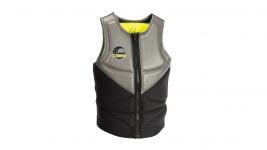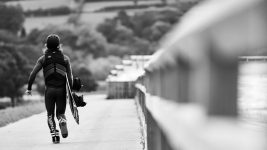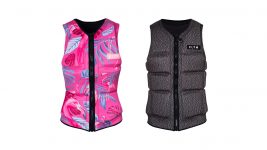 The vest is one of the first items purchased by a wakeboarder. At a wake park, as the rider progresses they want to move away from the bulky hire vests and get something more flexible, comfy and stylish. For the boat owners, it is almost a compulsory purchase. By Tim Woodhead.
It's worth highlighting some legal and EU standards that effect the product design. Tom Copsey from O'Neill states: "All impact vests in Europe, by law, must be CE tested and certified for their protection against impact with water."  In addition to this you have to comply with ISO 12402 for buoyancy, if you want to be legally classed as a buoyancy aid.
The market can be split in terms of rider ability. The beginner and weekend warrior market want the more buoyant and thicker vests and the better you get, the more flexible and comfy a vest you want. This is summed up by Jetpilot: "If you're an elite rider you want less foam, if you're a beginner you want more." O'Neill have noticed that there is a significant difference between boat and wake park riding styles: "We find that the cable riders wear the thinner vests with more flexibility and less protection but boat riders and coastal users often want a certified buoyancy aid design with more protection too." Certainly over the last decade the advanced riders wanted more flexible and lighter vests and the majority of brands still see this. But with all wake parks now looking like floating skate parks, recently some brands have seen demand for a thicker vest. Jobe said "At first we believed wake park consumers only wanted thin comp vests but this isn't entirely true, we see a shift here towards thicker vests," and Mystic say "we saw a big growth in our top end line last season, the feedback from the shops was that it was because we offered some of the thickest impact vests, riders are hitting bigger obstacles and crashing harder, so we need to offer the protection they need without compromising fit and flex."
Many brands have removed the pullover style vests from their lines. A decade ago this was a popular style, but demand is now moving to the front zip vests. CWB note "over the past few years we've gone away from the pullover style for an easy-to-access front zip vest" and Matt Campbell at Hyperlite stats that "front zips are the easiest to use and the most popular."
Look, textures, design and fashion are becoming more and more important, especially for the intermediate and above riders. Ronix say, "we aim to design and develop jackets that people will actually want to wear, designing more towards a fashion piece, and outerwear look," and Sooruz get most of their style direction from the wake park market.
Liquid Force have different looks for the wake park and boat market: "As Liquid Force has enjoyed success in the cable market we are looking to this market for colour trends and features. The jackets for the boating and surfing markets demand different colour schemes suited to the boating attitude and environment." In general vests are taking plenty of style from the streets, with colour palettes getting darker, more urban design features, including unique textures, fabrics and logo effects.
When it comes down to the tech, everyone is trying to get the right balance of flexibility and comfort with buoyancy and protection. Mystic are using an NBR foam: "This is a stiffer foam we place down the back panels that spreads the load much more than regular foam on impact. So on the most vulnerable areas you have the most possible protection, without losing flex by having it all over the vest." Jetpilot have just developed E360™ neoprene, which is the first of its kind with 360-degree flexibility.
Eco is becoming more of a selling point for brands. Picture are as eco as possible: "We designed an eco-friendly crash jacket partly composed with Limestone (zero oil) for the foam and recycled polyester for the inside and outside fabric." ION offer PVC free foam inside of the vest which is more environmental friendly then PVC foam and Soorzu "always try to mix the best efficiency with eco-friendly development. We only use PVC free foams, we use recycled polyester and we have our the ORGANIC, which is a product that uses Naturalprene, PVC free foam, water-based prints and glue; all the last eco-friendly technologies."
In summary, it's good bye to pullover style, hello to urban look and experimental fabrics and make sure you know if your customers want flexibility, protection or buoyancy!