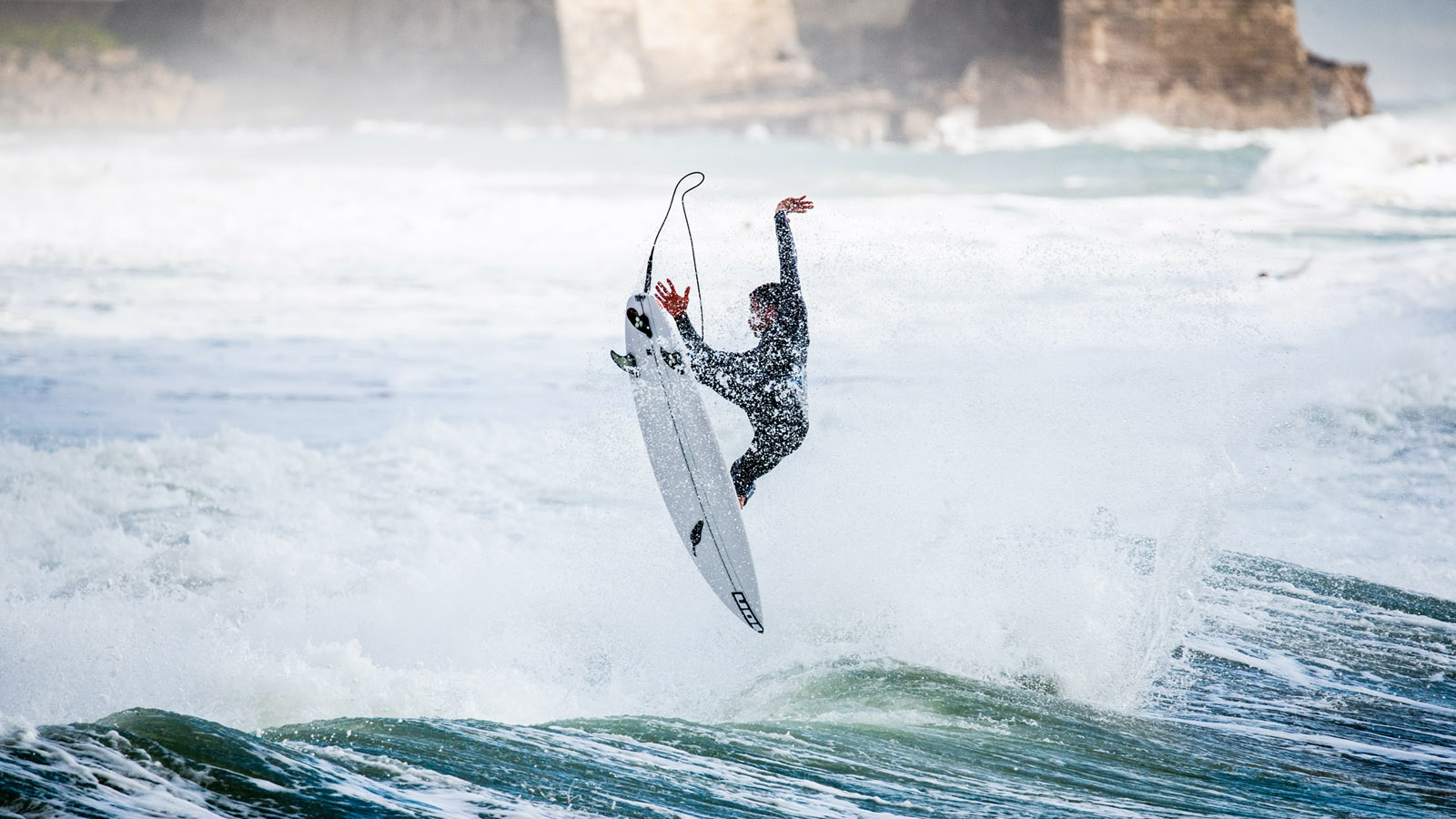 ION SS21 Wetsuits Preview
Retail Buyers Guide: Wetsuits SS21
Brand: Ion Wetsuits
Interviewee: Kerstin Geier, Product Manager & Yann Rambla, Head of Sales
Brand: ION
Interviewee: Kerstin Geier, Product Manager & Yann Rambla, Head of Sales
Surfboards hardgoods have largely benefited from the freedom craze after the lockdowns. How was it for the wetsuit market?
We had good sales after the Lockdown in June-July and recovered the loss from the Lockdown. This has certainly different reasons. People stay at home, already spend money on hardware, and sometimes a new wetsuit is also needed
Countries pushing up: Germany, NL. People were allowed to get back on the water very early
Countries with more difficulties: France, Italy, Spain due to strict Covid-19 restrictions
However, we have decided to carry over SS20 to give the dealers a better sell out. Our entire new 2021 collection will be on the market in February 2021 – stay tuned!
Can you please give an overview of your different ranges (performance, constructions, prices for s/s 2021)?
We have 4 different levels in our wetsuit product line.
The SELECT wetsuit is our highest level wetsuits with the most performance. Performance means for us stretch, warmth, flexibility, comfort, and dry time. In our SELECT level wetsuits, we use our DRY GRID outer lining which absorbs 30% less water. That means the suit feels lighter in and out of the water and stays warmer for longer because of less water evaporation. Also, we use our I FOAM which is limestone-based and is extremely lightweight and flexible with superior insulation properties. One big factor for the comfort and warmth of our suits is our new Graphene Plush inside lining, which has the best possible heat retention and drys super quickly.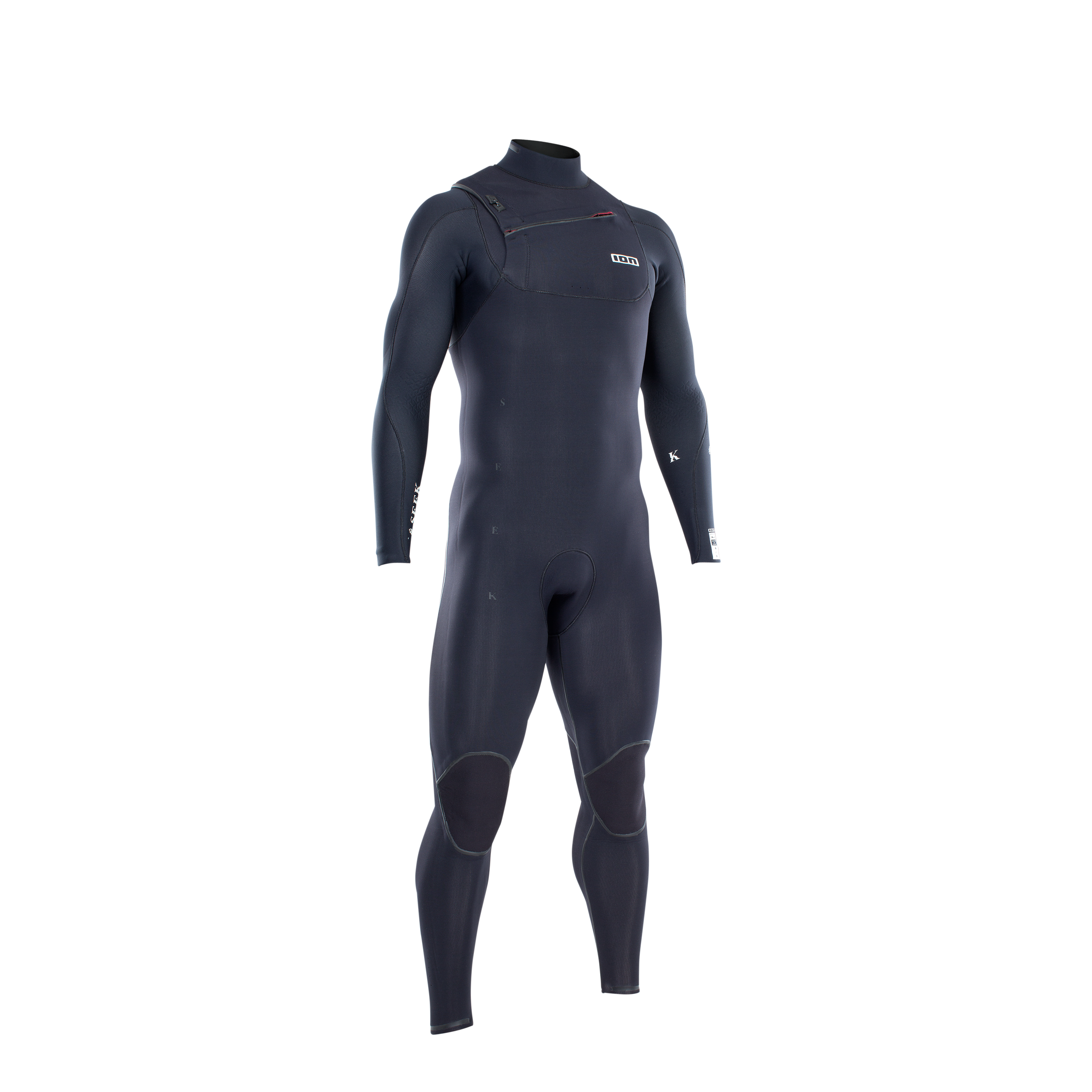 The AMP level wetsuits feature also our DRY GRID material on the outside (together with our ECO STRETCH. à only on SEEK, COL A, BLACK) DRY GRID at the sleeves keeps the wetsuit in and out of the water light (and our ECO STRETCH on the rest of the wetsuit gives you the same flexibility as regular lining materials but is environmentally friendly. ECO STRETCH lining is made out of recycled nylon waste.) Also in our AMP line, we use our limestone-based I FOAM which makes the suit super light and flexible. Quick-drying Plasma Plush 2.0, warm and flexible Hot Stuff 2.0, and super comfy Silk stuff make our AMP wetsuits super comfortable and flexible.
CORE Level wetsuits are made out of Limestone neoprene instead of oil-based neoprene, which makes the suits more environmentally friendly. Further, we took some features from our higher level wetsuits, like Hot Stuff 2.0 lining in the upper area, to make this suit not only environmentally friendly but also give you a good time in and on the water.
Our ELEMENT level wetsuits are flexible and robust and are also made from Limestone neoprene. Those wetsuits are lined with Silk Stuff to give a  comfortable time in and out of the water.
Which are your key innovations for s/s 2021? (materials, constructions, styles…)
GRAPHENE PLUSH
What's the key to unlimited stoke? Well, it for sure starts with the right equipment. Making sure to provide ambitious riders with the right gear ION uses Nobel-price winning Graphene to improve warmth when in the water. The integrated graphene fabric scores with improved thermal insulation when wet compared to ION's already warm Plasma Plush 2.0. Graphene is an impossibly light and strong, heat-conducting material. ION mixed this revolutionary material into the new inside lining for Seek Select with the highest concentration you can find in any wetsuit. The result is up to 20% more warmth compared to ION's Plasma Plush 2.0 lining. Also, Graphene Plush guarantees an incredible drying time making sure you've always got it nice and comfy.
Protection suit
This suit was made for the game changers! ION developed the Protection Suit Steamer for fearless progression. The suit offers more than basic protection. In fact, it comes with 10mm thick,
PVC-free foam padding at shoulders, upper back, the backside of the thighs, crotch, and shins. Making sure that your adrenaline rush is the only thing that makes you shiver. Hot Stuff 2.0 inside lining was added for extra warmth. In spots without thermo lining, super soft Silk Stuff increases next-to-skin comfort to the max.
Wetsuit Fit
After numerous fittings, tests, and hours of analyzing different body types, sizings, materials, and working together with external partners, ION introduces the new global fit for their wetsuits.
Thanks to the latest tech in neoprene, the stretchy rubber allows offers one wetsuit cut that fits them all. No matter if short or tall, skinny or big – all riders can now choose the same wetsuit model thanks to thoughtfully developed intermediate sizes. No ONYX & STRIKE wetsuit anymore – Our new 2021 lines are SEEK (for men) and AMAZE (for women)
S/S wetsuits rely more on colors & graphics than winter pieces: what are the styling options in your range?
Color blocking on our ELEMENT and CORE LEVEL wetsuits is a big theme and on our AMP and SELECT Level wetsuits we incorporated subtle and energetic patterns and tried to keep the major body parts cool black
Sustainability is key in the wetsuit category: which materials/process do you implement in s/s 2021?
On our SEEK AMP level wetsuit COL A (Black) we use for the outside lining a recycled nylon fabric, where the material was sourced and produced from nylon waste. This material is used on all major parts of the wetsuit.
Also, we use limestone neoprene on all of our wetsuits. Calcium carbonate is derived from limestone and is used to form the chloroprene rubber from which then the neoprene is made from. Limestone replaces the petroleum-based materials in the process of making our neoprene. Since a wetsuit cant be done fully sustainable we try to make ours as long-lasting as possible, to reduce waste from defect or worn-out wetsuits.
Please name and describe your 3 highlight pieces and items that retailers should definitely order.
Seek Select Semidry 4/3 FZ DL
The Seek Select level combines high-tech materials for ultimate warmth and stretch. These premium wetsuits feature the new Graphene Lining, which is an incredible heat conductor and makes sure you stay warm on the water. Only high-quality materials were used to make the Seek Select the most progressive wetsuit without compromises. The minimal panel designs guarantee limitless freedom of movement while sealed seams prolong the lifetime of this suit. Made to explore the toughest conditions, ION added Graphene_Plush throughout the torso and legs. Hot_Stuff 2.0 lining provides additional warmth at the arms and shoulders.
Seek Amp Semidry 4/3 FZ DL
Seek Amp stands for epic stretch. Ultra-flexible thermo lining combined with lightweight neoprene provides extra warmth for uncompromising freedom of movement all year round. The secret for optimal heat retention lies in ION's super flexible inside lining, called Hot_Stuff 2.0, in combination with toasty warm Plasma_Plush 2.0 on the back panel. I_foam neoprene foam traps more insulating air thanks to a new structure which contributes to better heat retention and flexibility. In spots without thermal lining, super soft Silk_Stuff increases next-to-skin comfort to the max.
Amaze Hot Shorty LS 1.5 FZ DL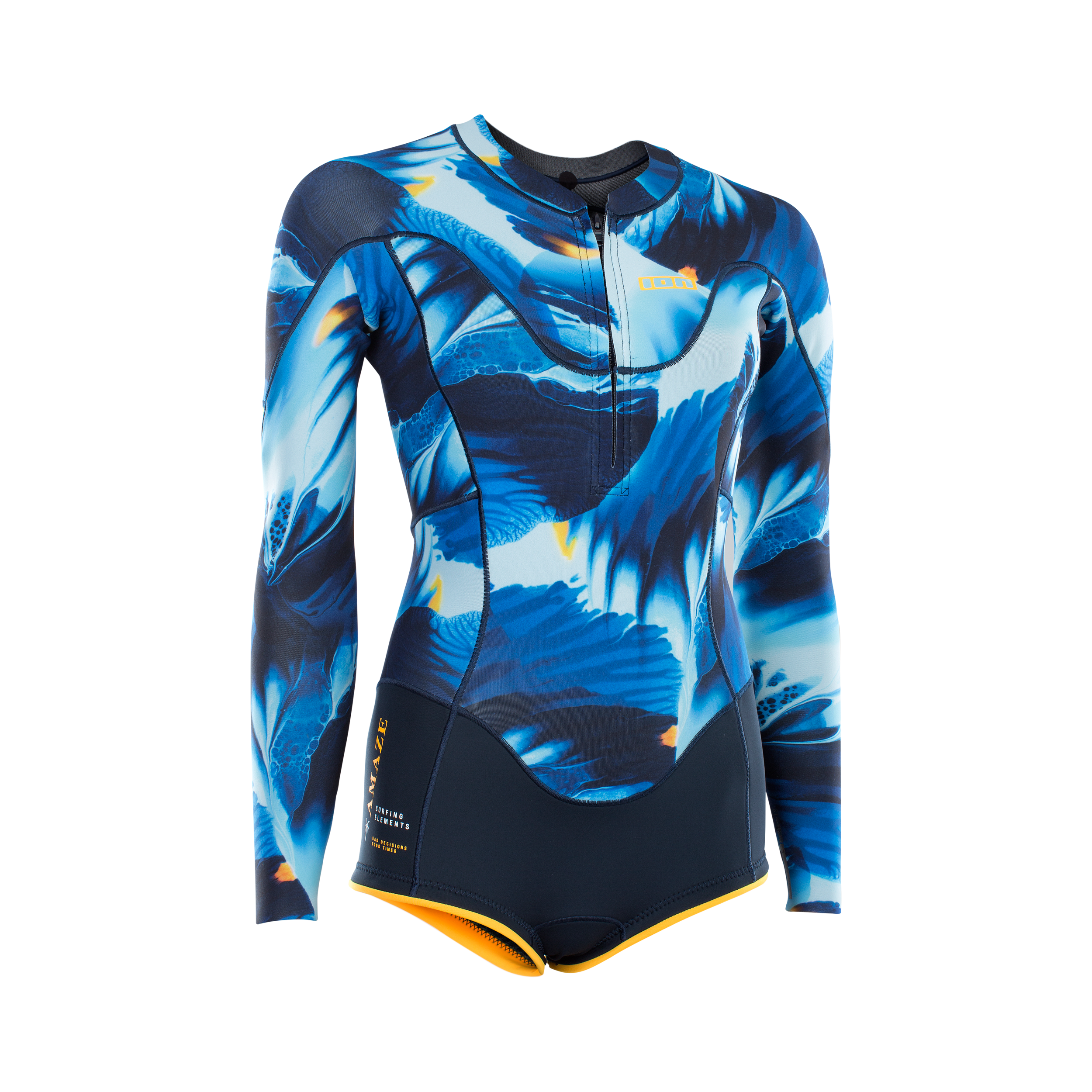 We all dig warm water sessions in a mild climate and while your legs a likely to be in the water, your upper body and arms still may need some protection against wind-chill and sun rays. Soft and flexible neoprene provides loads of comfort while you can rely on the boyleg cut to stay in place during some radical action.