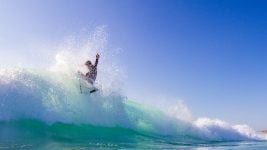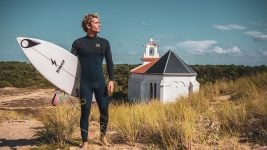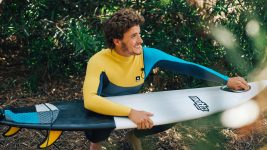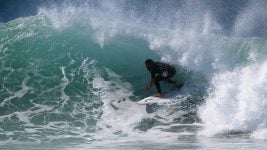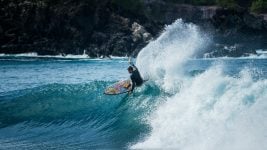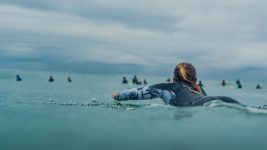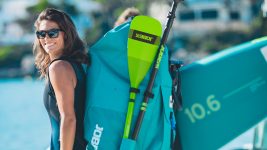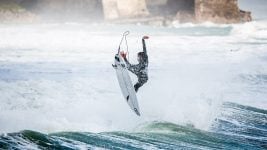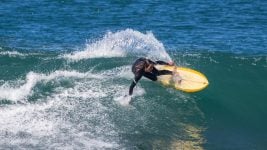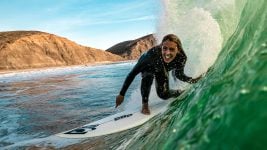 Surfers old and new raided the shops during the spring and summer of 2020, living each new day like their last. To retain momentum into the next summer season, wetsuit brands are pitting their best efforts against each other to keep the torch alight. So, without further ado, shall we take the SS21 collections into the fitting room and find out more? By David Bianic
SS21 Ranges: More Readability
Most are basing their collections around a three-tiered range that basically range from entry-level flatlock stitching, to GBS (Glued & Blindstitched) construction in the mid-range. Then, the top models contain the best of wetsuit R&D: lighter, warmer neoprene, recycled, quick-drying mesh materials, the ability to "trap" heat (infrared, Graphene…), body-mapping for a better fit and seams with "liquid" joints as well as more advanced zips and entry systems. Only Vissla have expanded their range with a new entry-level collection, 7 Seas Comp: "The market was requesting a lower price point model for our wetsuits so we came up with a based on the design of the 7 seas with a more generic thermal lining and the seams taped on critical areas", reveals Product Manager Arsène Vellard.
Innovations SS21
Whereas the textiles segment can recycle past trends with relative ease, wetsuits belong to the technical clothing category and that continues to go in one direction only: forwards. Innovation is constant and is focussed around the relationship between the external face, the neoprene foam intermediary and the interior liner. Starting with the exterior, we can see surfaces like the Dark Matter Liquid Skin from C-Skins, an integrated grid layer that has better flexibility than the smooth surfaces normally used to cut out wind chill. The texture effect is more discreet but still present at Alder whose FX Neoprene provides superior stretch and brings a unique visual signature to the external face: think optical illusion! Hurley are introducing a soft silicone material on the torso and the arms "which will increase warmth without affecting the stretch". As for ION, there's no doubt that the brand have been inspired by their special MTB protective gear with the Protection Suit Steamer equipped with "10mm thick PVC-free foam padding at shoulders, upper back, backside of the thighs, crotch and shins".  The German brand are also opting for an external DRYGRID covering that absorbs 30% less water: "The suit feels lighter in and out of the water and stays warmer for longer because of less water evaporation." At Patagonia, the external layer benefits from a "new recycled spandex, which brings extra stretch", explains Gabe Davies, their Surf Category Manager.
Then there's the layer that owes its identity to wetsuits, neoprene. Ironically, this is no longer the biggest arena for innovation, even though everyone has their own home-made formula for obtaining a lighter, warmer and stretchier rubber. Onda Wetsuits have nothing but good things to say about their Ace Foam + neoprene, "20% lighter, 20% warmer and 20% stretchier than before", guarantees Pedro Towers from Product Development. As mentioned above, it's the symbiosis between the different layers that matters on this front, and Picture are proud to announce a new innovation for SS21, FlexSkin, "a neoprene and eco-friendly lamination technology, allowing to have an exceptional stretch and to wear a suit as you would wear a lycra", explains CEO Julien Durant. Hurley are rerunning the "+" system, which rejigs the distribution of neoprene thicknesses over the body. For example, a 3/2+Max is 2mm on the arms, 3mm on the chest down to thighs and 4mm on the lower leg.
Unsurprisingly, interior liners are still exciting many developers who are continuing to explore different materials and constructions. On the full 3/2mms, you often find the heat retention systems that are featured on winter models aren't really required on spring suits or other models for warm water. At Xcel, two technologies stand out here: Celliant Black and Radiant Rebound. The first is the reactive textile Celliant containing minerals that absorb body heat and convert it into infrared energy. As for the second technology, Radiant Rebound, same principle, but this time using a liner containing metallic agents that "blocks cold from penetrating the outer layer and reflects the heat generated within back towards the body", explains Design Director Lance Varon about the system featuring on the Infiniti and Infiniti LTD.
Following Billabong last year, others are also going for Graphene to boost the warmth of their liners. This is the case at O'Neill with the – deep breath – Nova Skin Air Graphene Firewall, and at ION with their Graphene Plus, sold as providing 20% more heat than their Plasma Plush liner 2.0, which is already high performance.
Colourama
While the calorific properties of black and black are justified for winter wetsuits, the spring will see splashes of colour coming onto the neoprene. Just like in textiles, the trend is for block colour. Block colour is set to be the big "theme" at ION in 2021 across their Element and Core Level ranges while the more top-of-the-range AMP and Select models will be adorned with "subtle and energetic patterns while trying to keep the major body parts cool black". Xcel are also calling on more popping colours and even a camo print for 2021. At MDNS, black prevails in the Prime and Pure ranges with just the zip and the logo in different colours but the Pure models also do exist in "mottled navy blue for people looking for a refined, understated wetsuit" reveals Benoît Brecq. This elegance is also on the agenda at Alder who are using embossed inking "which improves the texture and visual depth to the logos," explains John Westlake, Production Director. At Dakine as well, it's an embossed external Hex structure (hexagonal) for texture, while the logos and other colourful touches serve to distinguish the different ranges.
For a bit more imagination, you have to turn once again towards women, for example Hurley and their flower and/or colour prints. The brand with the big H is also announcing their intention to make more collaborations, "as we did in Fall 2020 with our RealTree wetsuit for Men's and Hello Kitty for Women's".
Some brands are even working on consistency between textiles and technical elements as Jan at O'Neill explains: "On colours, prints and graphics we work with our global team so we're able to offer styles that merchandise well across product categories and not just wetsuits". So, for 2021 the brand is presenting new prints for women and little girls, like the Baylen, a more dynamic version of the traditional flower motifs that you find on wetsuits, lycras, wakeboard vests, rashies, etc… After playing around with motifs a few years ago, Picture realised that overly flashy styles were not always well received by the masculine surf community. As a result, Picture are going for mixtures of black and grey or a very classy anthracite grey while the feminine models offer more freedom with: "The "fashion" aspect being essential in the sale of women's wetsuits". At Jobe they prefer not to decide, offering "warm" palettes (red and lime) and "cold" (blue) on one side and classic black/grey on the other, complemented by one or two seasonal colours, "this year being a teal and graphite colour", reveals William Doornekamp, B2B Marketer. But beware, with the lifespan of a wetsuit often outlasting seasonal textiles trends, you have to make the right choice of colours and motifs, explains Jon from C-Skins: "We take care selecting the colours, graphics and stylistics so that they last longer than a garment of haute couture and can stay on the stands." Therefore we find mainly SS20 colours on Jobe's SS21 models to improve their lifespan.
Detoxification
The detox trend of the last five years continues with the now widespread use of so-called "dope-dyes" (less water and energy required) as well as solvent-free, water-based glues. Also, more brands are making recycled nylon liners while the neoprene itself (except for Yulex) incorporates "carbon black" (recycled tyres). The tone set intentionally by Patagonia with their own materials (Yulex) and a Fair-Trade certified factory seems to be starting to rub off. For example, C-Skins are now working with a Blue Sign certified factory "for its responsible, transparent practises" or Dakine choosing the same Fair-Trade factory as Patagonia – Sheico. As for Soöruz, the French brand have established their own eco-friendly label christened Ocean Protect using an environmental impact evaluation chart for their products, "forcing Soöruz to rethink their products for each new collection and to stay at the forefront of innovation", explains CEO Yann Dalibot. He then proceeded to remind us that eco-conscious purchases are not necessarily only for the biggest budgets: "Our high-performance Oysterprene using oyster shells will be available on the Guru, Fighter and Divine ranges costing between €200-€369. It's with great pride that we are able to offer eco-friendly wetsuits from €200".
And the ongoing question of limestone… Brands using this limestone-based neoprene continue to emphasise its ecological benefits, to the dismay of some people, starting with Gabe Davies from Patagonia: "Just to be clear, the mining of limestone from quarries and melting the stone to create wetsuits is in NO way sustainable." Let's let Benoît from MDNS refresh our memories: "There are currently 3 types of technologies that are more eco-friendly. Yulex, which is based on natural rubber, Limestone made of stone and Ecoprene made from recycled plastic bottles. Limestone requires an enormous amount of energy to transform the rock into rubber and Ecoprene also consumes a lot of energy in recycling the plastic". So, the brand is offering either traditional neoprenes (derived from oil) or 100% natural Yulex (Pure range), refusing to greenwash.
Alongside the importance of wetsuit sustainability, product lifespan is the main aspect emphasised by Dakine, who, as we mentioned, are taking their first steps into this market after accessories. "The market's current wetsuit designs focus on performance and warmth at a cost to durability. We set out to re-calibrate the balance," assures Phil Bridges. A word to the wise.