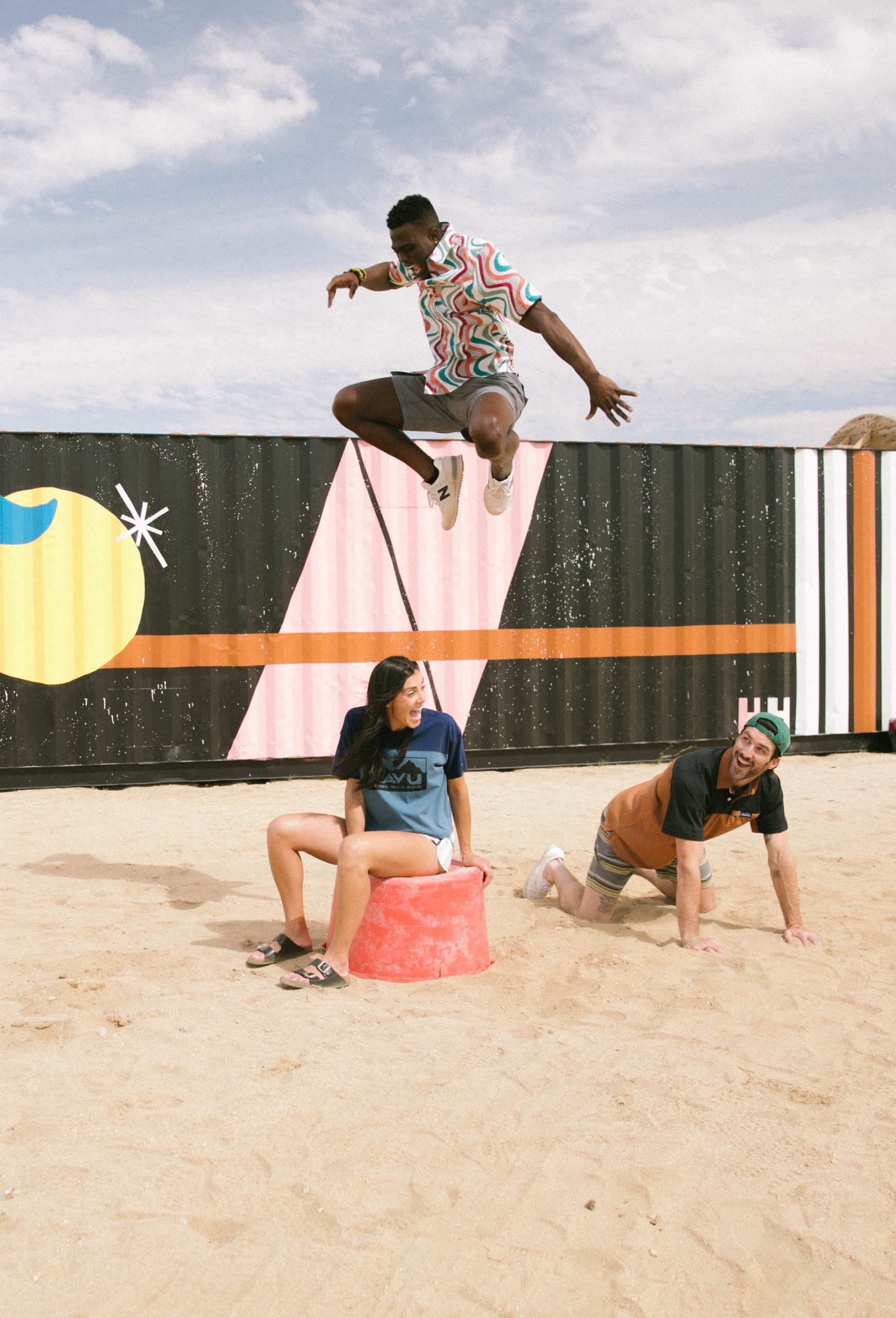 Kavu 2023 Great Outdoors Preview
Retail Buyers Guide: Great Outdoors 2023 Retail Buyer's Guide
Brand: Kavu
Interviewee: Jeremy Goodman, International Sales Director
Two years after the pandemic hit Europe: How has Covid-19 impacted the Outdoor Market?
The pandemic impacted every corner of the industry and two years on there are several lasting changes. We're still dealing with significant supply chain and logistics delays. Because of this, the sales calendars will shift earlier. Show cancelations and lockdowns forced us to evolve how we sell. Now we use better digital assets, place more emphasis on social selling, and offer e-commerce tools so dealers are supported. And most importantly, our customer base has grown. People who didn't consider themselves "outdoorsy" pre-pandemic got outside, explored nature, and tried new activities. 
How has Covid-19 or the economic status affected your SS23 sell in plans (delays/ range cancellations/ carry over)?
Supply chain and logistics delays bring change to our sell-in plans. We've brought our entire sales calendar earlier which we hope will improve deliveries. Our small but mighty product team has avoided blanket carry-overs and range cancelations which is amazing. However, sourcing organic cottons has been super difficult so they are fighting to keep as many organic pieces in the line as possible.
What are the major trends in the Outdoor Apparel market next Spring/Summer?
Sustainability, lots of color, and a more inclusive outdoor industry. Trends we should all be stoked on!
What marketing stories and themes are you telling in your Outdoor Apparel line for SS2023?
This year marks KAVU's 30-year anniversary. It all began with founder Barry Barr selling his newly invented Strapcap from the back of his car. Three decades later we're proud to still be family-owned and fiercely independent. The brand was started to spread a philosophy of "busy livin'" and having as much fun as possible. It's been a tough couple years for all so in SS23 we're back to basics – lots of high fives, cheers, and laughs. We'll be celebrating great times past and many more KAVU days to come.  
What are the most important technical features & materials?
We do things a little differently. We still lean heavily on burly cotton canvas, the first fabric that we started with in the early 90s. Most of our canvas styles are still made in the same factory in Seattle, but now we proudly use organic cotton canvas. Our kind of outdoors is hanging by a fire and sleeping in the dirt. A single ember will burn a hole in my 300€ down jacket. If an ember lands on my canvas throwshirt, I just brush it off and have another sip of beer. This is what we mean when we say ¨true outdoor wear¨. 
What about silhouettes, looks & styles?
KAVU days are about having fun. SS23 is highlighted by comfortable silhouettes, tons of color, and lots of personality.
Please talk us through your 2-3 of your key products for 2023
Chili Lite Short – The Chilli Lite men's short was one of the first clothing styles we made in 1995. After all these years it's still a best-selling short, an office favorite, and just as feature-packed as ever. So much so, the silhouette has inspired multiple other styles in our line-up. We call this OG Outdoor and for good reason. The Chili Lite sports a comfortable fit with a built in belt with YKK side release buckle. My favorite features are the gusset crotch for freedom of movement and the big half-moon back pockets. Also the back right has an internal wallet stay which is super handy.  I'll cheat and also mention that we are offering the Chili Lite Pant in the Spring/Summer this year. We resurrected this style from the Archives for the Fall/Winter 2021 line. It sold great and we're carrying this into Spring/Summer based on requests from European dealers. I'm excited to get a pair.
San Blas – This ladies outdoor jumpsuit is designed to be worn for pretty much whatever your heart desires. These relaxed fit overalls do not mess around and are equally at-home at a music festival or on the trail. They are made with lightweight and quick dry spandex material in amazing prints. Plus we love the KAVU webbing hit on the adjustable shoulder straps. This has been a favorite for a couple seasons now and we sell out early, every year, to the piece.
Hilly Billy Stretch – After years of the ladies having all the fun, we've created a men's version of the San Blas. These radical stretch overalls are complete with a single chest pocket with pen pocket, a pass through pocket at center of bib, and KAVU-to-the-core pattern webbing adjustment straps.
Strapcap – I wouldn't be doing my job if I didn't mention the product that started it all. The strapcap is unique and what we call "true outdoor".
In 1991 Barry Barr was running a commercial fishing boat off the Alaskan coast. A gust blew his hat off his head and into the ocean. This inspired Barry to make a hat that could withstand the elements. 
The secret in the Strapcap lies in its construction and materials including the beefy organic cotton canvas, the nylon tubular webbing with 4,000lbs breaking point, five 43-stitch bar tacks, and a tough polyurethane bill. I can confidently say that this is the toughest hat on the market. I bought mine in 10 years ago. The organic cotton canvas patinas beautifully and the four panel crown forms to the head over time. My favorite part? After nearly 30 years the Strapcap is still hand-cut and hand-sewn in Seattle by the same family.
Camping Goods SS 2023
Trailrunner – This made in the USA hat is modeled after our Synthetic Strapcap but tailor-made for trail running. It is loaded with features; 5 panel cap with mesh side panels for breathability, moisture absorbing sweatband, and a shorter brim for maximum visibility. It was voted Best Workout Accessory by GQ. 
Hands Free – This is a beverage insulator sleeve on a rope neck cord. It keeps your drink cold and always within hands reach. As one of our employees said on a company camp trip in Japan, "If this is camping, then I'm a camper."
Spectator – A bum bag with KAVU flair. The Spectator has become a KAVU staple and sells well in multi-door chains and mom & pop shops alike. It's made from 600D water-resistant poly, has two zip closure pockets, internal organization, and Cool Max mesh backing. It's super well-built, comes in lots of fun colors, and has a solid price point.