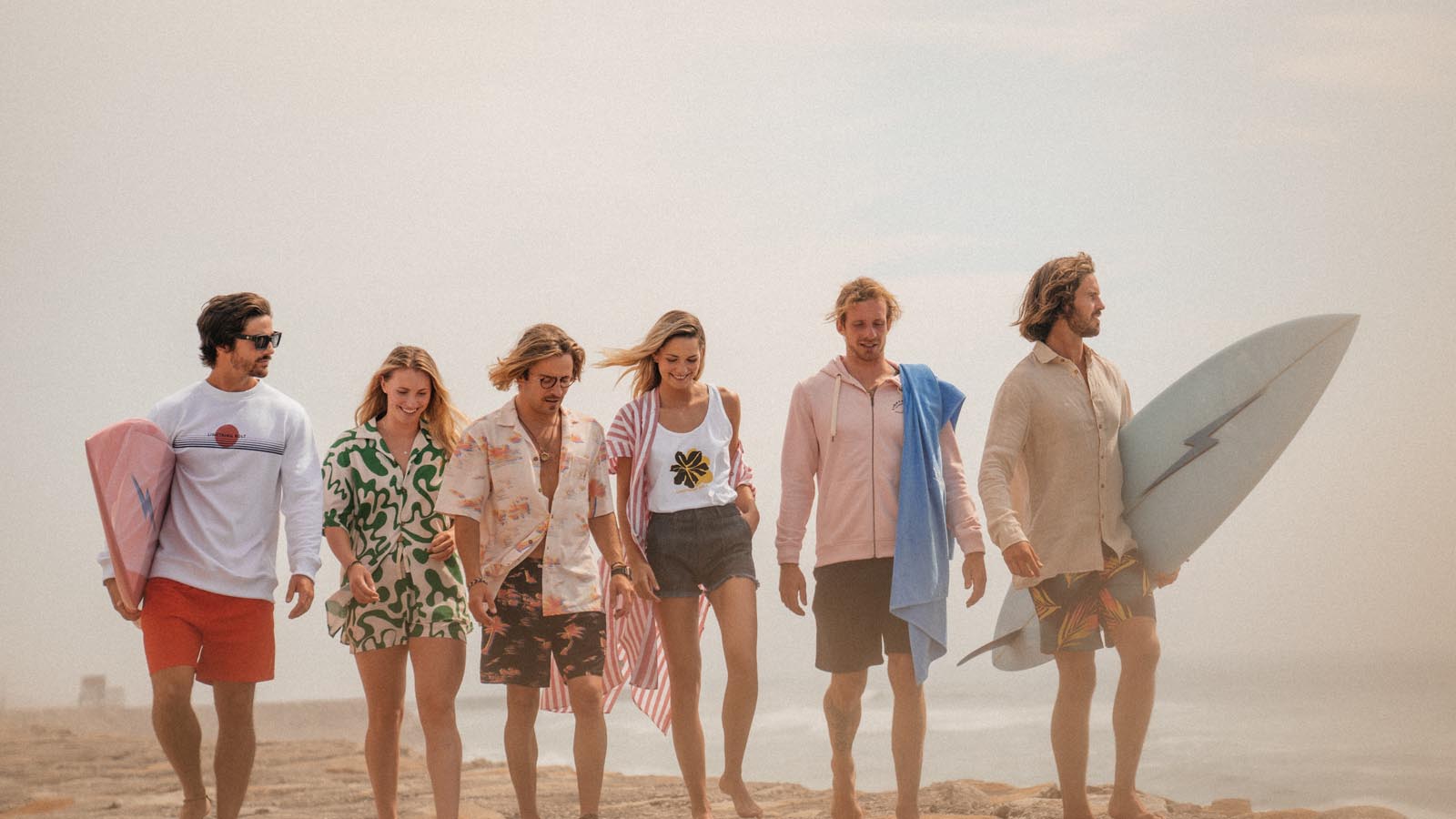 Lightning Bolt S/S 2022 Boardshorts Preview
Retail Buyers Guide: Boardshorts S/S 2022 Retail Buyer's Guide
Brand: Lightning Bolt
Interviewee: Briana Mori, Brand Manager
Has the COVID related surfing boom affected the Boardshorts category specifically?
Lightning Bolt's boardshorts are part of our imagery and core business. Since the foundation that we are worldwide famous for that. Obviously, the COVID had different impacts on our brand, being the first and most important necessary adjustments to the market demands.
Delays from the manufacturers, shipment costs on the rise… These are common sequels from the pandemic: How did you handle this odd situation? (relocation of production, carryovers…)
Lightning Bolt produces in Europe, which is one of the leading apparel manufacturing countries in the world.
Despite this, we had to struggle like most of the companies with delays and raw-material scarcity, producing locally – a sustainable option (it allows us to reduce the logistic operations and transport waste) – also lets us have more control over the production settings.
We kept close contact with our suppliers to ensure the minimum impact on production timings and zero deviations to our quality standards.
Our goal at Lightning Bolt is to provide a good connection from production to consumer, creating satisfaction from start to finish, whatever the context is.
What are the design trends in the shorts category? A do-it-all boardshorts? A quiver of all sorts (boardshort, walkshort and beachshort)?
All-day comfort is undoubtedly a feature of our next-generation boardshorts.
We have made a strong bet on hybrid cotton/poly boardshorts. From the fit to the fabric details, with the ideal length and silhouette, and pockets, they are designed to work seamlessly with the rest of a summer wardrobe. Whether hanging out at home or outside, through beach and surfing days.
In addition, we keep offering a wide range of walk shorts, sweatshorts, and classic boardshorts.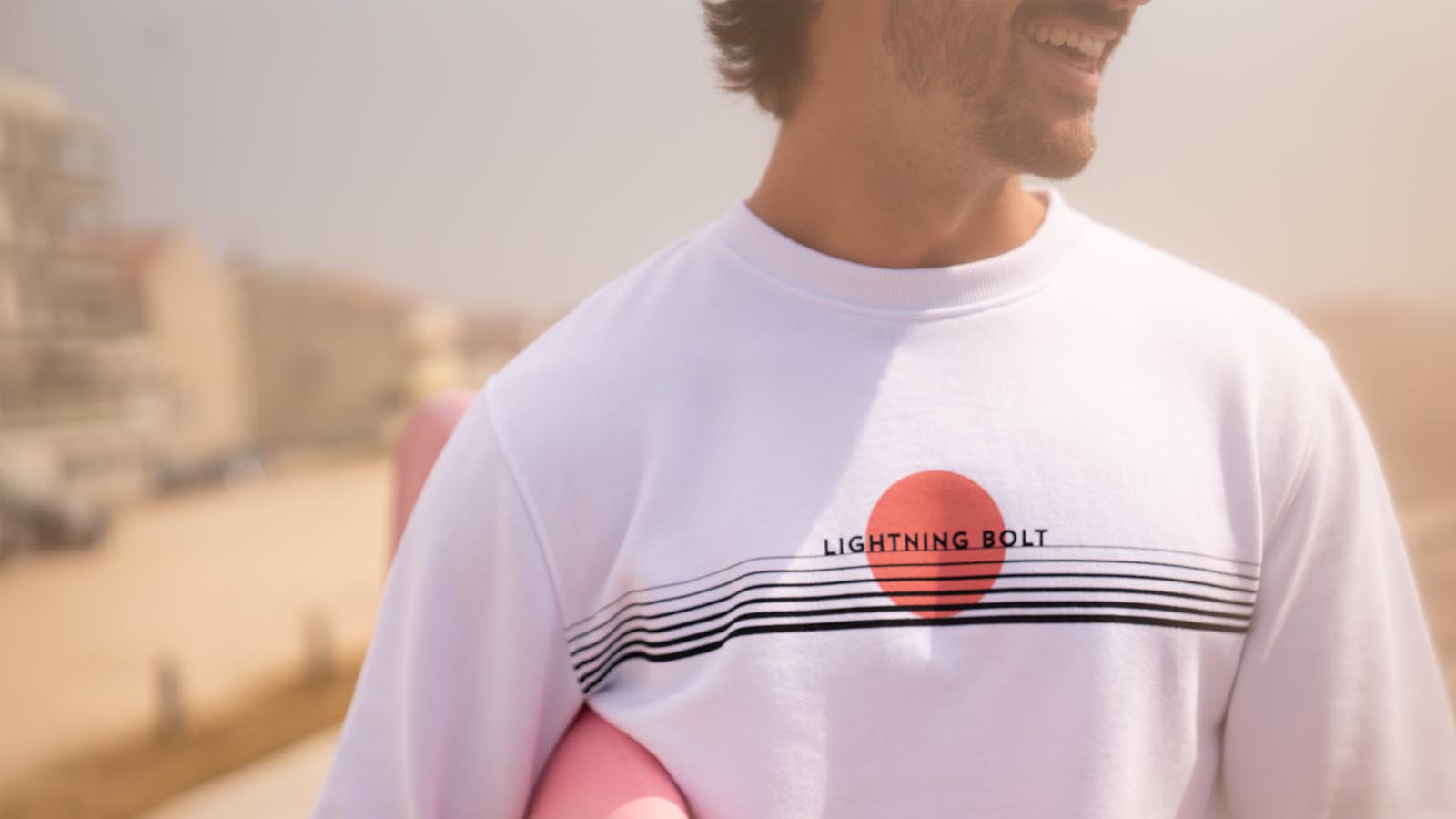 As far as influences and silhouettes, where are we heading in S/S 2022?
More than ever, brands have the responsibility to send a positive message to their consumers. So, bright colours, good vibes, comfortable and sustainable materials are the biggest influences and trends.
It is our job to try to bring people together again… and Lightning Bolt always was known for that!
This said, for this collection, we have the concern to send a positive message to all. Alert and make people aware that there is always a solution to our problems.
Have a social and environmental preoccupation by using sustainable and eco-friendly materials.
Adapt to this new world order and try to make it better.
What is the sweetspot for boardshorts pricing?
Our range of prices varies according to the typology of the client and, obviously, the product we are selling. Above all, we work to have the best balance between price/quality and the market recognizes that.
What colours/patterns are to be expected in SS22?
Our classic colours like Sunflower, Illuminating and Lapis Blue, mixed with pastel colours as Veiled Rose, Fog and Biscay Green.
It is time to explore new places and find new spots to be. Find new alternatives to coexist with others without compromise welfare. It is time to live and explore nature.
In this line, colours are not that strong… faded colours and simple graphics are more present so we can have a more complete collection and please more styles and people.
Nature-inspired patterns keep really present in this Lightning Bolt collection.
The (recycled) polyester surged the boardshorts segment before natural fabrics came back hot. Do you confirm?
Yes, indeed. For instance, our TEAM BOLT BOARDSHORT is made of SEAQUAL™ FIBER: 100% recycled polyester (including Upcycled Marine Plastic).
By choosing recycled polyester made from certified and traceable «upcycled marine plastic», we can deliver the same performance in fibres with a smaller environmental footprint.
This is important as one of our major statements is "Destroy the waves, not the beaches".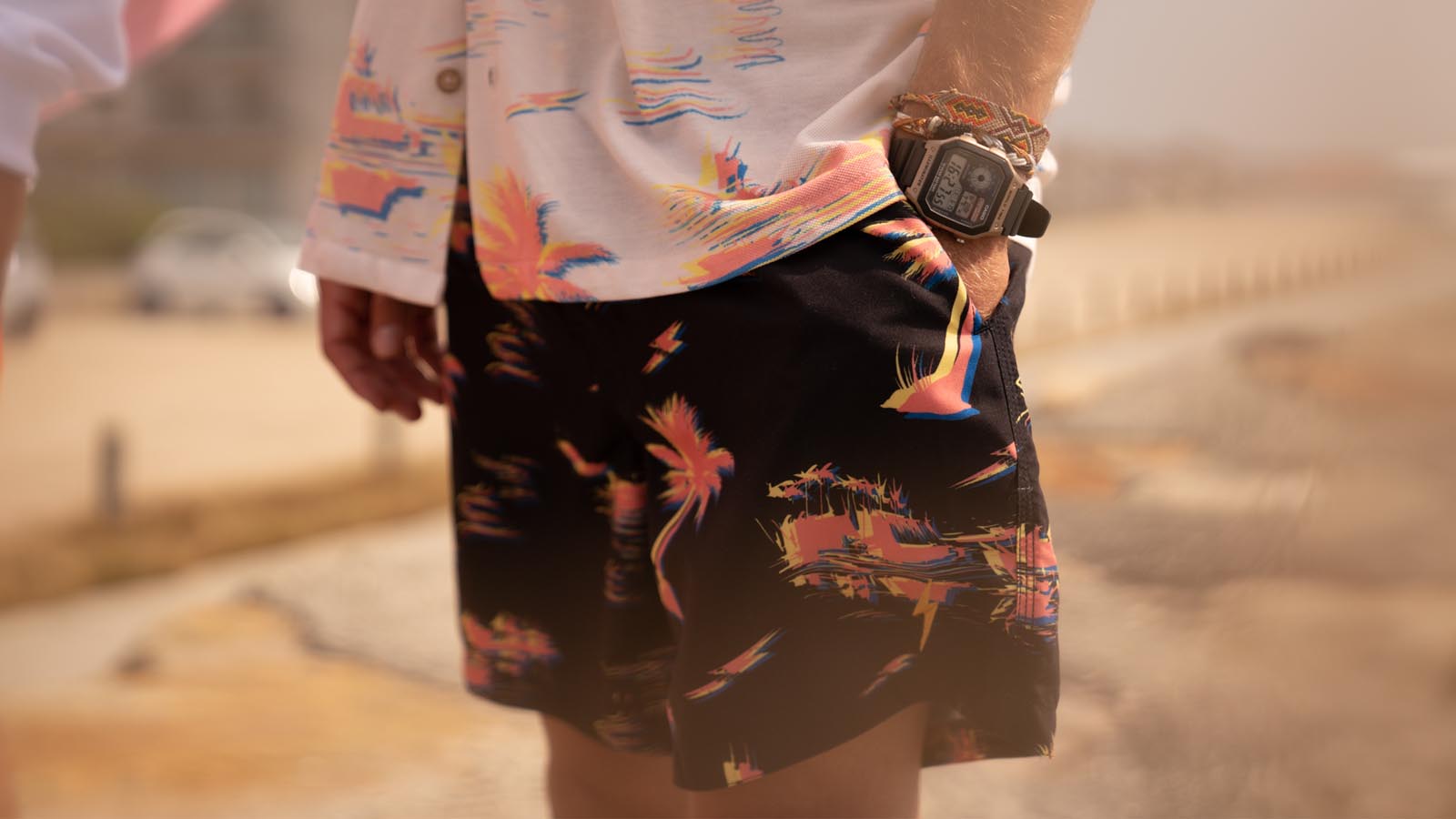 When it comes to sustainability, what do you bring to the table?
At Lightning Bolt, we always aimed to «Keep this land beautiful». There has always been a pioneering message on environmental protection, which we insist on communicating in our collections: https://lightningbolt-usa.com/eu/sustainability.html.
We see it as a responsibility of a global company.
Besides producing in Europe, Lightning Bolt has made an extensive effort to look deep into the company's sustainable history and present-day operations, to discover new ways we can be more sustainable. While constructing many concepts, we found one idea sitting right in front of us: reuse, reduce, remake.
With this technique, we find new ways to reuse fabrics that have sat in our warehouse for a few years and give them a new life. This has reduced the idea of waste and recreated a new element of "Remake", giving garments a new life and old garments a better purpose. We have also cut the destruction of unsold goods and now ensure that products can be repaired or recycled.
Concerning new productions, we have been working with organic cotton and recycled polyester, from certified suppliers. We are aware of market demands and try to answer in the best way possible. An example is our biodegradable reusable masks, which are made of Lyocell: an eco-friendly cellulose fibre, that biodegrades without producing harmful products to the land.
Finally, and as part of our core business are surfboards, we are also looking for new ways to bring sustainability to this field.
Key Products
1 – Hybrid boardshorts: made of cotton/polyamide
Routines are increasingly crossed, and garments need to be suitable for any occasion. Our boardshorts made of cotton/polyamide, a resistant yet comfortable fabric, were idealized to fit any need: from a lunch with friends, to a nice surfing day!
Also, the new Cratle model was designed to be comfier: it has an elasticated back and an inside pocket.
2 – Essential Boardshorts
These boardshorts, also made of cotton/polyamide, are our carryovers through the seasons. It embodies our essence: the classic and charismatic colors of Lightning Bolt on timeless and vintage looks that carry on the true spirit of aloha. The plain turtle boardshorts are essential pieces we should all have.
3 – NEW SS22: Turtle, Vandura and Crane models with elastane
This season we are introducing a new product: boardshorts with the famous Lightning Bolt turtle, vandura and crane models but made of a fabric with elastane (spandex). This fabric composition (PES + EA) ensures maximum comfort, dries faster, and is lighter (105 grs) than any other Lightning Bolt ever used. And, obviously, comes with unique prints.