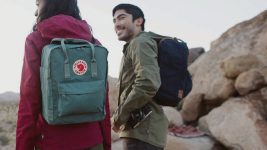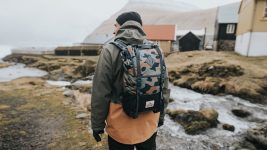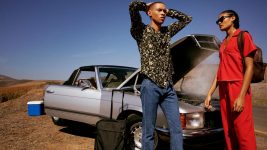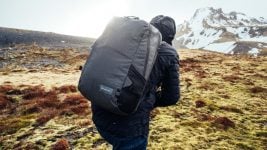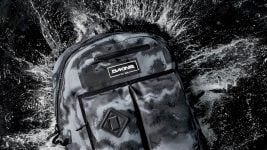 Backpacks are no longer merely an afterthought for consumers. The trend in bags is focused on diversity and individualism which is reflected in the wide variety of styles and trends that are now available in a very dynamic market. A study by Ruth Cutts. 
"The category of bags and backpacks is getting more important overall. What for a long time used to be just a necessity is more and more becoming an item to express your personality and lifestyle. The bag someone is wearing tells a lot about a person and bags become more and more a centrepiece to express your lifestyle," explains Heimplanet's CEO Stefan Clauss.
For many, backpacks are a gateway product to tap into a whole new customer demographic – a trick that had maybe been overlooked for too long. Miya Howells, Senior Global Product Merchandiser for Burton highlights how "bags allow [Burton] to reach customers that might be unfamiliar with Burton or snowboarding and invite them into our brand".
For others, successful backpack sales have allowed them to explore other avenues. For a bag-specific brand such as Herschel they tapped into a market at a time when, as Communications Manager Michael Africa claims, "backpacks were boring and we wanted to make bags that no one else at the time was making". Their success in the backpack market has allowed them to expand into luggage, apparel, and headwear.
TRENDS
Adventure Tourism has seen exponential growth in recent years with more and more people spending their leisure time in nature than ever before (between 2010 and 2014, the adventure tourism industry grew by 195%, according to UNWTOs "Global Report on Adventure Tourism" 2014). Philipp Kloeters, Head of PR at Fjällräven International, highlights how backpacks are the "start of any good adventure. Whether it be a day hike close to home or a week-long expedition in a remote wil­derness, a backpack allows you to carry all you need (and sometimes even a few little luxuries). It's the starting point for making memories in the outdoors".
The common denominator for backpacks in SS20 is creating a top-quality, technical product with an aesthetic that would look as comfortable in the city as it would in the wilderness. "People are using their packs for everything – commuting by foot, by bike and then using the same pack for the mountain if they're just packing their water bottle, some extra base layers or sunglasses and other accessories" explains Amplifi's Head of Design Tom Howells, which is why the brand are leveraging their knowledge of snow and mountain sports to create attractive leisure packs that can be used every day. Heimplanet are introducing packs that combine high-end materials with just the right amount of technical solutions for everyday use and Burton are shifting away from heritage designs to more clean, minimal, and function driven designs.
Many packs are now being specifically designed for the contemporary phenomenon of the 'digital nomad'. The need for technical materials that can withstand the harshest of weather conditions whilst also ensuring the safety of £1000s worth of tech equipment is something exemplified by the inclusion of certain key features in many SS20 designs. For Picture, one of their key products within their range is the Atlant 18l backpack which boasts technical features designed for the mountains alongside additional features such as a 13" laptop sleeve and an easy-access accessories storage unit which can carry elastic cords to make it easy to use whether you're reaching the peak or riding the streets.
Nitro's Nikuro model has all the features needed for effective organization on the go; the interior is clean and structured to fit a laptop or tablet, notebook or mobile phone. There is a thermo pocket to keep drinks cool and additional zip pockets for wallets, keys, chargers and everyday gear whether you're heading to the office or going on a trip.
Similarly, Evoc's MISSION PRO model has features that allow you to combine your job with the ultimate adventure. The quick-access back compartment is padded with high-quality, embossed, soft-touch material and offers enough space for a 15-inch laptop, while the main compartment features several dividers for magazines or documents. Your passport, mobile phone, pens, memory cards and necessities go in the backpack's "to go" desk drawer, so to speak meaning that no matter how remote your travel destination may be: if there is internet you can combine your job with the ultimate adventure.
The current buzz around mini bags is also a result of this urban/wilderness paradox that we're seeing. Eastpak's 'Springer' model and OID's 'Sporan' are both key products in their SS20 offerings, aimed at those that want to carry their essentials in an alternative way such as sat on their hip or across their bodies.
TECHNICAL FEATURES
The focus for all backpack brands is the need for comfort when carrying heavier loads. Therefore, padded back panels and straps, ventilated mesh backing, and fully adjustable shoulder and waist straps are essential features. Herschel are choosing to adopt the "sleeper car" philosophy with their products; an unassuming exterior with a high-performance and feature laden interior. Many of their backpacks are designed with water bottle pockets which feature an internal gusset that expands so to not take away from the bags form.
The niche adventure brands however are also including advanced technical innovations that appeal to those customers spending time in the wilderness. For Pacsafe, their USP is their patented Anti-Theft Technology which keeps the contents of the bag safe and secure. Their new women´s Cruise Collection provides peace of mind when travelling thanks to their in-built features such as their new, easy to use smart security hook that is ergonomically designed for females.
OID are the only brand on the market that feature IPS (Impact Protection System) in their offering which protects your valuables when you're on the move.
As a surf brand, O'Neill's focus is inevitably on watersports. In their SS20 range that offer a small, fully waterproof backpack that can easily be used on SUP, kayak or when kitesurfing allowing you to take your valuables safely out onto the water.
A new feature that Dakine want to shout about is the introduction of their fully waterproof zippers that have been built into their surf-specific backpacks. "We aren't a cooler company or a water bottle brand making packs. We are a surf brand that makes the best products for surfers" claims the brand.
Burton are building on their AK Incline collection with the introduction of their AK Ultralight pack that is not only made out of durable and lightweight Dyneema and X-Pac material, but that also includes snow-specific features such as; an external stowable water bottle pocket which can be tucked away when it's not in use (avoiding it being ripped or getting filled up with snow or pine needles on the mountain), perforated air mesh straps (lightweight and breathable).
Colours & Style
With the crossover trend being so key in SS20, many brands are choosing street-inspired, minimalist designs that cater to those wanting to use their backpacks in a range of environments. Stealthy black and anthracite are big sellers for Amplifi, combined with banging colour hits on the lining and other key places to give the packs a little lift without being too showy. Whist Eastpak are bringing an even deeper offering to their famous Padded Pak'r design with the inclusion of enriched mélange items like the MUTED MELANGE collection, giving a little diversity to their classic black option.
CabinZero's Daniel Burman explains how their customers are loving their huge array of colours, in particular their range of ultra-light designs, which offer a point of difference from their overly featured performance packs – these bags can be "an expression of their personalities".
Almost in contradiction however, Herschel are noticing a huge resurgence in 90s sport colour-blocking and a comeback of rave culture. For SS20, they're focusing on neon colours, dynamic prints, and specialty fabrics that all tie back to that time period, reinterpreted through a modern lens. 2020 marks their 10-year anniversary so they'll be looking back over the last ten years and bringing back some of their greatest hits with new twists. "We're referencing our past for inspiration but want it to feel new and exciting" says Communications Manager Michael Africa.
For surf-specific brand Dakine, their colour palette is concerned with more than just aesthetics. Their bags that are designed for use in tropical climates require lighter hues to keep the bag from getting too hot and their cold water climates gravitate towards darker colours.
MATERIALS
A sustainable focus continues to be key for many brands in SS20 when it comes to their material choices. Heimplanet have introduced a new fabric for their Transit Line, called DYCOSHELL. This fabric is woven out of two different dope dyed yarns which means they can eliminate the dyeing process. DYCOSHELL is therefore their most environmentally friendly and energy efficient fabric. Pacsafe are doing their part to reduce plastic waste, by using 100% recycled PET fabric in their newest collection of bags with their new colour 'Coyote' being made from 100% recycled plastic bottles.
Burton have set stringent sustainability goals which means that they've been updating materials and trims to make the majority of their line Bluesign approved. Their Solution Dyed yarns use 80% less water and produce 63% lower CO2 emission compared to conventional dying processes. Solution dyed yarns are fully saturated in colour versus traditional dying which just colours the outside of the yarn and can fade and change through washing, ensuring bright, vibrant colours while being more sustainable. Since their inception, Picture have worked on eco-innovation and alternatives to polluting materials and therefore, every single bag from their product line is made using recycled polyester and/or organic cotton that is made in ethical factories.
Nitro have teamed up with DEINGORILLA.COM, an organisation promoting a sustainable lifestyle, healthy foods and sports in schools and in SS20 their Nikuro bag and pencil case will be available in a special GORILLA design with 10Euro per bag going towards the GORILLA foundation.
When it comes to durability, brands are keen to offer innovative materials that ensure long-lasting protection against wear and tear without compromising on weight or increasing cost. For AW19/20 Fjällräven introduced a new, extra durable fabric called Bergshell. For SS20 they've expanded the use of Bergshell in their range and introduced new backpacks that feature this waterproof material made from a combination of filament yarn and air textured yarn to create a fabric that has both high-abrasion strength and high-tear strength. Their new High Coast Foldsack 24 is a light, versatile daypack made from waterproof 100% recycled nylon. CabinZero are working with some feather-weight, ultra-waterproof materials for their dry bags in 2020 which, when empty, won't even feel like you are carrying a backpack. As Daniel Burman explains, "we like avoiding check-in and offering max carry-on bags".
HIGHLIGHTS
Portable desk
Clean, minimal, and functional
Security on the rise
Bumbags a go go
Eco conscious production