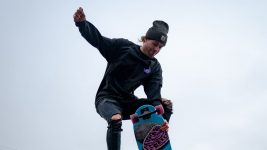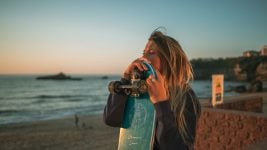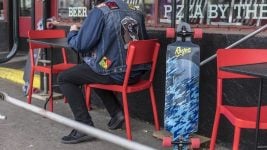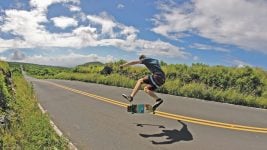 Demand exceeds supply as the unexpected skate boom rolls into next year. Prepare for the next chapter with our 2021 Longboards Retail Buyer's Guide – New Reality Edition by SOURCE Skateboard Editor Dirk Vogel. 
It's been a wild ride for the longboard business. Only five years ago, the category was crashing hard after an unprecedented boom period in the early 2010s. When mass demand for casual skates dried up, most of the specialty longboard stores that had opened during the hype were shattered. Cheap knockoff goods flooded the market, starting a price point race to the bottom. Meanwhile, legitimate brands and distributors were sitting on shelves full of unsold inventory.
Fast-forward to the global shitstorm known as the year 2020, and there's much to worry about. But unsold inventory is not on the list – just the opposite. In the historic skateboard boom caused by Covid-19, longboard brands are struggling to find inventory: "Orders for goods that would have seen us through a couple of months' worth of sales in 2019 have lasted on occasion, just a few days," said Mike Hellier, Buyer & Brand Manager at Arbor (Shiner Ltd) about the situation.
Almost all hardgoods brands in this article are in the same boat when it comes to supply chains, including Mindless Skateboards with Andy King reporting: "Most items are presold into next year, which is a blessing that we're so busy during Covid but also a shame." At HOFF Distribution/Flying Wheels in France, Benoit Brecq said: "We are out of stock on a lot of designs and shapes. Working hard to develop and create new boards and models for this X-mas and next summer." "Although hardgood sales were increasing since a few years, it is clear that the lockdown has allowed to see a good and higher increase in the demand and as it seems some brands are not able to deliver, we are getting more requests EMEA-wise," said Philippe Clarisse – VP Europe at GLOBE.
The long-term outlook is solid, including Mindless Skateboards with Andy King reporting: "Most items are presold into next year, which is a blessing that we're so busy during Covid but also a shame." At HOFF Distribution/Flying Wheels in France, Benoit Brecq said: "We are out of stock on a lot of designs and shapes. Working hard to develop and create new boards and models for this X-mas and next summer."
MARKET: WAVE OF UNCERTAINTY
Speaking on the demand situation, Mike at Arbor said: "Both the European and U.S. longboard markets are flying right now. All manner of shapes and sizes are selling well, whilst seeing a strong uptake from beginners of all ages and genders that are looking for something solid and stable to get them rolling. We are seeing numerous skateboarders dusting off their old boards or looking for something new to get them back out there." Recent figures from ActionWatch released at the Action Sports & Culture (ASC) virtual summit in early October support this assessment: Annual participation in skateboarding increased from 6.5 million skaters in Spring/Summer 2019 to a whopping 9 million in 2020 in the United States. The statistics also revealed women and skaters over the age of 35 as major growth drivers.
These numbers are undeniable. But in light of 2015's Big Longboards Crash, many brands are wary of burning their fingers by overestimating demand once again. As Timothy Mackey, Design Manager at Rayne and DB Longboards points out: "I think both markets, U.S. and Europe, are coming off an incredible high and it is hard to tell how much longer it will continue. It remains to be seen what the landscape looks like with respect to Covid-19 and lockdown restrictions when spring rolls around." Over at LA-based Loaded Boards, Sue Denim remains hopeful: "We are optimistic that the uptick in longboarding will continue even beyond Covid. That said, we are concerned with oversaturation of sub-par products as we've seen in the US a couple times and in Europe in 2014-16." Sub-par products definitely have no place in this article, so let's look into what quality brands have lined up for next year.
SHAPES: UNEXPECTED COMEBACK
Speaking on trending board shapes, Shane Maloney at Madrid Skateboards has his finger on the pulse: "Drop-Thru's remain the top seller, especially for new riders who want to learn on a smooth and stable setup." Madrid offers a nice long Drop-Thru, Arbor pushes the Flagship Axis 40, while DB Longboards is stoked on the Dagger Pina Colada at a nimble 36-inch length and with a subtle kicktail. Tim at Rayne is hyped on the Demonseed with a three-stage rocker and Deep Tub concave as "a pushing, freeride, sliding machine! For more than a decade the Demonseed has been revered by downhillers and long-distance pushers for a good reason." Looking into next season, Benoit at HOFF sees a trend towards "short and wide longboards" and an influx of cruisers and surf skates. Mike at Jucker Hawaii is banking on, "classic all-time favourite longboards like the Makaha and the New Hoku." Speaking of classics, the time-honoured pintail shape is making a comeback with its natural, effortless look. OB Five has the gorgeous Psyched Tiger pintail, Arbor suggests the Groundswell Fish as a classic 37-inch pintail with Palisander top sheet.
WHEELS AND HARDWARE
Trucks are feeling the Covid supply squeeze more than other categories. Good news is that major longboard brands have developed their own custom trucks, like Madrid with the Caliber II 50° 184mm Trucks: "Our proven truck designs are praised by a community of top downhill skateboarders, core skaters, freestyle and dancers, and casual riders alike." In terms of product news for 2021, Benoit at HOFF is glad to announce: "The new Portland Baseplate is our main innovation for 2021. We sell it as a spare part and you can adapt on every board using classic trucks! You can convert your classic longboard skate to a Surf Skate thanks to this baseplate." Andy at Mindless is about to launch the new Gen X Trucks: "For too long riders have been faced with expensive limited options for standard kingpin trucks when riding wider decks that require 159mm trucks. We at Mindless decided to change that. A larger truck with good geometry shouldn't cost double."
In the wheels segment, Benoit at HOFF suggests the new Forward Wheels collection featuring the Gyro (76mm) for downhill, Climax (65, 70mm) for all-rounders, and Bumper (60,65,70mm) for street and slide. Arbor is heading into the season with Axel Serrat Pro Wheels. Sue Denim at Orangatang Wheels has something in store, but only revealed: "Big chunky wheels!  That's all I can say as of now." Chunky wheels are also on Mike Jucker's mind, "our SUPER BALLS freeride wheels are also doing very well. They slide really good and live a massive thane line behind." Shane at Madrid is banking on Blood Orange wheels, while Andy at Mindless introduces: "Mindless Sucka wheels have been designed for the streets and bowls. A throwback design to one of the greatest periods of music and skating. Small enough to fit under standard skateboards, smooth enough to rip the roughest of surfaces." Rayne is updating the 70mm Envy wheel with cool, colourful jelly styles that have been trending recently among style-conscious consumers. And here's a novelty from GLOBE: "The one I'm happiest to discuss is our new recycled rubber grip. As a heritage boardsports brand and manufacturers of shoes and clothing as well as skateboards, we have to think about the lifecycle of all these products. Using it prominently on kids boards is an intentional way to get them thinking at an early age about what happens to things when we're done using them."
STYLE: LOUD AND ARTSY
Speaking of style, Madrid makes a heavy statement next season by collaborating with Marc Clenn in a whirl of unicorns, flamingos and kittens across boards of all sizes. "We instantly knew that Marc Clenn's mix of vibrant colours and imaginative subjects would look incredible on our hand-crafted skateboards," said Shane Maloney. "We, like most everyone else have spent the majority of 2020 indoors. Staring at our screens. So graphically we leaned toward imagery that felt like a connection to what we were missing outside. Far off escapes, some terrestrial and the animals you might encounter, others a bit more out of this world," said Dave Gitlin, sSkateboard designer at GLOBE. Speaking from an art perspective, Mike Hellier at Arbor is stoked on continuing "the Solstice collection and the ongoing relationship with Boarding For Breast Cancer (B4BC) with an all new graphic from artist Hilary Jane. Another new graphic from Aaron James Draplin in the Artist Collection, as well as all new graphic updates for the Photo, Foundation and Groundswell series, makes for Arbor's strongest ever collection." If loud and flashy designs are your cuppa, don't miss the Flying Wheels Pileapple model with a surfy front truck and amazing griptape graphics. Also heavy on the art style is OB Five's Psyched Tiger model: "Tigers prints are trending everywhere, but most are very cheap and cartoon looking. We've layered our tiger print on an exotic veneer to give it some depth and a more premium feel," said Kris O'Brien, Founder/Director at OB Five.
OPPORTUNITIES: SURF SKATE 
Rolling into 2021, the Surf Skate category presents ample opportunities for brands and retailers. "I think we see more Skatesurfing and Mini Cruiser Type boards in demand. The cross over kind from Longboarding and Skateboarding," said Mike Jucker. Arbor is entering the category with a massive push: "The introduction of Arbor's first Surfskate complete, sees the brand teaming up with Carver trucks, a relationship that started back in the mid-90's when Arbor first began making skateboards. Now working alongside renowned surfboard shapers Tyler Warren and Ryan Lovelace to create two outstanding new products for the Arbor 2021 collection, the Shaper Series is sure to blow everyone away." Benoit at Flying Wheels is increasing the Surf Skate category with four new technologies, including the Portland baseplate, Lombard baseplate, STR Trucks, and Capitol Trucks, as well as plenty of completes including the Palomar and Moorea models.
SOLIDARITY
Finally, let's keep in mind that 2020 is a tough year despite all the hype. But examples of solidarity between brands and retailers prove why our industry is about more than just business: Loaded Boards has shut down all Amazon sales in early May and throttled its online store to prioritize shops and distributors. HOFF is offering flexible payment options to retailers, while DB and Rayne are splitting available stock between retailers large and small, including multiple pre-book options. Andy and team at Mindless also ensure equal stock allocation and keep in close contact with all shops. Mike at Jucker Hawaii is on the same page: "We are answering the phone and keeping retailers informed. We also have to let them know to pre-order in advance right now if they like to stay in the game in 2021." With that said, have fun writing those orders!