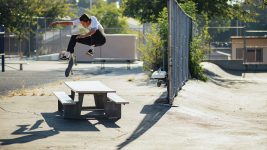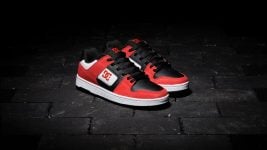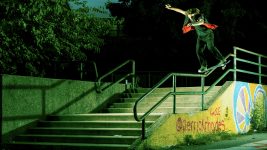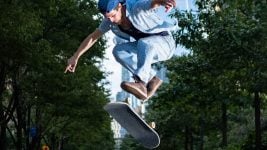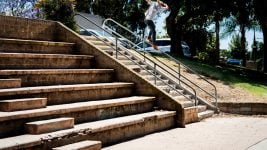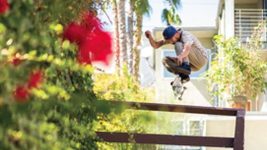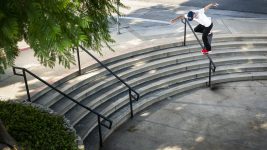 Skate Footwear F/W 2022 Retail Buyer's Guide
Skateboarding's popularity is still blooming with a surge in participation around the world thanks to the Olympics amongst other things. We take a look into what skate shoe brands will be offering in the coming season with our Retail Buyer's Guide for Skate Shoes FW22/23 by Source Skateboard Editor Dave Morgan.
After another turbulent year navigating Covid-19's twists and turns, skateboarding continues to be a driving force through the strangeness. Cariuma's Global Head of Public Relations, Michelle Katz has noticed that "the coronavirus pushed consumers to explore individual activities in order to stay active during quarantine. Consumers have looked towards sports like skateboarding as a result." Emanuel Labadie, Marketing Manager at DC noted that "the development of the practice of skateboarding and its democratisation plays in favour of a development of the business in spite of the complicated times due to Covid." With a lot of trade happening through E-commerce and online shopping, brands are still trying to remain relevant through adapting their marketing strategies more to online presence, however with shops now being open customers are able to physically shop for shoes once more.
It does seem with the general consensus that the market is better than last year – with things beginning to normalise. Bas Jansen, Senior sales and marketing manager EMEA at Etnies and Emerica said "skateboarding is firing on all cylinders right now and demand is high for both hard goods and footwear. We have seen very strong growth for SP22 and we feel this will continue for the rest of 2022." Philippe Clarisse, VP Europe for Globe spoke of the hardwoods hardgoods boom giving them a good trend on their skate shoes: "We can see this phenomenon with the sales of our Vincent Milou Surplus shoe for example – the result of Vincent at the Olympics strongly favoured the demand and the sell-through of this style."
Shipping costs and delays are still the two big issues a lot of brands are struggling with, but as Simone Satragno, Marketing manager at C1rca said: "If every brand is suffering from the same issues, the problem is not as severe." With "freight costs increasing by at least 5 times", as Ronnie Mizzo, CEO of Fallen footwear said, shipments of shoes from Asia, alongside pretty much everything else, is still causing major disruptions in the industry. With the hope that the supply can again align with the demand for skate shoes and hardware, there is light at the end of the tunnel. General Manager at Osiris, Brian Barber, predicts that "we will continue to see supply chain issues from Asia and other regions until at least Mid-2022. We are trying our best to have minimal price increases, but this will continue to be a factor for everyone with the overall inflation happening from freight, labour and material cost increases." Francisco Javier Aguirre, system and concept inventor of NC SHOES has a different way of dealing with issues, intending to "avoid the Covid manufacturing chaos delays with the creation of our own structured assembly line in all the process, from 0 to the finished product."
Price Points
As to be expected with the rising costs in materials and shipping, price points for skate shoes are also increasing, however brands are striving to keep within affordable margins. Of course, the more technology involved in the shoe warrants a higher price tag, as the expectation is that the shoe will last longer/ perform better. Bas Jansen, Senior sales and marketing manager EMEA at Etnies and Emerica spoke about Etnies price points: "The sweet spot remains €75-€85 as usual, but don't forget our best seller is above this threshold, the most durable skate shoe (The Marana) comes at a price, but you get what you pay for! "It seems that the majority of shoes are now priced within the €70-€85 bracket, with more technology-heavy shoes coming in slightly higher."
David Atkinson, Senior Merchandise Manager for Action Sports at Vans was stoked to say, "we have managed to make some price decreases in some key areas of the line, so you will now see suede, full skate tech spec product starting at €75 – Skate Slip-On, Skate Authentic and Skate Era as well as the Chukka Sidestripe. The line tops out at €120 with our most technical shoe – a brand new version of AVE's signature shoe with a knitted upper."
Market
With the market still trying to adapt to the new normal, it's great to see brands aiming to be more sustainable and eco-conscious. Globe for example, are prioritising this, as Morgan King, Footwear Designer said: "Ultimately we have one main theme, pushing our goals of making the most sustainable skate shoe in the market. Better for skateboarding. Better for the planet. To get to our end goal, we like to work in key story formats to showcase seasonal themes along with our sustainable underlying story." Vans are also beginning a new program with 'The Lizzie' pro model, as David Atkinson, Senior Merchandise Manager for Action sports said: "The Lizzie is the first skate shoe we have made that is VR3 – Vans products that represent Vans most sustainable offerings and contain Regenerative, Responsible Sourced Renewable or Recycled materials. Without sacrificing any skate performance. We will begin to roll this out across more of the line in seasons to come."
Cariuma have a similar eco-conscious theme, as their Global Head of Public Relations Michelle Katz explained: "European shoes and fashions are trending towards sustainability, as many European countries are leading the world in conversations about sustainability and shifting societal norms to accommodate our mounting climate crisis. Consumers are much more concerned about the quality, ethical, and sustainable nature of the clothing they are purchasing."
Design

David Atkinson – Senior Merchandise Manager for Action sports at Vans noticed that: "Bigger Pants means bigger shoes, and retro aesthetics are very much in – for us this has meant a rapid growth in the Half Cab, and we will be supporting this with lots of new product, marketing and special projects." With the resurgence of the 90's in both skateboarding and style alike, brands are trying to stay up to date by creating or resigning old classics to fit the bill. 
Osiris are backing the 90's flare too, as Brian Barberm, General Manager said: "Our continued theme throughout 2022 is the 'Osiris Forever Collection.' With this we have introduced 2 of our Original's from the 90's, the OG D3 and The Graff! They seem to have garnered the most demand and retro is still going." State Footwear have a different approach and a really rad concept for keeping the design of their shoes always current, as owner Kevin Furtado, explained: We offer for every season our "custom shop" program for a particular style" in which shops can personalise their order with their own shop's logo and personal detailing."
Simplistic or Tech-heavy?
DC's Emanuel Labadie spoke of their new shoe, "The Manteca 4, which features a wealth of performance upgrades designed to bring support , protection, and durability for skateboarding."  Similarly, brands like Etnies and Emerica are building tech-heavy shoes in a more slim-line profile such as Emerica's new Collin Provost shoe "which is meant to be durable for all of Collin's needs with a rubber ollie guard and our signature G6 Foam insoles" as Tim Cisilino explained. 
Some brands however are sticking to minimalist styles, such as C1rca, State and Fallen, as their riders favour this silhouette, and there is still a demand for those wanting a simplistic shoe. NC however, are the epitome of tech-heavy shoes, with custom orthopaedic shoes created using 3D printers. Perhaps the future of the footwear industry if one can afford it!
There seems to be a constant debate within the skateboard community in regards to preference of a cupsole or vulcanised shoe – cupsoles tend to protect the wearer's feet more, whereas vulc shoes provide greater board feel. However with new technologies such as Vans' 'Wafflecup', which combines cupsole protection with vulcanised board feel & flexibility, it seems that brands are able to manufacture hybrid styles now to suit everyone. Ronnie Mizzo, CEO at Fallen explained that their "collection is approx 60% vulc. Our best-selling shoes are the Patriot Trooper and Bomber." Osiris on the other hand, say their cupsoles are their biggest seller by far, however plans to introduce new vulc shoes are in the works for next year. As I said before however, this is a matter that comes down entirely to personal preference. There will always be a market for both styles of shoe.