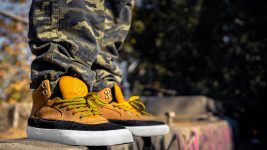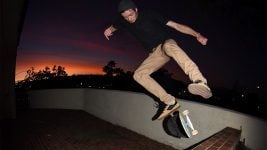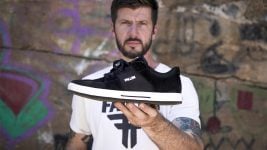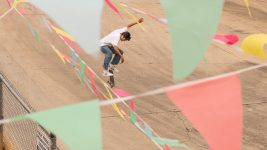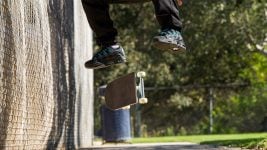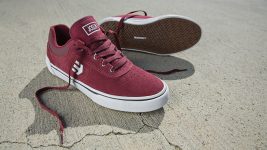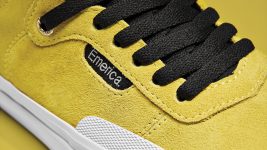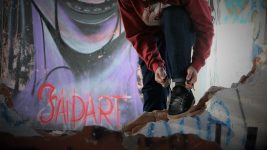 7 SKATE FOOTWEAR TRENDS TO WATCH IN FW20/21   
Cold season is here, but the skate shoe business is anything but hibernating. See all the hot trends in our Skateboard Footwear Retail Buyer's Guide for FW20/21 by SOURCE Skateboard Editor Dirk Vogel.
MARKET & PRICING
The skate footwear game has changed over the past decade. Just visit a skate shop nowadays and the writing is all over the (shoe) wall. "Globalization plays into the hands of the big, non-heritage skate brands. The rich get richer," said Brent Phelps, DVS Product Director and Brand President, adding: "We're trying to carve our niche, but we need help in the form of a trend swing. We need skate and chunkier looks to become more relevant again." Behind the scenes, several independent footwear brands have made adjustments to stay profitable – cutting down on teams, advertising, SKU counts – while some have gone out of business altogether.
"Generally, the European skate shoes market isn't the healthiest. Small brands are struggling and dying out. Fallen finds itself in a position of opportunity, offering a strong line of product to core customers who remember and love the brand," said Fallen Footwear's General Manager Ronnie Mazzie. Along the same lines, Lakai's Head of International Sales, Scott Sentianin makes a point for the diversity offered by core brands: "The health of the independent skate shoe market could be much better if retailers pushed these independent brands onto the incoming market. They would see their overall revenue increase in the footwear department."
From a price point perspective, independent brands offer something for every budget. Entry level models deliver skate-proof constructions for as low as €39.90, from brands like C1RCA. Beyond that, the rule is: customers get what they pay for. Don Brown at éS Footwear sums it up: "As a premium technical footwear brand within skateboarding, our key price points range from €85 to €120, depending on material executions as well." Vans dropped prices for key models like AVE Pro, Berle Pro, Slip-On Pro and Old Skool Pro going into the season and their full-spec pro line now sells between €70-€110. Across all brands, the main price point window is now around €79, for technically advanced core skate models, signature pro shoes with higher tech (see Season Trend) now land at €119 in retail for styles like the DC Kalis Shoe or Nike SB Air Max Janoski 2.
Here are the 7 Skate Footwear Trends retailers need to watch in FW20/21:
Season Trend: Premium Signature Pro Skate Shoes
The year 2019 marked the 30th anniversary of the first signature pro skate shoes, the Etnies Natas Kaupas and Vans Caballero Pro. On that note, make sure to pick up the 10-year anniversary edition of the Made For Skate book (Gingko Press) with 220 new pages dedicated to pro shoe history. Going into FW20/21, the tradition of pro-endorsed shoes is alive and well, but where the mid-1990s saw an inflationary influx of signature kicks, today only the best and brightest pro skaters earn the right to put their name on a shoe. While most pros have to settle with endorsing a pro colourway (see 5.), pro shoes in FW20/21 are a badge of honour – and loaded with the pinnacle of performance technology to justify top-shelf price points.
"Our AVE Pro launch was probably the biggest departure from classic Vans style to date and one of our most successful launches ever," said David Atkinson, Product Manager Pro Skate at Vans. For FW20/21, the brand is pushing the Kyle Walker Pro 2, a progressive slip-on loaded with DuraCAP, PopCush, Luxliner, Wafflecup, and SickStick tech. Vans also releases the Rowan Pro for Baker team rider Rowan Zorilla, while New Balance Numeric launched the 306 model for Jamie Foy. At Fallen, the "highest level model is the Chris Cole Trooper," a durable cup sole that can take a beating. C1RCA includes pinnacle tech in the AL50 for Adrian Lopez with a lightweight insole. etnies is premiering brand-new tech in the Joslin Vulc model, featuring the first-ever vulcanized outsole in the ongoing partnership with Michelin: "They had never 'cooked' their compound in the vulcanized process, but after some testing, they were able to deliver," said Rick Marmolijo, Design Director at etnies.
Progressive Tech
Athletic brands have the advantage of tapping into well-funded R&D departments for the latest tech, but core skate brands also continue to innovate. Leading the charge, etnies is continuing the indestructible Michelin rubber line with "different designs, silhouettes and fits with the Joslin, Joslin 2, Veer, and Score." As the first skate shoe company ever to offer air cushions, éS continues evolving with STI Energy foam, "high energy foam that disburses impact and elevates overall comfort without sacrificing board feel." Fresh out the oven at Vans is the SickStick, a new skate-specific, grippier and more durable rubber that pairs well with improved PopCush footbeds. Scott at Lakai is hyped on the Paramount outsole, a "dual-density vulcanized construction with a crated outsole for performance and comfort and the XLK outsole, an advanced cup sole with a drop-in soft EVA midsole." Fallen raises the bar with the Phoenix model – blending vulcanized construction with an abrasion-resistant outsole and an impact foam insole. OSIRIS updated the Kort VLC and Bentley VLC with new footbeds, insoles, redesigned toe boxes and air bag variations.
Chunkier Silhouettes
The 1990s 'puffy shoe' trend remains blazing hot – and that's great news for core skate retailers. "It's important for stores to merchandize brands with a point of difference. Since éS owned the '90s puffy silhouettes, that's where we are having most success," said Don Brown at éS while pointing out the re-released Scheme and Symbol models and new Tribo and Quattro styles. Brent at DVS confirmed, an "uptick in chunkier looks" with bestsellers including Comanche 2.0 and Devious. Another brand that took bulky tech shoes to new heights is OSIRIS, where General Manager Brian Barber highlights, "the D3, Protocol, Clone and the NYC 83." etnies keeps the dream of the Nineties alive with the Calli-cut, Locut II LS, and MC Rap, while Globe found an evergreen in the CT-IV.
Weatherization 2.0
Core skate brands are taking the bad weather season seriously. "Being from Europe, we understand the harsh winters better than most American brands," said Don Brown at éS, pointing out the newly evolved ACCEL Explorer that features melded rubber wrap and gusseted tongues to add warmth, water proofing, and overall insulation. Vans is doubling down on weatherized styles with this season's SK8-HI MTE 2.0 DX, loaded with MTE 360 technology, water-resistant leather and suede uppers, warm linings, and a heat retention layer in the sock liner. OSIRIS offers certain styles with shearling lining, while Emerica has the weather-friendly Romero Laced high as a sturdy hiking boot – designed specifically for the European Market. etnies braves the cold with the Marana MTW, a mid-top boasting PU tongue gussets, Thinsulate for warmth and insulation, and a water-resistant Repel post application. These features also fortify the Jameson Mid, Agron, and Jefferson MTW. At DVS, Brent Phelps announced heavy leathers for Fall season, plus "cold weather liners in action/outdoor styles as well as gusseted tongues and Cold Grip Tech."
Rider-Approved Colourways
When it comes to selecting the colourways for next season, more and more brands enlist their pro riders. Vans goes into FW20/21 with pro colourways for team riders Kader Sylla and women's skate pioneer Lizzie Armanto. On that note, David at Vans announced: "Girls skating is continuing to boom! To help cater to this, all of our full spec skate shoes now go down to a US3.5 and up to a 13." adidas pro Nora Vasconcellos styles shoes in signature lavender, while Emerica drops the Wino G6 skateable slip-on in an Oxblood colourway for team pro Dakota Servold (considering the Vans Kyle Walker 2, skateable slip-ons may be the season's sleeper trend). Lakai spins the colour wheel with the Mike Carroll Pro on light blue suede, the Atlantic in Burgundy Suede, plus the Owen VLK in mint suede as a Travis Millard artist collab. éS Footwear injects reflective accents into the Silver Anniversary Pack. Who said skate shoes only come in black?
Trendy Mid-Tops
The Vans Caballero Pro celebrated its 30th anniversary in 2019, but its impact is overshadowed by the early 1990s mid-top offshoot known as the Half Cab. For FW20/21, mid-tops in classic vulc style – but with performance tech under the hood – are adding diversity to shoe walls. Emerica designer Paul Kwon confirms: "We are seeing a lot of requests for mid-tops from our younger riders as well as a desire for brighter colours." In response, Emerica releases the Pillar model featuring double-wrap vulcanized construction, rubber reinforced ollie guard, G6 Foam polyurethane insole, and Lycra strap tongue wings for a secure fit. etnies unveils the Marana MTW, while Don at éS Footwear is stoked on the new high-top ACCEL Explorer that can "challenge the concrete jungles of the world." adidas Skateboarding pushes the Tyshawn Jones mid-top, built on basketball heritage styles.
The Olympic Effect
Although the European skate footwear market remains in a difficult spot, brands have high hopes for skateboarding's debut as an official discipline at the 2020 Tokyo Olympics. "It's falling, but we are very confident for the Olympic Games," said Alessandro Urso, Marketing Manager at C1RCA, adding: "We have an apparel collection with some artists and a special model for the Olympic Games." At Vans, David Atkinson expects, "more growth coming for this season as it aligns with skateboarding in the Olympics." On a product level, Nike will provide the official Olympic uniforms for Team USA skateboarders, while endemic footwear brands also have special activations lined up. Don Brown at éS Footwear announced the Podium Pack, "inspired by the energy and colours coming from the Olympics." With that said, cheers to an action-filled year in skate footwear.