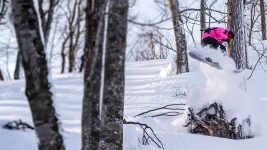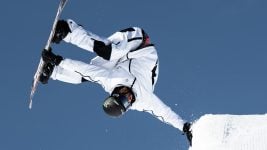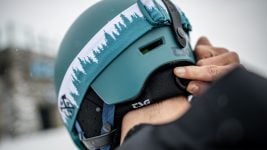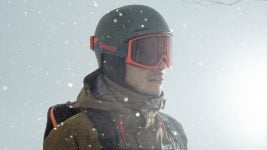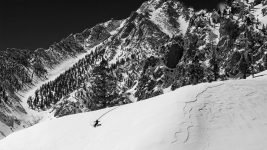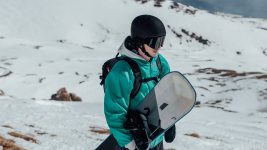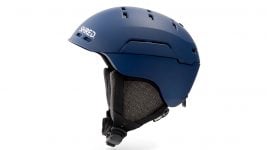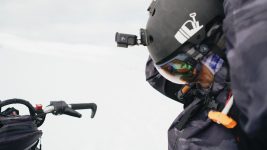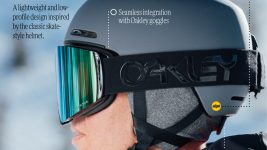 Disrupted weather cycles are making it harder than ever before to predict conditions and with bluebird mornings turning into whiteouts after lunch, improved safety equipment is more important than ever to keep those on the slopes safe.
Climate change is threatening winter as we know it and seasons are becoming shorter, more extreme, and less reliable. Resorts are therefore having to look for creative ways to stay open in the summer months in order to subsidise shortened ski seasons. Many snow helmet brands are cashing in on these new summer businesses by creating crossover helmets that can be adapted to suit mountain biking, skateboarding or wakeboarding. Pro-Tec is a brand that has been big with the skateboard/snowboard crossover consumer for many years due to their affinity with the skateboard market. "Skate consumers are familiar with the brand and like our products," explains R.P. Bess, Director of Brand Management. The 'Old School Snow' is a new Pro-Tec model for FW20/21 which is based off the skate model of the same name but built with MIPS for added rotational protection.
Each year more and more people are investing in helmets and protection. They want to boost their confidence and have more fun and recognise that helmets and body protection play an essential role in this. With the increasing media focus on full head protection, Dirty Dog noticed an incline in the number of people wanting full head protection including solid ear covering. As a solution to this they developed the SEP liner for products like their Pulsar Helmet providing complete comfort, alongside wind protection for the ears and side of head.
Snow protection gear is constantly improving and with social media being flooded with awesome videos it inevitably inspires people to dare to do more things. With better technology comes greater confidence and, in many cases, more risk-taking. "Although people are more aware of the risks, it doesn't necessarily mean that they are more risk adverse. In fact, it could be the opposite," states Koroyd's Marketing Manager, Gillon Hunter. Making sure consumers are wearing a helmet is not necessarily the challenge in today's industry but making sure it is the right fit can be. Many people are satisfied with a badly fitting helmet because they don't know any better. A safe construction method and the fulfilment of all legally required standards is a factor of course but, as TSG's CEO Ruedi Herger explains, "we also put a lot of energy into the perfect fit. Heads are different, which is why we also offer different helmet models for different head shapes."
COLOUR AND DESIGN
When it comes to trends in design, there is an apparent tendency towards solid-coloured helmets that has emerged over the past few seasons. This is not simply referring to black and white as consumers are more open to a variation of colours (usually of the muted variety mind). TSG have seen great success with an offering of nature tones in the past and for FW20/21 they are introducing deeper colours such as dragon green and grape red.
Head's Marketing Manager of Snowboard & Protection Max Thurner describes how the brand, with regards to shapes and colours, is going through a process of "democratized design" with dark, settled colours and a slim and low-profile shape proving popular with all consumers. And Triple 8 are also pushing muted tones with the classic black, white and greys helping maintain the clean and simple look that many riders are going for.
When looking for a point of difference for their FW20/21 collections some brands are seeking inspiration from the most innovative of sources. Sandbox are collaborating with street artists SheOne and Mr. Jago to produce some amazing prints which stand out in a market of solid colours and TSG are working with Kathi Macheiner from the adhocrates collective in Austria (also the mum of The Snowboarding Family (@thesnowboardingfamily)) making her the perfect match for their kids helmets.
BREATHABILITY
Long days on the mountain inevitably require optimum breathability, something which is a primary focus for many brands in FW20/21. By utilising their adjustable VaporFit™ fit system for an ideal fit and their XT2® anti-bacterial performance lining, Smith's Level and Liberty models each provide complete comfort when carving the big lines that inspire the sleek, sweeping design language of the compact, high performance helmets.
Rossignol's new ALTA Impacts model is the best compromise between comfort, weight, and protection for their consumers, with the durable design featuring their IMPACTS technology and EPP multi-impact foam for enhanced all-around durability. The Fit System adjustment setup allows the user to dial in a precise, custom fit, while the adjustable vents let you manage your temperature as needed.
Sinner's Moostone is fitted with an extra ventilation slider which allows the user to be extremely precise as to where they want to have ventilation and TSG's Konik 2.0 is a new helmet added to the line for slope racers and freeriders with a clever, active ventilation system which ensures draught-free ventilation and gives complete vent control in all conditions.
TECHNOLOGY
"I think the more radical market shift has come from the introduction of advanced technologies which further push safety" explains Oakley's Mike Turner (Global Category Manager Goggles & Helmets). Helmets have been around for a long time but only recently are consumers really pushing brands to challenge the conventional approach to the helmet and design better helmets, with improved safety and functionality. "Rotational protection is perfect example of this. The adoption of this technology was slow to start, especially in the snow space, but has rapidly increased in the past two years," Turner says.
Now, more than ever, consumers want helmets with technology that addresses both linear and rotational forces—and they want technology that is free of gimmicks and does not add to a helmet's weight, volume, or bulk. As part of this, riders are seeking out technology that has been strategically designed to address rotational and linear forces in tandem rather than in isolation. MIPS technology therefore holds a prominent place within the design of many FW20/21 helmet designs providing exceptional rotational protection and brain protection. K2 have added MIPS to four models in their helmet line in FW20/21; two women's and two men's helmet models in different price categories. Their top model will be the Diversion MIPS in black, orange and gunmetal. Bike certificated and packed with the baseline audio system, dual active Matrix ventilation system and the 360 K2Diald™ fit system this helmet is ready for every terrain and keeps the head cool and warm – whatever is needed. "We are convinced by MIPS technology and want to expand it in our future helmet lines" says K2's Marketing Coordinator Sebastian Schmitz.
Pro-Tec are introducing a new helmet called the Apex. It carries some traditional Pro-Tec lines, but has been updated to suit today's contemporary market. It will be the top of their product range and comes with MIPS, Fidlock and a superior fit system. Shred's Notion NoShock pairs their innovative ROTATIONAL ENERGY SYSTEM™ (RES) – a super lightweight and thin solution for addressing rotational forces—with the helmet's integrated honeycomb-cone-structured SLYTECH™ SHOCK ABSORPTION to create an exception synergy for combating linear and multi-directional forces.
Koroyd's welded tubes crumple instantly and consistently on impact, absorbing maximum force in a controlled manner, minimising energy transferred to your head. Helmets featuring this technology offer improved impact protection, reduced weight and improved breathability all without compromise.
LIGHTWEIGHT DESIGNS
Consumers want to have it all when it comes to their snow helmet; they want the technology to provide unparalleled protection, but they don't want to be able to 'feel' this protection. Maintaining a reduced weight is paramount for brands with many opting for stripped back designs to achieve this. Shred have launched a Park helmet which takes their inline product but strips back the features to achieve a lower price point and slick looking helmet for someone who wants the protection of a helmet but not the bells and whistles.
Giro's new lightweight backcountry helmet, the Grid, is "the lightest helmet in the game" according to Category Manager Darius Heristchian. Featuring MIPS Spherical technology and an innovative ear pad/ facemask interface, it's aimed at those riders who like to earn their turns hiking up, thanks to its lightweight design, but delivers the essentials for the way down.
FW20/21 will be the second year for Oakley's MOD1 helmet, a clean freeride design with an exceptional 360 fit system. Popular with all mountain-goers, from big mountain skiers to freestyle riders, the simplicity of the low-profile design, comfort and security delivered from the BOA fit system and the overall weight and balance of the helmet make this a key model in their range.