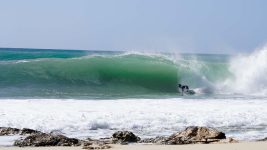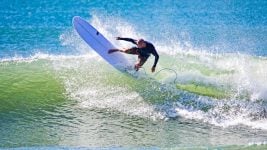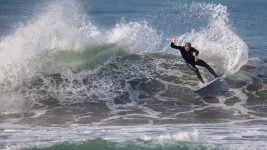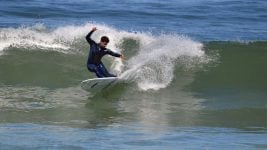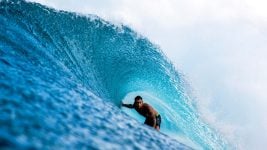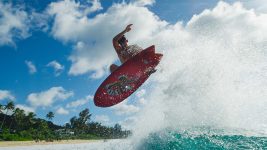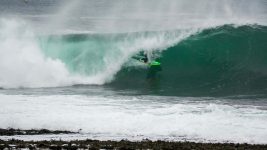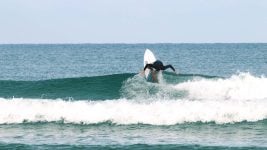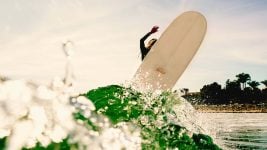 Surfboards 2022 Retail Buyer's Guide
The surfboard market is now worth billions of dollars and has an increasingly diversepopulation of surfers so it would be nice to get an insight from its players to help build your in-shop line-up, now wouldn't it? Buyer's guide and trends 2022 by David Bianic.
Whether it's with your partner or in the waves, size shouldn't matter but it must be said that the surfboard market has grown a hell of a lot…in turnover. According to the latest study on the Surfboards Market Share and Size 2022-2026, global board sales in 2026 could reach a staggering $3.1 billion, up from the 2020 estimate of $2.7 billion, that's an average growth rate of 7% per year. The geographical distribution of this business volume is equally interesting with the U.S. accounting for $1.2 billion in 2021. But it is the projected growth of the Asia-Pacific region that is most striking at 600 million by 2026.
There are various drivers for such growth starting with the paradoxical effect of the COVID pandemic on the leisure sector but the study also highlights other factors such as improved accessibility to the sport of kings, i.e. the boom in surf tourism, easy to use equipment and the expansion of women's surfing.
The figures should put a smile on the faces of surf industry players but these days they are more concerned with sustainable growth than making bank, as Brett Savage, Chief Marketing officer for Firewire Surfboards, explains: "We are closely monitoring surf hardgoods saturation levels by user moment to ensure our growth is healthy and not forced by unrealistic financial growth expectations." Brands and shapers even admit to having exceeded the 7% growth cited by the study. This is the case at NSP, attributing this success in part to changes to key distributors in Europe such as Daniel Surf and SurfCloud. For Pyzel, we're even talking about double-digit growth, says Rémi Chaussemiche, European Marketing Manager, while the brand's objective is to continue at this rate for 2-3 years.
But if like many others you are counting on this golden future, just be careful that it doesn't backfire. Co-manager and shaper of Semente Surfboards, Nick Uricchio reminds us that the cost of materials has soared, as has the cost of living, and that international contexts such as the war in Ukraine could slow down this growth: "Right now I am not going to put my money down on it as the world is at a turning point." That slowdown may already be a reality, according to Johnny Cabianca (Cabianca Surfboards) who reports a declining pace of work among his suppliers, just as surf shops around the world have reported a particularly quiet few months.
SURFBOARD TRENDS 2022
1 – A foot in the door
Behind the figures in the introduction lies a multitude of different designs and set ups. Obviously, the increase in the number of surfers means that there is wave of beginners looking for learning boards, in composites and softboards. So it's not surprising to find boards like the 8′ Premium Softboard at the top of Flowt's sales list, a model mainly intended for schools, which comes in standard (23" 1/2) and wide (25") versions, followed by the 7′ Standard Softboard, "A board for those who want to start catching waves on their own" explains Marketing Manager Diogo Cecilio.
We'll come back to this in the next issue, with our Softboards Buying Guide, but we can already say that the trend for "foamies" is continuing, much to the surprise of traditional shapers like Johnny Cabianca: "It feels more like everyone wants a soft top board… even in higher price ranges."
However, this should not be seen as a threat, says Nuno Matta, convinced that this segment will naturally go for classic PU models and to whom he is offering "specific models more open to beginners" at very contained prices through the No Logo range.
2 – Twins & Mids: Nostalgia or progress?
As soon as we target an intermediate to good level surfer, a trio of designs clearly emerges among the bestsellers. As proof, you only have to look at a foam blank supplier like Polyola: "Our best selling blanks are definitely our fish and midlength blanks followed by our longboard blanks," reveals Aristide Schöndienst, Co-founder of the eco-blank (recycled-recyclable) brand.
Nick from Semente gives us a poignant analysis of a recurring trend in recent years, the craze for retro fishes, midlengths and funky old-school shapes: "I think surfboards in general have always had that element of the search for old magic. It's a bit of a pendulum. So, it goes back and forth, picking designs that were fantastic at the time and rehashing them. It's a good sales thing and keeps people interested."
A good example comes in the form of the Saint from Town & Country, a modernised replica of the board that Martin Potter used in the 1980s (with irresistible graphics). Manager Wilco Prins confirms increased interest in this model since last year, also reflected on two other T&C flagship boards, the Sinr and HRT, bridging the gap between the 80s and the 2000s although the colours remain distinctly 80s flouro!
How long will this cycle last? For Rémi at Pyzel, 2022 might well be the peak, with a segment of people using these alternative shapes remaining faithful to them and others returning to their good old traditional shortboard. Going deeper into the interpretation of this phenomenon: "For 2022 I think we will see an evolution of the midlength trend going to a bit shorter version of them, playing with fins and channels adding more versatility and performance edge to those boards."
For Thilo von Osterhausen, Founder of Kanoa Surfboards, this trend is not just a fashion thing, it's about the benefits of these shapes' extra volume. Amongst the top models of 2022, he highlights the Twice Fish, a retro twin-fin designed by the legendary Spider Murphy. We should also mention the significant potential that static surfing on rivers and artificial waves holds for the Franco-German brand, making up half of their sales between rigid boards, softboards and poolboards.
At Firewire, Brett Savage also sees more than just a fad in the midlength phenomenon: "they are a stepping stone product for graduating soft top beginners and ageing surfers who still want to get in the water but need the extra volume." It's fair to say that Firewire has a solid line-up of midlengths: after the Seaside & Beyond and the Sunday (Rob Machado), the Outlier (CJ Nelson) and the Moe (Harley Ingleby) comes the OVA from Ben "Skindog" Skinner. A modern egg with hull on the front and 50/50 rails meaning that you can turn the OVA from the middle of the board.
Lib–Tech, until now associated with the performance shortboard, are also following this craze. Co-founder Pete Saari confirms the success of mids like the Pick Up Stick – although more funboard oriented than pure retro mid – and notably the Crowd Killer by Matt Biolos, a bestseller appealing to shortboard addicts and fans of Biolos. Lib–Tech are expanding this range with the addition of Alex Lopez's Terrapin 7'4″, "a more forward template single fin retro meets progressive design", summarises Pete.
3 – Longboard: transgenerational
Too often overlooked in our pages, the longboard occupies a separate space: neither board for beginners nor for experts, not really a transition board either, it is simply in a category of its own. But that doesn't make it irrelevant either and it has become the cool kids' board par excellence. The proof is in the success of the Vans Duct Tape Invitationals with Joel Tudor, now part of the WSL. The funniest thing about the longboard market is that the younger the surfer, the more they want old-school logs, while the older longboarder tends to go for more versatile/performance oriented EPS models. A finding that debunks all the clichés!
As a leader in this sector, Surftech has long understood the importance of the label in attracting customers, signing various partnerships with big names such as Stewart, Walden, Takayama, Mickey Munoz, Gerry Lopez. Similarly, NSP collaborate with the Hawaiian Carl Schaper (Pro-9, performance longboard) and the Australian Tully St. John (Sleep Walker, classic log).
Also advocating EPS longboards, Brett from Firewire is eager to clear up a misconception about thistechnology often associated with factory mass produced, moulded, cheap "popout" models: "Thunderbolt boards have three times the processes than that of a standard PU build and include variable carbon flex patterns inserted into each build that allows for the board's incredible performance. The boards are all hand laminated and finished to the highest standard." For example, the new Velvet Hour, designed by Soleil Errico, a classic log for women by a woman, completes a huge range of longboards at Firewire.
4 – High-Perf Shortboards: Summer All Year Round
Shortboards for shredding about on have become scarce in recent years, overshadowed by the glam of the models mentioned above. This category isn't exactly dying out though and continues to progress. We can see that summer boards or "grovellers" have gone beyond being just a seasonal thing to become a year-round phenomenon, appealing to shortboarders for the extra fun they provide. We're thinking here about Firewire's new Mashup from Rob Machado and Dan Mann, a mix of their respective successful shapes, the Seaside and Spitfire, which works in a wide range of conditions. Another example is the Little Wing from Mason at Lost x Lib–Tech, a "short shortboard" with generous dimensions and great playfulness, or the Astro Pop from the Funformance range at Pyzel.
When it comes to new constructions, we can see rare exceptions to traditional PU/polyester in the performance category. The ElectraLite from Pyzel is a battenless EPS board with Web-Fused Carbon reinforcements for stiffness and torsion control. Matta Surfboards' SMARTech construction features fibre reinforcements "going in 6 directions for more flex and strength than traditional EPS constructions."
Firewire are launching Volcanic Tech, an eco-friendly alternative to carbon using basalt. Finally, Lib–Tech are unveiling a new Tecno POP technology that's lighter, around 450 grams per board, but just as difficult to sink, says Pete Saari.
Faced with such a huge range of Surfboards, retailers obviously have to make choices when it comes to placing orders, unless they can complement their physical, in-store offer with online ranges, especially by using drop–shipping. Norden, for example, explain that they have reserved part of their stock so they can offer this distribution method to surf shops.