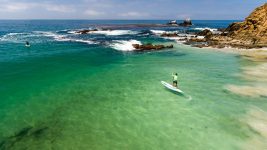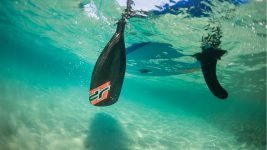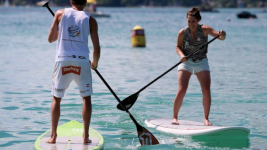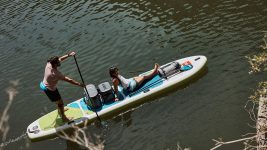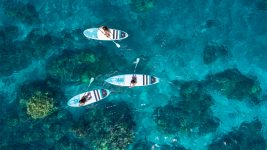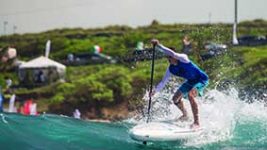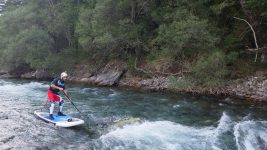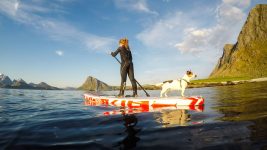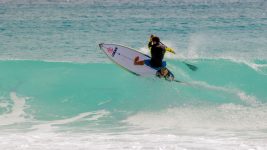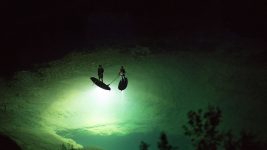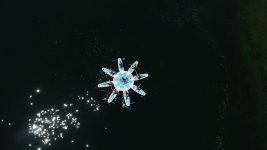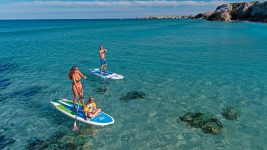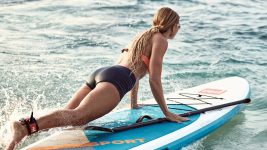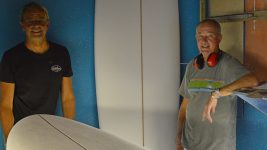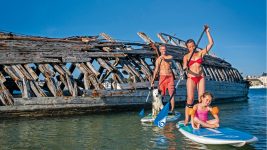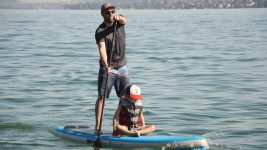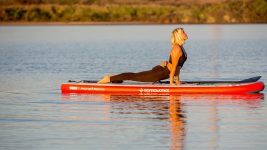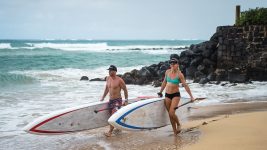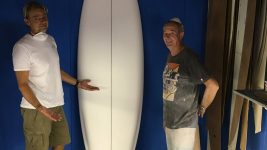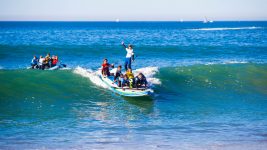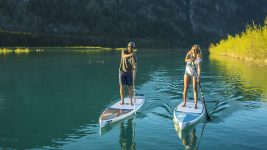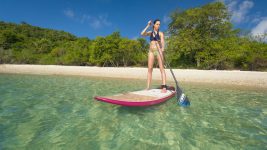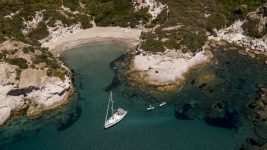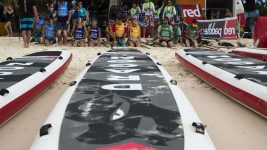 Stand Up Paddle Hardgoods SS18
The PADDLEexpo tradeshow in Nuremberg, Germany is now the not-to-be-missed meeting place for SUP in Europe for brands as well as retailers. As a preview to the tradeshow, BoardSport SOURCE gives you a sneak peak at the significant SUP trends for 2018. By David Bianic
For once, the Old World is a few paddle strokes in front of the rest, because since 2003 Germany has been offering a warm welcome to paddle sports at PADDLEexpo, proving that Europe has a solid paddling background. After a first appearance in 2008, the SUP industry has become an integral part of the show and in 2011 gave it a new lease on life: "SUP is now 30-40% of PADDLEexpo", affirms Horst Fürsattel the organiser of the show and a long time kayak enthusiast. "Some traditional kayak-canoe companies are now strong in SUP as well, so it cannot be determined exactly," specifies Horst. But it's a figure that isn't misleading, since all of the booths for 2017 were sold out in the space of two weeks.
For German distributors, this High Mass is not to be missed for any reason. Isn't that right Gerd Weisner? "The whole paddle scene in one spot creates a lot of good vibrations. The tradeshow is small but well organized," assures the director of GTA Distribution, which manages the Light Board Corp. in the territory. The German-speaking Swiss from the Indiana brand will be there too, with wide eyes and open ears: "We expect international shop and resort owners looking for a Swiss quality brand, to see what new products suppliers are offering, to check out what media and project options are on the market, what kind of products and prices competitors offer and on top we expect some fresh input for little improvements of details", recounts Maurus Strobel cofounder of the brand.
Boardworks Brand Manager, Andrew Mencinsky is looking forward to unveiling the brands' new direction at the show: "We have rebranded Boardworks and have designed our 2018 line into a collections strategy, utilizing four distinct market segments. Each collection tells a unique story and we look forward to sharing our story at Padle Expo."
The support of exhibitors extends well beyond just the simple Germanic circle, since the English guys from Red Paddle Co. also identify themselves as loyal supporters of the show: "We were one of the first brands to support Paddle Expo, back in the days it was called Kanumesse", remembers John Hibbard director of the brand. "I think our first year was 2009. We spent that year and probably the following three years explaining what SUP was and then what inflatable boards were all about." The background work paid off and now everyone benefits, as confirmed by Sylvain Aurenche communication director for French brand Lokahi: "Last year was a good show for our development in Germany, but also some interesting meetings with people from other countries."
EVERYONE TO NUREMBERG
Over the course of three days, Nuremberg will be the centre of the SUP universe at the end of September. It will be the moment to check out the latest trends spread out over close to 10,000m2 and to exchange ideas with the players in the sector, in the language of Goethe (German) of course, but also in English since more than half of the visitors are international. While we wait, this small sampling of responses from the 20 or so brands contacted will give you, our retailer friends, a glimpse of the direction that the SUP market is headed in Europe.
Already mentioned last May in our SUP Trends 2017 (Boardsport SOURCE n°86), the showcasing of hardboards is being confirmed, without necessarily ignoring inflatable boards, which have been a true market booster the last few years. As such, Steve West of Mistral expects to see "a migration of iSUP users to hardboards in search of higher performance, added longevity and reliability of construction." To that effect, Benoît Tréguilly in charge of Marketing at BIC Sport confirms that numerous clients "get tired with inflating or deflating the boards, and dealing with the on-going maintenance and short life-span inherent with inflatable boards."
But we can't ignore the facts and "the biggest part of the market is inflatable touring and all around fitness models. What sets us apart from all the cheap iSUP companies is quality and innovative products as well as premium SUP racing products," affirms Gerd from Light Board Corp. The same thinking holds true at Norden, for whom "the market will open up again for standard board constructions next to the iSUPS", because, "there are indications that the iSUP market is pretty saturated," according to Director & Designer, Andy Wirtz. Even 100% inflatable brands like Tripstix want to distance themselves from the overly leisure image of iSUPs: "We believe that more and more paddlers will focus on the performance oriented categories like wave, wind-SUP or race," claims Director, Stephan Klare.
PUSHING ENTHUSIASTS UPWARDS
At the very top of the pyramid, race boards are hitting a ceiling in terms of brand image, technology and expertise, but also in prices. For manufacturers, it's now a question of taking advantage of their work on these elite models, which are used as a base for the rest of the line, starting with NSP on the shoulders of another win by Travis Grant in the Molokai 2 Oahu Paddleboard World Championships, the most prestigious of all open ocean races: "We are sharing our strength from race into our touring and flatwater boards," confirms Andreas Mencke the Commercial Director. The same idea at Light Board Corp. Gerd Weisner assures us: "What we learn in the development of race products is integrated into our Tourer models… Sensation of speed is kind of our mantra." Steve West from Mistral sums up that position perfectly, affirming that: "You need your F1 vehicles of desire in order to reap the kudos as a leading brand player."
As a result, at SIC they want to democratize downwind, affirms Director, Anthony Scaturro: "Downwind paddling is not just for elite athletes, it's actually a great recreational paddle and so fun to get out on the water with a group of friends and get a little help from the wind and swell."
If the balance of power between hard and inflatable seems to be shifting somewhat, we must be realistic: iSUPs still massively dominate the sector in terms of market share. "The most commercial category will remain the inflatable 10'6 all-round," assures Marcus Strobel from Indiana.
iSUP: ADDED VALUE THROUGH TECHNOLOGY
With 'no name' iSUP brands flooding the market with cheap product, respected iSUP brands are changing their offerings to cater for more niche segments of the market, while providing quality designs and materials not on offer from cheaper brands around for a quick buck.
Therefore, at the French brand Anonym, they've found that "all good kayakers have started river SUPing," points out Founder Matthieu Guyonneau, who is investing in whitewater, in spite of very surf oriented roots. All brands offer fishing models as well, or at least accessories for dropping a line in the water. Fanatic introduce the indoor Fit Mat model from Fanatic, "an updated Fitness SUP board," Marketing Director Karin Gertenbach tells us. In the same vein as the Fly Air Fit Platform for group SUP yoga lessons, Indiana is offering a SUP Yoga Island capable of hooking up eight boards, an accessory "which is selling better and better", assures Maurus Strobel. Red Paddle Co. is pushing the team sport aspect even farther with their "multi-person (boards) such as the 15-foot tandem, the Dragon and the XL model" (22' and 17')!
As the iSUP category continually innovates ways to use a paddleboard, tech advances are aplenty. Hala Gear, whose Carbon ConstructionTM uses a mix of unidirectional carbon fibre and drop stitch Fusion with aramid (Kevlar) fibres "compressed at 200,000lbs for a rigidity rivalling that of a hard board," proudly states Peter Hall. For Gary Coreban the future of iSUP is in a multi-chambre construction, which Starboard will make a reality in 2018 reveals French distributor Clément Morandière. Among the leaders in iSUP internationally, Red Paddle Co. is continuously fine tuning its technology, and in 2017 they've developed the third generation of their MSL (Monocoque Structural Laminate) material: "We've made further improvements with the bonding process which allows us to take coating discrepancies down to the lowest level. It is these issues that cause faults further along the production line or into the lifecycle of the product. Our current warranty rate for boards is 0.002%," reveals John Hibbard. Another solution that has been implemented at SIREN SUPsurfing, is the addition of a stringer in the PFT Belt System: "The belt runs around the whole body [deck & bottom] making the board unbelievably stiff," which allows the use of a lighter single layer drop stitch while obtaining the rigidness of a double layer. Indiana offers an equivalent system, with a 10cm wide fibre strip on the top and another in Dyneema on the bottom. Another innovation is the patent pending Airline system from Starboard: "An aramid cable is attached to the nose and runs under the board until the fin box", explains Clément Morandière. "Slightly shorter than the board, the cable becomes tense once the board is inflated which represents a large gain in rigidity." Starboard is also the first brand to have adapted a hydrofoil to its Hypernut inflatables. RRD (Roberto Ricci Designs) from Italy are introducing their Thermo plastic belt at Paddle Expo: "It's a special stripe that will increase our inflatable board's stiffness by 40% compared to conventional iSUPs," says Jacopo Giusti, Marketing and SUP Team Manager.
Anthony from SIC notes the materials and the work put into designing high end inflatables are bringing them closer to hard models in terms of price, and that consequently, "they will have to be able to have similar performance."
This added technological value doesn't only apply to progress in performance, but also in comfort, starting with comfort of inflation at SipaBoards whose Air auto-inflating model won the gold medal at the last ISPO in the Action Watersports category. "The heart of the board is the removable compressor, right where the inflation valve on a normal SUP would be", explains Marketing Director, Marja Feldin: "With the wave of a hand, the board pumps itself up to perfect pressure. One charge lasts for three inflations."
HARD BOARDS: BETTING ON PREMIUM
"Once people have learnt to SUP and are "hooked", they do often switch to a hardboard choice", says Karin from Fanatic, before specifying that "the European market has until now not really suffered as heavily as the US and Australia with over-supply in hardboards," and is experiencing small but consistent growth. Steve West from Mistral says, "the reality is at what point do you stop pursuing an ambition to produce an inflatable board, which performs like a hardboard, as a pathological road map for development, when in reality, the cost-benefit-performance equation simply does not add up. If you want hardboard performance – buy one."
For SUP surfing oriented brands, the reconciliation between SUP paddleboard and traditional surfing makes sense, since SUP constructions are copying the latest trends in shortboard performance: "For our small surf pro SUPs we will use our new SGT-Surf Glass Technology. Put simply, a light EPS core with a vector carbon net and unidirectional carbon stringers, laminated with clear epoxy resin. Basically looks like a surfboard, feels like a surfboard", Andy from Norden assures us.
European distributor Leonardo Lazzeri from JLID reminds us that for an historic brand like Jimmy Lewis, showcasing the quality of construction is primordial: "We are using only a top quality construction called I-Beam PVC sandwich fiberglass or carbon", before adding that "only 3% of the production has any defects".
As for JP Australia, they've been working on rails, something few else have, and notably reinforcing them with two new types of construction: Alutex on the pro models and basalt on the Wood Edition boards. "Due to the frequent contacts between paddle blade and rail, the rail construction has to meet very high requirements," specifies European Marketing Director, Philip Mackenbrock, but that "changing the construction to make the rails more durable often results in an altered flex of the boards." Therefore, the Alutex gives added solidity without extra rigidity, for a better sensation in the waves.
Although associated with higher performance, hardboards are a boon for the rental market since they target your average Joe via soft top models that represent an attractive market for the brands, confirms Thierry Kunz of Nidecker and once again, Andy from Norden: "They last rental places and schools at least three years without having to change them." BIC is showcasing a new technology called TOUGH-TEC: "The ideal choice for rental or school operations", assures Benoït Tréguilly who says these models are produced with "no resin, no fiberglass, simply a PE shell thermoformed around an EPS Core." The same idea at Bote, only destined for a high-end clientele with the introduction of the Gatorshell technology, as good looking as it is resistant: A thermoformed board without any stitching on the rails and six times more resistant than the traditional epoxy models by Bote.
From a durability standpoint, the SUP world is opening up to the question of environmental issues, like Starboard's association with the NGO Sustainable Surf as well as earning the Deep Blue Life label for their neutral carbon footprint. NSP is also recognized by Sustainable Surf with "over 90% of our boards to feature the Ecoboard Project logo," points out Andreas Mencke. "One key part of this is NSP's use of a bio based epoxy resin from Sicomin epoxy systems, a high performance bio epoxy resin which has 28% of its molecular structure derived from plant and vegetable matter." The brand is also developing a new generation of Cocomat boards, incorporating a layer of coconut fibre made of waste from certified organic and fair trade plantations.
GRAPHICS: MORE DOESN'T MEAN BETTER
Technology, performance, price… All of these rational factors that push the consumer to purchase a board or not, don't always outweigh the effect of graphics or other decorative elements on a buyer's impulse. On this point, all of the brands agree that nowadays "less is more", after years of questionable aesthetic choices, often inherited from a very flashy windsurf culture. Starting with F-One, which "has always valued quality versus quantity" using stylish and sophisticated graphics "with a deep inspiration in our Tahitian roots", specifies SUP Brand Manager, Belar Diaz. The SUP surfing models are continuously moving closer to standard surfboards, notably with the likes of "clear finishes, bamboo, unfinished carbon" at Fanatic. The same idea at Ari'i Nui since "we all come from the surf, we are all surfers, and we tried to transmit our history in the spirit of the brand," reminds Marketing Director, Benoît Brecq. For Bonz, the surf spirit shows through "an inspiration from a Californian dream he lived during his youth," by designer Thomas Cantoni. "Our hot graphic for 2018 is the Razzle Dazzle," RRD tells us, is "a special camouflage used during the two World Wars – a very unique design."
The continuity of a decoration is also a commercial guarantee specifies Julien Leclerc from Nahskwell: "One of the most important points is the lifetime of a design, because we don't want to change every year, to avoid the loss of value year after year, which is better for retailers and customers, and the same thing for our shapes." The artwork can also be there to highlight the shaper's craftsmanship and experience, explains Anthony from SIC: "The lines of a board should be beautiful, so that the graphics are there to accent them." The days of our eyes bleeding from overcharged, super bright graphics are over. Amen!
HELPING RETAILERS
All of these efforts would be for nothing if the shops weren't there to deliver the message. Now it's up to the brands to keep them from paddling against the current by giving them some well deserved help. Starting by making sure that the products they've promoted are available, which is "not always a given", reminds Karin from Fanatic, although the brand makes sure to have a fully stocked central warehouse in most of its markets, "allowing dealers the opportunity to re-order during the season." BIC ups the ante with "the dependability of its customer service," a real asset for continued business since "the end user realizes that buying lower quality products results in many warranty claims that are often not fulfilled properly," adds Belar from F-One. As part of their new brand strategy, Boardworks "have an entirely new and experienced team at Boardworks and at Confluence our parent company. The authenticity of our team allows us to create a new strategy focusing on service for our partners."
One that subject, Becky Hunter from Riber is proud to announce that their Deluxe range "comes with a 2-year manufacturer's warranty." The majority of brands offer a range of support to retailers ranging from shop demos, to online information and promotional material in stores. "We have developed a complete range of SUP and paddle displays. We realize that many retailers have real difficulties with the diversity of models on the market," says Aquadesign Director, Terry Barbier. At NSP, they know that SUP also needs recognizable faces and stars, of which they have a few of the best with the likes of Travis Grant and Titouan Puyo who they use to their advantage during paddle clinics and in-store promos. Even better, Steve from Mistral thinks: "Retailers for the most part undervalue their own use of local team riders," and advises them to spend money on social media to remedy the situation. Indiana is very active in that area, putting out their "Dude Proof" product and tutorial videos on a regular basis. As for Red Paddle Co., they have a dedicated online space especially for retailer training called Retailer University, which allows them "to not only learn more about Red products but also earn rewards," points out John Hibbard.
The last asset in the hands of the retailers are stable retail prices, at least in the hardboard segment and on inflatables, which will soon attain a price limit: "In the past five years the competition between the different drop stitch producers, mostly in South Korea and China, has led to lower costs of materials," points out Terry from Aquadesign.
Two conclusions can be drawn from this rapid overview of what's on offer SUP-wise in 2018: A more fractured market, with more different ways to SUP and more niches than ever, which makes plenty of ways for retailers to get lost in the mix and their clients along with them. The silver lining is that the SUP market has never been more alive, which means that in this case maturing doesn't mean running out of steam but actually gaining in strength.