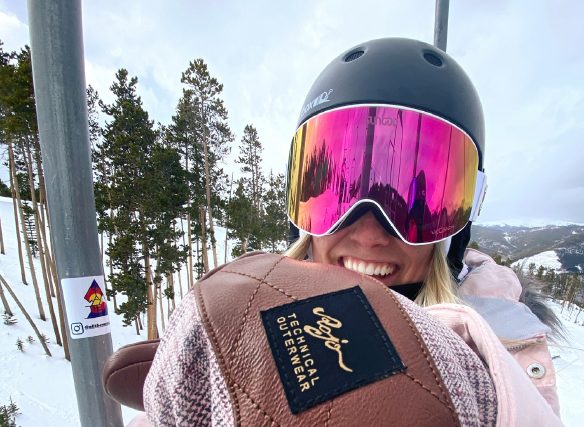 Rojo 2022/23 Womens Snow Outerwear Preview
Retail Buyers Guide: Womens Snow Outerwear 2022/23 Retail Buyer's Guide
Brand: Rojo
Interviewee: Jo Buckle, Founder
Please provide an overview of how 2021/22 is shaping up for your brand. Has COVID-19 affected your line? If so, please explain the changes you have made, and how you came to these decisions.
This might sound like a never-ending story, but this year has been challenging to say the least.  Being based in Australia and in Victoria which has endured the longest lockdown in the world to date, it would be no surprise to say that it has been tough.Whilst we could see the reports of summer sports and related outdoor product booming in the Northern Summer, we have for a second year running experienced a restricted and closed Winter in the Southern Hemisphere.We have always looked to the future focusing on improving business systems and taking the time to  review our product lines, supply chain and sourcing needs as we look to a new post COVID world which we feel is upon us.We have also really focused on why it is important that women's outerwear and snow related product is truly designed by women.  There has been much talk about women's Snowsports activities only now being developed by women but yet I have been here with my design team since the early 90's doing just that.  This year we let Australian women of the snow, the girl gangs out there across our resorts become involved in our photo shoots and brand image which has been refreshing and inspiring.
What is the overall theme behind your FW 22/23 outerwear range? From which big trends do you take your inspiration?
We held back on the line we were releasing last year due to supply chain issues and COVID and really focused on our Tread Lightly concept. By combining the best-selling styles in new fabrics and prints which met our sustainability goals, coined POSITIVE CHANGE, we were able to achieve the two key elements of TREAD LIGHTLY.  The first is about producing only what is needed in these uncertain times and the second is about measuring our impact on mother earth. Inspiration though comes from many facets. I look to runway shows and fashion forecasts, anything that grabs me – walking past an obscure store and to all the gals out there on the slope rocking their style.  Inspiration is everywhere you just need to be open to it.
What new fits / silhouettes are coming out in FW 22/23? What pant and jacket styles are most important in your range?
The TREAD LIGHTLY Range is tight with a color palette designed to mix and match as always.  We have focused on silhouettes and styling which we know are current and about longevity. We have focused on producing pants that suit many body types.  Flattering & feminine fits.  We have listened to our brand ambassadors and customers who return year in year out with comments.  Their input has been paramount, inspiring and humbling all at the same time. I am really pleased about the use of many recycled fabrics and not just using models in our photo shoots but using real women of the snow from Australia and our global team who are passionate about the snow lifestyle– just like I am..
What new colors / prints are you introducings
Beautiful Loden Frost – Nourishing and calming as customers focus on the balance between mental and physical health. Loden Green will be a key color in fashion and lifestyle.
Popcorn/Ochre Yellow – Uplifting and warm. Associated with protection and preservation of nature. Egyptians valued yellow ochres for their richness and lustre.
Java Brown – A nostalgic and timeless shade. In a challenging economy and slower fashion cycles a color that is enduring and relevant. Inspired by Tinted Blacks and Dark Oaks.
Copper and Desert Sand – Derived from Nature, refreshed and versatile. Accent with golden Ochre or paired with Black or Java. Our Royale yardage with hits of Tea Rose, Beetroot and Olives sit well here.
Atlantic Deep – The outdoors remains important. A grounding and harmonizing color. Uplift with Pink Icing, Petit Four or Nostalgic with Java and Copper. Mixed with Black and White to inspire lux and newness.
Jacaranda – A Digital Bright to stand out and evoke a feeling of escapism and joy. A punchy color for Instagram statements.
Light Lilac – A greyed pale pink. Soft and soothing. Tried and tested. Pair with old faithful India Ink, Grey tones and Black. Try beautiful Loden Frost for newness and a sense of calm.
Petit Four and Pink Icing – Colors bought forward and refreshed to bring attention and to mix and match through previous selections. They are an easy bridge to the new.
True Black and Snow White – Important players. Our forever's. Can make brights pop. Bring Luxury and style. Timeless and always on-trend.
Any *NEW* technical stories with regards to fabrics and materials?
A focus on fabric which meets our sustainable goals based around our phrase Positive Change and Tread Lightly.  All outerwear fabrics, linings and insulation where possible have a recycled element to all.  We are now looking to packaging and trims to ensure that we can meet our overall sustainable goals.  We are also moving to outdoor product lines so we are not boxed into the snow sphere and can develop our print options to be used across outdoor apparel items.
Any trends that your brand is moving away from?
Dispose ability and inferior product.  We are now designing with the understanding that product must last for more than one season.
What are your top marketing stories for FW 22/23? This will help us to put some focus in the right place.
Positive change and tread lightly.