Cabrinha 2021 Wing Foiling Preview
Retail Buyers Guide: Wing Foiling 2021 Retail Buyer's Guide
Brand: Cabrinha
Interviewee: Oliver Spang, Head of Sales
What's the progression of Wing Foiling in your opinion? It started off as a sport to fill in kiting/windsurfing lay days, will it build its own exclusive fan base?
The sport of Wing Surfing has continued to grow and its boundaries are constantly expanding. As the sport progresses, we are finding more and more methods to harness wind power, from downwind runs and wave riding, to flatwater light wind cruising and freestyle. It's clear that the product offering has needed to grow to help reach these varying aspects and give people the right tools for their trade. We expect this to further grow and progress. 
What market section is driving more product demand at the moment: complete newcomers to watersports, kiters/windsurfers new to foil or experienced foilers?
We are absolutely delighted to observe increment of growth from several markets, which makes the development of this sport so exciting and dynamic. There is a high demand coming from the kite and windsurf market but also in the sector of Stand Up Paddling, winging has been established and become an extension of this field.
What market section of the above mentioned do you expect to grow more in the future?
The ease of use, packaging volume and fast-growing learning curve make this sport as accessible as riding a bike. Therefore, for newcomers to watersports, it`s easy to overcome the remaining, relatively little, hurdles in order to enter this sport. However, the excitement of this fast-evolving sport is unprecedented, and we are proud to be at the forefront of this with the most up to date designs for any level on any of these markets.
How popular are and will become land variants of the sport?
Latest with Corona, our all creativity has been triggered for months to seek any kind of activities and sources of fun. A cross-functional wing is the perfect partner for anyone who wants and also needs to be flexible no matter his/her location or vessel. We expect especially winging on snow to become as popular as snowkiting. 
How many iterations of wings have you developed so far? What's the difference of your latest one with the previous ones?
There have been two versions of the Cabrinha Crosswings so far. The latest Crosswing X2 has an all-new body outline and inflatable frame which makes it incredibly stiff and rigid. The wing holds its shape while under heavy loads or while boosting massive airs. The control factor has been upped in many important ways. First off, we've fully separated the air boom inflation from the leading edge inflated section. This allows us to properly pressure each section individually to achieve the X2's incredible stiffness while in flight. We've then taken that concept one step further with our unique Double Strut™ technology.
The Double Strut™ of the X2 allows one inflated mini strut to support the canopy profile while the second "boom" strut is designed for precise ergonomics and predictable wing control. Each strut serves its own function and purpose without compromise.
The progressive new Mantis wing is the first of its kind and carves out its place in the surf genre with its rigid but incredibly light inflated frame. It's a handheld power source that immediately becomes invisible on command.
Both wings were now designed with a hybrid handle system which draws on the best features of a rigid boom and the portability of a webbing handle. The result is a wider handle allowing the rider to micro trims their hand positions while riding to find the perfect centre of effort. The rigid handles provide more direct rider input to the wing which in turn delivers an immediate result in wing control. As a bonus, the wing can still be folded and placed into a small-sized pack for easy portability.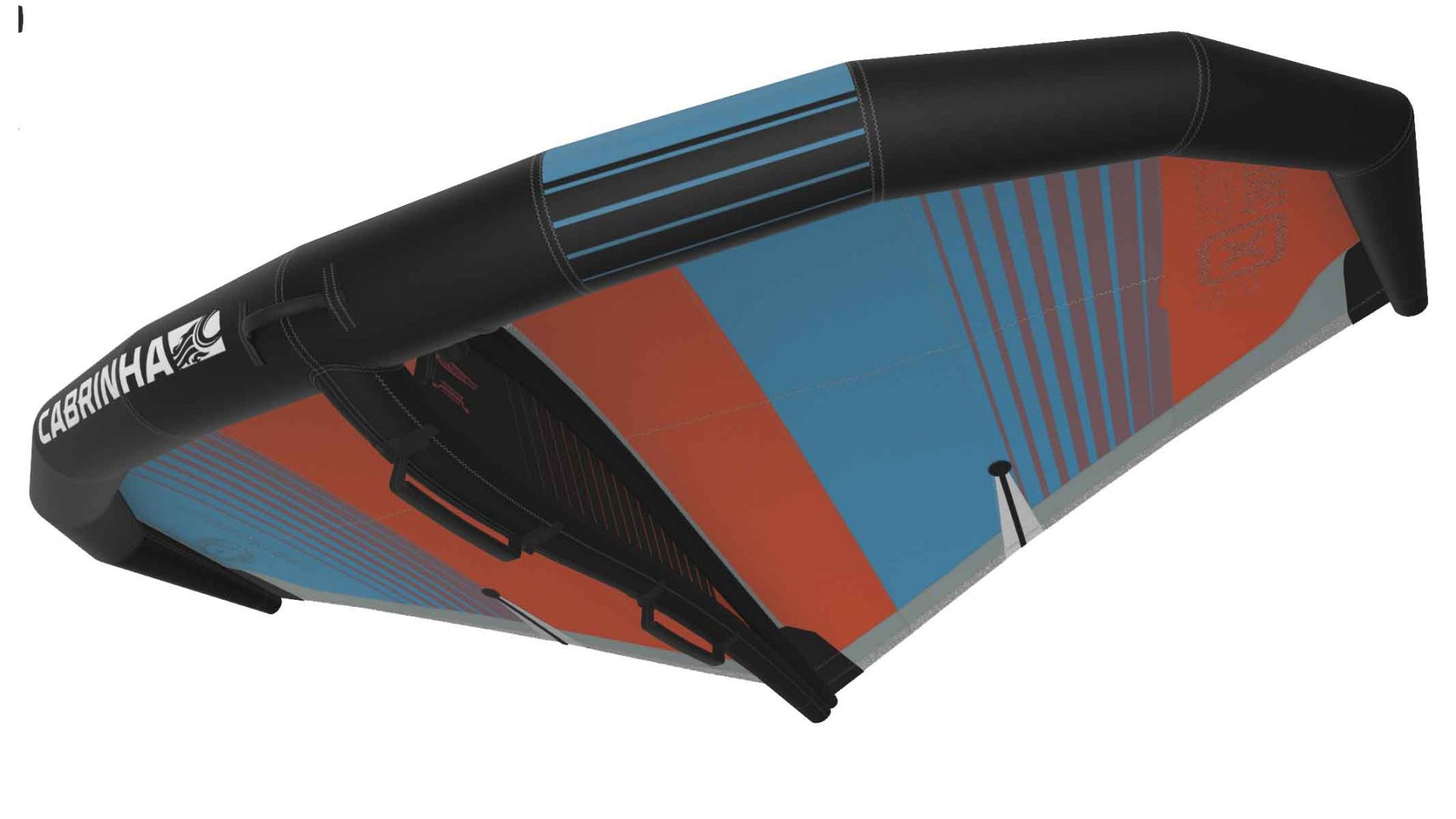 How many wing designs do you offer, according to practice (waves, freestyle, race…)?
This year we are proud to introduce the Mantis to our current Crosswing series. With a nod towards lightweight handling needed for surfing and down winding, the Mantis also comes in an expanded range of sizing as well as a window option to provide more visibility in those crowded areas.
Current Cabrinha Wings: Crosswing X2 / Performance Freeride, Mantis (with and without Window) / Crossover Freeride
What is your most popular wing design and size?
Crosswing X2 in 5m² / the all-around wing with the best power to agility ratio. If you're new to the sport, our 5m² is the perfect size for any 75 to 80 kg rider to start within wind speeds around 15 to 20 knots
What materials and construction techniques are you using?
NANO RIPSTOP CANOPY – A higher level of performance can only be achieved when the wings' design properties are supported by a stable and reactive material. Nano Ripstop does just that.
HIGH TENACITY DACRON – Our Dacron is specifically designed for inflated kite structures. The construction of this material is very warp oriented using ultra high tenacity yarns with an increased thread count to combat elongation in the warp direction under high inflation pressures. Lower elongation makes for a more accurate kite with less deformation while in flight.
V-notches have been implemented on all kites and wings on the LE Dacron panels at the intersegment seams to facilitate a more precise assembly process.
OQC laser measurement process: All kites are hung and measured against laser level, to check the symmetry of the wing before the packing process.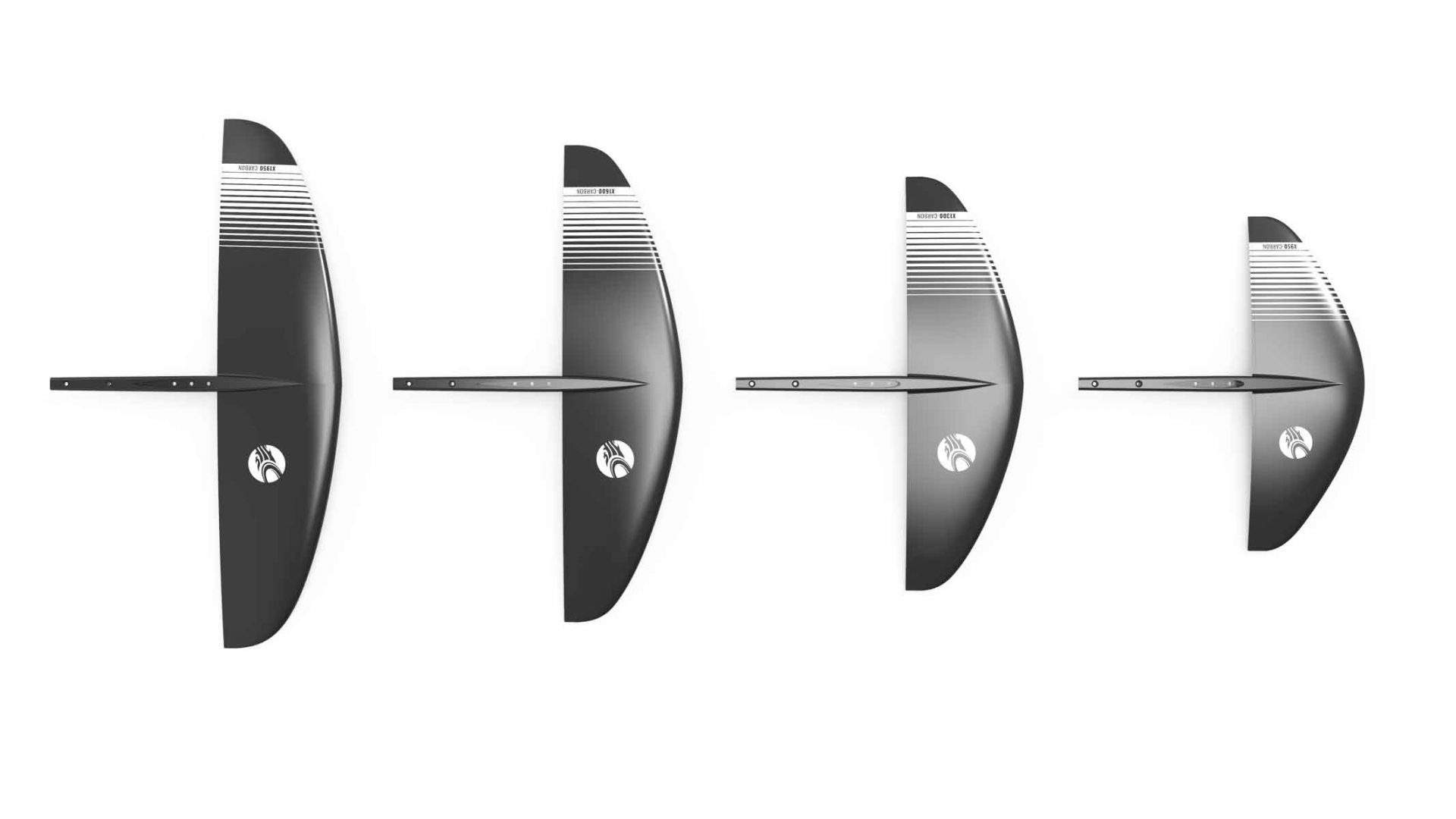 How many board variants do you have on offer?
Macro – our dedicated compact wing foiling board
Sizes: 4'8″ x 23″ x 3.9″ x 58L / 5'0″ x 25″ x 4.4″ x 78L / 5'4″ x 27″ x 4.9″ x 98L
X:Fly – a multi use board that's perfect for wing surfing and SUP with a solid volume to length ratio also for beginners
Sizes: 6'2″ x 28″ x 4.7″ x 111.1L / 6'10" x 30″ x 4.7″ x 131L / 7'6″ x 32″ x 4.7″ x 153.5L
Autopilot – this board excels in the widest range of foil boarding styles and conditions. For wing foil, kite foil and prone surfing.
Sizes: 4'10" x 21.1″ x 2.12″ x 40.6L / 5'2″ x 21.8″ x 3″ x 45.1L / 5'6″ x 22″ x 3″ x 48.5L
Which is the most popular board variant in your range?
We're expecting most sales from Macro 5'4″ (for the intermediate rider) and X:Fly 6'10" (as a board to start with)
Tell us about your 3 key products for 2021, including a brief description of about 60 words.
Cabrinha Crosswing Series
Cabrinha Fusion Foil System = a modular system consisting of Fusion Carbon Base Kit (Ultimate stiffness to weight ratio and minimum drag.)
1 . Fusion Hybrid Base Kit (Durability, longevity and unmatched stiffness in an alloy setup.) Different mast sizes from 40cm to 90m in length
2. Fusion X:Series Front Wings (Sizes: 950cm² / 1300cm² / 1600cm² / 1950cm²)
The X-Series comes in 4 sizes to cover an incredibly wide range of rider weights and uses. For those, who do more than one sport you can be confident that your entire foil system will crossover with an astounding level of performance across genres.
3. Fusion X-Series Rear Stabilizer (Sizes: 220cm², 300cm²)
Flat centre, to downward tips, for the perfect balance between locked-in feel and agility