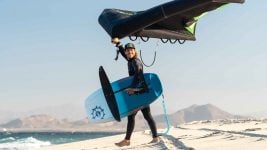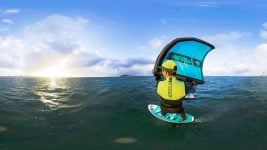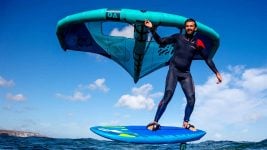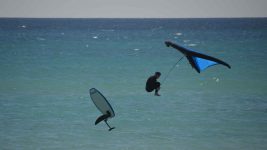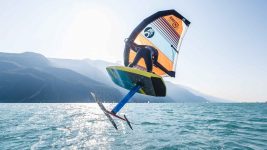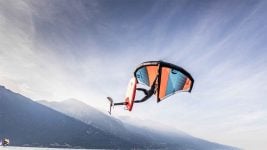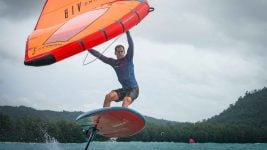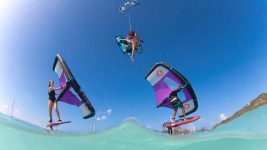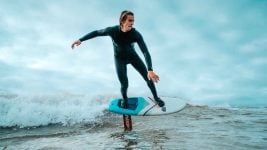 Wing Foiling 2021 Retail Buyer's Guide
Wing foiling is in its infancy but has already made it to the forefront of water sports. The ability to do it in very light wind conditions and its quick learning curve is a jackpot combination. Beach goers everywhere should get used to the sight of wings around them. By Rocio Enriquez.
Wing foiling made it to the forefront of water board sports, and it didn't have to elbow its way through. It was invited by the big names in the kiteboarding and windsurfing scene. The quick learning curve and the good fun it offers consolidated its position in just two commercial seasons. Kiteboarders and windsurfers were the early adopters. Now, newcomers see in wing foiling an opportunity to experience the ocean and the wind in a safe and easy way. For boardsports businesses, the potential is huge. They will secure the business of kiters and windsurfers. These will always keep a wing set up in their quiver for those light wind days. "Having kiters and windsurfers winging is a big tick!", says UK North Distributor, Joe Taylor. Retailers will add the much larger market of complete newbies who will get hooked to the easy learning and quick progression.
For many brands, it is newcomers who will drive the growth of Wing. The biggest demand still comes from experienced kiters, windsurfers and foilers. But the increasing numbers of Wing foiling schools speak of a rising trend in popularity. Many brands expect to see an explosion of total newbies holding on to wings this summer. "We expect a lot of watersports enthusiasts looking for new sports, not necessarily with wind background. Similar to what happened with SUP when it became mainstream", foresees Caren Fobes of NSP. SUP seems to be a good breeding ground. Brands like Airush, Cabrinha and Slingshot expect a lot on influx from SUP. Slingshot is targeting them with a product that allows you to convert your good old SUP board into a Wing one. "Users will paddle when it's flat and grab their wings when it starts blowing, just using their SUP board", announces Wyatt Miller of Slingshot.
Wings
Some brands are just entering the Wing market, others are launching their 4th generation. But they all seem to be focusing on one main element: versatility. All-round designs that work equally well for different riding abilities and wind conditions. "One-wing-does-all", states Naish's Scott Trudon. There are many design updates from the first. Booms are stiffened, handles recounted and repositioned, and weight recalibrated. The aim is better control and stability. The most obvious result is that riders will be able to use a wing one size smaller than previously for the same wind conditions. 
Brands offering one design are Airush, Naish, Norden, NSP and North. Airush's Freeride Air V2 focuses on rigidity, stability, power delivery and weight. It optimised its windows and redesigned the wing tips to prevent drag. Naish's MK3 has refined the curve of the leading edge to maximise drive, balance and stability. Increased diameters in the leading edge and centre strut improve stiffness. The new MK3 offers fewer handles which are better positioned. The new window design makes the wing more functional and safer. Naish will be adding the new Matador to its offering by mid-Summer. It will have a more compact design, suitable for riding waves. North just launched its first wing, the NOVA, for both newcomers and pros. It combines ease of use with very high performance whether you're jumping, riding waves or doing some all-round wing foiling. NSP offers its Air Wing model in four sizes with more coming in the near future. Surfboard brand Norden has just launched the Seaflight, a wing focused on surf and downwind. 
Cabrinha, Gaastra, Slingshot and F-One have two designs on offer. Cabrinha's Crosswing X2 is an update from last year. A new body outline and very rigid inflatable frame allows it to hold its shape under heavy loads or in massive airs. Control is upgraded by separating the inflation of the boom and the leading edge. There is now a double strut system. One mini strut supports the canopy profile and a second boom one boosts ergonomics and wing control. The Mantis is a new rigid but very light design, aimed for surf. Both wings feature a hybrid handle system that allows the rider to find the perfect hand position while riding. Gaastra's second generation delivers the Cross and the Poison. The main updates are a more fine-tuned outline and handle repositioning. The Cross has more handles and a window in the canopy, which makes it ideal for beginners. The Poison is super lightweight and provides more power on the low end, suitable for riding waves. Slingshot is launching its 4th generation of wings. The Dart targets freestyle and powered riding with a bigger wingspan. The SlingWing is aimed for wave, downwind and entry level. F-One delivers the Strike and the Swing V2. The Strike is a performance wing that enables great upwind abilities, high jumps and speed. Stiff and forgiving at the same time, it is a great kit for learners. The Swing V2 will land on the market this Spring and it is a lighter version of the first edition. Duotone has added the new Slick to their existing Unit and Echo designs, with main updates on the boom. The Slick is an all-rounder that works well in waves, downwind, freestyle and freeriding. 
Most brands have benefitted from the savoir-faire acquired through years of kite production. As for materials, we will find high tenacity Dacron, Japanese Teijin, and double, triple and nano ripstop in the canopies. Duotone is offering its booms in aluminium or carbon. When it comes to construction, the goal is to achieve a perfect balance of light weight and durability that also enables control.  
Boards
Multifunctional boards are the key offering for most brands. The ones that offer just one shape have focused on this. Brands that offer many shapes, still find their multi use ones are the most popular. These are great options for new water sports enthusiasts. In this category we find Slingshot's Flying Fish, a sinker board that challenges the paradigm of knee-starts.  "A deep water-start is simpler than most people think", states Wyatt Miller. Other multifunctional shapes are Starboard's Winboard 4in1, Cabrinha's X:Fly, Gaastra's Tabou Magic Carpet, JP Australia's X-Foil and North's Swell.
The entry level market is well looked after. SUP boards are popular in this category, as the stability they offer makes the first steps very easy. Here we find Fanatic's Sky SUP, Indiana's Wingfoil, North's Seek, NSP's SUP/Wing foil, the larger sizes of Norden's Futurama range and Slingshot's 143L Shred Sled. Naish's Hover Wingsurf, particularly in its 95L size, works for a wide range of wing sizes, wind strengths and body weights. "Great for learners, so they can progress within this shape", says Scott Trudon.
Experienced riders looking for a more compact design have their offer of shapes too. Cabrinha's Macro, Fanatic's Sky Wing and Sky Surf or Gaastra's Pocket Air are good examples. The Pocket Air is currently offered with a short mast track for windsurf foiling, but we can expect a new version without it at a more attractive price. Norden's smaller sizes of its Futurama range fall into this category too.
Other specific Wing Foiling boards are Starboard's Wingfoil, Cabrinha's Autopilot, Indiana's Pure Wingfoil, JP Australia's X-Winger, NSP's Surf Foil and Slingshot's Wing Craft. 
Those looking for travel friendlier options can dip into the inflatable boards' selection. There they will find Fanatic's Sky Air, Indiana's Inflatable Wing foil and F-One's Rocket Air range, which can be used with or without a foil. 
Most wing foiling boards offer the same sandwich construction as windsurf or SUP boards. A careful selection of materials ensures the right balance of weight, durability and performance.  Slingshot sticks to its winning carbon / bamboo / glass layup formula but has reinforced the upper rails on the wing boards. With wing foilers constantly climbing onto their boards from the sides, they identified this area as a high pressure one. NSP uses SLX (super light epoxy) with carbon reinforcements. North has developed its own carbon hybrid technology with high-density dual stringers. This promotes stiffness, making the board more responsive. Naish uses carbon ultra construction on the entire line. It also offers a more affordable option of glass/wood sandwich construction its 110L and 125L sizes. JP Australia also offers its boards in their PRO technology layup or the less pricey IPR one. Gaastra joins in with a choice between PVC sandwich or MTE (Multiaxial Technology Epoxy). Indiana's layup consists of carbon, fibreglass and PVC, the same as Cabrinha's. Fanatic is using its traditional bamboo, but it's also testing new carbon layups. Airush uses LiteTech and offers the more premium Blue Carbon in its Wingfoil design. The Wingboard 4in1 features ASAP construction. It wraps the full rails with thick EVA foam, making the board perfect for schools and little kids.
The progression of the sport is so quick that it's hard to tell where product design will lead. "Soon we'll see wings for racing, but for now everyone focuses on wings that work well for all riders and are easy to use for newcomers", confirms Wyatt Miller. The Wing is so playful and easy to use that we start seeing land-based variations of it. Some people hit the concrete on skateboards. This cold winter in Northern Europe has left images of people flying a wing on a snowboard or even on ice skates. These will not reach the same figures as water-based wing foiling. It is proof that the device is fun and likely to find space in a lot of garages.