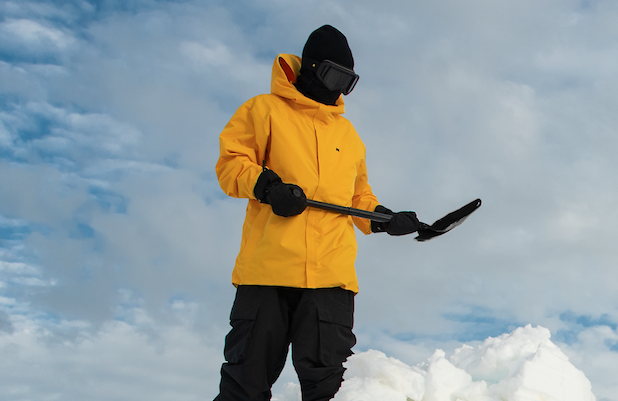 Candide 2022/23 Mens Snow Outerwear Preview
Retail Buyers Guide: Mens Snow Outerwear 2022/23 Retail Buyer's Guide
Brand: Candide
Interviewee: Tony McWilliam, Head of Product and Edouard Dessain-Gelinet, Co-Founder & CEO
Please provide an overview of how 2021/22 is shaping up for your brand. Has COVID-19 affected your line? If so, please explain the changes you have made, and how you came to these decisions?
This is our first real season! We are putting a lot of efforts in the quality of our products and the fabrics we are using. Candide is heavily involved from the design to the communication and he makes the brand appealing for people sharing his values. Last we have heavily invested in our customer support team to offer all our clients and partners the best service. We are looking forward to an exciting start. COVID-19 did not affect our line but our processes. Everything got delayed and it was very difficult to move fast. Line wise Candide had a strong idea of what he wanted for his brand and his vision has been clear from the start. So it was easy for the team to have a clear direction
What is the overall theme behind your FW 22/23 outerwear range? From which big trends do you take your inspiration?
Timelessness/Slow Fashion movement. With the immense amount of uncertainty in the world right now, and the failure of leaders to take meaningful steps towards sustainability, it is up to us to take responsibility. The old ways of annual/seasonal collections is over. At CANDIDE we have focused on ensuring that what we design and create are essential, technical, functional pieces which support the user in doing the things they want to do – get outside in the mountains and express themselves on snow. They are designed and built to last. We are not interested in trends – our design ethos exists where elegance and functionality collide. Sustainable materials and premium constructions result in timeless pieces. We find beauty in subtlety and texture, and translate this into minimalistic yet sophisticated designs made to be in your wardrobe for years to come
What new fits / silhouettes are coming out in FW 22/23? What pant and jacket styles are most important in your range?
Our C1 Collection defined 'Ready to Ride'. From the first lift to the last run, it bears everything you need to take you through and to the sides of the resort, all day, every day. New for FW22/23, our flagship C2 Collection takes up where the lifts stop. The C2 range is composed of premium technical outerwear and mid-layers for those who wish to combine pinnacle performance with Candide's elegantly refined style. Backpack and harness friendly, with layering options to keep the most die-hard skier on the hill day after day, whatever the conditions
What new colours / prints are you introducing?
We've taken the time to update our cabernet colour by making it slightly brighter and more bold. We've also introduced a classic white and light grey – cool, technical, and timeless.
Any *NEW* technical stories with regards to fabrics and materials?
Our products are either sustainably created or recycled. To minimize our environmental impact, we work with organic, recycled and reused fabrics, and align our production process with these principles. With that in mind, we focus on performance and feel, to offer high-quality, comfortable products providing total freedom of movement.
Our C1 and C2 collection features a unique bio-sourced/recycled polyester fabric. In an industry first, refined crystalized sugar is extracted from sugar cane waste, fermented, and transformed into ethanol. This bio-ethanol is converted into bio-mono ethylene glycol (Bio-Meg) and extruded into a thread then weaved. This process generates 25% less CO2 emissions vs. traditional methods. In addition, all our fabrics and textiles are Oeko-Tex certified free of harmful chemicals and are safe for human use.
Any trends that your brand is moving away from?
Seasonal collections.
What are your top marketing stories for FW 22/23? This will help us to put some focus in the right place?
Our marketing efforts are mainly driven by Candide's content. It drives awareness upon our brand and it is the most efficient way to share our values with our community.
When it comes to technical outerwear, Candide is the best ambassador one could dream of. Today Candide is showing to the world the products he designed and he thought
PINNACLE PERFORMANCE SHELL JACKET WITH REMOVABLE PRIMALOFT THERMOPLUME LINER
The C2 Jkt 3L is CANDIDE's most streamlined, versatile, and technical jacket, for when the mountain demands more from your outerwear. Our 20k/20k waterproof, highly breathable jacket features extended seams, chest pockets, and a removable Primaloft® Thermoplume™ liner, which is a statement piece in itself. The C2 Jkt 3L is made for big mountain exploration. Featuring our bio-sourced/recycled fabric.
THE TECHNICAL LIGHTWEIGHT SHELL PANT
This technical, 3-layer seam-sealed pant is durable, waterproof, and highly breathable. With its streamlined yet practical design, the C2 Pant 3L will keep you warm and dry in severe weather conditions whilst regulating body temperature when riding, hiking, or touring. Featuring our bio-sourced/recycled fabric.
THE ECO-FRIENDLY PUFFER WITH PRIMALOFT THERMOPLUME INSULATION CANDIDE's C2 PUFFER JKT is sleek, stylish, and comfortable. The oversized puffer features lofty Primaloft® Thermoplume™ 100% recycled insulation which will keep you snug and warm, on and off the snow. Featuring a recycled rip-stop fabric with C0 PFC-FREE DWR.