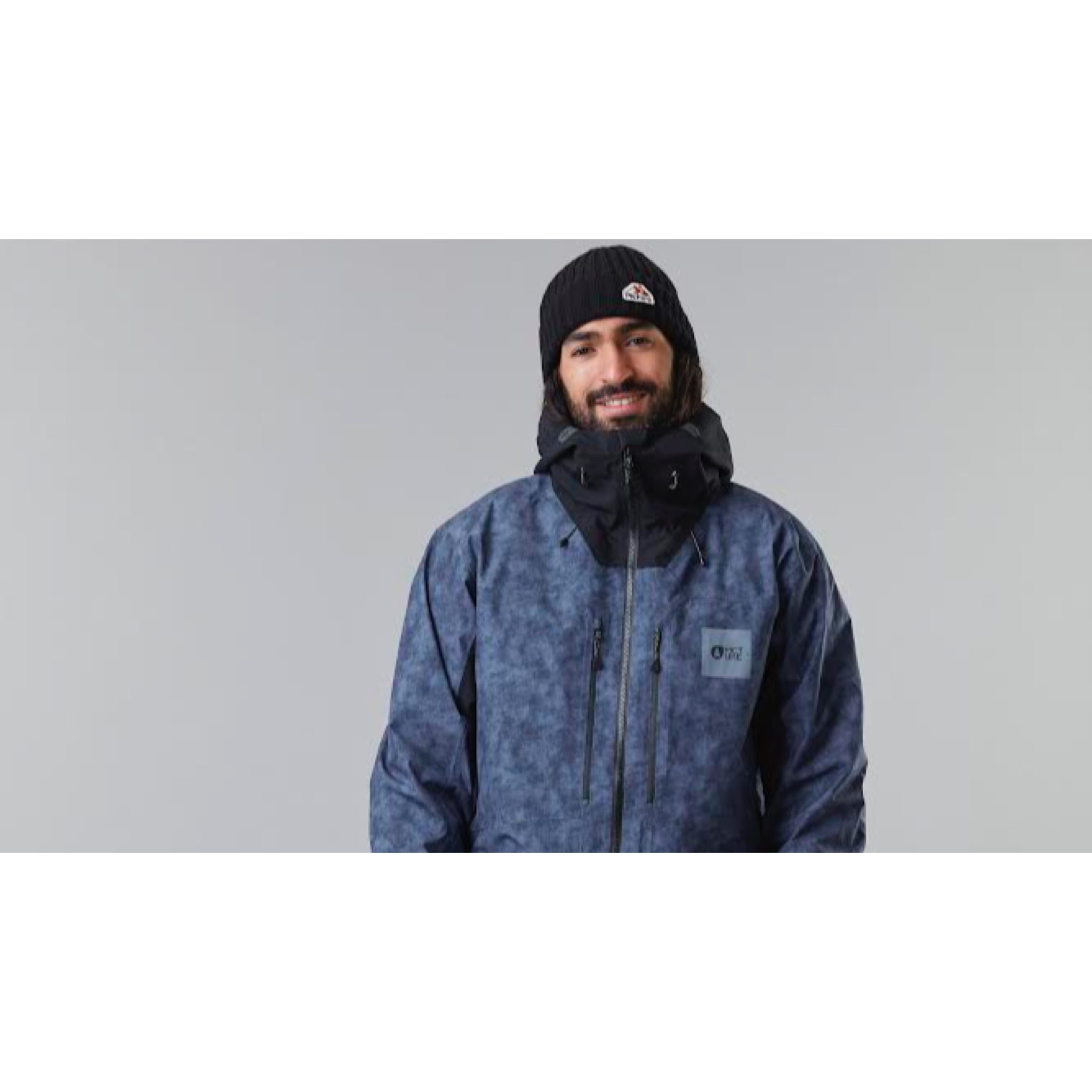 Picture Organic 2022/23 Men's Snow Outerwear Preview
Retail Buyers Guide: Mens Snow Outerwear 2022/23 Retail Buyer's Guide
Brand: Picture
Interviewee: Marion Bertrand, Product Manager
Please provide an overview of how 2021/22 is shaping up for your brand. Has COVID-19 affected your line? If so, please explain the changes you have made, and how you came to these decisions?
The health crisis has allowed us to improve our carry over and essentials strategy and to rationalize our collections, to facilitate the work of our retailers, to accompany them as well as possible towards this new season where the old collections must be combined with the new ones in shop
What is the overall theme behind your FW 22/23 outerwear range? From which big trends do you take your inspiration?
The inspiration for the colours and prints comes from the colours found in nature during its seasonal changes. And the cross-cutting theme of our collection, the campaign theme is Make An Impact, which illustrates how our smallest actions can have a big impact on our environment. Nature is really central in our choice of materials, colours, prints etc
What new fits / silhouettes are coming out in FW 22/23? What pant and jacket styles are most important in your range?
In FW 22/23 we introduce new silhouettes dedicated to backcountry touring, 3L jackets, pants, adapted layering, merino tencel base layers and neckwarmers, 3N1 mittens with liner gloves, of course with the Picture touch, colourful and bold. We are stocked to launch for the 2nd year, the ELIAS ELHARDT x Picture pro model, a 3L jacket and pants with our revolutionary XPORE membrane, designed in partnership with this talented athlete who challenged us on a lightweight, stretch and eco-designed outfit.
What new colours / prints are you introducing?
We are introducing a new print CLOUD, a cloudy textured effect, LINES, graphic lines representing mountain tops and EARTH, a world map in the form of a camo
Any *NEW* technical stories with regards to fabrics and materials?
Bio Sourcing
Conventional technical polyester fabric (PET) consists of mono-ethylene-glycol (30%) and terephthalic acid (70%), both petro-chemical compounds.
Thankfully other solutions exist. It goes without saying that Picture has been using recycled polyester made from used plastic bottles since the very beginning in 2008. However, the brand is always looking for new solutions to directly or indirectly wipe out its dependence on fossil fuels. Bio-sourcing represents one of these solutions.
Well, what is bio-sourcing? In the case of a snow jacket, it means creating a fabric partially made with plant material such as sugar cane or castor beans. In general, plants that contain sucrose (beets, sugar cane…) or starch (wheat, corn…) can be transformed into bio-mono ethylene glycol (Bio-MEG) to replace conventional petroleum-based MEG.
Reorienting its strategy towards bio-sourcing represents a major commitment to the environment and to wiping out of the extremely polluting dependence on fossil fuels: oil in this case.
The shell fabric, which is derived from sugarcane waste and blended with recycled PET, reduces carbon emissions by 25% while providing the same level of durability and performance as traditional polyester. Picture's short-term goal is to expand the use of bio-sourced materials throughout 100% of its technical apparel line
What are your top marketing stories for FW 22/23? This will help us to put some focus in the right place?
⦁ The launch of a comprehensive range of products for backcountry touring.
⦁ Pro model Elias Elhradt
⦁ Bio Sourcing
Hero/best selling products ?
LASSEN 3L XPORE JKT: The Lassen Xpore jacket offers to freeriders and tourers an excellent all-weather protection in a softer and more breathable product. The Lassen Xpore jacket is a real game changer in sustainability and performance as it features the Xpore's nanoporous membrane technology. When it comes to performance, the incredibly lightweight and sustainable membrane posts statistics that are simply off-the-charts, with a minimum waterproof rating of 25K and a minimum breathability index of 20K. And the Teflon EcoElite™ PFC-free durable water repellent treatment, the fully-taped seams and waterproof YKK®zippers help keeping moisture out. In addition to the eco-friendly membrane, we used bio-sourced materials for the Lassen jacket's face fabric, a sugarcane waste derivative unsuitable for human consumption. For enhanced protection and fit, the hood and wrist gaiters with thumb hole are adjustable and the snow skirt is removable. The most eco-friendly technical jacket and the most technical eco-friendly jacket ever!
WELCOME 3L JKT: The stretch 3-layer Welcome Jacket offers targeted lightweight breathability for a high-intensity ride. It includes our bio-sourced hard shell made from repurposed sugarcane waste that is converted into bio-based polyester. It features a 20K/20K membrane for maximum waterproof-breathability, Teflon EcoElite™ PFC-free durable water repellent treatment for unparalleled waterproof-breathability. Stay dry all day long. For those who always play hard, this jacket also features pit zips and fully-taped seams. The hood with drawstring, adjustable cuffs, and powder skirt that attaches to your pants all mold to your body to keep snow out.
WELCOME 3L BIB PANTS: The Welcome Bib Pant includes our bio-sourced hard shell made from repurposed sugarcane waste that is converted into bio-based polyester. For a technical and functional ensemble to go with the Welcome Jacket, the Welcome Pants feature a 20K/20K membrane for maximum waterproof-breathability, Teflon EcoElite™ PFC-free durable water repellent treatment and 3-layer stretch for unsurpassed freedom of movement. The jacket-pant interface adds to the adjustable powder skirt to provide full protection all day long. Fully-taped seams and waterproof YKK®zippers keep moisture out. For even greater breathability, we added zippered thigh vents. The always-practical I-Fit System allows you to roll up your cuffs after a great day on snow, and bombproof reinforcements protect these pants from your edges.
What's your base layer strategy for FW 22/23? Please let us know your tech innovations, materials, colours and price points?
The more detail, opinion, description & comment you give us, the more we can feature you. Our strategy is to have an offer adapted to a very active practice like backcountry touring, so we introduce men's and women's outfits in merino tencel, flat seams anti chafing, in addition to our usual basic range of layers in recycled polyester, soft and warm