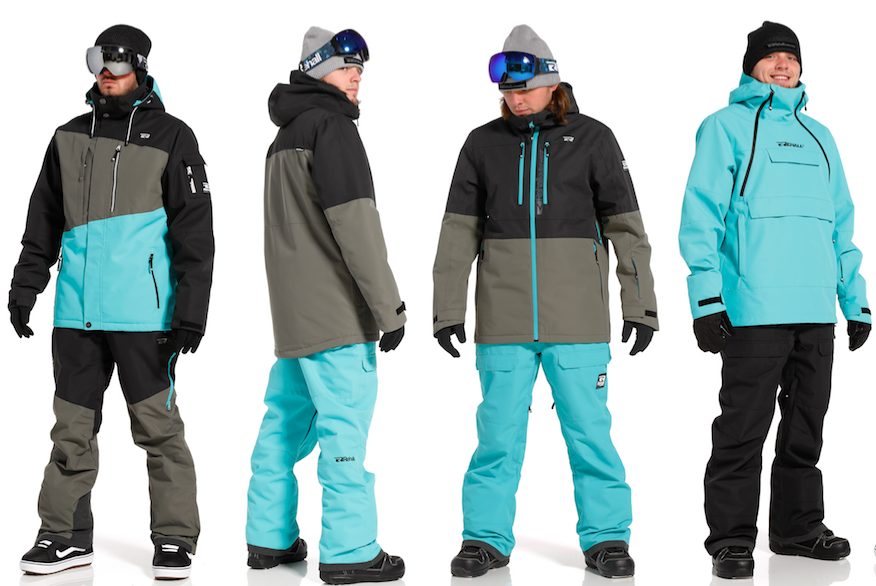 Rehall 2022/23 Mens Snow Outerwear Preview
Retail Buyers Guide: Mens Snow Outerwear 2022/23 Retail Buyer's Guide
Brand: Rehall
Interviewee: Dana Smits, Designer womens/girls collections
Please provide an overview of how 2021/22 is shaping up for your brand. Has COVID-19 affected your line? If so, please explain the changes you have made, and how you came to these decisions.
The start of winter 2021/22 was actually very good! We got a lot of re-orders from our buyers because they were selling like crazy, especially in Austria. And then around the end of November Austria got the news they had to be in lockdown again.. so this definitely affected our business again. And now Holland has been in lockdown as well since last week Saturday and also if you want to go skiing in Austria as a Dutch guy you have to go in quarantine, which nobody will do. So in short; if there are no lockdowns or crazy restrictions and everybody is able to go skiing and the shops are open there are no problems and everybody is selling like crazy.
Then we faced another problem because our producers told us we had to give in our production orders for winter 2022/23 by the end of October/beginning of November if we wanted to be sure to have our items on time. This meant that we had to create a production order without knowing which styles are popular at our customers etc. this is a 180 turn on our working way than we are used to. But we don't think it's bad. Because now we've placed an order and we're going to sell from "stock" so the customers who buy first have to most choice. Of course there are more risks attached to it on our side but then again being a entrepreneur is about taking risks.
So yes! COVID has definitely affected our business a lot (not to mention shipping costs…) It's becoming less fun to do your work because we're very eager and want to create nice things so everybody can feel good while wearing our garments but if then lockdowns keep happening, crazy restrictions have been applied so nobody will be able to go skiing, it gets you down every time..  
What is the overall theme behind your FW 22/23 outerwear range? From which big trends do you take your inspiration?
I design the womens/girls collections for Rehall Outerwear and my dad, Ronald Smits (founder), designs the mens/boys collections. We don't have a specific theme behind our new collection and don't follow big trends either (we never actually have). We just create items we like and we think  people would like to wear while riding! Of course there are some styles/colour combinations we for sure know our customers would like to see but overall we just create what we love.
What new fits / silhouettes are coming out in FW 22/23? What pant and jacket styles are most important in your range?
There are no particular new fits but the silhouettes however have changed! We tried to make the mens/womens designs more clean and with not so many colour/print combinations. Of course we still use some more outstanding colour combinations and prints like we also do but we tried to narrow it down to maybe 1 jacket or pants per model. We do not have a particular jacket or pant which is most important in our range. We think everything is very cool and everything is equally as important!
What new colours / prints are you introducing?
Like every season we create a whole new collection. So all the colour & prints we're using this year are "new". But the ones that are standing out most for our mens collection are the colour combinations "Cathay Spice – Navy – Olive – Dessert Palm" ; these colours combined look so good. They are new, refreshing but still very cool. And then of course there are also some colour combinations for the mens collection that make sure you will get noticed on the slopes. These colour combinations include the colours "Aqua" , "Brite Green" & "Neon Orange". Stay tuned to find out with which other colours & prints these flashy colours have been combined!
Any *NEW* technical stories with regards to fabrics and materials?
Yes, starting from our winter 2022/23 collection we will be working with 20K laminated fabrics. This means we still are working with our Re-tech dry outer shell fabrics but the lamination has been improved from 10K water resistance to 20K. The 2-way stretch materials provide all the necessary comfort you need when boarding or skiing, combined with taped seams & water-resistant/breathable fabrics our items will keep you dry and warm at all times.
Any trends that your brand is moving away from?
We're slowly moving away from the longer styled softshell hoody. We noticed that for the past 2 years it really has been a hype and we're still creating the hoody but only in 1 or 2 neutral colours maximum. This way the hoody doesn't necessarily have to be used while riding, you can also wear it as a normal streetwear jacket.
What are your top marketing stories for FW 22/23? This will help us to put some focus in the right place.
Our top marketing stories for FW 22/23 are that we just want to focus on the fact that everybody needs to be able to enjoy their times out there in the mountains. We want to focus on the fact that you do not have to be the best, just simply meet up with your friends and go riding, having fun is way more important than to be the best. Simply focus on "Enjoy the Ride".
Outerwear Best Sellers/Hero products
BECKS-R – mens snow anorak
This mens snow anorak is a highlight of our w22/23 collection because the design is very clean and cool. The two collar zippers & side zipper make it very easy to get into the jacket. Behind the right collar zipper is a gusset, so when you're feeling hot you can open this zipper to give yourself some more space without the collar falling down. Underneath the right armpit is a 2-way ventilation zipper and under the left armpit is a 3-way ventilation zipper, all waterproof. There's a snowgator inside of the jacket and multiple pockets to store your items in. In short; this anorak provides both style and comfort and is available in many different colour combinations. 
POKER-R – mens snowpants
The POKER-R mens snowpants has the same fitting as the DIGGER-R mens snowpants from our winter 2021/22 collection but the design has changed a bit. We decided to use new logos and change the side pockets, this way the pants looks more cool. There are suspenders attached to the waistband of the pants but can easily be detached. There's a zipper at the bottom hem of the pants and a snowgator inside to make sure you can easily put your pants over your shoes and make sure no snow comes up your legs.
DRAGON-R – Mens Snowjacket
The DRAGON-R for sure is a part of the highlights of our winter 2022/23 collection because it's a complete new mens design jacket. It's simple, clean but with the use of new logos and different colour combinations the jacket really stands out. There are 2-way waterproof ventilation zippers on each side of the jacket and the hood has been produced extra big so you can put it over your helmet while riding. This model also comes in various different kinds of colour combinations and sizes, so there will always be one that suits your personal style!
CAPITAL-R – Mens Snowpants
The CAPITAL-R mens snowpants is a baggy fitted mens snowpants which gives you an instant cool look while wearing it. The pants has ventilation zippers on the inside of both legs, reinforced fabric at the bottem hem of the legs and snowgator inside of the legs to keep out unwanted snow. The pants has two big pockets on the backside and 4 pockets on the frontside so there's enough storing space. Because of it's baggy fit the snowpants is really comfortable and you cannot miss it in your collection
BASE LAYER FOCUS
What's your base layer strategy for FW 22/23? Please let us know your tech innovations, materials, colours and price points.
Actually we created less base layering items this year because our main focus is our snow wear and we sell these base layering items as an additional piece to complete the outfit. But these items are not high technical developed. They are technical, are comfortable, look good and make sure your Rehall outfit is complete!