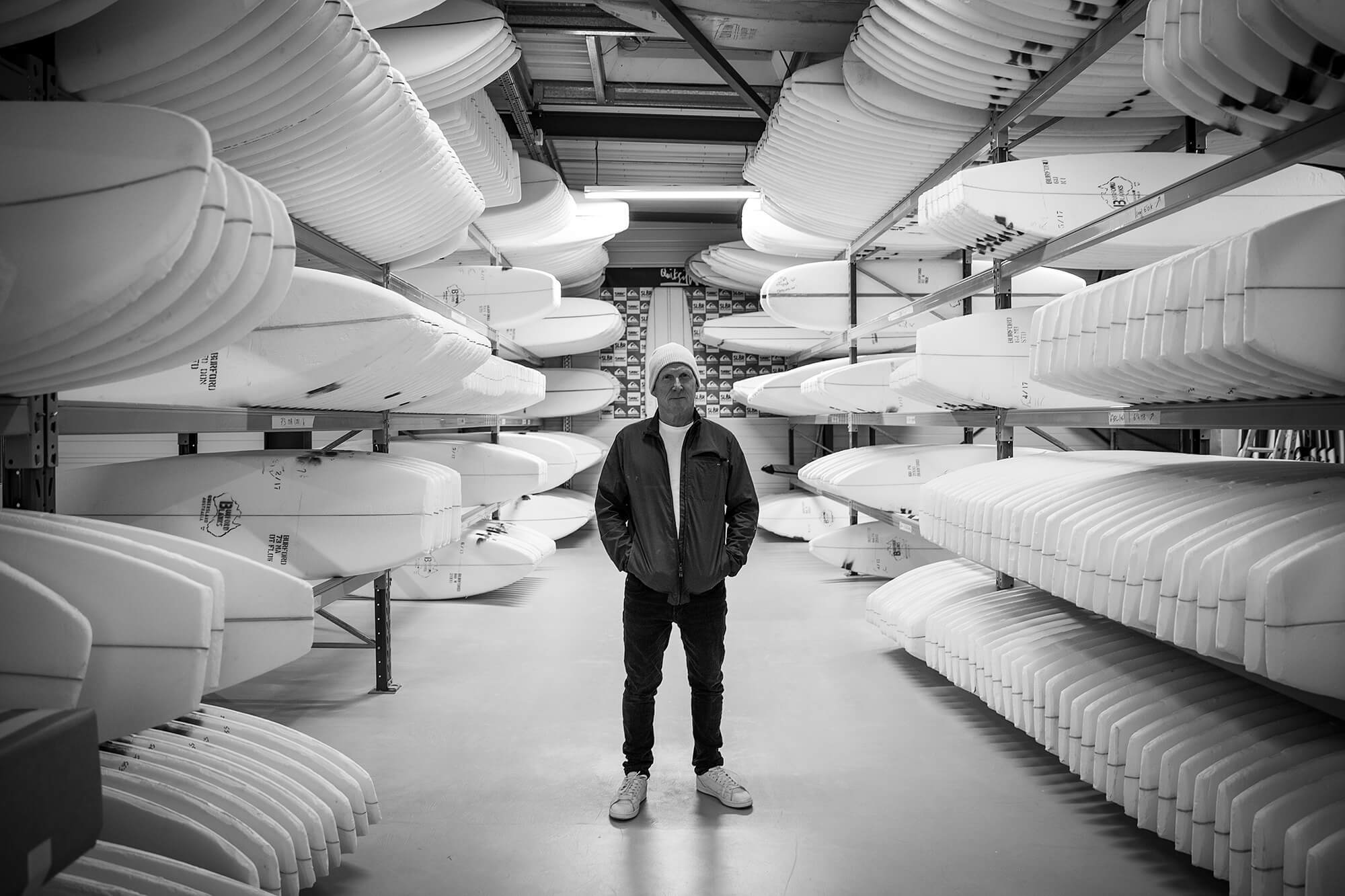 EUROGLASS Surfboards 2021 Preview
Retail Buyers Guide: Surfboards 2021 Retail Buyer's Guide
Brand: Euroglass
Interviewee: N/A
Participation and sell-out aren't the issues in 2021, but rather the supply chain and stock levels. How do you handle this unseen situation and is a rise in prices to be expected?
Euroglass was founded in 1990 to supply the growing market with premium surfboards. As the years passed by, we gained in efficiency around surfboard production and building strong relationship with our suppliers. 
When this unseen situation started, we could rely on our stock and the vision we had for the European market. Our strategy hasn't changed and we still buy in bulk to avoid escalating rising prices for our clients. We stay in touch with the market demand so our experiences in surfboard making keep on the right dynamic.
As new participant figures went off the roof, do you do more beginner-friendly surfboards as usual? Is the softboard offer a threat to your business regarding this entry-level clientele?
We believe that everyone has their place in this innovative industry. Raising participants is an opportunity for us. It proves our ability to adapt our production into a more "custom-built" shape making. We cultivate 30 years of experiences and our teams around the world make sure to integrate products that reflect our passion and the expectations of our customers. EUROGLASS has a range of surfboards that is complete from beginner to professional. We are delivering products for the simply "ocean lovers" or professionals that are in the TOP 30 of the World Surf League.
What has Euroglass got planned for the season? 
Like we were discussing before, this unprecedented situation is a boost to our industry. People that are locked into their house or small apartment need to be back in nature; and surfing is a perfect way to reconnect. We want to represent a company that can provide that access. For example, we are offering our super custom board called "ONE BAD EGG" from PHIPPSY. It's a classic mid lengther's delight. Clean lines of performances from beginner to pro. We hope that the few extra kilos that COVID gave us will be gone by riding our Surfboards.
Which designs will be trending in 2021? Aren't the bigger boards (midlengths, 6'+ performance shortboards, longboards) in full swing?
If we observe our data from the last 10 years, we can say without a doubt that our beginner range is rising. We observe a lot of new adherents in that sport. So our shapes evolve the same way but our love for innovation keep us grounded in both world.
Construction wise, do you do both PU and Epoxy? If yes, what is the production ratio between the two technologies?
Euroglass is 100% PU at our Head office in Hossegor, France. It is important to mention that due to the foams weight and density that PU / PE boards have, it sits a little lower in the water, helping to keep your rail under, giving you a nice curve. Being a touch heavier also helps them to handle challenging conditions better and are less prone to being bounced around in hollow waves.
To approve new legislation, in 2021, we have invested in a new art of ventilation of over 100K to confirm with the new European Norms regards for the use of styrene monomer.
With shops closed temporarily due to lockdown, have you adopted new distribution channels (online, D2C, drop shipping)? If yes, did you stick to it when things got back to normal?
Euroglass continues to support the wholesale channels that has been supportive and loyal to our company for the last 30 years. Brick and mortar will always be a pillar of our business model.
Therefore, this pandemic has a common ground that we have to learn from, ADAPTATION & INNOVATION. So we develop our ONLINE business with a range of products that are designed for our B2C but also our B2B. Saying that, we are now developing a strong policy of investment in our B2C relationship so we can grow organically.