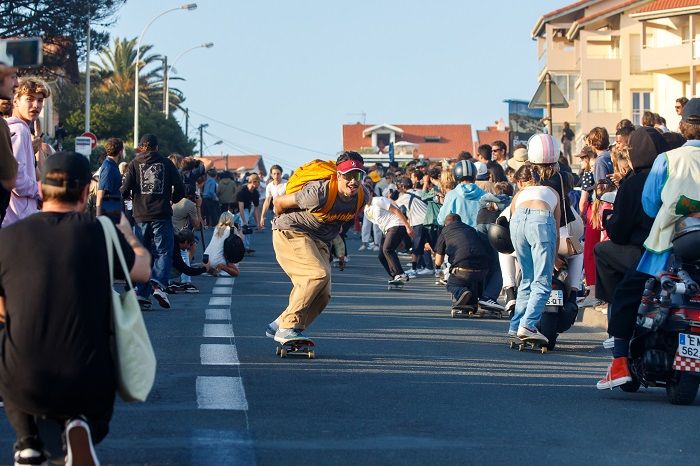 Mundaka S/S 22 Sunglasses Preview
Retail Buyers Guide: Sunglasses S/S 22 Retail Buyer's Guide
Brand: Mundaka
Interviewee: Sylvain Quittet, Sales Manager
How is the current situation of the Sunglasses market?
In the sunglasses market, there are currently two strategies. The first is to produce large quantities of a trendy model in different colors in order to sell them at a low price. The second is based on the technical aspect. Brands develop new technologies according to their targets, which is obviously reflected in the selling price. That's why Mundaka has chosen to propose the most qualitative products possible, with technologies adapted to our customers while making sure that the price remains justified.
 What are the the key trends in the Sunglass segment next spring/summer 2022?
The main trends in terms of sunglasses expected for spring/summer 2022 are the large square glasses for both men and women. For women, the cat eye and butterfly shape should remain in trend next year. Since this year, the sunglasses type masks are also in trend, we will surely see new model of mask even more worked out next year. Metal sunglasses with a retro style are also in the heart of the trend.
What shapes are most popular for frames and what major new trends can we expect here?
For men, the sporty style glasses always work well. Big glasses and square shapes are currently in trend for men. For women, butterfly and cat eye styles are in fashion.
What materials are you using for your frames in SS22?
We use three different materials for our frames:
– Grilamid TR90 is the material of choice for high-end optical products. It offers a perfect balance between strength and flexibility. These frames allow the practice of extreme sports in complete safety. Indeed, Grilamid TR90 is dimensionally stable, shock resistant and foldable under any condition.
– The cellulose acetate is a revolutionary material, it is composed of 90% cotton and 10% plastic. In addition to being hypoallergenic, acetate offers transparency, intense colors and remarkable finishes. Both flexible and resistant, acetate has the particularity, when heated, of modulating the pair of glasses to adapt it to all faces.
– Our metal frames are made of stainless steel, a material that is not susceptible to corrosion, does not rust and is strong. The nose pads are made of silicone and the temple sleeves are made of acetate for more comfort.
What colour range and patterns are you using for your frames? What shades and tints are we going to see in the lenses?
At the moment, the trend is towards chipped colors, matte colours and mirrored lenses. Mundaka offers category 3 polarized lenses with a hydrophobic & oleophobic coating to repel humidity and grease. We offer 3 different types of tints:
– the green ones which nuance the colors and limit the visual fatigue
– the brown ones which improve the contrasts and allow a better vision
– the greyed ones which bring out the natural colors and protect the eyes in case of strong luminosity
What lens technologies are you working with? Can we expect any new innovations?
We offer our customers 3 types of lens technologies:
– MUNDAKA NX POLARIZED polyamide polarized sunglasses, of exceptional purity, offer maximum optical quality and optimum compatibility with TR90 (Grilamid). They are perfectly adapted to the practice of sport, promising safety and comfort for the eyes.
– POLARIZED CX sunglasses offer optimal protection and visual performance with impact resistant and extremely light lenses. They are our reference for all activities highly exposed to the sun's glare and UV rays, such as water sports, mountains and snow.
– MUNDAKA is one of the first to offer IC (Inner coating polyamide) technology. While REVO coatings are traditionally on the surface, we have inserted the REVO coating inside our polyamide lens to ensure unparalleled durability.
How are you segmenting your collection and what are the main price points in each segment?
Mundaka offers two types of products in its collections. The performance range which includes all the sporty models with prices up to 69.90 €. The life style range inclues all the trendy products of the last years with prices starting at 49.90 €.
 If you do prescription glasses: What are the main trends here?
We don't offer prescription glasses, but we work with opticians who redistribute our products. On request, they can mount corrective lenses on a Mundaka frame.
 Please outline 3 of your key products:
Round and chic, LUA sunglasses will surprise you. Their quirky side will give you character and originality. Made of grilamid, they offer flexibility and lightness to those who dare to wear them. Mounted with polarized lenses, their comfort will be matched only by their style.
Designed for sportsmen, the DRAKAR will be your best companion for all your outdoor adventures. Performance without compromising on style. MUNDAKA is the first to offer you IC (Inner coating polyamide) technology. While REVO treatments are traditionally on the surface, we have inserted the REVO treatment inside our polyamide lens to ensure unparalleled longevity.
POZZ is a trendy line with bold lines and bright colors. You will not go unnoticed with this original model. Its modern and audacious design will become the must-have of this season.