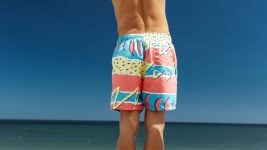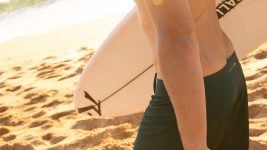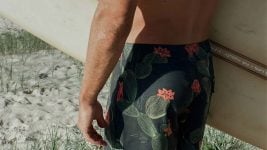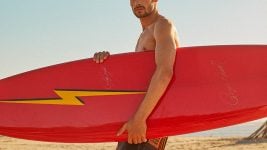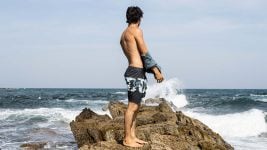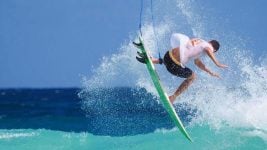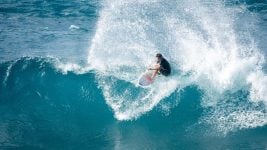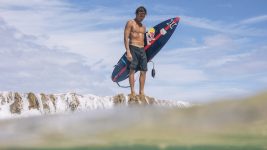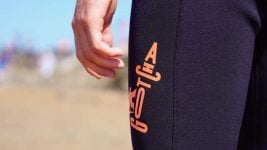 Boardshorts 2023 Retail Buyer's Guide
They are a yardstick for boardsports brands, a unit of measurement to determine the extent of their surf cred. Designing a technical boardshort is a prerequisite before brands can apply all their know-how on the world of fashion for their beach shorts and other casual shorts. Spring-summer 2023 boardshorts line-up by David Bianic.
Boardshorts, walkshorts, swimshorts, volleyshorts, bermuda shorts… The world of short trousers is certainly not "short" of different names. In this field we find really varied lineages, on one hand there's Boardies for example, a swimwear brand inspired by surf culture who develop vintage surf shorts, while on the other hand there's Dakine, a pure brand originating from technical equipment, with boardshorts representing 70% of their range of short trousers, says Rémi Chaussemiche.
While pure surfers swear by boardshorts, brands' surf collections are more balanced, like Oakley whose boardshorts and related beachshorts make up 50% of their shorts on offer (including lifestyle shorts). For a historic surf brand like Quiksilver, boardshorts represent 60% of their shorts turnover, but these models are versatile, "performing well in the ocean and across all watersports or hanging out poolside, with a sense of style", explain Designer James Kindgren and Global Product Manager Maël Armellini. The brand spanking new Phantom+ Blockade Paddle Hybrid Series 18" (what a name!) from Hurley epitomizes the hybrid trend, a boardshort based on the need and request of Kai Lenny, designed for SUP, foiling, wind foiling… "Its main characteristic is durability, we are using heavyweight ripstop in upper & 4 way stretch in lateral & lower parts so it's still a super flexible and comfortable short."
Rusty can confirm the boardshort's fluidity of use: "Any fixed short could be considered a surf short but more like half of these are a solely focused around surf specific features and fabrication," explains Dilan Lambert, Men's Brand Manager. Basically, boardshorts can be worn with or without a board.
BOARDSHORTS SS23 THEMES
At risk of sounding a bit Manichean, it's tempting to divide the market into two major trends. On one side, the historic surf brands are relying on their heritage and revisiting their emblematic styles with a 2K twist. On the other, non-endemic brands and younger labels can go off the beaten track and try new things. For example, Billabong's collection is based on two themes, one of which is called "A tribe called surf", which uses the codes of the 90s (the golden age of surfwear) "with a combination of bright and primary tones.", says Simon Charlesworth, EMEA Men's Marketing Manager. And since history is all about people, the brand will offer a new Andy Irons capsule from the Billabong Pro Pipeline, featuring "the iconic diamond patterned shorts he wore". 
Another key model in this heritage x modern trend is Quiksilver's Original Scallop, the famous cotton shorts with a side slit worn in the glory years of the 80's-90's. Relaunched nearly ten years ago, the Scallop now has more technical versions, the Highlite Scallop and Highline Pro Scallop (note that Quiksilver are using the same terminology as in their wetsuits domain): "These technical boardshorts bring seamless panel changes in stretch and breathability to the iconic 'Scallop fit' through innovative weaving processes using recycled synthetic content". 
Lightning Bolt also fully embraces its vintage graphic identity, though with modern fabrications (polyester/spandex), and yet tries contemporary reinterpretations of its famous lightning logo: the Surf Squad model (46 cm) is thus offered in a pied-de-coq pattern formed by lightning bolts, rather original.
Another flagship brand of the 80's, Gotcha return to Europe with prints that embody their heyday, fluoro, and three capsule collections: Tahiti Surf, Into the Wild and Y2K Rave. Old school rules!
The non-historical brands are showing strong points too. Oakley and Dakine, for example, are banking on their technical added value. The former has focused on functionality and variety of use by employing innovative and more durable materials, such as "seersucker, ripstop and hand made peach skin fabrics". Dakine treat their boardshorts like true hardware items, emphasising their technical features more than their style (see more later in Materials and Fabrics). Hurley sits in the same category with its iconic Phantom+, now offered in a Sidewinder 17'' model, "more flexible due to lateral pieces giving extra stretch". As usual, the Phantom is available in a huge palette of colourways and prints: Hurley has got it covered!
For a retro-modern brand like Rhythm, the Surf Trunk is an essential piece that "reflects our brand's vision of alternative surfing", highlight Jacob Byrne and Stéphane Santoni, Worldwide and European Brand Managers. It features their classic floral and paisley designs in a variety of Rhythm's signature hand-drawn house prints. While we're on the subject of hand-drawn designs, it's impossible not to mention the return of Rietveld to the market, who will be offering "boardshorts for the first time in over 15 years" for SS23, says Sales Director Rich Bouch. These shorts will feature Rick Rietveld's famous graphics, already featured on their T-shirts and this time "applying leg and AOP". 
The Critical Slide Society (TCSS) is a much more recent addition to the market, and has also given carte blanche to a number of artists since its inception in 2009. There's no change to a working formula for spring-summer 2023, with "Lots of art and prints!", including a line signed by the artist Mitchell English from Noosa in Australia, as well as references to 80s surfing.
To round off the major themes of SS23, let's take a look at crotch lengths, measurements that yo-yo from one season to the next. In this case, boardshorts are growing back again! Dilan at Rusty even confirms that this is the main development for them, as they see "a demand for longer lengths similar to what we saw through the late 90s and early 2000s". This is also the case at Rietveld, whose boardshorts will cover the knees. The same is true for Simon at Billabong, who reports "consumer appetite for longer leg lengths creeping through", both in boardshorts and elastic waist shorts.
The price range remains relatively unchanged despite significant increases in material and transport costs, with prices concentrated between €40 and €70 (from simple beachshorts to boardshorts) although very high-end models are priced at up to €139 (O'Neill) and even $249 (Rusty).
SS23 COLOURS AND PATTERNS
We should congratulate designers for their ingenuity in renewing palettes from year to year. Among these new additions are gold tones used to accentuate certain illustrations at Boardies. At Oakley, the focus is on colour splashes with extravagant colours, as well as realistic artwork like their beautiful wave seen from the sky. As always at Protest, there is poetry in the colour themes with their primary palette inspired by the Mediterranean (Shell Peach, Jay Blue, Deep Dive), then a second with 70's references (Butter Yellow, River Blue, Clay Orange), and finally a Matching & Botanicals theme with artichoke green and midnight blue, combined with botanical motifs. Sticking with botanicals, there's the really nice Cactus Trunks from Rhythm which are part of a capsule collection with shirts, t-shirts and caps in the same look.
As for Oxbow, the brand wants to create a link between the trips made by their ambassadors and the collections open to customers, with a first line that plays with the exotic patterns and bright colours of the jungle and a second with a look inspired by the desert and African landscapes with sandy colours transformed by the sun.
In terms of prints, again Boardies are showing their audacity and sense of quirkiness, notably with their Fresh Prince print (The Fresh Prince of Bel-Air) that is as loud and funky as the 90s TV series, and another called Lucha Libre that features the masks of Mexican wrestlers. 
There are some collaborations with artists, but no major trends to report in this area, with TCSS mentioned above or Rusty and Quiksilver, who are calling on a collab with the Hawaiian artist/skater Gregg Kaplan.
SS23 MATERIALS AND FABRICS
While beach shorts and walkshorts are open to a vast choice of natural materials, boardshorts need to be more synthetic to meet the demands of their use: flexible, quick drying, etc.
Recycled polyester is once again the material of choice for spring/summer 2023; materials derived from used plastic bottles, mixed with nylon and elastane. The Repreve label is often chosen for its traceability, as is the case for O'Neill and Oxbow. The latter combines it with natural materials such as coconut fibre (Barista and Bestie models) or cotton (Bentigo).
Better still, Billabong are innovating by using Ciclo® technology, a natural enzyme contained in the product that accelerates its biodegradation once it reaches the waste disposal site.
But using a synthetic or natural fabric also depends on the desired aesthetic, explains the …Lost team (Freddie Sipowicz/President & Jonathan Gilbert/CEO Europe): "If the art feels better washed back we tend to go with a natural blend. If we are looking for saturation and boldness we go with synthetic blends."
When it comes to fabric treatments, Quiksilver use a plant-based process with seed oils on their technical boardshorts to improve drying times. Dakine are also pushing their PFC-free water-repellent treatment. Another eco-conscious innovation from Protest is the use of bamboo charcoal, for its resistance to UV rays and bad odours. Good practices also extend to packaging, as shown with Lightning Bolt, using recycled plastic and recyclable card boxes, closed with paper glue tape, plus hang tags in recycled paper. The brand is also committed to more transparency of its production through the Keep This Land Beautiful campaign (more info on lightningbolt-usa.com/eu).
Fit is another aspect of a boardshort's technical properties and the devil is in the detail here too. Dakine provide an inner waistband with Dobby fabric for comfort and support, a Close Fly® with stretchy gusset, a welded side pocket with waterproof zip and laser-cut drainage eyelet, as well as a slimmer lace-up fastening so that it doesn't get in the way when paddling. …Lost are also taking care of your waistline with a faux suede inner band.
Fashion victim, hardcore surfer or Sunday surfer, tech-addict or vintage lover, the world of boardshorts is a real melting pot with everyone bringing their own style and know-how. Retailers just have to think carefully about their own clientele and stock boardshorts that correspond to their territory without forgetting to take some risks.